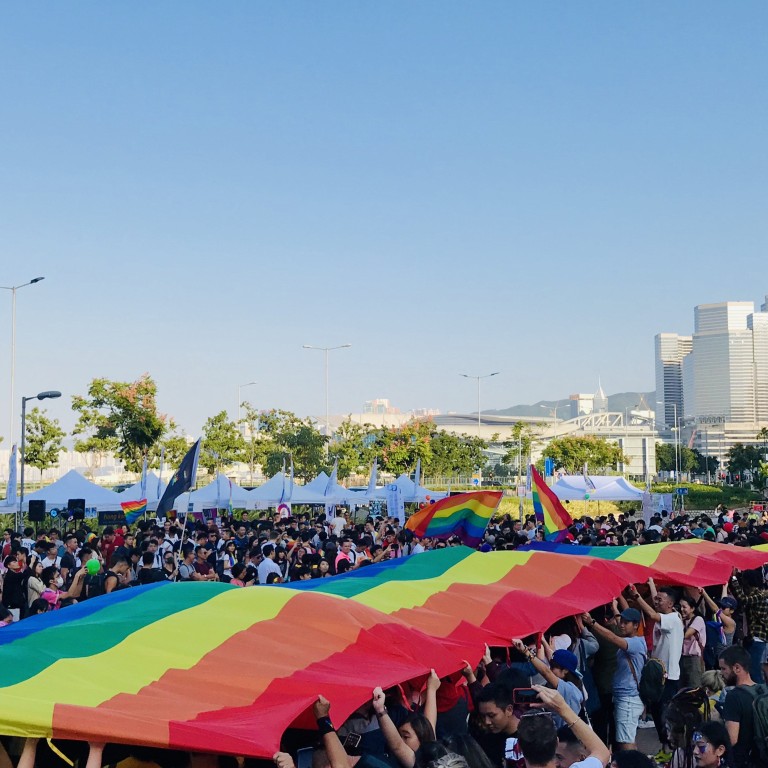 Letters

|
Hong Kong's education system must do more to foster LGBTQ inclusivity in schools
Readers discuss the need for schools to address LGBTQ issues, the association of Hong Kong's ethnic minorities with violence in the Chinese media, and the paucity of accessible facilities for those with disabilities
Feel strongly about these letters, or any other aspects of the news? Share your views by emailing us your Letter to the Editor at
[email protected]
or filling in
this Google form
. Submissions should not exceed 400 words, and must include your full name and address, plus a phone number for verification.
In a
recent letter
to the Post ("On sexual diversity, Hong Kong must find a path grounded in traditional Chinese values", November 3), a Legislative Council member says Hongkongers aren't ready for same-sex marriage and that Hong Kong is not an extension of the West.
If LGBTQ issues continue to be ignored or the community stigmatised, LGBTQ people in Hong Kong will think they do not belong. The public education system must do a better job of raising awareness of the diversity of people who call Hong Kong their home.
Although the Education Bureau launched the "Values Education Curriculum Framework" in 2021 – the "Guidelines on Sex Education in Schools" published in 1997 are no longer in effect – there remains a lack of direct engagement with important issues around diversity and inclusion, especially for those students who identify as LGBTQ.
In response to our questions under the Code on Access to Information, the Education Bureau (EDB) said that it has a "zero-tolerance" policy with respect to discrimination and bullying, but has not conducted research on bullying, including homophobic bullying. The EDB's stance is that there is no general consensus in society on "controversial issues concerning sex education and gender education, such as same-sex marriage and gender identity of transgender persons". The EDB leaves it up to individual schools to decide their approach, such as including topics related to sexual orientation and prevention of discrimination in subjects such as Personal, Social and Humanities Education.
We appreciate the efforts by the EDB to address these issues. However, we believe much more needs to be done to promote a culture of inclusivity, understanding and respect in Hong Kong schools. Not doing so will prevent LGBTQ students from learning self-acceptance and contribute to a climate of exclusion in schools.
We should be focused on creating a society in Hong Kong where all feel welcome to live without fear of homophobic bullying and discrimination.
Hui Chung Yu, Ee Pei Xin and So Yin Lam, Kowloon Tong
Media must not stigmatise city's ethnic minorities
Though Hong Kong has been rated as one of the safest cities in the world, violent crime has made headlines recently. In the Chinese news media, members of Hong Kong's ethnic minority communities have been thrust into the spotlight in connection with these violent acts.
For instance, after a stabbing incident, a newspaper insinuated that the perpetrators were South Asians who were paid to commit the crime. Another article singled out South Asian "gangs" as being responsible for criminal assaults and disturbing public order.
Such generalisations will eventually create more misunderstandings. Injuring someone is undoubtedly unethical. But focusing on a person's ethnicity and magnifying an act to reflect on an entire community is wrong. The media must avoid making unfair accusations and focusing on race or ethnicity, and instead look at the matter objectively.
Readers may be misled by labels such as "fake refugees". The public may wrongly associate a certain ethnicity with violence.
In the long run, this could further intensify prejudice and discrimination against Hong Kong's ethnic minorities, which, in turn, would aggravate racial segregation and work against the best interests of Hong Kong.
When racist jokes and bigoted remarks are a common occurrence, discriminatory behaviour may become acceptable. The treatment of
food delivery workers
, and of a Muslim teaching assistant and pupil
who wore hijabs
to school, reveals that it is not rare for members of ethnic minority communities to face microaggressions.
If we allow such forms of
scapegoating
to continue, it will hinder opportunities for ethnic minorities to climb up the social ladder and be fully integrated into Hong Kong society.
Yusuf Mohideen, Kwai Chung
City must do more to provide barrier-free access
I still remember vividly the
ice bucket challenge
which swept the city eight years ago. Yet, few of us really understood the objective behind the challenge, which aimed to raise public awareness of a rare and incurable disease, amyotrophic lateral sclerosis (ALS), a type of ­motor neurone disease as a result of which patients gradually lose their mobility, and are barely able to speak, swallow and eventually to breathe.
My school recently invited members of the Hong Kong Neuro-Muscular Disease Association to visit us. I became aware of the severe lack of inclusive facilities and barrier-free access in Hong Kong. Footbridges which cannot be accessed by lifts or the lack of stair lifts make life very difficult for wheelchair users, depriving those with disabilities of the right to use government-owned facilities like others do. The inconvenience involved in getting around the city means some of them avoid social interactions and become isolated. The government must step up efforts to ensure barrier-free access, especially to its facilities.
Meanwhile, the rest of us can also play our part. We must abandon the idea that those with disabilities are inferior and reach out to help them when needed. Let's build an inclusive society together.
Joshua Chan, Wong Tai Sin