Japan
Get more with myNEWS
A personalised news feed of stories that matter to you
Learn more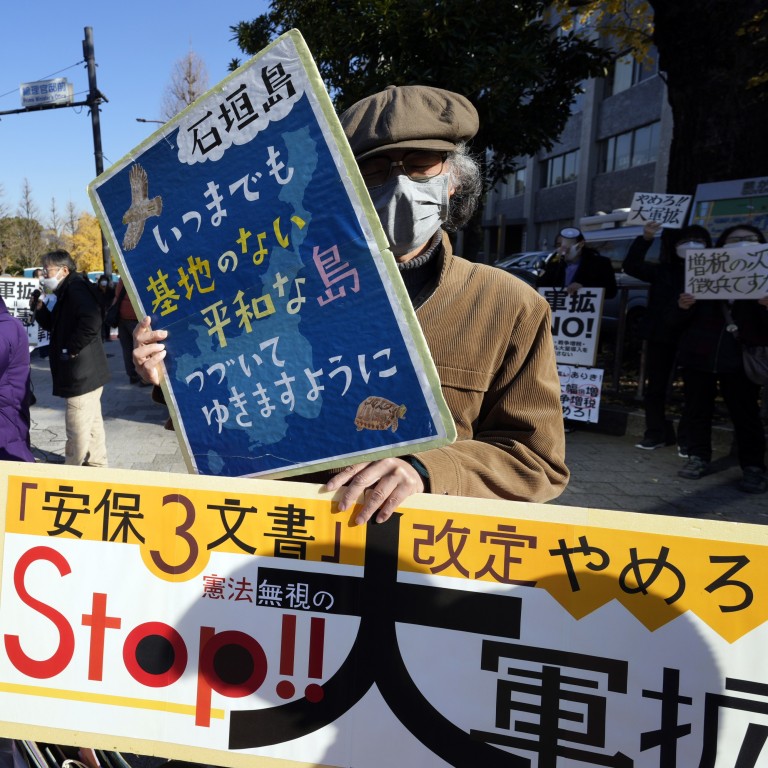 Letters

|
Japan's military build-up runs counter to Asia's peace and prosperity
Readers discuss what Japan's departure from pacifism means to Asia, and wonder what the Year of the Rabbit holds for Ukraine
Feel strongly about these letters, or any other aspects of the news? Share your views by emailing us your Letter to the Editor at
[email protected]
or filling in
this Google form
. Submissions should not exceed 400 words, and must include your full name and address, plus a phone number for verification.
Japan is doubling military spending to 2 per cent of gross domestic product. This is by no means a small increase. This level of spending will be in line with that of Nato members. Japan aims to spend
43 trillion yen
(US$320 billion) over the five years starting from April.
Furthermore, Japan's acquisition of
offensive weapons
that can target other nations is a departure from its post-war pacifist constitution.
For the rest of Asia, steeped in historical grievances, this is a disturbing change to the status quo. Japan's wartime atrocities have sensitised many Asian nations to its military posturing. The country's departure from pacifism could reopen historical wounds, sour relations with China and perhaps provoke reactionary measures leading to greater regional tensions.
Currently, Asia's stability still hinges on the United States. US State Secretary Antony Blinken's statement welcoming Japan's military build-up highlights American strategy for China.
But is unleashing a militarised Japan in the best interest of Asia? For the US, this may be a cost-effective way to counter China, while for Japan, this may be a risk it is willing to bear in pursuit of its ambition.
But for the rest of the region, a remilitarised Japan could fundamentally change the regional order beyond US control.
This may not be the case yet, but once Pandora's box is opened, Asian instability will reverberate across the globe.
The hyperbolic vilification of China does more harm to the region than good. In fact, China is a stabilising pillar in the region and has achieved national development peacefully. Its economic growth, trade and infrastructure development have benefited the region and beyond.
China's firm response in protecting its territorial integrity is to be expected and should not be misconstrued as aggression. Japanese Prime Minister Fumio Kishida's remark that "today's Ukraine could be tomorrow's Asia" is part of a narrative to justify Japan's own military ambitions.
Japan's remilitarisation is a move against regional peace, growth and prosperity.
Robert Y.C. Wang, Ontario, Canada
Will the Ukraine war end next year?
Russian President Vladimir Putin's illegal war in Ukraine is a reminder that some leaders have brought conflict through the ages, irrespective of political ideology. Russia has been involved in armed conflict for most of Putin's two decades in power.
As the Year of the Tiger draws to a close, China's President Xi Jinping has rightfully reminded Putin
not to use nuclear weapons
. It seems their "no limits" partnership has its limits.
Poignantly, for Ukraine, in Chinese astrology the Tiger symbolises bravery and strength, which are required in times of struggle and adversity. However, the start of 2023 heralds the Year of the Rabbit, a symbol of peace and prosperity.
Michael Walton, New South Wales, Australia