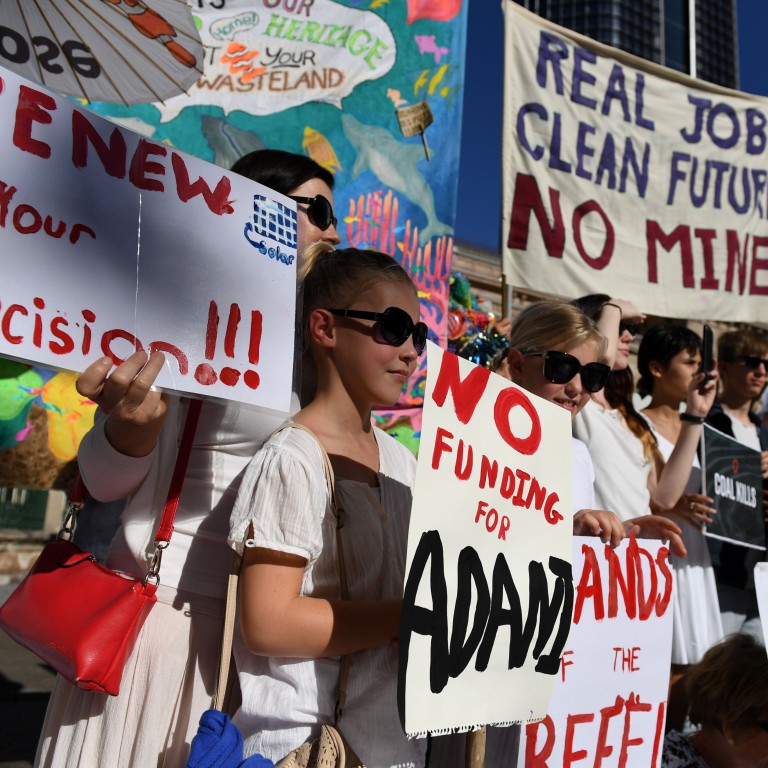 Letters

|
Adani Group's troubles are a warning against investment in fossil fuels
Readers discuss why investors should exclude companies involved in coal, oil and gas projects from their portfolios, and universities' tracking of waste recycling
Feel strongly about these letters, or any other aspects of the news? Share your views by emailing us your Letter to the Editor at
[email protected]
or filling in
this Google form
. Submissions should not exceed 400 words, and must include your full name and address, plus a phone number for verification.
The
stock meltdown
of Indian conglomerate Adani Group in the wake of the release of a report by short-seller Hindenburg Research has prompted many of its financial backers to re-examine their exposure to the group. Meanwhile, Citi and Credit Suisse have reportedly stopped extending margin loans to clients against Adani securities.
That said, Adani – as with most companies propping up coal, oil and gas – was always a bad investment. Companies investing in fossil fuel expansion are playing a game where nobody wins.
The world's biggest financial institutions have funded Adani, including its rapid coal expansion. JPMorgan Chase, Mitsubishi UFJ Financial Group, Citi and Bank of America are just a few bond underwriters that must explain how they assessed Adani Group companies' worth before the shady practices detailed in the Hindenburg report were made public.
The Wangan and Jagalingou indigenous people, who live near the Carmichael coal mine in Queensland, Australia, persuaded 55 financial institutions not to invest in the mine. More than 100 companies – from ANZ bank to insurer Zurich – have ruled out involvement or distanced themselves from all or part of the Adani Carmichael project. Avoiding direct investments protected them from this company and project.
In August last year, Wangan and Jagalingou custodians warned investors against indirectly funding the project through Adani's many shell companies. Now these indirect investments are in trouble.
For panicking investors, the first order of business should be to stop all funding to the Adani Carmichael coal mine, whether direct or indirect. They need to set up policies to restrict financing of new coal, oil and gas or other projects that violate human rights.
The science is clear. To maintain a liveable planet and prevent the global average temperature from increasing more than 1.5 degrees Celsius, we must halve greenhouse gas emissions by 2030. That requires phasing out production of some oil, coal and gas reserves before they are fully exploited.
Banks, asset managers, insurers and financial institutions should not finance new energy infrastructure that relies on fossil fuels. Adani's troubles demonstrate the huge financial risks of continuing to invest in fossil fuel expansion. Now is the time for companies to invest in an energy economy that enables us all to thrive by taking risks for a better future.
Aditi Sen, programme director, climate and energy, Rainforest Action Network, San Francisco
Universities should disclose data on waste recycling
We refer to the letter,
"Collect deeper waste data to promote recycling"
(December 30), and wish to echo your correspondents' call for mandatory data collection on waste at the neighbourhood level. As students at Baptist University, we also urge the government to require all publicly funded tertiary institutions to disclose data about waste recycling.
There are more than 1,700 student residents living in the Baptist University dormitory. It is not clear how well the residential community has performed in recycling waste on campus. In the dormitory buildings, recycling bins are provided on each floor. Yet, based on our observations, few students are using them to recycle waste.
In response to our inquiry, the university said it started recording waste recycling data in September last year but could only share the information for academic research. It also said the data should not be made public.
As university dorms will be included in the upcoming waste charging scheme, the Environmental Protection Department should require all publicly funded universities to report the waste recycling performance of dorm residents. Comparison and competition among different institutions will incentivise university administrators to creatively promote recycling in residential communities.
Shuxiao Wang and Sharon Tan, Kowloon Tong