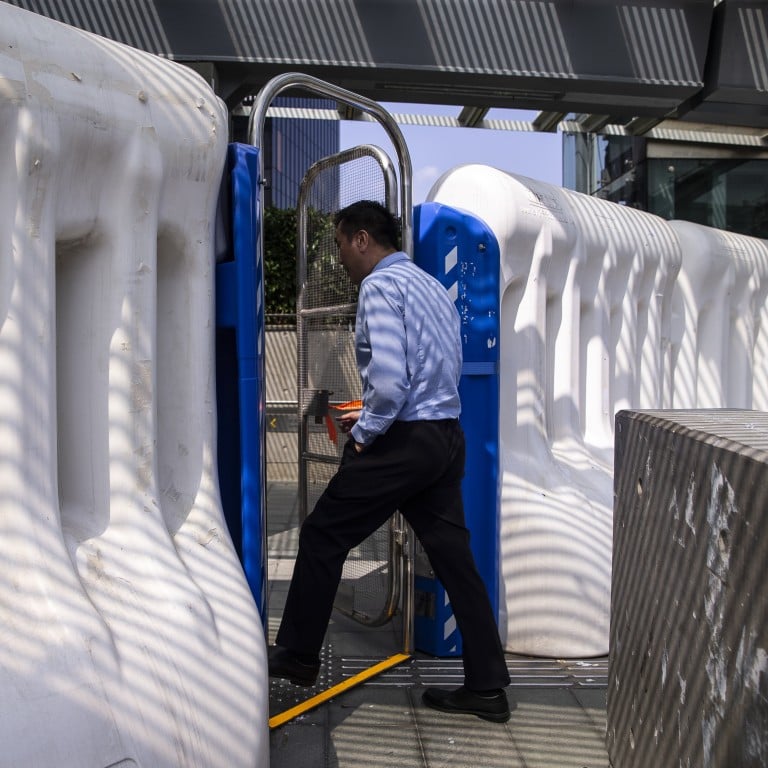 The Hong Kong story doesn't have to end in tragedy
If the protests drag on, pro-government parties may well lose big in the upcoming local elections. In that case, it wouldn't be impossible for an anti-China democrat to be elected chief executive, sparking a constitutional crisis. Is there a way out before that happens?
Jeffrey A. Bader, a retired senior American diplomat who served as deputy consul general to Hong Kong in the run-up to 1997, recently wrote a piece on this city's turmoil, saying: "What is unfolding is a Shakespearean tragedy in five acts."
Not only have the months-long protests shown no signs of abatement, the city now seems to be teetering on the brink of lawlessness and anarchy. On many occasions, rioters have roamed across the city, trashing MTR stations, traffic lights and China-linked businesses; beating up whoever disagreed with them; even setting up roadblocks to terrorise passers-by.
The
police
are clearly outmanoeuvred and outnumbered. However hard they have tried in the past four months to maintain order, they are failing to get the situation under control and restore public respect for law and order.
Such a mammoth task cannot, of course, be undertaken by the police alone. Yet, nothing the government has done in the past four months – Chief Executive Carrie Lam Cheng Yuet-ngor's tearful apologies, her announcement of the
withdrawal
of the rendition bill, and a
regulation
banning face coverings
made under the Emergency Regulations Ordinance – seems to have had any material effect in
restraining the rioters or winning back public confidence.
The riots have morphed into something much bigger than protests against an "evil" law. In 2003, the anti-sedition law protests subsided as soon as a postponement was announced. This time, the protests have returned with ever greater ferocity after each weekend of police operations.
The celebration of China's National Day brought the protests to new heights. The rioters intensified their anti-China provocations by trashing national or patriotic symbols – posters of Chairman Xi Jinping, China-linked businesses, the offices of pro-China politicians – and beating up pro-China individuals. After firebombs and corrosive acids were thrown at the police, live ammunition was
fired
.
On October 6, after the regulation banning face coverings came into effect, violence erupted in 22 locations across the city, rendering the overstretched police powerless to deal with calls for help from citizens held up by the rioters' roadblocks.
The peaceful mass demonstrations which started on June 9 have taken on a sinister and subversive character. Emboldened by their success in demonising and delegitimatising the police, the rioters are making direct calls for the disbandment of the force (which means Hong Kong would lose its last line of defence against chaos, short of seeking help from mainland China), and the government.
Calls for "restoration" of Hong Kong to
Britain and the United States
have already reverberated on the streets, while
songs
strongly suggestive of intent to build an independent Hong Kong have been sung in schools, shopping malls and playgrounds.
In other parts of the world, plotters might attempt to overthrow a government by military coup, armed revolution, civil resistance or insurgency. But, in Hong Kong, they have an alternative, relatively less violent route to power.
The opposition understands too well that if the anti-government protests drag on, voters will blame pro-government parties for supporting an incompetent and unpopular government.
All the opposition needs to do is send a few black-clad, masked people around housing estates or near polling stations, and many voters and volunteers might become so cowed by
"black terror"
that they would not show up to vote.
If the pro-government parties lose big in the upcoming district council elections on November 24, it means the government could lose indirect control of several district councils. The pro-government parties could lose so many seats that they would not be able to hold on to the 117 votes allocated to district councillors on the chief executive election committee.
And if the government continues to perform dismally, the pro-government parties might lose more seats in the Legislative Council election next September, meaning the government could lose its majority and its ability to control its agenda.
If a landslide defeat of the pro-government parties does materialise in the upcoming district council elections, it cannot be ruled out that a seismic change might occur in the next chief executive election in March 2022. It would not be impossible for an anti-China democrat to be elected – someone skilled in manipulating the people but so hateful of China that he or she might prefer to hand Hong Kong to Britain or the United States.
China would be faced with pretty bleak choices. Under the Basic Law, the chief executive has to be appointed by the central authorities. Any refusal to appoint an elected China-hater would spark a constitutional crisis. Beijing would be forced to choose between Chinese sovereignty or maintaining Hong Kong's separate system.
The story of Hong Kong does not have to end this way. As in a Shakespearean tragedy, Hong Kong is dogged by internal weaknesses and external forces beyond its control. Internal weaknesses can be fixed if Hong Kong people could stand together to reject violence and madness. It is much harder to mediate between opposing forces. Past leaders have succeeded in doing so. Hong Kong people have legitimate expectations that their current leaders will do the same.
Regina Ip Lau Suk-yee is a lawmaker and chairwoman of the New People's Party