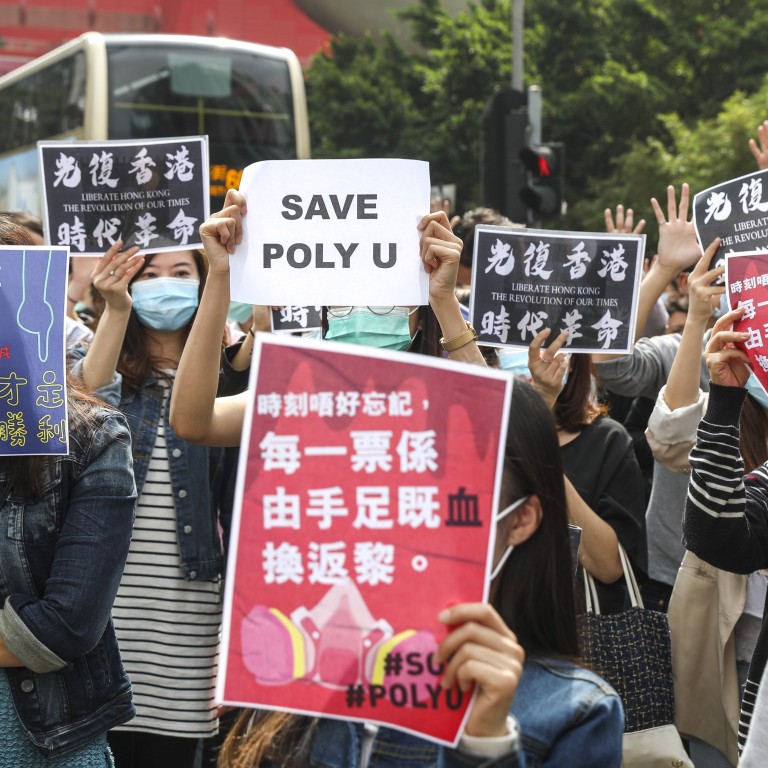 Carrie Lam must use the window of calm to start repairing the damage she has done to Hong Kong
Protesters have lost the campus battle but not the war, and the district elections watershed confirms that young, pro-democracy voters will only grow in power. Lam must use this time to reflect wisely and act quickly
If Chief Executive Carrie Lam Cheng Yuet-ngor and her bunker team think the strategy of waiting out the storm is the best and most effective option to begin the mending process in Hong Kong after the most traumatising
summer
in most of our lifetimes, then she is bafflingly mistaken.
If she believes the silence that has fallen across Hong Kong following the shocking
campus crescendo
of violence is a signal the worst has passed, then she is depressingly deluded.
If she believes the
deafening message
from the district council ballot boxes signals that the so-called silent majority has
turned away
from violence, then she may have some terrible shocks still in store. I sense the astonishing election results spell the end of the beginning, not the beginning of the end.
There can be no question that both the incandescent campus violence and the district elections on November 24 were significant tipping points in the post-
extradition bill crisis
, but whether they point towards reconstruction, or mark a pause in the engagement, has yet to be seen. The government has in its hands the power to point us in either direction, and of one thing I am certain: continuing to sit on its hands is simply not an option.
I am sure many in the protest movement seriously regret the strategy of fomenting a pyrotechnic campus confrontation, especially after the summer success of moving
"like water
", toying with and taunting both the government and the hapless police force.
But anyone believing these protesters plan to return to their workaday lives must surely also be mistaken. Much more likely, they are regrouping and reconsidering strategy. While the PolyU battle was ignominiously lost, there was encouragement from the still widespread evidence of direct and indirect public
support
.
For the government, the lessons from PolyU are clear: the "
violent minority
" involved many thousands more people than previously expected, and
dark foreign forces
were nowhere to be seen. This was a local upwelling, and to look for foreign black hands was to waste energy on irrelevancies. Such deep-seated extremity – almost cult-like in its passion – is not going to be easily rooted out.
The district council election results, coming so soon in the wake of the PolyU conflagration, are obviously directly linked, and provide a dark warning to the government, no less emphatic than the peaceful demonstration of
2 million people
back on June 16: while ordinary Hong Kong folk might shun extremism or violence, they strongly share the concerns that protesters were so dramatically expressing, and the poll turnout gave the government a second emphatic
warning
that their concerns need to be addressed.
The elections provided other important lessons that the government would be wise to heed. First, while it has been celebrated as a
landslide win
for the pro-democracy camp, winning control of 17 of the 18 district councils, in reality, the result reaffirmed a basic political demographic evident and constant in elections since 1997 – poll after poll for the more powerful Legislative Council (where voter turnout is normally higher)
showing
around 60 per cent of the population expressing anxiety over Chinese rule, and 40 per cent showing pride and patriotism.
In the district council elections, pan-democrats won
57 per cent
of the votes, an improvement from 40 per cent in 2015, versus 41 per cent pro-China (54 per cent in 2015). Why the difference? The answer is in the massive turnout – 71 per cent vs 47 per cent in 2015 – with the big jump coming from young voters.
Hong Kong still has more registered voters over the age of 50 than under, and older voters are more likely to vote. So the election results are not just about a silent majority speaking to power. It was about Hong Kong's younger generation, who are only going to have more electoral influence with time.
The second lesson is for the Legco election next September, and the chief executive election in 2022. The district council election landslide has not only greatly empowered the pro-democracy voice in day-to-day politics but also dramatically changed the
balance of power
for these future – and significantly more important – elections.
This is why Lam's ongoing paralysis is unacceptable. Having been gifted with a period of calm, her third lesson is that she has the perfect opportunity for a "
reset
" that could pre-empt further violence and begin the healing process.
Addressing the raw political issues –
investigations
into police violence, and beginning to build a more genuinely
democratic political system
– is going to take time, but the community's social and economic concerns can be tackled at speed, and could contribute dramatically to improving the political mood.
This should include housing – committing to providing housing for the 270,000 on the public housing
waiting list
– doubling the minimum wage and boosting pensions.
Most importantly, since Chinese engagement in Hong Kong's future is inevitable, Beijing's officials in Hong Kong need to engage much more transparently, and in a way that reassures that the "two systems" part of "
one country, two systems
" will be protected. Building trust is going to take a very long time, and 2047 is not so far away.
Chinese officials have repeatedly emphasised that they intend to respect the "two systems", and Hong Kong's internationally trusted
rule of law
. But actions have spoken louder than words.
Beijing pressure to introduce
Article 23
addressing treason, and its support for the extradition bill are among actions that have cut to the heart of concerns expressed by a huge majority of ordinary hardworking Hong Kong families, not just petrol-bomb-wielding extremists.
The catastrophic missteps of Lam and her administration are likely to mean that she will not be in office for very much longer, but that should not prevent her from beginning to repair some of the harm so gratuitously self-inflicted over the past eight months. The district council elections have brought us a window of welcome calm. Our government must use this wisely and well.
David Dodwell researches and writes about global, regional and Hong Kong challenges from a Hong Kong point of view
This article appeared in the South China Morning Post print edition as: Time to exit the bunker