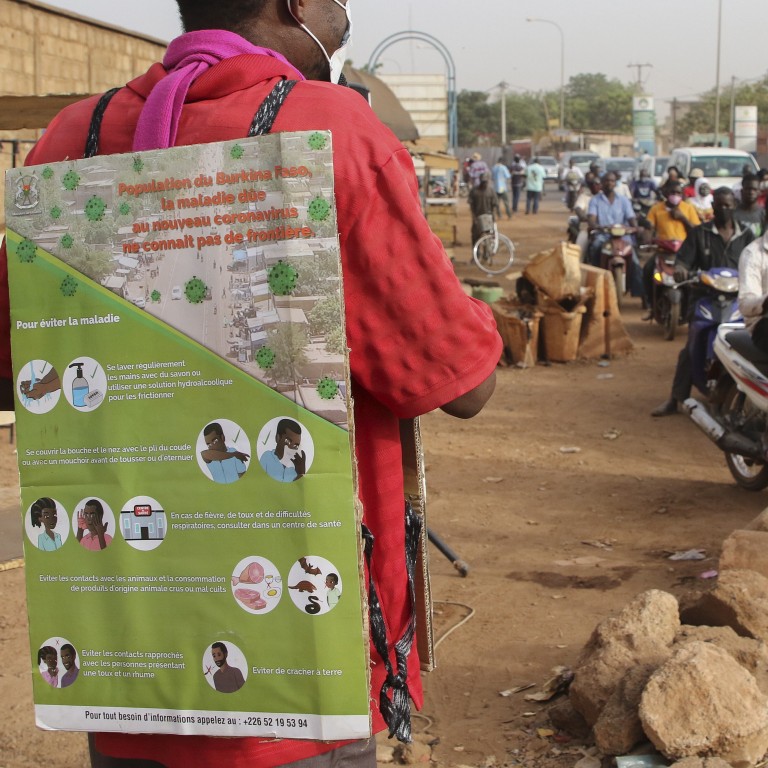 Coronavirus debt relief: why making China pay for Covid-19 won't help Africa
China, as a member of the G20, has agreed to offer the world's poorest economies a debt repayment standstill
To insist Beijing should do even more is to risk creating a situation where poor nations have trouble getting loans in future
A coronavirus pandemic is bad enough but, combined with plagues of
locusts
, it's an absolute nightmare. But one or both are currently afflicting
a lot of countries
to which China has been a primary lender in recent years.
Some form of debt relief will help the world's poorest nations cope but, at the risk of appearing hard-hearted, debt relief or even forgiveness should not be approached lightly.
Meanwhile, the UN Conference on Trade and Development has called for the cancellation of US$1 trillion of debt owed by developing nations. "The international community should urgently take more steps to relieve the mounting financial pressure that debt payments are exerting on developing countries as they get to grips with the economic shock of Covid-19," said Unctad secretary general Mukhisa Kituyi.
But decisions on debt relief as they apply to China cannot be linked to any notion that it bears responsibility for the
global Covid-19 pandemic
. Viruses don't carry passports.
While China may wish to be generous when it comes to providing debt relief, that should be based on rational evaluations that don't create precedents that borrowers might come to regret in the future, once the current crisis passes. Well-meaning decisions made now must not result in a situation where poor nations find loans harder to get in future.
One thing is sure. China has a lot of skin in this game of proposed debt relief. "From 2000 to 2017, the Chinese government, banks and contractors extended US$143 billion in loans to African governments and their state-owned enterprises," according to data from the Johns Hopkins School of Advanced International Studies.
The London-based Jubilee Debt Campaign has estimated that China holds about 20 per cent of the total debt in Africa, with multilateral institutions such as the International Monetary Fund and the World Bank holding some 35 per cent.
Indeed the IMF has confirmed that China is the single
largest
national lender to Africa. Consequently, China stands to lose out big time if there is a necessity for debt relief that goes beyond a time-bound suspension on debt repayments. Debt forgiveness on a big scale would, for example, prove very costly for China.
Of course, there is an argument that in recent years, in pursuit of its Belt and Road Initiative, China has been making
loans
that, on reflection, are commercially unwise. So, going forward, China might wish to re-evaluate whether the criteria it currently adopts for its international loans remain fit for purpose.
But, by the same token, the countries that accepted loans from China, often on commercial rather than preferential terms, weren't forced to do so but were arguably attracted by China's tendency
not to interfere
in the internal affairs of other nations.
Loans from Western nations or multilateral institutions often come with more strings attached, for instance, with regard to governance issues and transparency.
As it stands, Liu Kun, China's finance minister, confirmed on April 15 that it supports the suspension of debt repayments by the poorest countries. China appreciates the consensus reached by the Group of 20 on specific plans, will make due contributions and will continue to actively support the role of international organisations.
Some, however, seem to think China should do even more. "China must pay," wrote Nigeria's Obiageli Ezekwesili, a former vice-president at the World Bank for the Africa region, on April 16.
Ezekwesili, deploying the Johns Hopkins data, wrote: "China should immediately announce a complete write-off of the more than US$140 billion that its government, banks and contractors extended to countries in Africa between 2000 and 2017."
Such an action would "provide partial compensation to African countries for the impact that the coronavirus is already having on their economies and people".
That's not only an unrealistic demand, it's unhelpful. It is inconceivable that Beijing would accept that China must take full responsibility for the global catastrophe and pay up accordingly. Indeed, attempts to press such an agenda will only serve to make Beijing more cautious in how it responds to requests for debt relief in the current situation.
In the present circumstances, it is right for lenders to provide some form of debt relief to poorer countries. But for that to be a success, the process must not become a blame game and hasty decisions that set dangerous precedents must be avoided. Debt relief is a serious business and should not be undertaken lightly, however dire the situation happens to be.
Neal Kimberley is a commentator on macroeconomics and financial markets