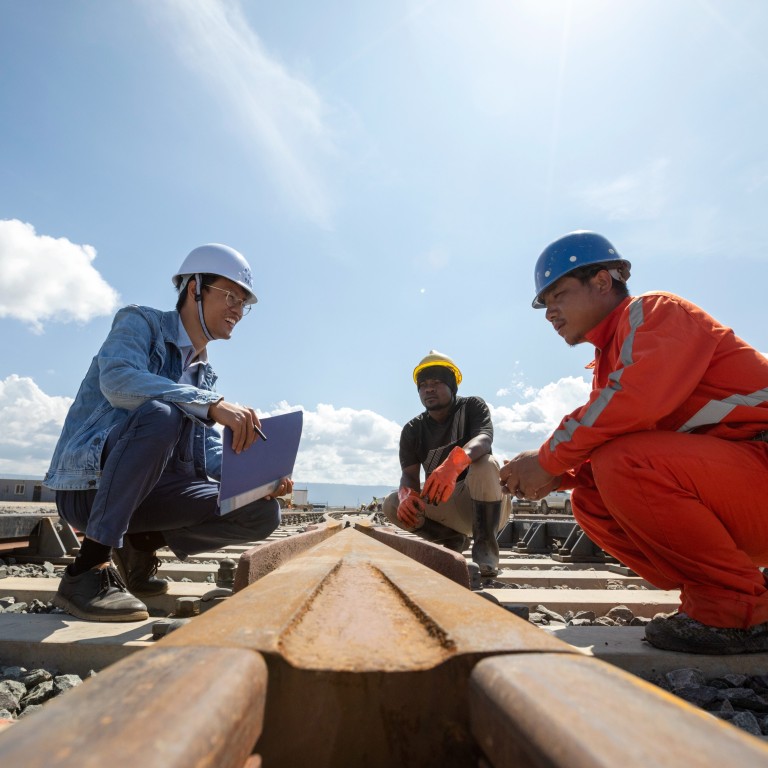 Opinion
Macroscope
by Anthony Rowley
Macroscope
by Anthony Rowley
White elephant? China's Belt and Road Initiative deserves more credit in pandemic-ruined economy
China's infrastructure initiative, which has been unfairly singled out for criticism, has made more progress than similar projects proposed by the US and others. It should be seen as an exercise in positive thinking and innovation
Could the post Covid-19 landscape become populated by a herd of "white elephants" in the form of transport, energy and other infrastructure projects under China's
Belt and Road Initiative
, but which will become redundant owing to a slump in economic activity?
Some of the scheme's critics appear to believe so, although such scepticism is likely to prove misplaced. The prevailing view in certain Western capitals that China is busily building bridges, railways and highways to nowhere will probably be confounded by an increase in demand for infrastructure.
It will take the form of digital and smart infrastructure (likely incorporating China's 5G and similar systems) as well as more conventional types of structures. It will be "multi-modal" infrastructure combining land, sea and air links, as envisaged in the initiative.
There is also likely to be a huge increase in demand for renewable energy to slow climate change and for better
social infrastructure
in the wake of the coronavirus pandemic, which has revealed massive deficiencies in medical and sanitation systems capable of coping with pandemics.
The Economist recently devoted a lengthy article not to exploring such future developments but to looking instead at how the "pandemic is hurting China's Belt and Road Initiative" and to asking: "How will Xi Jinping's biggest project survive?"
As a result of Covid-19, the report noted, "work on some [belt and road] projects has come to a halt. A few have been scrapped. Several that seemed of dubious worth even before the pandemic now look like white elephants".
Many
loans
connected to the Belt and Road Initiative, the report added, "are on the brink of default as debtors seek to defer payments that are coming due".
It is obvious that infrastructure projects everywhere will be affected by an event as dramatic and widespread in its impact as Covid-19, and equally obvious that many developing nations have run into debt problems with creditors well beyond those in China.
So why single out the Belt and Road Initiative for adverse comments? Because it is big? Perhaps, but the bashing has become something of a national sport nowadays, not least in President Donald Trump's America, but also in
Japan
and parts of
Europe
(including Britain).
The Belt and Road Initiative has become a symbol of a negative attitude manifested in myriad other ways such as the repeated predictions that China is about to suffer economic collapse, a financial crisis, a bubble bursting, a property market disaster – and so on.
Last year, the United States together with Japan and Australia established a trilateral partnership to build infrastructure along many of the routes being taken by the Belt and Road Initiative and similarly linking Asia with parts of the Middle East and Africa via land and sea routes. This initiative (subsequently dubbed the Blue Dot Network) has yet to get off the ground, and neither has the
Asia-Africa Growth Corridor
proposed some years ago by Japan and India.
These projects have been more a matter of talk rather than action up to now, and even The Economist admitted in its latest report that "the financial muscle" [behind such schemes] looks "puny" compared to the financial resources backing the Belt and Road Initiative.
02:09
Kenya opens massive US$1.5 billion railway project funded and built by China
Kenya opens massive US$1.5 billion railway project funded and built by China
Yet, Blue Dot and other schemes attract little criticism as white elephants and their (modest) progress is not subject to the kind of critical appraisal scrutiny that many Western publications (including also The Banker magazine of London among others) seem to delight in applying in the case of the Belt and Road Initiative.
I argue in a forthcoming book on infrastructure that even as attacks on the Belt and Road Initiative mount, the physical foundations of many Western nations are decaying and in some cases collapsing from failure to marshal sufficient public and private funds behind infrastructure building and maintenance.
As Allard Nooy, chief executive officer of private infrastructure development firm Infraco Asia suggested during a webinar organised in Hong Kong last week by the Inframation business intelligence group, there is a direct link between infrastructure development and economic recovery.
His words echoed those expressed in my earlier interviews with Jin Liqun, president and chairman of the Beijing-based
Asian Infrastructure Investment Bank
(AIIB) who noted that "there is empirical evidence showing an undeniable link between infrastructure investment and economic growth".
Don-ik Lee, director general for investment operations at the AIIB, noted, too, during the recent Hong Kong event, that the Covid-19 pandemic is likely to spur demand for social infrastructure, including medical facilities.
There was agreement that, if anything, infrastructure investment could receive a significant boost at a time of fast-rising employment as governments (backed by their central banks) embark upon further and huge fiscal
stimulus
, helped along by continuing low interest rates.
Whatever its shortcomings (and China seems to be correcting some of them as it goes along), the Belt and Road Initiative represents an exercise in positive thinking and innovation that is badly needed when there are so many negative economic developments. In Thailand, a white elephant is regarded as a symbol of luck. We need to see the Belt and Road Initiative herd in that light.
Anthony Rowley is a veteran journalist specialising in Asian economic and financial affairs