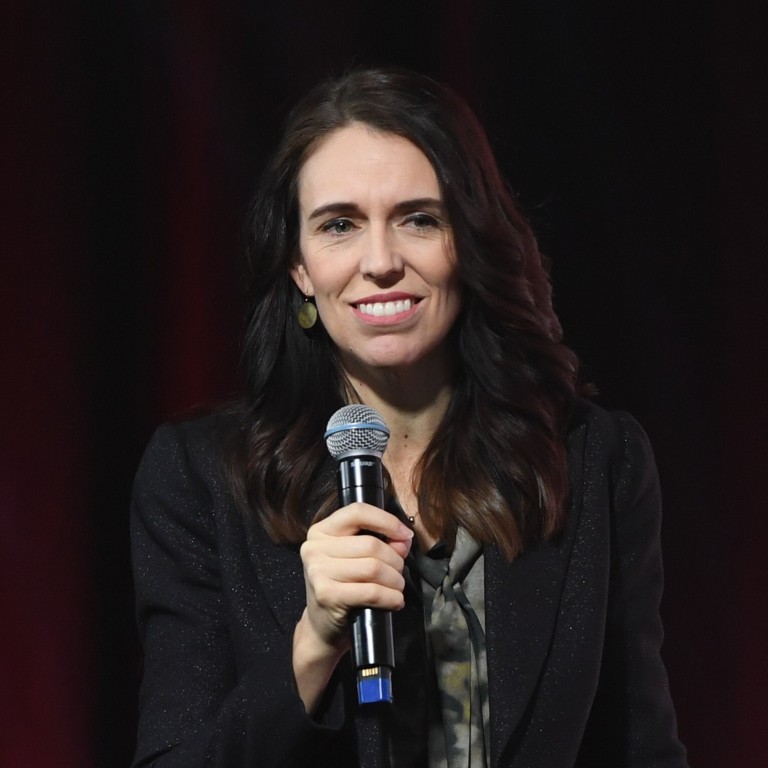 New Zealand's China trade vulnerabilities, and how to deal with them, are a lesson to other small economies
Rather than decouple from a large, fast-growing economy, a new report recommends that New Zealand should fight for open markets, trust its export businesses and use a 'China and' diversification strategy
Our friends down under in New Zealand are asking the question that perhaps all of us ought to be asking: are we
too reliant
on our trade with China?
In an excellent report prepared by John Ballingall, of Sense Partners for the New Zealand-China Council, the answer seems clear: all small economies (such as New Zealand) are, by definition, vulnerable, and there are certainly some New Zealand export sectors that are heavily reliant on the China market.
But if you have a large and fast-growing economy that wants to buy your stuff, you are foolish to forgo the opportunities – especially when the other potentially large markets remain stubbornly closed to your products.
Ballingall recommends that the government's role should be to fight broadly for open markets, trust exporters to manage the risks, and diversify on the basis of a "China and" strategy.
It is a menu of insights and recommendations that many economies should take note of, because it is not just New Zealand that is potentially vulnerable.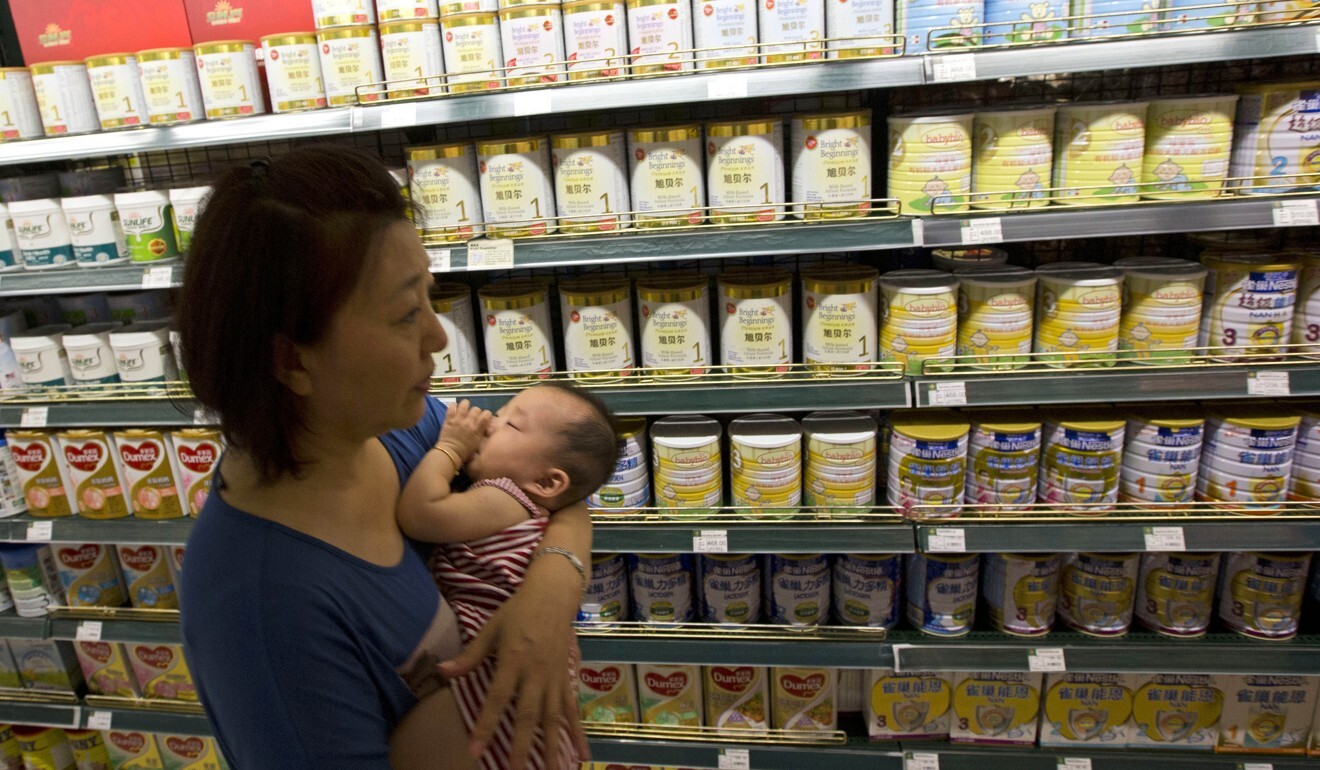 Just under 24 per cent of New Zealand's exports in 2018 went to China, with its most vulnerable areas being logs (China takes 80 per cent of its exports) and
rock lobsters
(the Chinese buy 95 per cent). Around half of the growth in
milk powder exports
over the past decade has come from demand in China.
But the report shows that other economies sit on much higher levels of exposure: nearly 35 per cent of
Australia's exports
end up in China, and 33.5 per cent of Chile's. South Korea and Peru both sell 27-28 per cent of their exports to China, with Singapore, Indonesia, Vietnam, Malaysia, the Philippines and Thailand relying on China for 10-16.5 per cent of their exports.
Among the 19 members of the Asia-Pacific Economic Cooperation region examined in the report, 11 boast of China as their top export market, and 16 rely on China as their top source of imports. So,
vulnerability
to China's economy is a widespread challenge that demands a clear-headed strategic response; you work with it, rather than turn your back on it.
As Rachel Maidment, executive director of the New Zealand-China Council commented: "We can't simply pick and choose who will open their markets to our exports, but working to reduce trade barriers and improve certainty in other markets could lead to a 'China-and' set of opportunities."
Painful colonial memories underscore New Zealand's concerns about vulnerability and diversification. Many still feel sharply Britain's "betrayal" as it fought to enter the European Union and cast New Zealand's butter, cheese and lamb exporters to the winds.
For much of the century up to 1970, Britain accounted for 70-90 per cent of New Zealand's exports, and the economic shock when Britain turned to Europe was profound.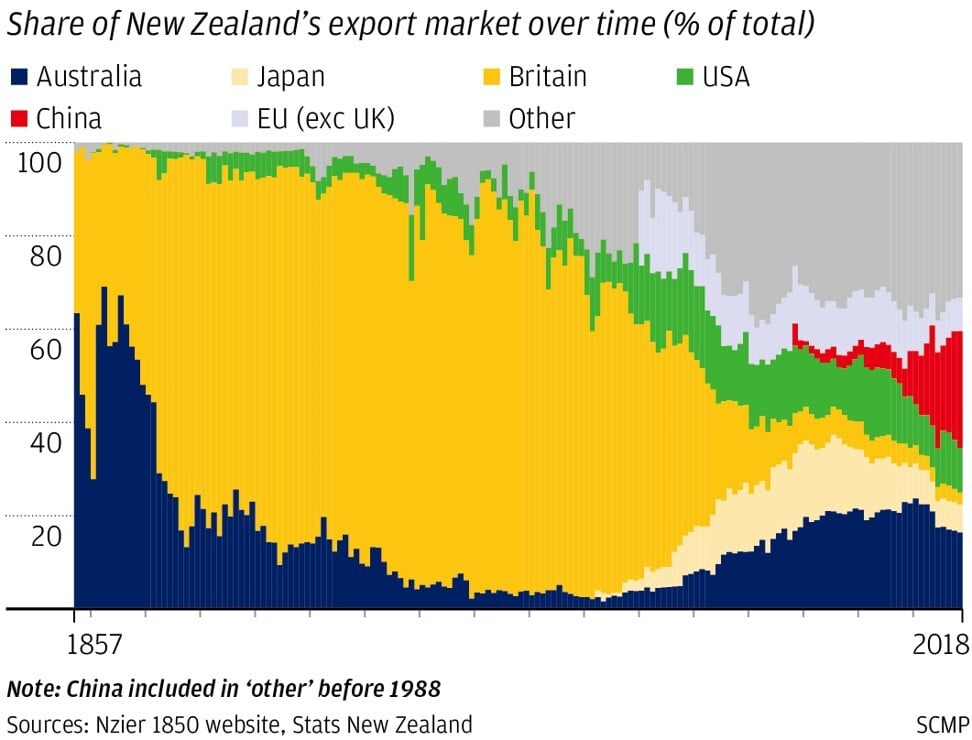 Today's reliance on China for a quarter of exports seems extremely modest in comparison, and the less said the better about Britain's
change of heart
on Europe. There is, in the report, a polite irritation with the suggestion that New Zealand should rein in its exports to China, and instead diversify into other markets.
"How much should New Zealand be trading with a huge, fast-growing market that wants what we produce and export," Ballingall asks rhetorically, wondering if an exporter is more diversified if it sells to France, Spain and Italy rather than three large Chinese provinces.
So many forget that China is not comparable to any other single country, except perhaps the United States. They forget that many of its 27 provinces have larger populations and bigger gross domestic products than most economies worldwide.
Ballingall notes in the report that China's per capita GDP has risen at about 7.6 per cent a year for two decades – from US$768 in 2000 to US$1,971 in 2010 and US$9,349 in 2018 – and that there is still a lot of powerful growth ahead, given that the average GDP per capita of the world's "developed" economies is around US$44,000. Who would we sell to instead, he asks.
Ballingall is refreshingly realistic about export diversification, noting that New Zealand still faces significant trade barriers in other key markets such as the US, the European Union and India.
"Alternative large markets do not yet offer the same degree of market access and income growth as China," he said, adding: "Large countries have always used, and always will use, trade impeding measures as part of their diplomatic arsenal."
The slap on the wrist to its allies is clear: if you want us to diversify away from the China market, then how about being less
protectionist
in your own?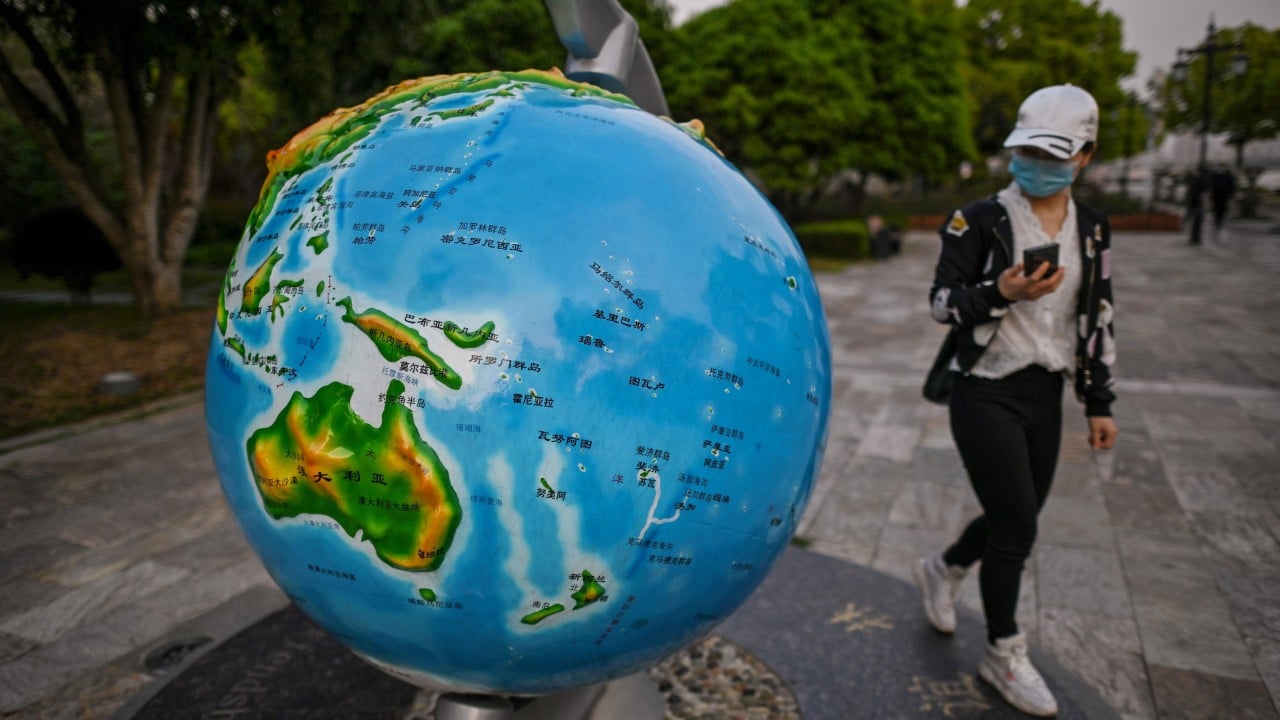 04:58
Can globalisation survive coronavirus or will the pandemic kill it?
Can globalisation survive coronavirus or will the pandemic kill it?
Ballingall is clear about the permanent inevitability of New Zealand's vulnerability – a vulnerability shared by all small economies: New Zealand has to "accept the risks and rewards associated with having an independent voice on the world stage as a small player".
The strategic response is clear: leave it to businesses to decide how much risk to take. "It seems unlikely that New Zealand firms are unaware of the risks of focusing heavily (or solely) on the Chinese market. And if they weren't aware before Covid-19, they will be now."
The task of government should be to encourage diversification of exports and to
fight relentlessly
to open markets and keep them open.
That is why New Zealand is such a strong advocate of multilateral and plurilateral trade agreements such as the
Comprehensive and Progressive Agreement for Trans-Pacific Partnership
(CPTPP), and free trade agreements (10 are in force, six have been completed but are not yet operational, and eight are under negotiation). It sees its job as giving exporters "more options to sell to more markets".
Beyond that, the job is to remind businesses that they will always be vulnerable. And, with that in mind, Ballingall would strongly endorse the views of Rachel Taulelei, CEO of Kono, a family-owned Maori food and drink producer in New Zealand's South Island.
She argues that New Zealand's export success rests on six core Maori principles: rangatiratanga (excellence in all we do); manaakitanga (we rise by lifting others); whanaungatanga (together we are more); kaitiakitanga (our duty, our heritage, our legacy); hihiritanga (doing things better, doing better things,) and; pono (we do as we say).
There are many other economies that have much to gain from undertaking a study such as Ballingall's. They would gain too, from adopting Kono's Maori business principles – if they could pronounce the words, that is.
David Dodwell researches and writes about global, regional and Hong Kong challenges from a Hong Kong point of view