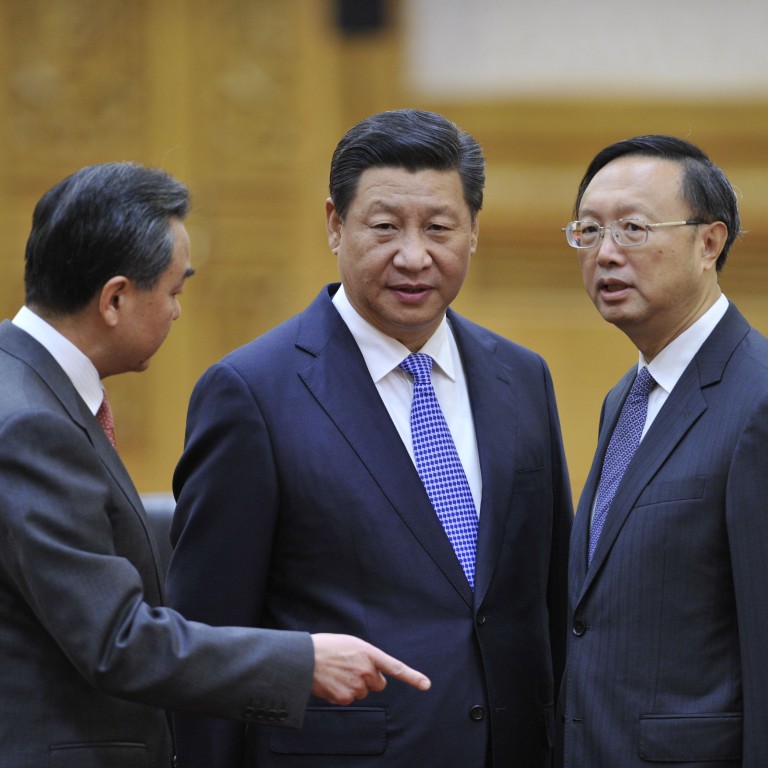 Opinion
Outside In
by David Dodwell
Outside In
by David Dodwell
US-China relations: Alaska meeting offers hope of the beginning of a thaw
Amid unprecedentedly negative US public views of China, concrete results cannot be expected, but that does not matter
The two can agree to disagree on the Uygurs and Hong Kong, and perhaps find common ground on the Myanmar crisis, climate issue and pandemic recovery
I glimpsed at the Anchorage weather forecast for the weekend ahead: minus-4 degrees Celsius, light snow, feels like minus-9 degrees. Surely that is a fitting deep-freeze setting for the
first, tentative meeting
between top officials tasked to rebuild the US-China relationship out of the dark Manichaean mess that has marked the past four years.
I confess the meeting is a surprise, albeit an encouraging one. I have no idea who suggested it, but it was a smart offer. Concrete results cannot be expected, but that does not matter.
The simple willingness of Joe Biden to let his top foreign affairs Sherpas – Secretary of State Antony Blinken and national security adviser Jake Sullivan – stop over in Anchorage on their way back from meetings in Japan and South Korea, to meet their Chinese counterparts, Politburo member Yang Jiechi and Foreign Minister Wang Yi, shows open-mindedness and opportunism of the highest order.
The diplomatic finesse is in sharp contrast to the blunt-instrument pugilism that marked Biden's predecessor.
Any criticism in the United States must surely be blunted by the fact that the Anchorage discussions will be slipped in neatly after meetings with top US allies Japan and South Korea, and before discussions between Biden and his
"Quad" allies
Australia, Japan and India.
Beijing has been signalling for some time a willingness to begin a rebuilding process, perhaps aware of, and anxious to, address its sharply deteriorating global image problem driven by human rights issues linked with the
Uygurs
and with the
national security law
in Hong Kong.
Wang recently spent 90 minutes with selected media during the NPC meetings in Beijing, talking up China's in-good-faith commitment to the recently concluded
EU-China investment agreement
, and
emphasising
that China and the European Union "are two important powers in a multipolar world": "I can tell you clearly that China is committed to fulfilling every commitment in the deal, including efforts to sign related items of international labour conventions."
Wang also made an
interesting appeal
for everyone to respect one another's differences: "The Chinese side resolutely believes that diversity is a distinct feature in human civilisation. Differences in political systems should not be a reason for confrontation, but a chance for dialogue and exchange."
This weekend offers a first chance for such dialogue and exchange, and Wang and Yang could do no better in preparation than to take a deep breath and browse the
report released last week
by the Pew Research Centre in the US on American views about China.
This annual survey by the widely respected Pew shows a precipitous collapse in US views about China. Whether rational and justified, the survey results provide a sobering glimpse into the long and challenging road ahead if China is to rebuild trust and cooperation.
According to Pew, nine out of 10 Americans see China as a
competitor
or enemy rather than a partner. About 53 per cent want the Biden administration to get tougher on China, with 48 per cent insisting that a top foreign policy priority should be to limit Chinese power – both military and technological.
Nine out of 10 believe China does not respect personal freedoms, with 50 per cent saying
human rights
is "a very serious problem" in China, and 70 per cent saying that the US should continue to attack China on human rights issues even if this harms economic relations. About 55 per cent want to limit Chinese students allowed to study in the US.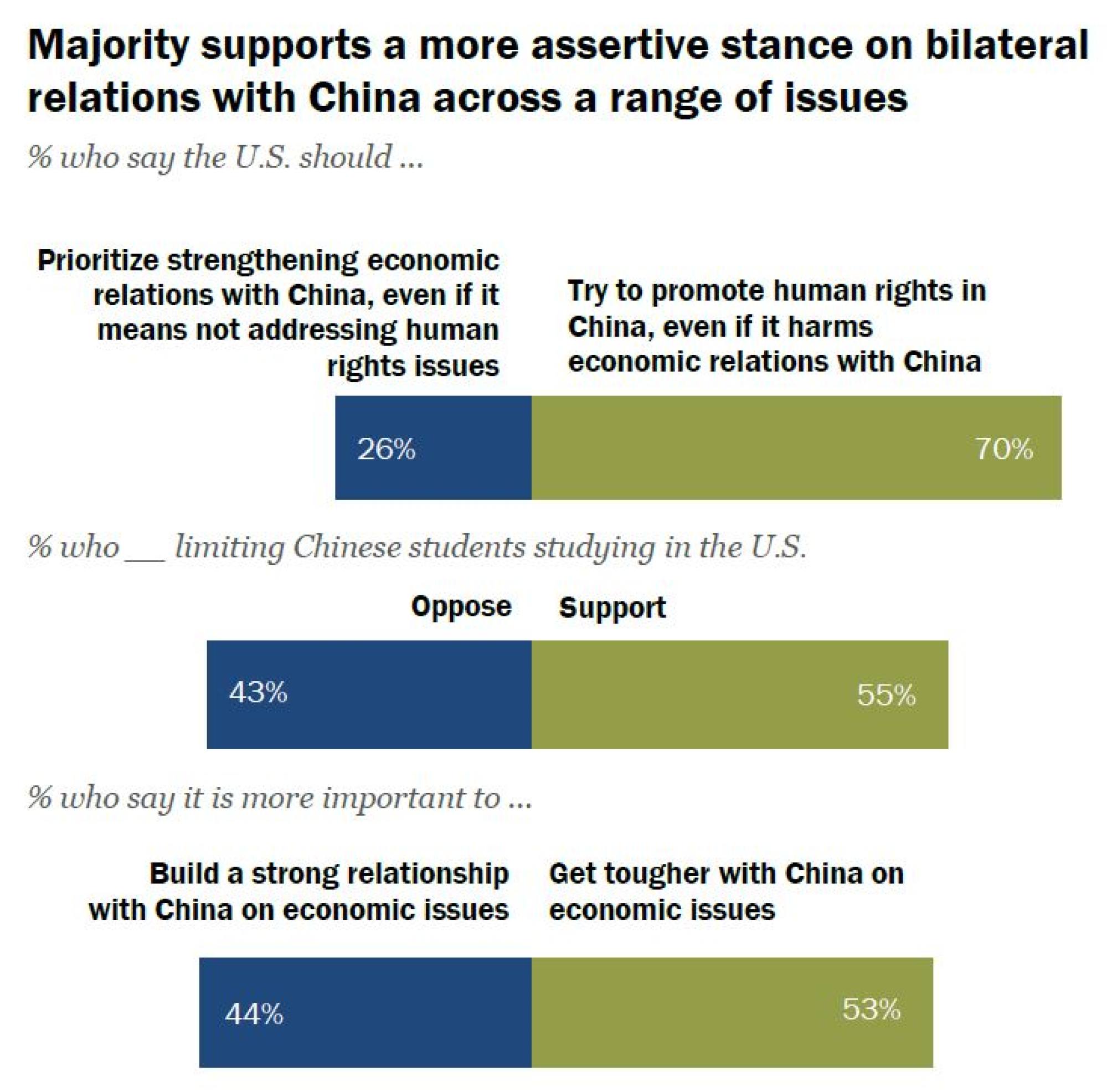 On other key current issues, 54 per cent believe China has done a bad job on dealing with the Covid-19 pandemic (though it is worth noting that even more – 58 per cent to be exact – thought the US administration had done a bad job too).
Of pressing importance as preparations begin for the Glasgow COP26 climate summit in November, a total of 79 per cent of respondents said China had done a bad or very bad job in dealing with the climate.
"No more than a quarter rate China's climate change approach positively, regardless of age, education of political affiliation," the Pew report said.
A total of 67 per cent of respondents said they had "cold feelings" towards China, compared with 46 per cent when the survey question was last asked in 2018, and a stark 82 per cent had no confidence that Chinese President Xi Jinping would "do the right thing" in international relations.
If there is any comfort at all in the Pew findings, it is that Republicans hold far more negative views towards China than Democrats on almost all issues except human rights, and that women, blacks, Hispanics, those under 50, and the better educated hold less negative views.
While 51 per cent of Republicans still believe the
Trump tariff war
was good for the US, 60 per cent of Democrat respondents said it was bad for the US. While 53 per cent of Republican respondents view China as an enemy, just 20 per cent of Democrats hold that view.
With this unprecedentedly negative public view of China providing a backdrop to this weekend's Anchorage meeting, Wang and Yang should braced themselves for some tough talk, and the expectation of a long, slow haul ahead. They will need to agree to disagree on the Uygur issue and on Hong Kong, but may be able to find some common ground on the management of the crisis welling up in
Myanmar
.
From my point of view, they would do well to focus on a pathway to agreement on climate issues and the pandemic recovery. My main comfort is that the meeting is being held at all.
David Dodwell researches and writes about global, regional and Hong Kong challenges from a Hong Kong point of view