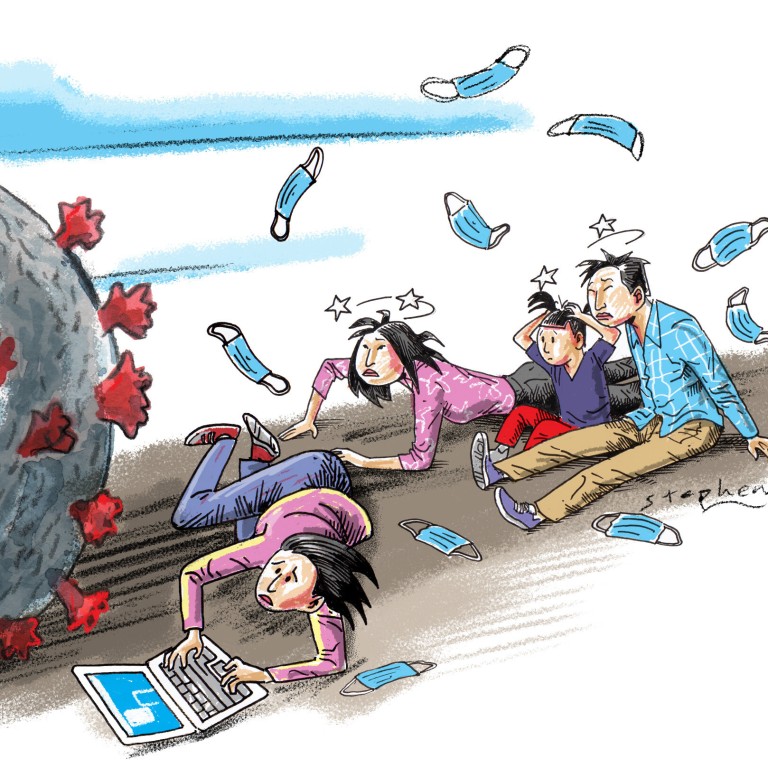 Opinion
Lina Vyas and Stuti Rawat
Lina Vyas and Stuti Rawat
Now Hong Kong needs to fight the effects of Covid-19 on the environment, the economy and education
Given the surge in the number of face masks and plastic utensils, measures are needed to counter their use and manage their safe disposal.
The government must also do more to protect middle-income households from falling into poverty, and counter the effects of remote learning on existing inequalities
As Covid-19 infections decline, the Hong Kong government is trying to boost the vaccination rate to win its fight against the coronavirus. But the battle extends to other arenas. In three important sectors, namely the environment, economy and education – the 3Es – the pandemic has raised issues that need more targeted measures from the government.
Take the environment. With a recycling rate below 30 per cent and more domestic waste per capita than economically comparable cities such as Tokyo and Seoul, Hong Kong's struggles with waste predate the pandemic.
Since the pandemic began, according to government estimates, some 4-6 million
disposable face masks
have been used in Hong Kong daily, amounting to 1-2 billion face masks annually. This has been accompanied by a pandemic-induced increase in single-use daily items such as takeaway cutlery, and health care items such as gloves.
Together, these are a source of litter and a threat to the environment. In February last year, months before mask-wearing in public places became compulsory, environmental group Oceans Asia reported that discarded face masks were lining the beach in the uninhabited Soko Islands.
Face masks and other plastic items are sources of
microplastics
, which can be easily ingested by aquatic organisms and adversely affect the ecosystem.
Existing schemes such as the distribution of
reusable masks
to citizens and a
subsidy for recyclers
, while welcome, are not enough. This is evident from a quick scan of any public space, which reveals the
unrestrained use
of disposable masks and a dearth of recycling collection points.
Moreover, there is no policy directive regarding the disposal of pandemic-specific waste by the general public. Given the surge in the number of face masks and single-use plastics, measures are needed to counter their use and manage their safe disposal. The government needs to raise awareness of and encourage environmentally friendly practices in combating Covid-19.
When it comes to the economy – the second E – we wish to highlight the case of Hong Kong's middle class, tellingly referred to as the "
sandwich class
". Existing social security protection does not extend to them, even though this group has not been immune from the repercussions of the pandemic.
According to the Hong Kong Council of Social Service, unemployment rates for those who held middle-level jobs rose sharply in the third quarter of 2020. Not only were those in middle- and high-level jobs affected by unemployment and underemployment, the duration of unemployment was also long. The subsequent drop in family income for such households was estimated at more than 50 per cent.
Despite this, avenues of support for the middle class are limited. While there were a few measures in the 2020-2021 budget, such as tax concessions, a school exam fee waiver and a HK$10,000 (US$1,288) payout, the government's Anti-epidemic Fund has prioritised businesses.
With the budget for 2021-22, the government has introduced additional measures that can benefit the middle class, such as a
loan guarantee scheme
for the unemployed, a
HK$5,000 consumption voucher
and a HK$1,000 residential electricity bill subsidy.
But these measures are inadequate. The loan scheme is subject to a ceiling of HK$80,000, an amount roughly equivalent to less than three months' average household expenditure in this expensive city.
Similarly, the electricity bill subsidy does not account for the extended work-from-home conditions that have contributed to higher energy use. The government must do more to protect vulnerable middle-income households from falling into poverty, as has been
happening globally
.
With education – the third E – we wish to highlight the effect of remote lessons on existing inequalities. Unlike the rest of the world, disruptions to Hong Kong's tertiary education sector began earlier, in 2019, with the protest movement which saw a large involvement by university students.
In response, universities switched to online teaching. Things had scarcely normalised when Covid-19 again ushered in online teaching in early 2020.
For many students, Hong Kong's university campuses provide both space and an environment in which to study. With remote teaching and pandemic-induced restrictions, many were forced to attend online classes from cramped homes with a poor learning atmosphere.
We surveyed 505 tertiary students in Hong Kong about their experience of online lessons and found that almost half reported feeling less motivated. This is disconcerting, as motivation is tied to learning outcomes, academic success and course completion.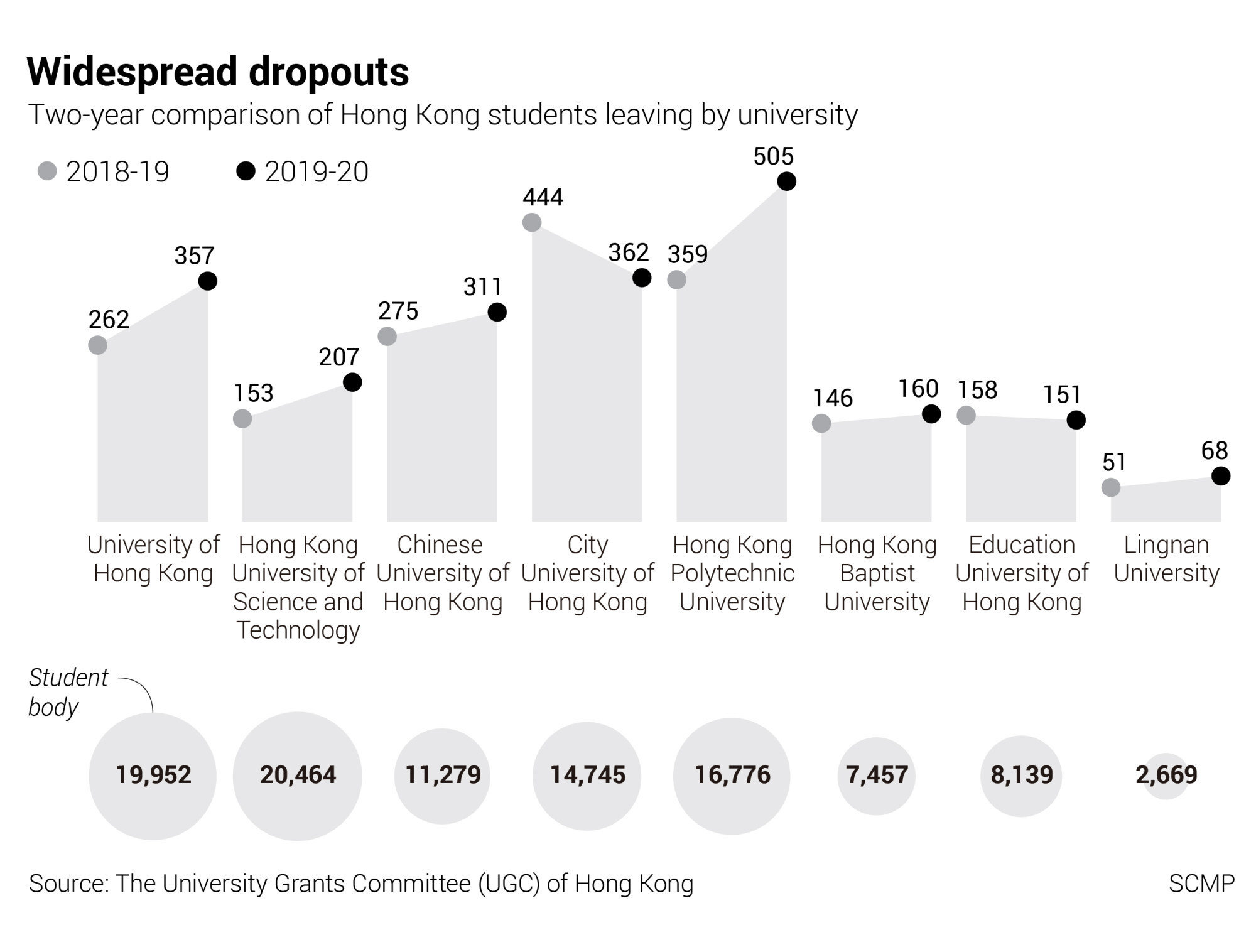 Moreover, detrimental effects are more likely to be experienced by students from disadvantaged backgrounds. A study of Dutch school students found that "learning losses" – that is, a loss of knowledge or a reversal in academic progress – in an online classroom during Covid-19 were most pronounced for underprivileged students. Similarly, during the pandemic in the US, lower-income university students were more likely to delay graduation compared to their peers.
An extended period of remote teaching, as Hong Kong has seen, is likely to exacerbate inequalities in educational achievement, motivation and aspirations. Left unaddressed, this will have long-term consequences for the labour market.
To counter this, the government could introduce scholarships and fee-forgiveness schemes for university students, while also expanding its Youth Employment and Training Programme. Given the mental and emotional toll of the pandemic, mental wellness clinics should be promoted at universities. In the long term, it will be crucial to enhance resilience and equity in the education sector.
The pandemic has disrupted our lives and ushered in unanticipated change. While the government has done much to control the spread of the virus, it is time to direct its attention towards the secondary effects of Covid-19, before these trigger crises in other arenas.
Dr Lina Vyas is an associate professor in the Department of Asian and Policy Studies at the Education University of Hong Kong, where Dr Stuti Rawat is a postdoctoral fellow