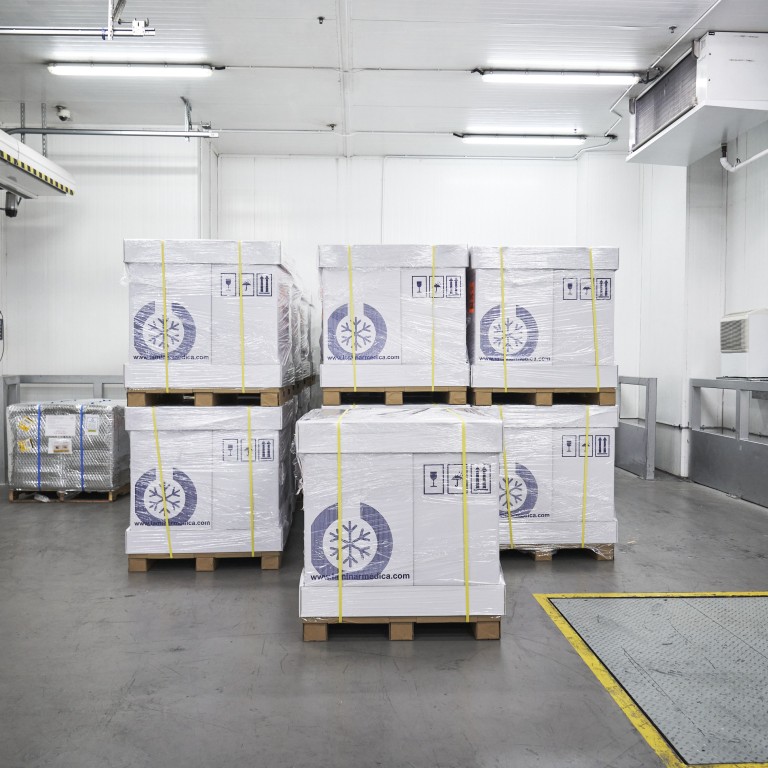 Opinion
The View
by Nicholas Spiro
The View
by Nicholas Spiro
How the pandemic is turning cold-storage logistics into a hot niche industry
Demand for the facilities that maintain the shelf life of perishable products from vegetables to vaccines is likely to outlive the pandemic
Investors are drawn by higher rental yields and longer leases due to the scarcity of high-quality and suitable assets, but the sector is not without its challenges
For the less-well-trodden parts of the global real estate market, the Covid-19 pandemic has been a defining moment. Even before the virus erupted, interest in so-called "alternative" sectors – non-traditional types of property that offer higher rates of return and allow investors to diversify away from the most
popular and expensive
areas of the market – was rising sharply.
Although relatively immature and illiquid compared with the main commercial property sectors, alternative assets – which include data centres, school facilities and elderly care – are among the biggest beneficiaries of secular and structural trends in the global economy.
One of the effects of the pandemic has been a rapid acceleration of some of these trends, particularly when it comes to digitisation and life sciences. In the real estate industry, investors'
appetite for data centres
has been fierce, helping catapult a niche sector into the premier league of property investment.
However, another sector, which is even more of a niche market, has garnered a lot of attention since the virus struck. Cold-storage logistics – the facilities that maintain the quality and shelf life of different perishable and temperature-sensitive products ranging from vegetables to vaccines – is now firmly
on investors' radar
.
The forces driving demand for cold-chain logistics have huge momentum, and are likely to outlive the pandemic. Unlike conventional dry warehouses, cold-storage facilities are equipped with mechanical and structural installations that keep temperature and humidity levels within a small range.
As with other types of modern logistics infrastructure, there is an acute shortage of cold-chain storage capacity in developing economies. Although India and China alone account for 42 per cent of the capacity worldwide, the availability of cold storage per urban resident in both countries is significantly below the levels in America and Britain.
What is more, cold-storage markets in developing nations are highly fragmented, dominated by small operators and invariably owner-occupied. This creates significant opportunities for sophisticated developers and operators to build and run technology-enabled facilities that cover the entire value chain, providing a one-stop shop for cold-chain solutions. 
Investors are increasingly drawn to the sector, attracted by a combination of higher rental yields than those on dry warehouses, higher rents – the premium ranges from 50 to 100 per cent, or even higher, depending on the market and type of facility, data from Cushman & Wakefield shows – and longer leases due to the scarcity of high-quality and suitable assets.
In a sign of the potential for growth in Asia, even in a relatively mature market like Singapore, a leading biomedical sciences hub, cold-storage warehouses account for just 10 per cent of the stock of Grade A warehouse space, according to Colliers.
China and South Korea have attracted particularly strong interest. Last month, US investment manager Blackrock reached an agreement to invest in a portfolio of cold-storage facilities developed by Metcold, China's leading cold-storage logistics firm. Meanwhile, US developer Hines announced the development of a multistorey cold-storage logistics centre in the greater Seoul area.
However, cold-chain logistics, like other niche sectors in real estate, is not about to go mainstream. Although the perception and profile of the sector have benefited hugely from the pandemic, investors face a number of challenges in deploying capital.
First, given the relative immaturity of the sector, there is a lack of market data, particularly when it comes to pricing and rent. This is not surprising in view of the strong correlation between rising institutional investment in niche industries and higher levels of transparency.
Cold-storage logistics is in a chicken and egg situation. While the sector needs to become more liquid for data to be more widely available, investors will find it difficult to do deals in the absence of reliable information.
Tom Woolhouse, head of logistics and industrial for Asia-Pacific at JLL in Singapore, says an increase in speculatively built cold-storage spaces will help shift the occupier market away from owner-occupation towards leasing, "presenting a greater opportunity for investors to access the sector".
Another key challenge facing investors, which is also a problem for buyers targeting data centres, is the expertise and risk tolerance required to gain a foothold. Unlike conventional warehouses, cold storage facilities are much more operationally intensive and require specialist knowledge. This is partly why there is a scarcity of investible assets.
These high barriers to entry are off-putting to most real estate investors. For those able and willing to take risks to establish a presence in the sector, partnerships with specialist operators and developers with expertise in the logistics sector are the only realistic option.
The disconnect between the surge in interest in cold-chain logistics and the operational and development prowess needed to deploy capital will inevitably narrow as the sector matures. For the time being, however, investors have their work cut out.
Nicholas Spiro is a partner at Lauressa Advisory