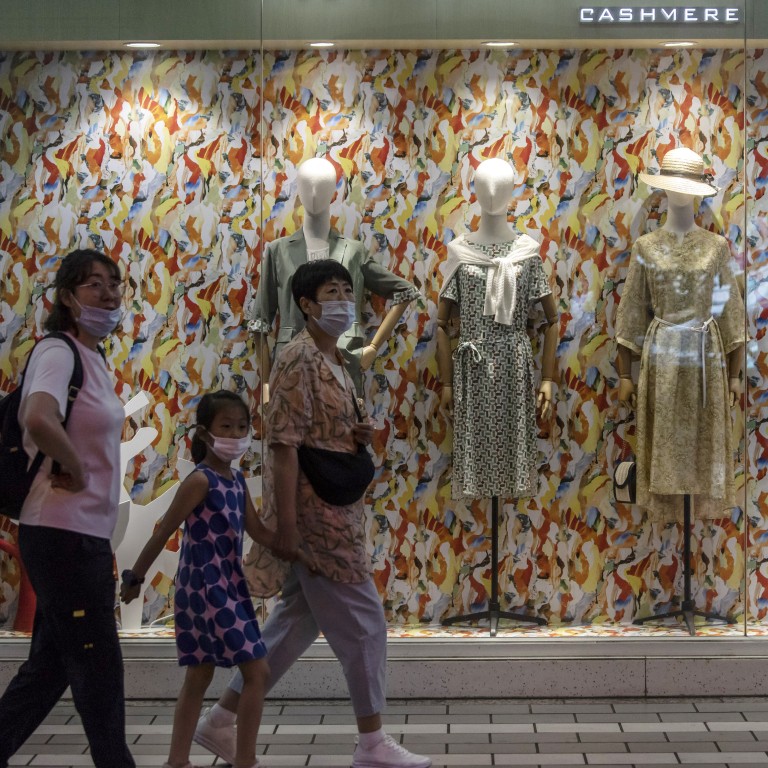 Opinion
Macroscope
by David Brown
Macroscope
by David Brown
Why US and Chinese consumer optimism is key to global post-pandemic recovery
Despite their differences, both the US and China will be relying on consumer-led recovery to forge stronger growth in the next few years
Keeping consumers upbeat is vital, and a return to austerity should be avoided at all costs
Can the beleaguered consumer save the global economy from further duress? Battered by
the Covid-19 pandemic
, steeped in economic uncertainty and laid low by furloughs, job worries and weaker purchasing power, consumers are staging a brave comeback.
Sustainability is key, and consumers in the United States and China can both play strong roles in the recovery process. Despite their differences, it is easy to forget how much both economies have in common.
As the two superpowers make their way out of the pandemic, they will be relying on
consumer-led recovery
to forge stronger growth in the next few years. That means keeping interest rates abnormally low and fiscal policy exceptionally loose for as long as possible.
If US and Chinese consumers remain optimistic, there's a better chance of global economic recovery. They have a lot to offer. Both economies are powerful engines of global growth, accounting for 42 per cent of world GDP, with consumer spending representing the lion's share of overall demand.
According to the World Bank, US consumers account for 82 per cent of the country's overall GDP, while consumers in China make up 56 per cent of its economy. It's clear that policymakers in both countries need to keep their consumers pumped up on
policy steroids
with no U-turns any time soon.
Their policy needs are fairly similar: keeping consumers in the vanguard of recovery backed up by stronger government spending, faster investment growth and more buoyant external trade. 
US President
Joe Biden
's
economic regeneration plan
is already on the right track. He is pumping record amounts of new money into the US economy with major government
spending initiatives
aimed at boosting business conditions, promoting recovery in the jobs market and supporting consumer morale in the process.
US consumer confidence has already made a solid recovery from last year's recession. It is still early days, though, and optimism has a long way to go before it reaches pre-pandemic highs last seen in January 2020.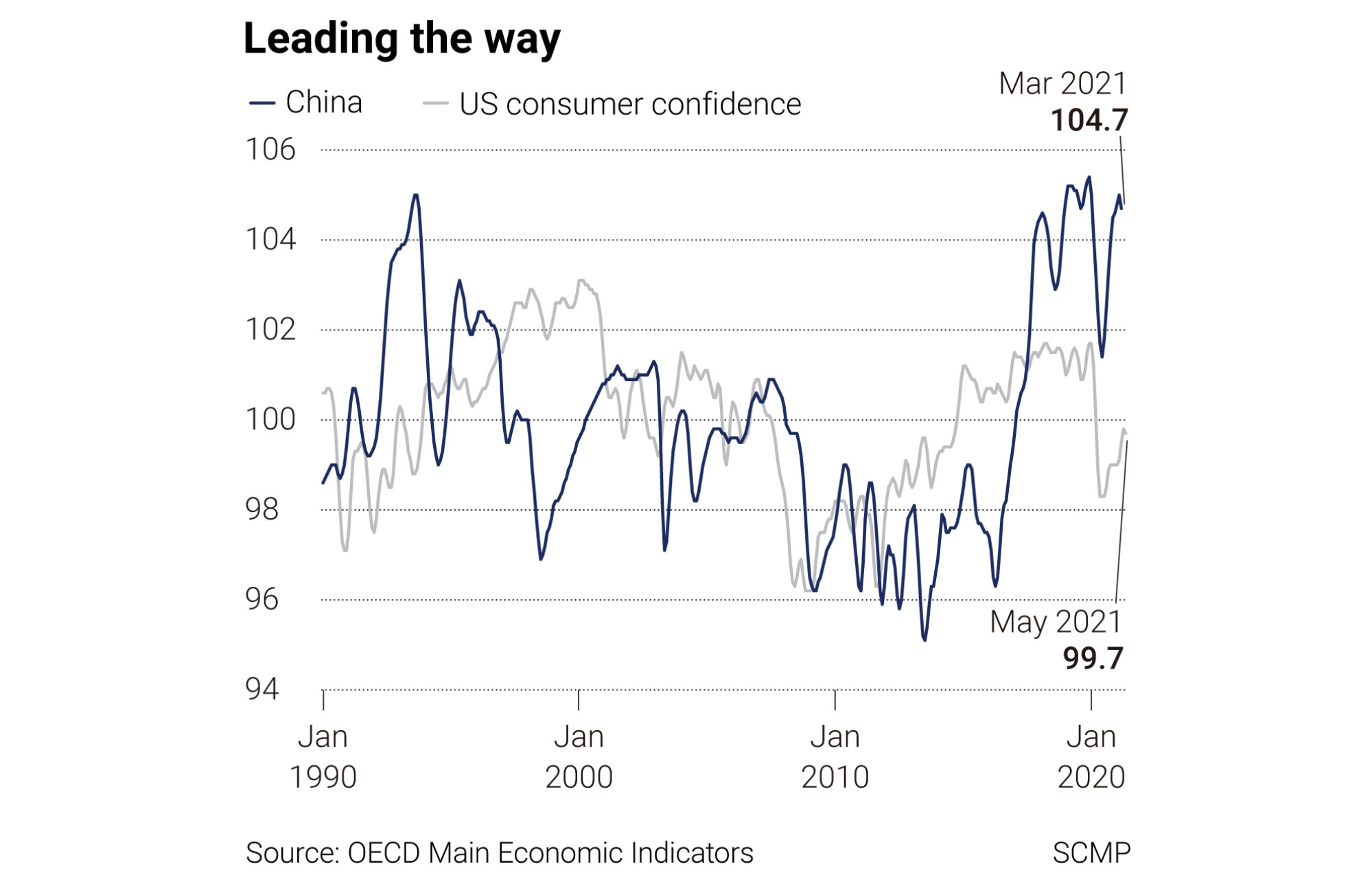 Employment levels are recovering, with the US jobless rate dropping to 5.8 per cent in May from last year's 14.8 per cent peak at the height of the
furloughs and factory shutdowns
. It will require a lot more policy stimulus before the rate eventually returns to last year's 3.5 per cent cyclical low. 
That means US fiscal policy has to take up more slack while the
US Federal Reserve
is under pressure to extend the period of near-zero interest rates for as long as possible.
The Organisation for Economic Cooperation and Development estimates the US budget deficit has already reached 15.9 per cent of GDP, and the chances are that it could go even higher in the next few years if policies remain unchanged.
With the Fed considering an early shift to tighter monetary policy, possibly within the next year, there is even more pressure on the government to support future economic expansion.
US consumer morale can ill-afford the prospect of higher borrowing costs, higher taxes or a squeeze on government spending. The odds are in favour of US budgetary policy remaining highly expansionary for the next five years at least, or until self-sustaining
economic recovery
is assured.
Stronger homespun growth is the mainstay of China's
dual circulation strategy
. Supporting consumer sentiment should also buttress Beijing's longer-term drive towards a more consumer-based society.
China's recovery appears on track, with the economy advancing
18.3 per cent
in the first quarter – although there have been
signs of a slowdown
in the pace of consumer demand in the past few months.
China's
retail sales
growth slowed to 12.4 per cent year on year in May, from 17.7 per cent in April. Consumer confidence slipped to 121.5 in April from a peak of 127 in February.
Domestic demand
is holding up well, but Beijing must ensure its macroeconomic policy settings remain sufficiently loose to support a consumer-led recovery in the years ahead.
As the thrust of economic stimulus eventually shifts away from cheap money, it is vital that global fiscal policy remains on an expansionary footing. Keeping consumers upbeat is the key to maintaining global recovery. A return to austerity should be avoided at all costs.
David Brown is the chief executive of New View Economics