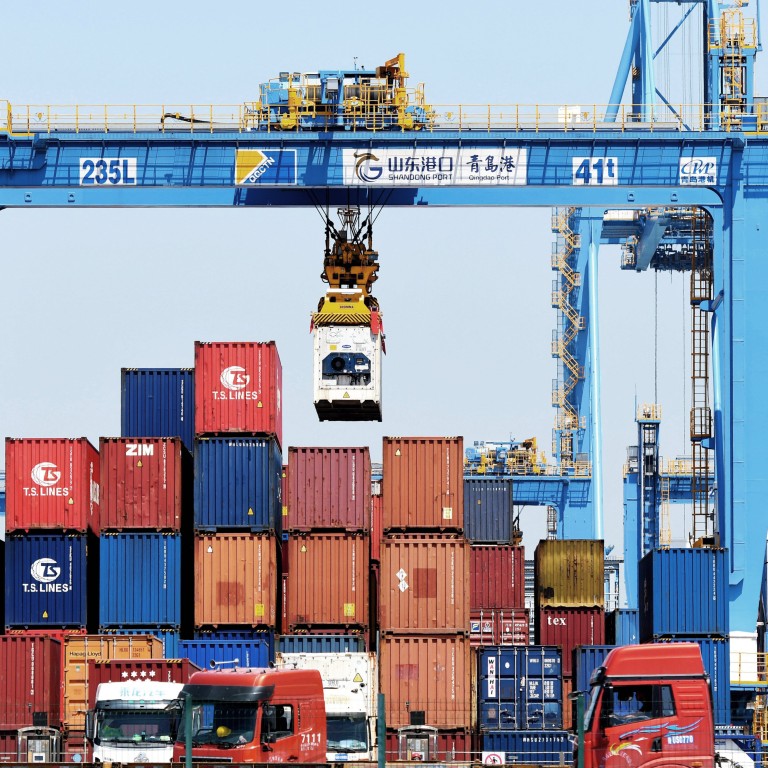 Opinion
Macroscope
by David Brown
Macroscope
by David Brown
A US-China-Europe trade deal is what financial markets need
Given the recovery in world trade growth this year, if the US, China and Europe can strike a deal to stop the slide towards global protectionism and boost opportunities for freer trade, markets could rocket
There are many potential problems still weighing on global recovery, clouding the outlook for world financial markets in the coming months.
The relentless spread of Covid-19
variants
, slower global growth, the resurgence of
inflation
and uncertainty surrounding future
policy responses
from governments and central banks are compounding the problems facing investors hoping to get out of harm's way.
On the bright side, though, there has been a rapid recovery in world trade growth this year, a big morale booster for investors if it can be maintained. If the US, China and Europe can strike a deal to stop the slide towards global protectionism and boost opportunities for freer trade in the future, then markets could rocket.
It could set the seal on much faster world trade growth and clinch much stronger global growth in the process. It's definitely worth a shot, so what's stopping the world from trying?
Despite the continuing fallout from the
US-China trade war
and the damage wrought by the Covid-19 pandemic on global business activity in 2020, world trade flows are bouncing back.
The latest data from the Dutch CPB Bureau for Economic Policy Analysis shows that, for the three months to May, world trade flows were 19.5 per cent higher than the same period a year earlier.
Clearly, negative base effects have been a factor as global economic activity last year was badly depressed, with lockdowns, furloughs and
factory shutdowns
a major drag on world exports at the time.
A better gauge of global trade conditions in May shows the annualised three-month rate of growth over the previous quarter expanding at a relatively robust rate of 12.3 per cent. World trade seems to be heading back to its long-term growth potential.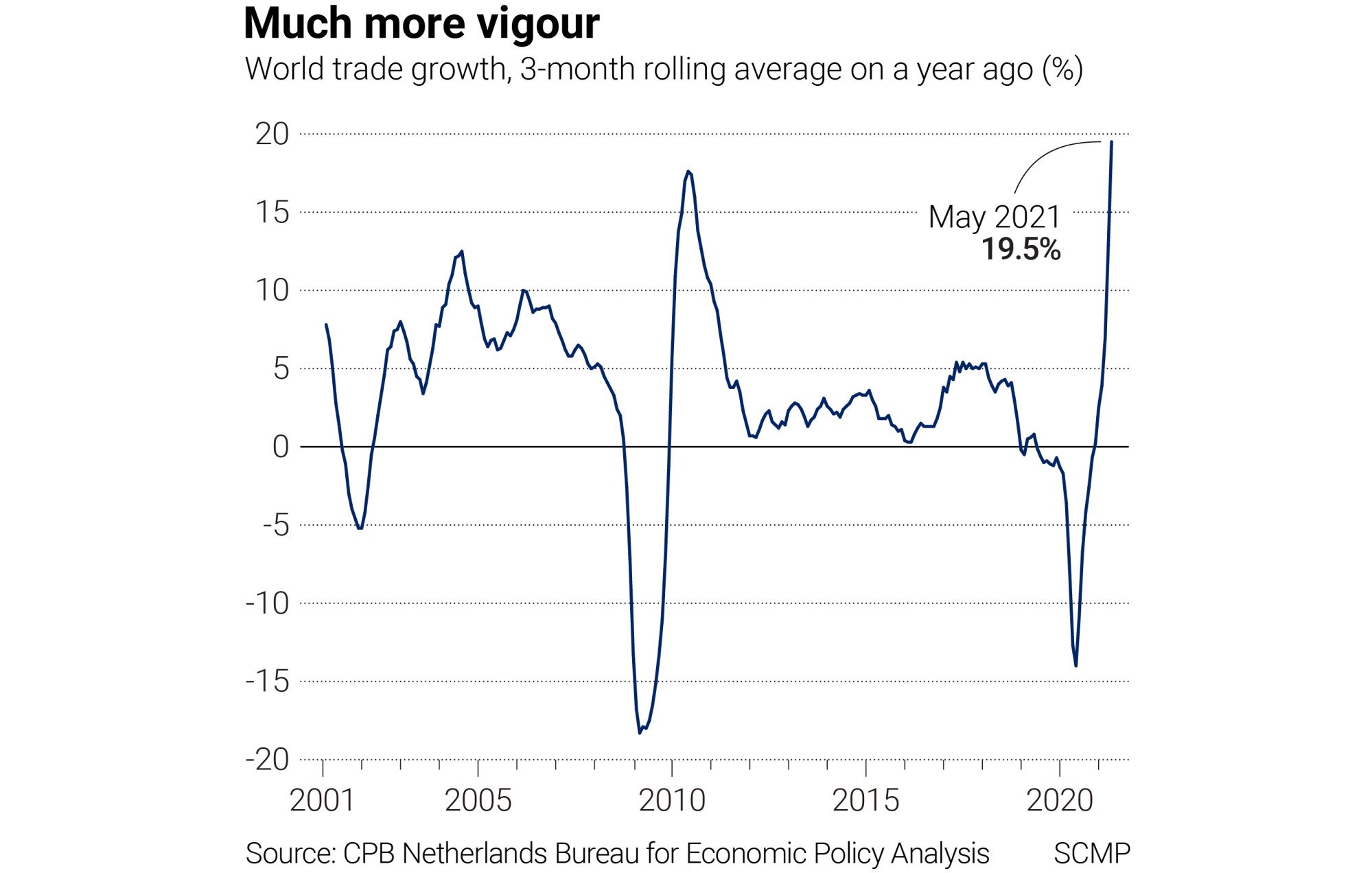 But there's still a lot of catching up to do after the pandemic's disruption. Global business activity remains out of sorts, there's a sizeable backlog of factory orders waiting to be filled,
shipping containers
are reportedly out of position and
stretched supply chains
are starting to cause price spikes.
It's all feeding into fears about rising cost-push inflation and a major reason behind China's producer price inflation rate rising
8.8 per cent
in June from a year earlier. The hope is the recent spate of producer price rises are a temporary distortion that should soon start to unwind.
The last thing the world needs is any further cost-push inflation pressures, especially owing to trade frictions and new hikes in import tariffs.
The narrative needs to change and the damage to international trade conditions after years of worsening Sino-US relations must be patched up as soon as possible. Better lines of communication seem to have
opened up
between Washington and Beijing, so hopefully differences can be resolved amicably over time.
There's no room for the war of words over "unfair trading practices" and "intellectual property theft" which were levelled at China by US president Donald Trump between 2017 and 2021.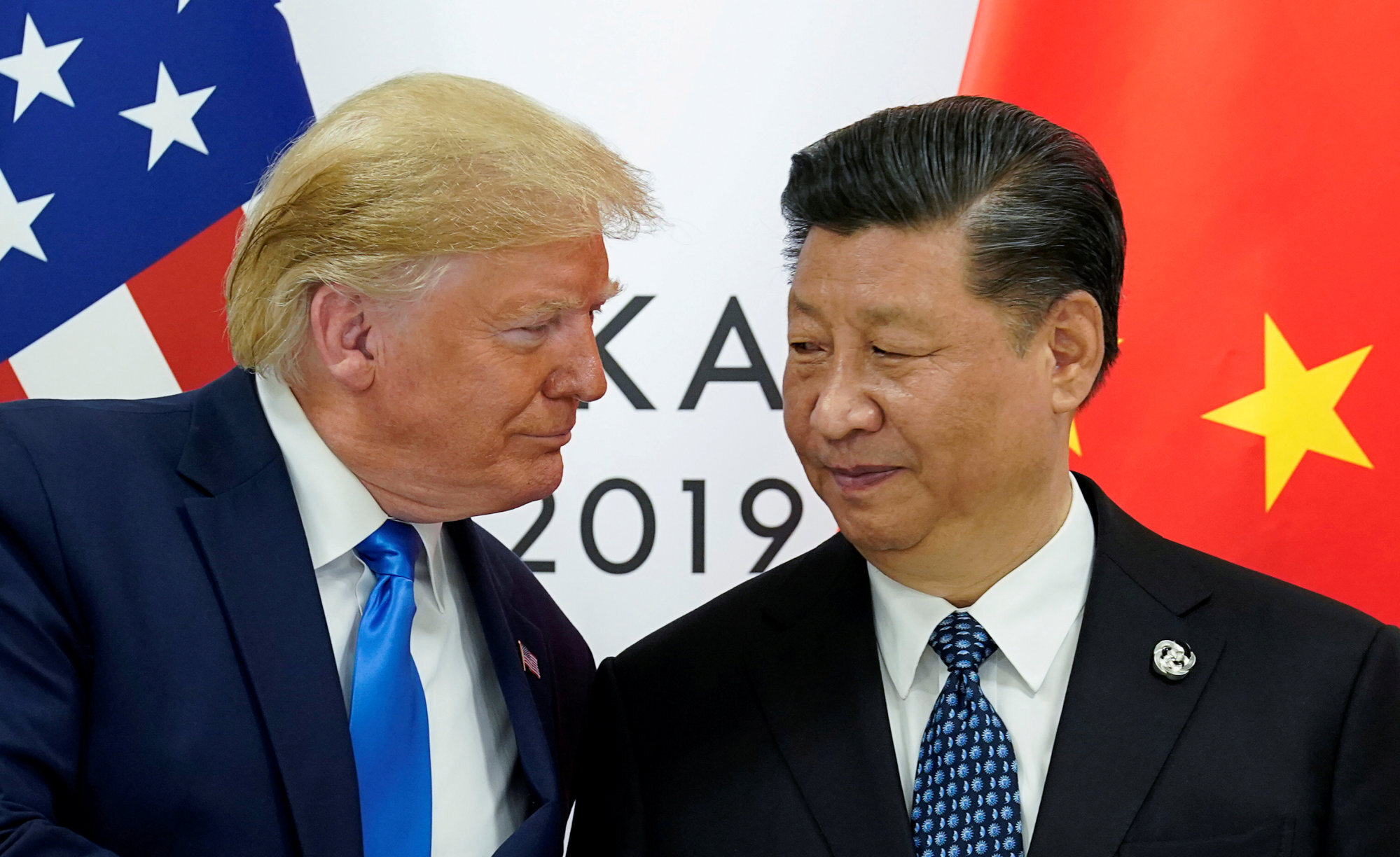 Tit-for-tat trade sanctions and tariff rises which emerged during the trade war should be repealed in the interest of detente. Europe also needs to settle its differences with the US and China, providing easier access to the European single market to bolster global growth.
If progress can be achieved, it must be done under the mantle of better multilateral accord and with greater commitment to reducing global trade imbalances. There have to be bilateral policy adjustments on all sides.
The US needs to invest in more
home-grown manufacturing
to help reduce its yawning trade deficit. Likewise, Beijing must be prepared to open up its domestic markets to more imported goods to cap its burgeoning trade surplus.
In Europe, Germany needs to save less and consume more, especially on goods from abroad. Germany's budget and trade surpluses remain a drag on global growth.
Keeping monetary and fiscal policies super-loose for as long as possible is not enough. A major thaw in international trade relations is vital to keep the global recovery ticking over, setting a positive precedent for the world equity rally in the process. The global boom is stocks is far from over.
David Brown is the chief executive of New View Economics