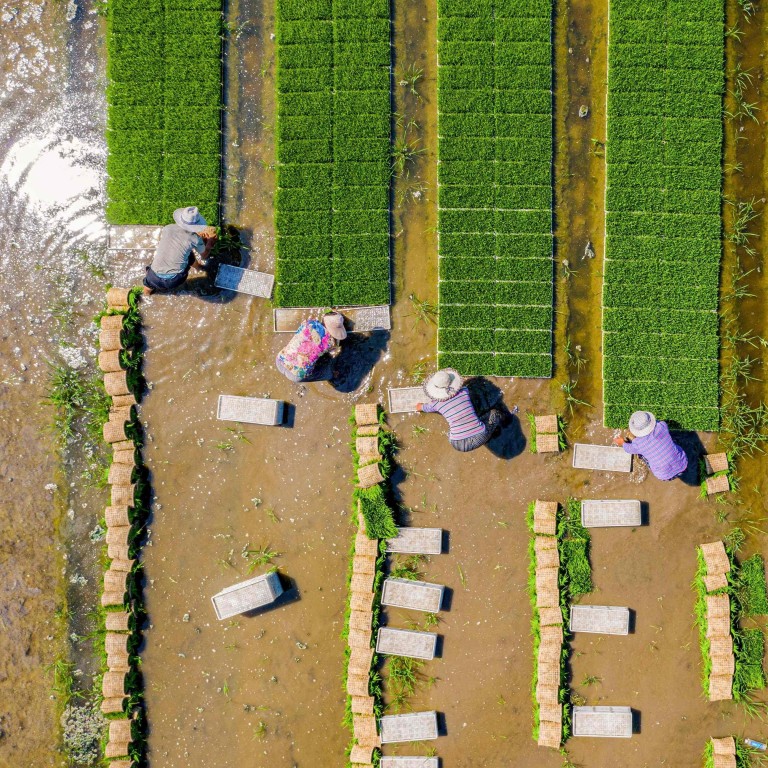 Three reasons China's shrinking population won't slow the economy
Population growth is almost irrelevant to economic growth for a developing country
Besides, China has millions of rural workers, who can partially offset any potential labour shortage. It also has the option of raising the retirement age
There is wide recognition of the importance of demographic trends in economic growth. By and large, an ageing population is thought to reduce a country's growth potential because growth is the sum of
labour force
growth plus productivity growth.
For this reason, the steady decline in China's population growth conjures up projections that the world's second-largest economy may be heading for a permanent
"middle income trap"
.
China does indeed face a unique demographic problem: the country is getting old before it is rich. To put the issue in proper perspective, China's per capita GDP is about 17 per cent of that in the United States but China's population growth has slowed to levels that are lower than that of the US.
Does this demographic problem necessarily cause growth stagnation? Not at all.
First, population growth is almost irrelevant to economic growth for a developing country. A typical example is Sub-Saharan Africa, where there has been plenty of population growth, but little output expansion prior to 2000.
In a similar vein, for a large number of rapidly industrialising economies such as South Korea and Taiwan in the 1970s and 1980s, and China since the 1990s, economic growth has been sustained at a very high rate, even though population growth has plummeted.
In these examples, productivity – not population growth – has been the dominant driving force behind economic growth.
It is also true that, with China's per capita gross domestic product reaching US$10,000, the economy's potential for labour productivity growth has inevitably fallen, which is a key reason China's GDP growth has shifted downwards, to
around 6 per cent
in the last decade.
What are the prospects for China's labour productivity going forward? Most newly industrialised Asian economies were able to sustain 5-6 per cent labour productivity gain per year after their income levels reached US$10,000 and there is no reason China cannot achieve a similar result.
Of course, if China's income levels continue to rise, its growth rate will inevitably fall over time.
Should China's per capita GDP
double again in the next 10 to 15 years
, its labour productivity growth will fall further, and overall economic growth will decline to lower single digits, as in many mature economies. This is the natural result of diminishing returns and has nothing to do with China's demographics.
Second, although China has come a long way in industrialising its economy, the urbanisation process is not complete. The percentage of the labour force engaging in agricultural production remains at 24 per cent, which translates into more than 170 million rural workers. In South Korea, rural labour accounts for 5 per cent of the overall labour force, and it is 1 per cent in the US.
Therefore, the migration of Chinese rural labourers into modern sectors will at least partially offset any potential labour shortage caused by stagnating population growth in the foreseeable future.
It is interesting to point out that, although China's overall population growth has fallen to 0.3 per cent per annum, urban population growth continues at around 2.2 per cent per year, due to urbanisation.
Finally, China has fairly stringent
age requirements for retirement
: 60 for men and 55 for women. The only reason China has adopted early retirement is to purposely increase the labour market turnover, create opportunities for young and migrant workers, and lessen unemployment.
Should the economy indeed face the problem of a labour shortage as a result of an ageing population, the authorities can easily raise the retirement age to boost labour force growth. Japan has been able to increase its labour force by
encouraging female participation
, even though the overall population is shrinking.
China should be able to increase its labour force by 10 per cent if the retirement age is lifted to 65 for both male and female workers. For the time being, Beijing has not changed the retirement policy because the dominant issue in the labour market is not a labour shortage but creating enough jobs for new entrants.
The bottom line is that demographic trends are an overrated issue for China and will not hinder the country's economic growth for another 15 to 20 years down the road. During this period, the size of the
Chinese economy
will continue to increase, but its steady state growth rate will steadily fall, probably to around 5 per cent towards the end of this decade and even lower in the 2030s.
Productivity growth holds the key to China's long-term growth trajectory. Both technological advances and deep economic reforms can increase China's growth potential. By the same token, a lack of economic reforms or even back-pedalling on previous reform measures could undercut the economy's steady state growth rate.
It seems that President Xi Jinping's policy priority is to maintain economic stability and the status quo, rather than dramatically restructuring the economy. As such, it is difficult to ascertain the future trend of productivity growth in the country. In my view, this is an underappreciated risk for the long-term outlook of the
Chinese economy
.
Chen Zhao is founding partner and chief strategist of Alpine Macro