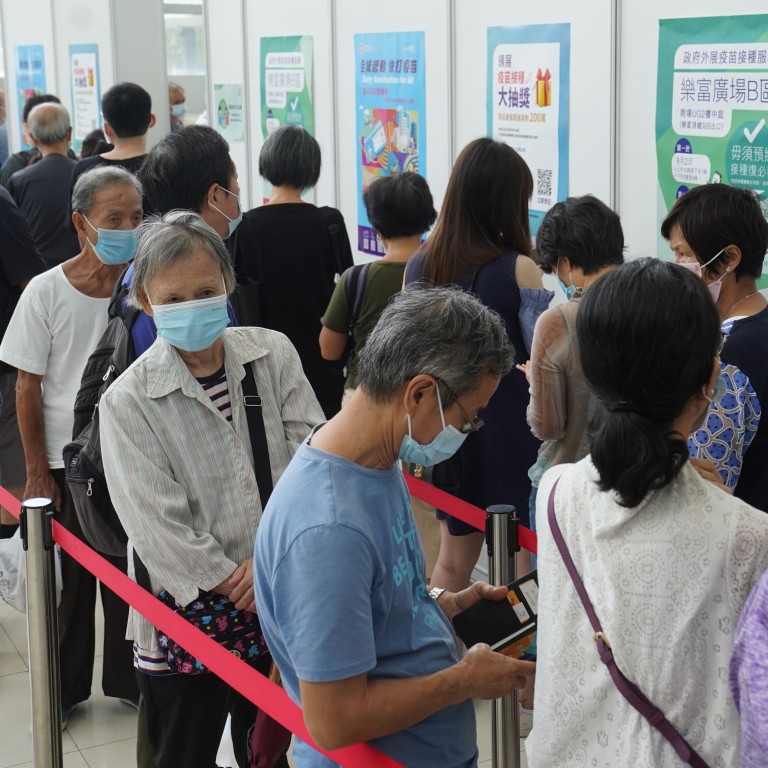 Time to end Hong Kong's vaccine dithering and get on with the jab
It is clear that under Hong Kong's present policies, we will never reach herd immunity and resume normal life
Our urgent priorities should be new, cogent measures to drive up first vaccinations and booster shots for those already vaccinated
The Hong Kong government's Covid-19 management strategy, based on
zero infections
and voluntary vaccination, is dead. I want to be clear here – not "struggling" or "under pressure" but dead as the dodo.
The numbers are conclusive. Once effective vaccines were available, the aim should have been for 50,000 first jabs per day. After three weeks, a million part-vaccinated people would be in the pipeline.
The pace could then have been stepped up to 100,000 per day, split evenly between first and second shots. By now we would have reached
herd immunity
.
Hong Kong has not achieved anything remotely close to these numbers. Our best was a brief flurry in the range of 60,000 to 65,000 a day. We are now down to a little
over 20,000 first doses
a day, which means the pipeline is dwindling.
The result is plain for all to see. As of the end of August, Hong Kong had 46 per cent of residents fully vaccinated and a further 9 per cent with one jab. The equivalent figures for Singapore were 75 per cent and 3 per cent.
The milk of the first HK$2,000 is spilled, but let us not make the same mistake with the next two instalments. To further reward the fully vaccinated, how about allowing them to go out mask-free one day per week?
All medical personnel must be vaccinated as a condition of their being licensed to practise. Everyone seeking to employ a domestic worker must produce vaccination certificates for all adults in the household.
The private clubs have done a good job with getting staff vaccinated to support government efforts. How about a clear signal from the government that they should extend the requirement to members as a condition of entry to club premises?
Other levers are available wherever citizens interact with the government. You want a passport? Vaccination certificate, please. Same for driving licences.
What about patrons of other public facilities? Every day, thousands of people turn up for free or subsidised treatment at government clinics and Hospital Authority hospitals.
They expect to draw on community resources to fix their health problems. That is reasonable because a healthy citizenry is a benefit to society. In return, it would be reasonable to require they contribute to the overall health of society by rolling up their sleeves.
We need to change the narrative by announcing dates for relaxing social distancing measures and phasing out quarantine restrictions. Limits on social gatherings should be reduced in time for Christmas and withdrawn by Lunar New Year. Quarantine will be reduced to 14 days from November, cut to seven in December and eliminated in the new year.
There will be complaints that we are inviting a new wave of infections, and there will be an increase in locally transmitted cases. But the longer we delay reaching herd immunity, the more chance of new mutations.
There are some suggestions that the booster should be of a different type of vaccine from the individual's first round. If that needs to be subject to a controlled trial, then so be it. I am happy to be in the first tranche.
The point is we need to call a halt to this endless drifting and get on with the job – or, better yet, jab.
Mike Rowse is the CEO of Treloar Enterprises