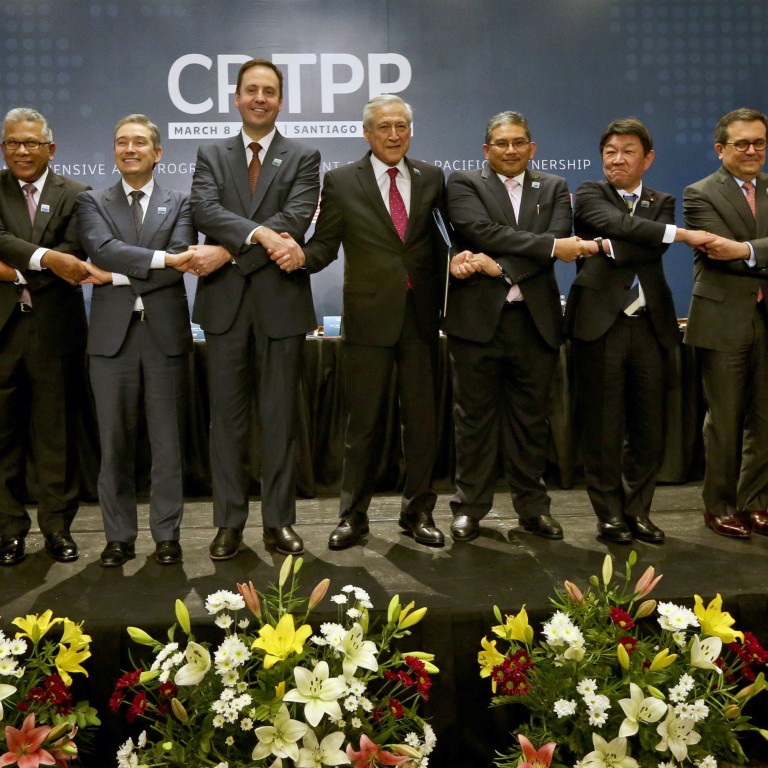 Opinion
Inside Out
by David Dodwell
Inside Out
by David Dodwell
China joining Pacific trade pact would benefit all members, but gaining entry won't be easy
Whatever Beijing's fundamental motives for applying for membership, the economic logic of letting China join the CPTPP is strong
However, China would have to reform substantially to meet the pact's requirements in addition to overcoming the scepticism of US allies
In 1949, when American comedian Groucho Marx resigned from the recently-founded Beverly Hills Friar's Club, he famously insisted: "I don't want to belong to any club that would accept me as one of its members."
It seems China has taken Marx's thought to heart, but turned it inside out: on September 16, it
announced it had applied
to join the 11-member Comprehensive and Progressive Agreement for Trans-Pacific Partnership, surely aware of the slim odds on being accepted.
For starters, the predecessor of the CPTPP, the Trans-Pacific Partnership, was championed by US president Barack Obama as part of his "pivot to Asia", and contained numerous "tripwire" requirements carefully contrived to keep China out. That president Donald Trump then petulantly
withdrew from the deal
in his first few days in office is neither here nor there.
Those tripwires – on things like state-owned enterprises, state subsidies, intellectual property rules – have been kept in place by the 11 remaining members, and remain formidable obstacles for the aspiring new member to overcome.
Beijing's surprise application was promptly seen as a cunning move to steal the limelight back, contrasting the militarily-obsessed alliance between the US, Britain and Australia with China as regional trade liberaliser and multilateralist.
Beijing is very sensitive about such things when it comes to its "renegade province", and it was not an accident that Taiwan only became a member of the World Trade Organization in 2002, after China gained membership at the end of 2001.
Whatever China's fundamental motives, the economic logic of China becoming a CPTPP member is strong, with broad-based benefits not just for China, but for the 11 CPTPP members, and for economic relations across the broader Asia-Pacific.
In a benchmark study in 2019, Peter Petri at the Washington-based Peterson Institute and Michael Plummer at Johns Hopkins University estimated the economic gains of the CPTPP, which now has 11 members, with a total population of 495 million, and accounts for 13 per cent of global GDP.
The current grouping would generate gains of US$147 billion a year. Add China, and those gains could rise to US$632 billion a year, given that the CPTPP, with China, would account for about a quarter of the world's population and 30 per cent of global gross domestic product. As Petri and Plummer noted, China's membership would "dramatically enhance the agreement's economic and geopolitical significance".
But in complying with the CPTPP's membership requirements, China would have to reform quite radically: making state-owned enterprises more transparent, restraining the use of state subsidies, assuring stronger intellectual property protection for foreign investors, removing technology-transfer requirements as a precondition for foreign investment, and easing e-commerce and cross-border data-flow rules.
While China has continued to liberalise its economy in important areas, and must clearly believe it can comply with the CPTPP's strict requirements, there is still scepticism among members, many of whom are close economic and political allies of the US (Canada, Mexico, Australia and Japan) and may share US concerns about restraining the growth of Chinese power in the Asia-Pacific.
As Kenji Nakanishi, Japan's state minister of finance, bluntly commented when he learned of China's application: "China … is far removed from the free, fair and highly transparent world of TPP, chances that it can join are close to zero."
Such stark scepticism may not be shared by other members like Singapore, New Zealand, Malaysia and Vietnam. At least seven of CPTPP's 11 members have China as their main export market and their main source of imports.
All recognise the logic of an economy of China's size and importance needing to be part of an agreement aimed at securing trade and investment liberalisation across the region. But in a group where there has to be consensus on new members, China's passage will be tough and slow.
In a ministerial statement at the end of the fifth meeting of the CPTPP Commission on September 1, members reaffirmed that the CPTPP "is open to accession by economies committed to the Agreement's objectives, able to meet and adhere to its high standards and ambitious market access commitments, and having demonstrated a pattern of complying with trade commitments".
For those who see the CPTPP as an important building block towards the proposed Free Trade Area of the Asia Pacific among members of the Asia-Pacific Economic Cooperation, things are shaping up nicely.
There could be other merits to giving China's application serious consideration. It would not only generate strong pressure for the country to continue economic liberalisation, but could lower the temperature of the US tariff war against China.
More generally, it could provide a positive multilateral push as the WTO prepares for its critical 12th Ministerial Conference in Geneva in November.
While China has applied to join the club, at the very least, present club members are likely to play extremely hard to get.
David Dodwell researches and writes about global, regional and Hong Kong challenges from a Hong Kong point of view