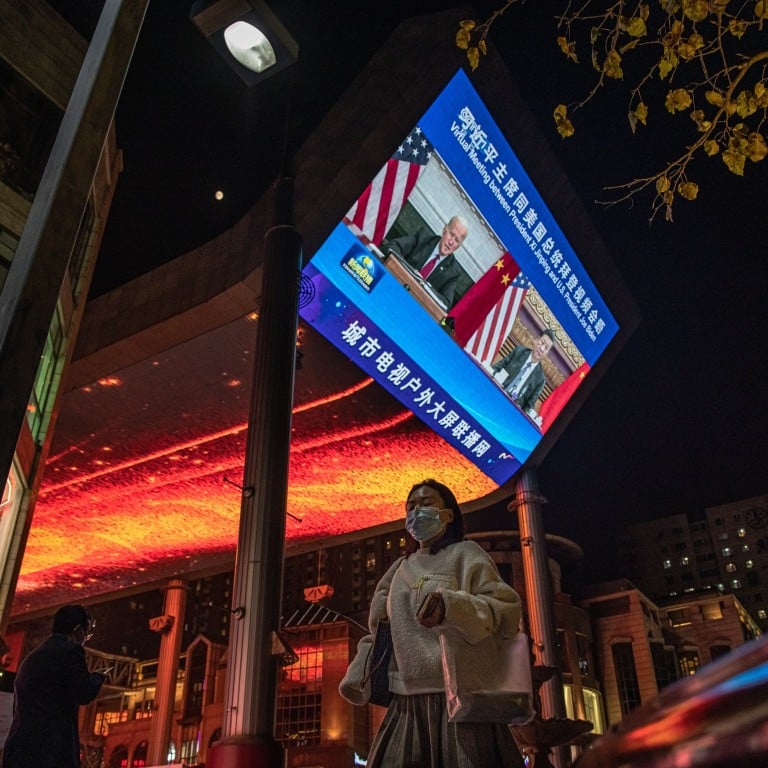 Opinion
Macroscope
by David Brown
Macroscope
by David Brown
Improved US-China relations must translate into global trade growth
Trade must be high on the agenda for both countries as economic growth and the benefits of easy money grow steadily weaker
Global growth prospects are in urgent need of a reboot, and renewed US-China dialogue could pave the way for changes
The good news is that
US-China relations
are starting to thaw, so there might be an end in sight to the trade rift between the two countries. The problem is that it might be a long time before a workable deal is secured.
In the meantime, the world awaits a breakthrough which could give the global economy an opportunity for faster recovery after the Covid-19 pandemic while easing
inflation pressures
. Trade protectionism must end, punitive tariffs need to be unwound and world trade allowed the freedom to flow smoothly.
The rewards could be huge, with global growth boosted in the longer term, trade imbalances reduced, political tensions eased and financial stability more likely.
There are tough challenges ahead, but at least both sides are talking. After the recent
virtual meeting
between US President
Joe Biden
and Chinese President Xi Jinping, hopes are high for improved relations on several fronts.
Trade must be near the top of the agenda, considering the slowdown in economic momentum in the United States and China in the last quarter. US economic growth sank to 2 per cent in the third quarter from 6.7 per cent in the second. Meanwhile, China's growth rate eased to
4.9 per cent
year on year in the third quarter, compared with 7.9 per cent in the previous three months.
The benefits of cheap and easy money won't last forever, so policymakers in both countries may well be wondering whether the slowdown could become more entrenched and what can be done to reverse the trend. Faster world trade growth could be the answer.
World trade flows have suffered badly in recent years from the double blow of the
US-China trade war
and the global recession, which followed the Covid-19 outbreak in early 2020.
Both factors have had serious consequences for global business activity, with underlying world trade volumes collapsing by as much as 14 per cent year on year in June 2020 as the Covid-19 crisis came to a head.
Economic confidence has staged a major comeback since then, with underlying world trade growth surging by as much as 21 per cent year on year in June. The concern now is that the rate of recovery has been tailing off sharply in recent months. Global growth prospects need a significant reboot.
There is much at stake, not least getting the highly contentious US-China
trade deficit
down to more acceptable levels in the foreseeable future without damaging either economy's growth potential.
The trade war has already taken a heavy toll since then US president Donald Trump
levied sanctions
on China in January 2018 and Beijing responded with retaliatory measures.
In the US, higher
trade tariffs
have led to increased costs for manufacturers, higher prices for consumers and hardship for US farmers excluded from lucrative export trade to China. In China, the trade war has acted as a further drag on growth, which was already in steady decline.
The impact of sanctions did make some difference to the US-China trade deficit at first, with the gap narrowing from
a record US$419 billion
in 2018 down to US$310 billion in 2020. The worry now is that the deficit between the two countries has started widening again.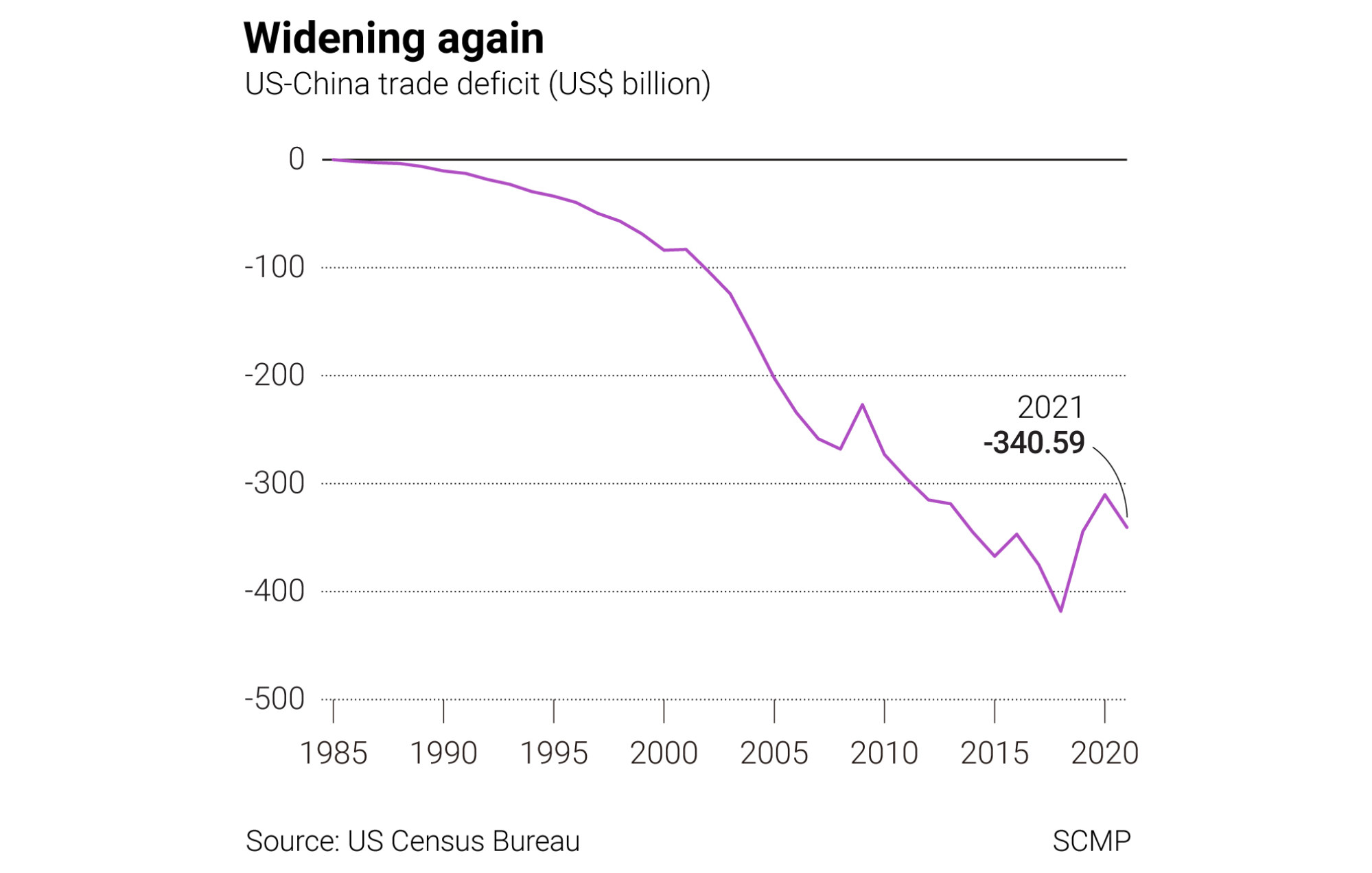 In the first nine months of 2021, the cumulative total has already risen to US$255 billion, which means the trade gap could grow to as much as US$340 billion for the full year. Unless Washington and Beijing step in with countermeasures, trade frictions could quickly rise again.
A US-China trade deal is achievable, but only through common consent to policy changes on both sides. Too much of what US consumers spend ends up in increased demand for exports from China, which are tough to rein in when the economy needs to grow again.
The answer lies in rebuilding American manufacturing strength with major domestic reinvestment. China is already taking the right policy steps in switching its focus away from export-led growth and towards
domestic growth
, hopefully drawing in more demand for US exports in future.
The changes will take time, but where there is a will, there is a way. At least both sides are talking.
David Brown is the chief executive of New View Economics