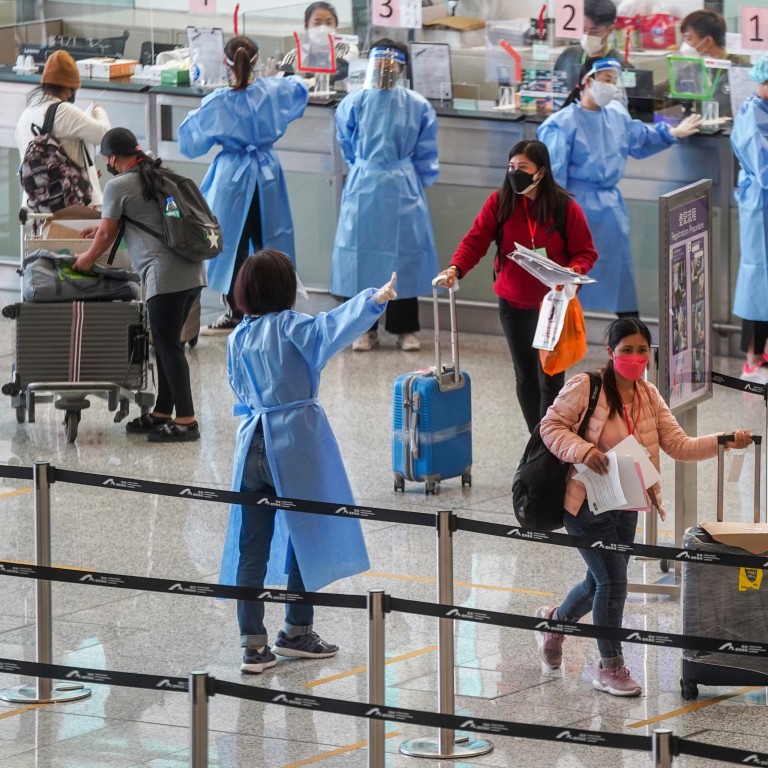 Letters
Hong Kong's Covid-19 rules make flying in a test too tough for tourists
Readers discuss the experience of flying into Hong Kong, Carrie Lam's contributions to harbour protection, and corporate responsibility for climate action
Feel strongly about these letters, or any other aspects of the news? Share your views by emailing us your Letter to the Editor at
[email protected]
or filling in
this Google form
. Submissions should not exceed 400 words, and must include your full name and address, plus a phone number for verification.
After 52 wonderful years in Hong Kong, I have fiercely championed the changes that have taken place since 1997 and more recently, in the hope we would ultimately get it right and life might return to a new kind of normal.
When quarantine was reduced to one week, I took the opportunity to visit my family whom I had not seen for four years. It was a revelation to see that the United Kingdom and the rest of Europe had opened up, albeit with outbreaks of Covid-19 which they appear to be managing.
Returning to Hong Kong was an exercise in pedantic bureaucracy. I took an expensive test at a London clinic which is approved by our local authorities. When I was cleared for the flight from London to Zurich I felt as though I had passed an exam. Only to have to queue during transit to be interrogated yet again. Airline staff apologised but felt they had repeat the process due to the
draconian laws
concerning grounding, in the event that more than five per cent of passengers on the flight arrive with Covid-19.
But arriving in Hong Kong is a surreal experience.
The flight is parked so far from immigration and baggage claim so that we had to walk thousands of steps to arrive at an endless queue to be tested yet again and have our papers checked before we were finally released. These queues are supervised by employees clad in personal protective equipment whose primary job seems to be to wave their arms in the direction that one must circulate. There are mothers with little ones standing for hours after a 12-hour flight, not to mention the elderly.
Exhausted, I finally reached my quarantine hotel after five hours.
I cannot imagine any tourist or business person who would want to
come to Hong Kong
while we insist upon these restrictions.
Surely we can do better than this or I fear that this former Pearl of the Orient, Asia's World City, might be just a beautiful memory.
Marguerite Lee, Mid-Levels
Harbourfront improvement owes much to Carrie Lam
I am writing as a member of the Harbourfront Commission to draw the attention of the Hong Kong community to the praiseworthy contributions of our departing Chief Executive, Mrs Carrie Lam Cheng Yuet-ngor, to the tremendous improvements to Hong Kong's harbour environment during her years as secretary for development, chief secretary and chief executive.
We invite our fellow Hongkongers to come to the harbourfront to enjoy the community facilities and amenities provided by the government in recent years. These include promenades, parks and leisure areas all around the harbour.
Our community should be eternally grateful to Mrs Lam for all she has done to help protect and preserve the harbour for the enjoyment of present and future generations of Hongkongers.
The Society for Protection of the Harbour sincerely hopes that our incoming chief executive, Mr John Lee Ka-chiu, will continue to pursue this enlightened policy of protecting, preserving and enhancing the harbour as "a special public asset and a natural heritage of Hong Kong people", as enshrined in the Protection of the Harbour Ordinance.
Winston K.S. Chu, vice-chairman, Society for Protection of the Harbour
Businesses can be profitable and environment-friendly
Many governments have committed themselves to tackling climate change with ambitious goals. The Hong Kong government
has pledged
to achieve carbon neutrality before 2050.
In fact, businesses have been playing a crucial role in addressing climate change. Profitability and sustainability are not mutually exclusive. Instead, businesses can create shared value for their shareholders and the environment.
The United Nations is calling on businesses to commit to science-based targets that will limit the global temperature rise to 1.5 degrees Celsius. Many companies around the globe have signed the UN Business Ambition for 1.5 degrees Celsius pledge, and rolled out their net-zero programmes accordingly.
Nevertheless, business sectors face different scenarios with regard to their share of carbon emissions According to global consulting firm McKinsey, the agriculture and food sector could reduce emissions if producers deploy greenhouse gas-efficient farming practices and some consumers shift their diets away from ruminant animals that generate significant quantities of methane.
Companies are taking decisive measures to address climate change by focusing on advancing regenerative agriculture and other actions along the value chain, and by following detailed, time-bound road maps. For example, Nestlé strives to achieve deforestation-free primary supply chains by 2022 and has been investing in transforming the product portfolio – such as by creating new low-carbon products – was well as in packaging innovation and business models to help keep waste out of landfills.
Nestlé is aiming to make 100 per cent of its packaging recyclable or reusable and to reduce the use of virgin plastics by one third by 2025. It is also using more renewable energy in both the manufacturing and logistics processes.
An article published by the World Economic Forum points out there is mounting evidence that it is possible for corporations to transition to net-zero business models profitably.
UN Secretary-General Antonio Guterres remarked, "Humanity is waging war on nature … Nature always strikes back, and it is already doing so with growing force and fury." It's time for all of us to act, and surely that includes businesses.
May Chung, general manager, Nestlé Hong Kong Ltd