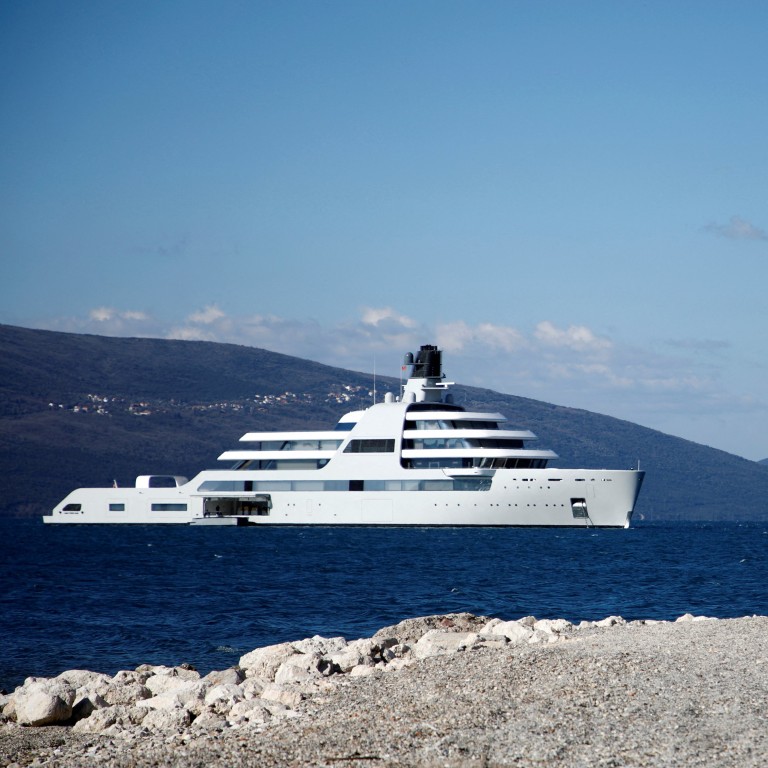 Opinion
Outside In
by David Dodwell
Outside In
by David Dodwell
Global hunt for Russian billionaires' superyachts won't end Ukraine war
While the goal of enforcing sanctions is to stop the war and punish an autocrat, confiscating billionaires' expensive baubles will not stop the bloodshed
At the very least, this episode will serve as evidence of how difficult it will be to reclaim ill-gotten wealth and stop tax avoidance once the war ends
There is a sense of "catch me if you can" in the global hunt to seize the
superyachts
belonging to Russian President Vladimir Putin and his oligarchs. Apart from the difficulty of trying to find these billionaire trophies as they duck and weave between havens beyond the reach of sanctions enforcers, there is the challenge of proving who owns what and the costliness of holding them once they are seized.
Consider the 106-metre
yacht Amadea
, worth more than US$300 million and linked to sanctioned Russian oligarch Suleiman Kerimov. After the yacht spent more than a month in Fiji's Lautoka port, as shell company owners challenged their links with Kerimov in court, Fiji's Chief Justice Kamal Kumar has handed the vessel over to the US Federal Bureau of Investigation.
Amadea costs more than US$2 million a month to operate, and Fiji has had to cover those bills while the craft was in its hands. Now that the FBI has seized it, the US government has to pick up that tab as well as the cost of fuel needed to get it back to the United States.
I know the goal of enforcing sanctions is to stop a war and punish an autocrat rather than address global inequality, tax avoidance or corruption. But apart from the fascination many people have with the extravagant excess of billionaires, I am not convinced the confiscations will take us closer to ending
Russia's invasion of Ukraine
.
If the ultimate aim were to tackle kleptocracy, tax avoidance and corruptly gained wealth, why stop with Russian billionaires? According to Forbes, there are only 87 of them out of a global list of 2,668.
Many billionaires – not just Russian ones – have gone to great lengths to
disguise their wealth
and avoid tax. Is this all a warning about the challenges ahead if we ever get serious about clawing back ill-gotten wealth worldwide and cracking down on global tax avoidance?
My sense while watching this pursuit is that while the loss of trophy baubles might be an inconvenience and a blow to some Russian egos, it is the implosion of their business empires that will be of most material concern – both to the oligarchs and to Putin.
Even aside from the chase over
their trophy possessions
, Forbes reports that Russia's oligarchs are already haemorrhaging money as the war and sanctions on their businesses take their toll. Kerimov has seen his net worth shrink by US$11.4 billion to US$4.4 billion.
Roman Abramovich has lost his 15-bedroom home in London,
two private aircraft
and his ownership of
Chelsea Football Club
, with two superyachts dodging sanctions enforcers
in Turkish waters
. However, he is likely to be more concerned about his net worth shrinking US$7.6 billion to US$6.9 billion. Russia's billionaire oligarchs have lost an average of 27 per cent of their wealth, or about US$2 billion each.
While the baubles might be immaterial to international efforts to hobble the kleptocratic business empires that are financing Putin's war, they do still hold a fascinating appeal. It is hard not to be mesmerised by Abramovich's US$600 million
yacht Solaris
– it is 140 metres (459 feet) long, has 18 guest cabins, a crew of 60 and costs an estimated US$60 million a year to run.
The BBC reported in May that 16 superyachts worth more than US$2 billion had been seized since February. One might think this has had a disastrous impact on the exclusive global superyacht industry, but that does not appear to be the case. Azimut Benetti, one of the world's leading superyacht builders, reported a 28 per cent increase in orders last year with an order book totalling €1.5 billion (US$1.6 billion).
Superyachts are distinguished by their size as well as the extravagance of their plush, gold-plated interiors. While there is no clear definition, in general, a vessel must be 40 metres or longer to count as a superyacht, which rules out virtually all the 10,000
pleasure boats
in Hong Kong. Almost none of the public or private moorings in the city can accommodate boats longer than 35 metres.
While Russians account for just 9 per cent of all superyachts worldwide, their place in the "uber" category of boats longer than 80 metres is far larger. Of the exclusive clique of 153 vessels that share the common trait of being impossible to park at all but the world's largest marinas, Russians own 31.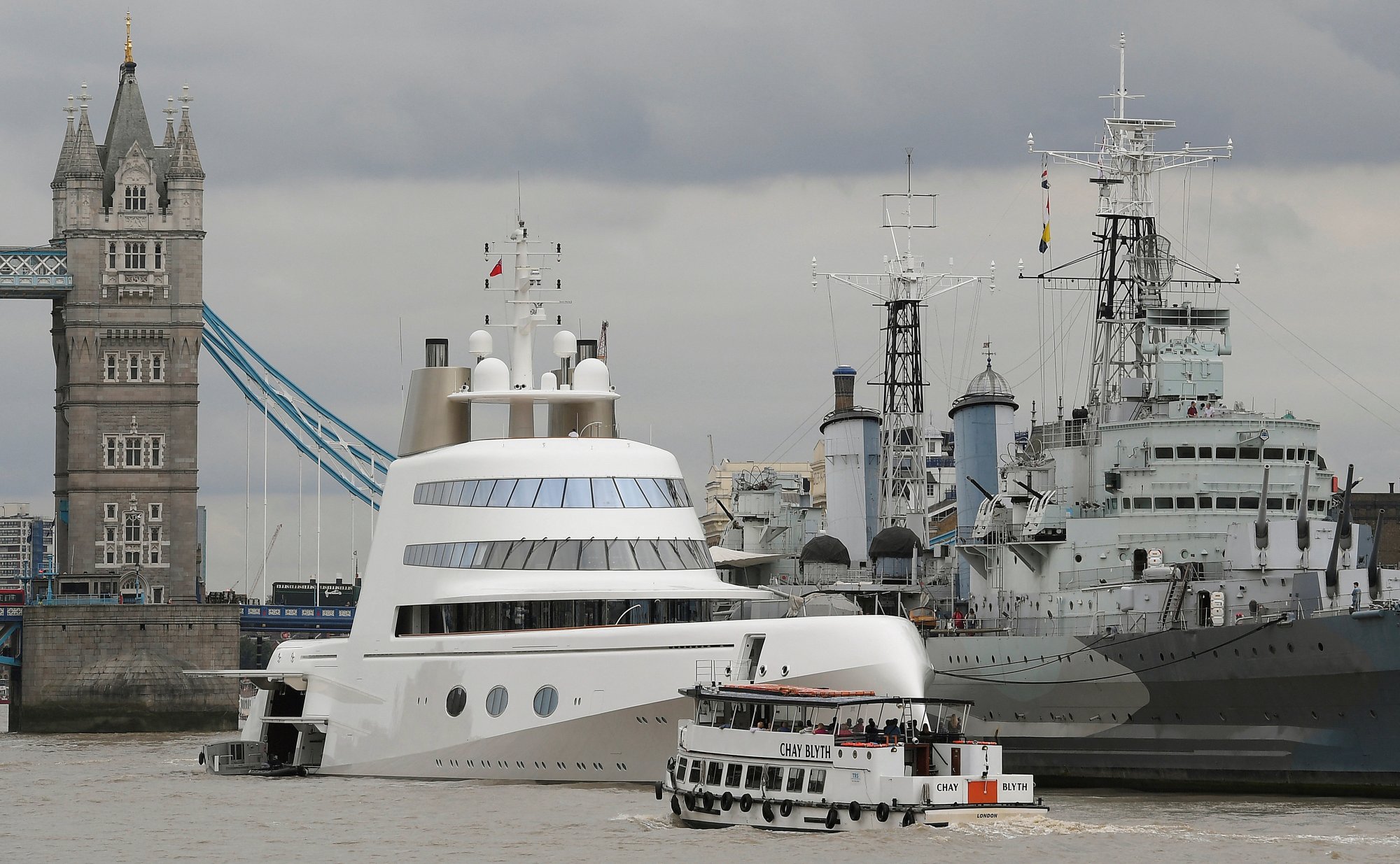 So here is an oligarch paradox. Why go to such great lengths to hide ownership when superyachts are so difficult to hide?
"Contrary to popular belief, superyachts are not an easy place to conceal illicit wealth," Stefan Wagstyl wrote in the Financial Times. "Once spotted, they are as inconspicuous as a row of Rolls-Royces. A country estate or a seaside villa with high fences is far more discreet. It is much easier – and cheaper – to hide money by buying a stack of Picassos or gold bars. Rich people don't generally buy superyachts to keep quiet about their wealth, but to flaunt it."
But by hiding ownership behind shell companies and playing cat-and-mouse games with sanctions enforcers, Russia's oligarchs might get the best of both worlds. They can be discrete about their wealth while flaunting it at the same time.
One day, when this dreadful war is behind us, the world's leaders will return to more fundamental challenges like climate change, food security, healthcare and inequality. This pursuit of kleptocratic wealth might have provided valuable experience and insight: the world's super-rich are as slippery as greased pigs. Sadly, the cost of catching them risks outweighing the gains.
David Dodwell researches and writes about global, regional and Hong Kong challenges from a Hong Kong point of view