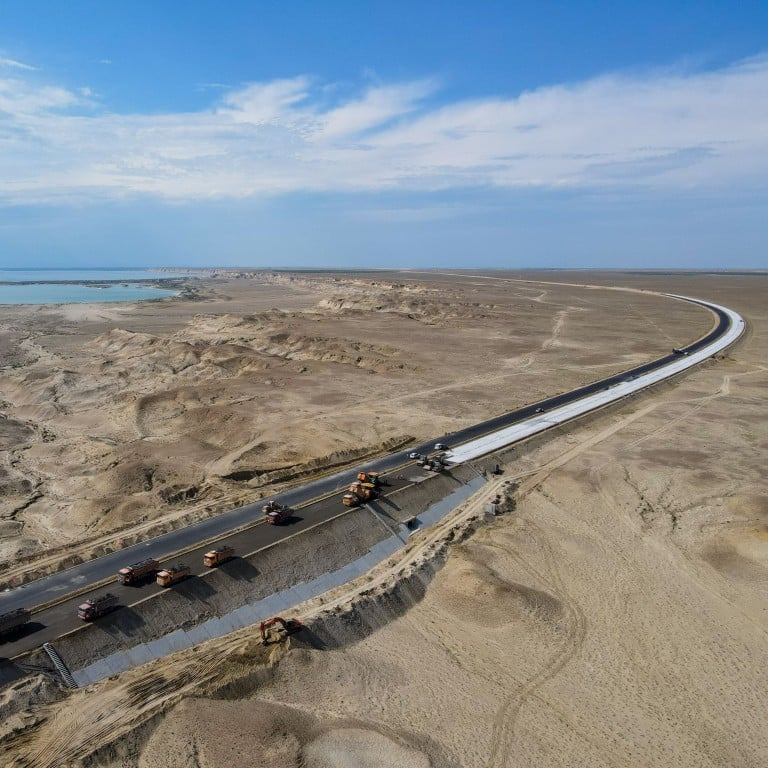 Opinion
Outside In
by David Dodwell
Outside In
by David Dodwell
How China inadvertently became the dominant power in Central Asia – and is radically reshaping the region
Central Asia sits at the heart of China's foreign policy, not because of any expansionist ambitions but because it is an extension of domestic challenges in Xinjiang
To build a strong economic environment to support Xinjiang, Beijing has been transforming Central Asia through infrastructure projects
If you want to get your head around China's foreign policy priorities, you can do worse than dedicate a few quiet hours to Sinostan: China's inadvertent empire, an examination of China in Central Asia by Raffaello Pantucci and Alexandros Petersen.
It focuses on a region that few of us ever consider – that vast, poor space between western Europe and China that was once the soft underbelly of the then Soviet Union. This is a region that has been of peripheral concern to today's leading global powers, who over the past two centuries have risen on the back of maritime strength.
But to China, Central Asia sits at the heart of its 21st-century
foreign policy
– not because China has clear expansionist ambitions, but because the region is more an extension of China's domestic policy challenges in Xinjiang.
This is a book based on more than a decade of footslogging through China, Kazakhstan, Tajikistan, Kyrgyzstan, Uzbekistan, Turkmenistan and Afghanistan. Started by Pantucci and Petersen together, it was carried to the finish line by Pantucci alone, since Petersen was tragically killed in a bomb blast in Kabul in 2014.
It is about China's massive and inevitable centripetal pull – its GDP is almost 50 times bigger than the Central Asian states combined; about the value of resource-rich Central Asia to a country uncomfortably short of many natural resources; about the delicate challenge of strengthening links without triggering hostile resistance from Moscow; about the headaches linked with balancing conflicts across a notoriously volatile and autocratic region; and about why China remains doggedly unloved and untrusted.
It is also a critical test bed for China's Belt and Road Initiative, and its profound belief that economic development must start with building good infrastructure.
The book begins and ends in Xinjiang, and offers deep insight into
recent turbulence
across the region, but it will give little comfort to those international lobbies campaigning against China's treatment of Uygurs – not because the authors challenge details of the fierce clampdown in Xinjiang, but because they provide a different narrative.
What Pantucci and Petersen saw in their research was a clumsily executed aim to staunch rising Islamic radicalism and hostility by driving economic development.
From the early 2000s, they saw in Beijing a conviction that rising prosperity was the only answer to the Islamic militancy spread across the region – and, for that, Beijing leaders believed Xinjiang needed a stable neighbourhood to the west with which to trade.
Following
riots in Xinjiang
in 2009 that saw perhaps 200 Han Chinese killed, there came a 2013 car bomb incident in Tiananmen Square, a
bombing at Kunming railway
station in 2014 that left 35 dead, and a suicide bombing at the Urumqi railway station in 2014.
There was also increasing evidence of Uygur militants building links and training with other Islamic militant groups across Central Asia. All this led to President Xi Jinping's "strike hard" response, which fomented global protests by human rights activists and
claims of genocide
.
Pantucci would acknowledge that there is much to regret in this crackdown, but he is firmly convinced that Beijing's primary aim was, and remains, economic progress.
And it was the domestic imperative to bring stability and prosperity to its largest and most remote province that led inevitably to massive foreign policy engagement – and infrastructure investment – across the "stans".
Here were the original seeds for the
belt and road,
under which almost US$60 billion has been invested over the past decade, not just in Central Asia, but across Southeast Asia, the Pacific islands, Africa and the Middle East.
In building the Shanghai Cooperation Organisation, Beijing has put flesh on the bones of a distinct foreign policy approach, giving priority to economic development and border security, and standing so steadfastly aloof from any engagement in members' internal affairs that Alexander Cooley, a Central Asia expert at Columbia University, has dubbed the group "The League of Authoritarian Gentlemen".
Pantucci and Petersen call China "a player who will support whoever comes to power with little value judgment about what their plan might be while they are in control".
This extreme commitment to non-interference in other nations' internal affairs is distinct, and has been all too visible in China's
refusal to condemn
Russia's invasion of Ukraine, or authoritarian regimes in Myanmar, Cambodia or Thailand, for example.
In Central Asia, China's dominance leaves it unloved and a source of suspicion and anxiety, not least with its regional "frenemy", Russia. It is seen as assertive and arrogant, but its reluctance to interfere, invade or control has won it grudging fealty.
As Pantucci and Petersen argue, "while domestically focused, lacking a clear strategy and attempting to keep a low profile, China has nevertheless quickly become the most consequential actor in Central Asia".
Yet with its priority the development of Xinjiang, the authors point to a foreign policy not measured in terms of success across Central Asia but in terms of the stability, security and prosperity it delivers to Xinjiang – "rewiring Central Asian infrastructure so that it will go towards Urumqi rather than Moscow".
This will be tested, they argue, as China wrestles with the chaos left in
Afghanistan
following the withdrawal of US forces – "an irritating problem that the West has left on China's doorstep". They add: "If other outside powers do not also engage, China's lock on Central Asia to the exclusion of others will not only be inadvertent, but inevitable."
With no other powers in sight, it seems China is "inadvertently", but quite radically, altering the balance of global power. Few other great powers seem to have noticed.
David Dodwell researches and writes about global, regional and Hong Kong challenges from a Hong Kong point of view