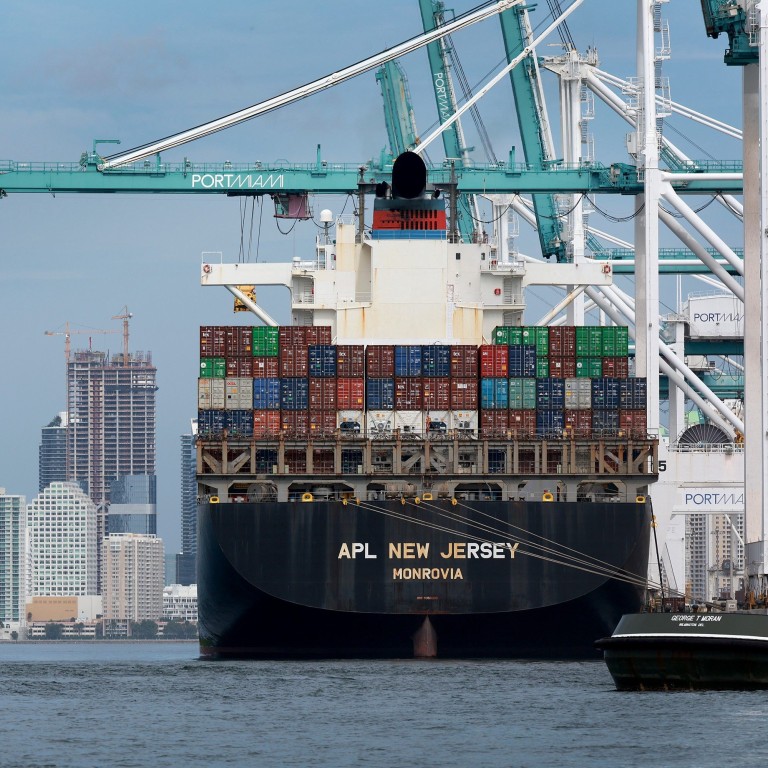 Opinion
Macroscope
by David Brown
Macroscope
by David Brown
US-China trade truce is needed to lift the global economic gloom
Recent signs that the punishing tariffs in place for several years may be reviewed have brought hope
On top of easing trade tensions, China's shift towards nurturing domestic consumption should also be complemented by a renewed US focus on manufacturing
There are
glimmers of hope
that an end to the US-China trade war is in sight. At least officials in Washington and Beijing seem to be
talking again
and it could be a precursor to a much needed easing of trade tensions between the two countries.
A resolution is long overdue and it could pave the way for better relations and stronger bilateral trade flows. With global economic confidence on the back foot, it's the moment when the world's biggest powers could heal their differences and put the needs of the global economy first.
A quick-fix trade deal could provide a much needed stopgap when global recovery risks being badly undermined by the Ukraine war, higher inflation and the shock of more aggressive
interest rate tightening
. A global recession would be thwarted if the US and China could set in motion a stronger global recovery.
The slowdown in world trade after former US president Donald Trump
imposed sanctions
on China in January 2018, and Beijing responded with countermeasures, probably knocked around 1 per cent off global growth potential, leaving the world economy badly exposed before the Covid-19 crisis struck in 2020.
Once again, uncertainties are piling up, global growth is slowing and world trade flows are at risk. It's crunch time and the US and China have an opportunity to stabilise the situation.
The latest data, for March, from the Netherlands' Bureau for Economic Policy Analysis shows that global trade momentum slowed fairly sharply in the first few months of 2022. The annualised rate of world trade growth, a moving average over three months, reached only 3 per cent in March, compared to 13.2 per cent annualised growth as recently as January.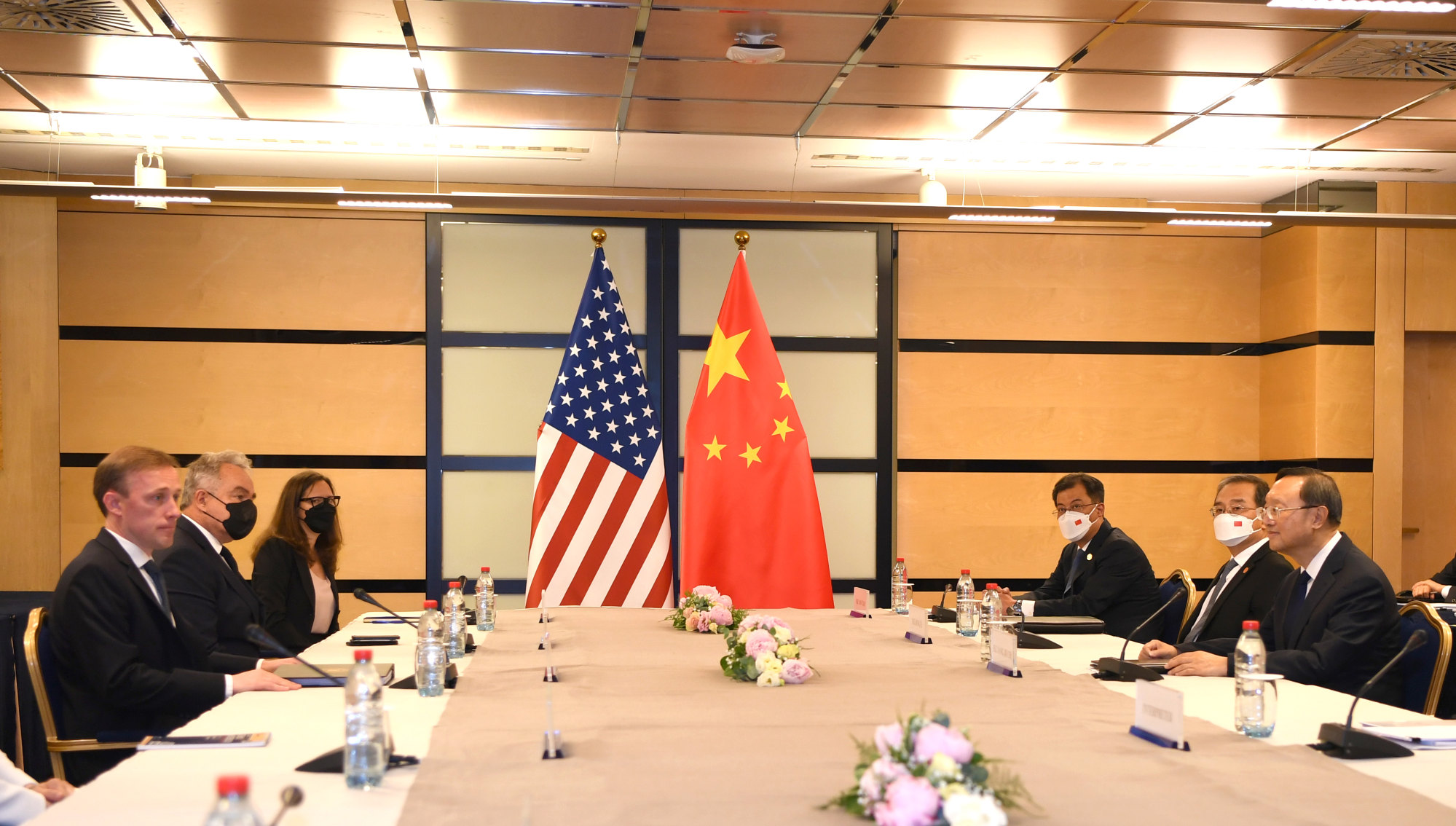 The impact of the Ukraine war will have taken a greater toll during the three months to June, as international sanctions have
escalated
against Russia and it has responded by
restricting
oil and gas supplies to Europe.
The domino effect of Trump's tariffs against China in 2018 resulted in a sharp contraction in world trade flows and the annualised three-month average rate of contraction dipped to as low as minus 7 per cent in January 2019. Correspondingly, global GDP growth dropped from 3.7 per cent in 2017 to 2.9 per cent in 2019 as increasing trade protectionism dragged on business activity.
From the US perspective, Trump's actions accomplished the desired effect of reducing the deficit with China from a peak of US$418 billion in 2018 down to US$310 billion in 2020, but at a significant cost to the global economy. More recently though, the US-China trade deficit seems back on trend and could be returning to over US$400 billion this year.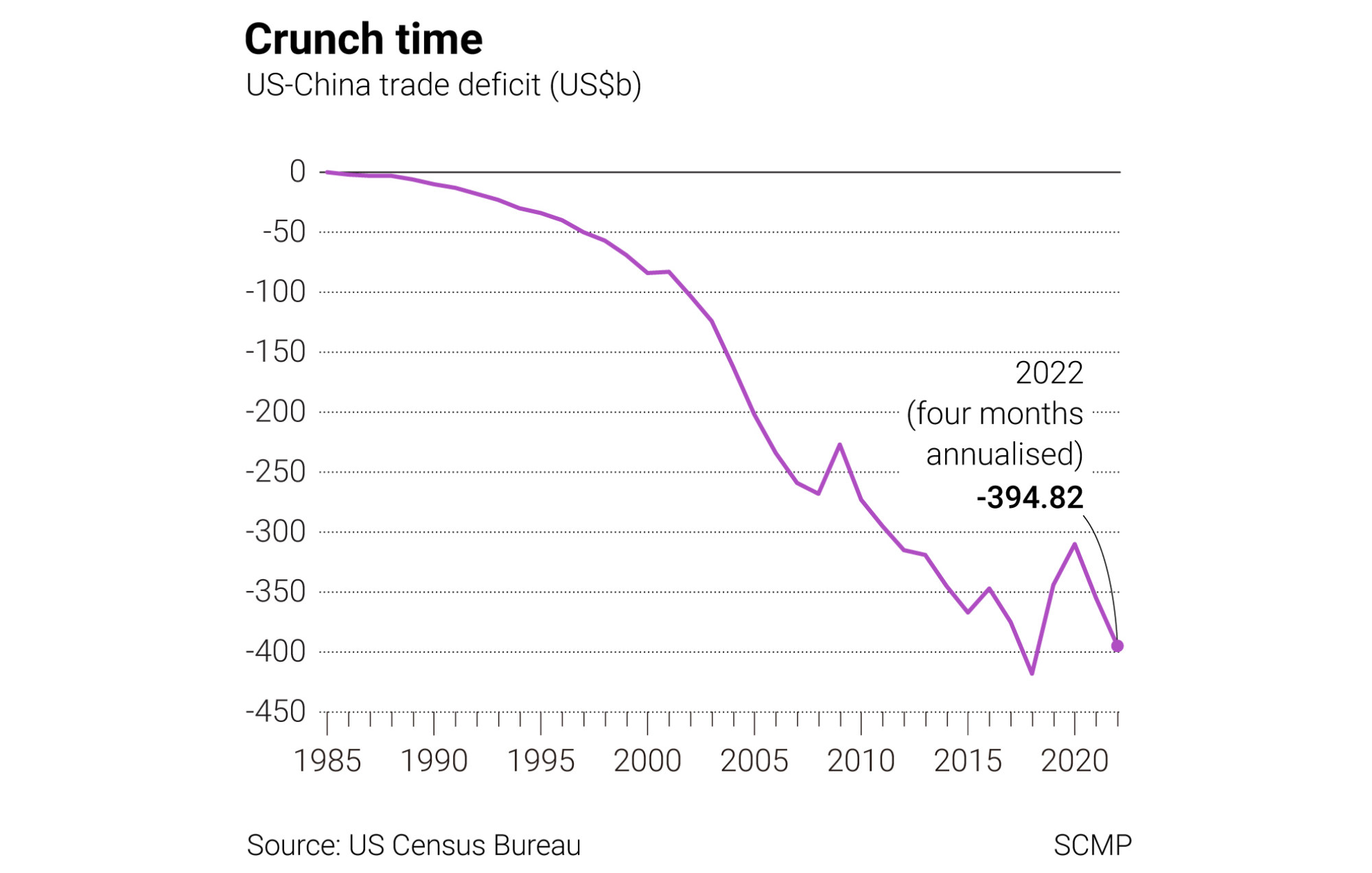 Fundamental change is needed and progress could easily be achieved by macroeconomic policy shifts on both sides. China is already taking steps in the right direction by switching the policy emphasis from export-oriented growth to more domestic-driven economic expansion under its
dual circulation strategy
.
This could draw in more import demand from domestic consumption, helping to moderate trade tensions with the rest of the world and hopefully with the US in the process.
On the US side, macroeconomic policy adjustments need to counter domestic demand leaking abroad into imported consumer and business goods, with incentives encouraging more investment in US manufacturing, especially with a bigger export focus.
This would be hard to orchestrate under normal circumstances for a market-driven economy like the US', but it is even more challenging when global headwinds are rising and aggressive US interest rate tightening is bolstering the dollar and squeezing export competitiveness even harder.
Progress is vital before the situation reaches breaking point. Despite worries about China's export growth slowing this year, May exports
grew by 16.9 per cent
year on year, a performance which should improve when China's
Covid-19 restrictions
ease. Meanwhile, the stronger dollar will continue to drag on US export growth.
If the US and Beijing can break the deadlock on the trade war, the world will be the winner. It could mean the difference between make or break for global recovery in 2022.
David Brown is the chief executive of New View Economics