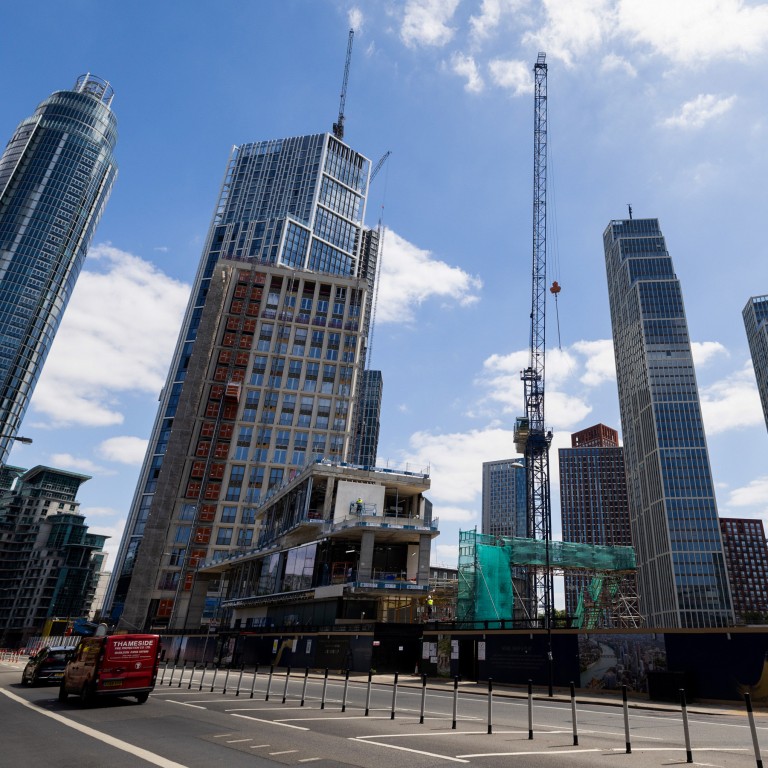 Opinion
The View
by Nicholas Spiro
The View
by Nicholas Spiro
Hong Kong, Singapore investors filling void in London property left by mainland Chinese retreat
Beijing's imposition of capital controls, escalating trade tensions with the West and regulatory tightening has ended a years-long buying spree
As mainland money departs, other Asian investors still value the safety, liquidity and transparency of London's property market
In 2017, mainland Chinese investors ploughed US$9.7 billion into British commercial property. That was slightly higher than the amount invested in Hong Kong and significantly more than in the United States, which in the preceding two years had attracted the lion's share of Chinese outbound investment.
According to data from Knight Frank, Chinese buyers – including those based in Hong Kong – accounted for nearly 40 per cent of purchases of
central London offices
by overseas investors.
The acquisition of the Leadenhall Building, the tallest skyscraper in the City of London, by Hong Kong-listed mainland developer
CC Land Holdings
for £1.1 billion (US$1.4 billion) epitomised the high-profile deals struck by Chinese investors in gateway cities across the world.
Yet, China has slid down the Asian cross-border investment league table in the past several years. Beijing's imposition of stringent capital controls, escalating trade tensions with the West and the regulatory tightening that culminated in the current
liquidity crisis
in the property sector put an end to the acquisition spree.
The retreat of Chinese buyers from foreign markets is particularly evident in London, one of the top cities for global real estate investment. The de-risking and
deleveraging of China's economy
– the most salient trend in Asian finance – has led to the divestment of many overseas assets, carrying echoes of the withdrawal by Japanese and Irish investors following financial crises in the early 1990s and 2008 respectively.
Vulnerable Chinese developers have been forced to sell some of their flagship properties. In February, Shimao Group Holdings,
which defaulted
on a yuan-denominated loan at the start of this year, sold a prime office building in the City of London to help shore up its finances.
Other builders have incurred losses from the disposal of residential and mixed-use schemes in the capital. Guangzhou R&F Properties, which was placed in restrictive default after
extending maturities
on its debts, sold a development site in the up-and-coming Nine Elms area of London in March at a loss of £69 million.
Andrew Thomas, head of international capital markets at Colliers, said mainland developers had been "buoyed by their domestic successes. When their home market imploded, everything had to go back to the mother ship." Although most institutional buyers remain invested in London, Chinese real estate investors as a whole have been net sellers for some time.
Another key trend in Asia reverberating through London's property market is geopolitical instability. Beijing's imposition of a draconian new
national security law
on Hong Kong, which dealt a seemingly fatal blow to the "one country, two systems" framework, has intensified many Hongkongers' search for a safe haven.
The UK government's decision in July 2020 to offer all 2.9 million Hong Kong residents with a
British National (Overseas)
passport the opportunity to live and work in Britain for five years, with a path to full citizenship, has increased the appeal of London as a sanctuary.
According to data published in March by Benham & Reeves, a property agent, Hong Kong residents account for the largest share of
residential property titles
registered to foreign addresses in 17 of London's 32 boroughs. In some districts, such as Tower Hamlets, Hongkongers account for around a quarter of foreign-registered properties.
While the number of homes are tiny, relative to the size of the respective housing markets, the growth rates have been particularly strong in the past three years. Hongkongers' strong affinity with the UK, the attraction of cosmopolitan London as a place to settle down, the weakness of the pound and more affordable homes in the capital's outer zones are fuelling demand.
"The political uncertainty is driving more Hongkongers to buy homes in London either to live in or as an investment. They see it as a bulletproof market," said Marc von Grundherr, director of Benham & Reeves.
A third trend in Asia that is particularly evident
in Britain's capital
is the internationalisation of the region's real estate markets, with Asian capital having become more mobile and more savvy in the past several years.
Even before
Singapore overtook China
as Asia's leading source of outbound investment, Asian buyers were diversifying away from competitive, overpriced and relatively small domestic markets.
In London, Asian capital continues to be a major force driving investment in the office sector. In the first quarter of this year, South Korean, Singaporean and Hong Kong buyers accounted for as much as 48 per cent of the record £4.9 billion in transaction volumes, according to JLL data.
Tellingly, the biggest deal last quarter – and the largest property sale in London in nearly five years – was the acquisition by South Korea's National Pension Service of
5 Broadgate
from Li Ka-shing's CK Asset Holdings for £1.2 billion.
However, deals completed last quarter were negotiated under starkly different financial conditions. In the past few months,
global borrowing costs
have surged, triggering a repricing of assets. Office rental yields in London, which have been driven down partly by the weight of Asian capital, are set to rise and lead to a more uncertain investment landscape.
Still, risks are relative. London has faced successive shocks, not least the fallout from the UK's departure from the European Union, but Asian investors have not been deterred. If anything, the safety, liquidity and transparency of London's property market have become even more important to them.
Nicholas Spiro is a partner at Lauressa Advisory