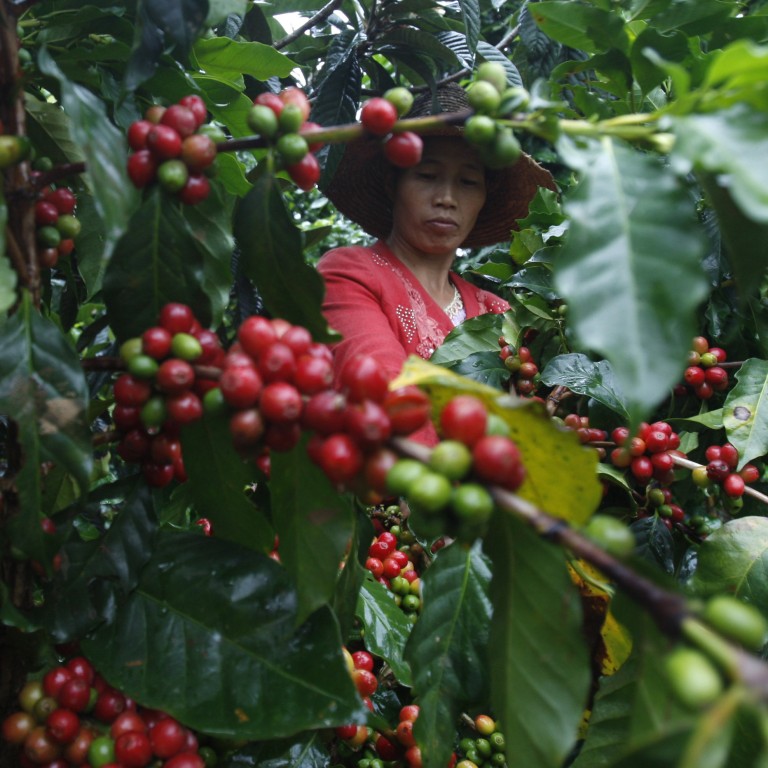 Opinion
Outside In
by David Dodwell
Outside In
by David Dodwell
China, slowly but surely, is waking up and smelling the coffee
The world's coffee market is in peril due to climate change, supply-chain disruptions during the pandemic and the threat of recession globally
Against this backdrop, China is gradually moving from bulk sales of beans to building a quality reputation
In London's coffee houses back in the 1600s, at a time when "exotic beverages" such as coffee, tea and cocoa were all in vogue, some commentators decried coffee as "the syrup of soot or the essence of old shoes".
Despite such discouraging beginnings, the fashionable love affair with coffee has flourished in the past three centuries. From around 500 coffee houses in London in 1739, Britain's capital today boasts more than 3,000
coffee shops
and almost as many varieties of coffee for sale.
And the UK was long ago overtaken in per-capita coffee consumption. That claim to fame today comes from Finland, where they consume an average of four cups a day, with Norway, Iceland, Denmark, the Netherlands, Sweden and Switzerland close behind. Can it be an accident that these same countries are at the top of the latest
World Happiness Report
?
Such is the ubiquitous appeal of coffee today that it is apparently, after oil, the world's second-most traded commodity. It was valued at around US$460 billion in 2021, providing around 2 billion cups of coffee a day and supporting around 125 million smallholder farmers worldwide.
Coffee connoisseurs write florid tasting notes on speciality coffees that talk airily of "notes of strawberry jam and watermelon bubblegum" rather than "the syrup of soot". To be frank, I find it hard to imagine any coffee I ever tasted bringing to mind the scent of watermelon bubblegum.
Yet despite its success, the global coffee market is in peril. It is not just threatened by climate change and the supply chain disruptions and social clampdowns imposed during the Covid-19 pandemic, but by the imminent threat of recession. Surely an expensive beverage with little nutritional value has to be an early casualty as households cut spending and give priority to nutritional essentials.
These concerns perhaps explain why global coffee prices are close to record levels. From an average of US$100 to US$150 per pound in the past decade, prices peaked in February this year at US$258 per pound and are currently around US$220 per pound.
They perhaps also explain the urgent research now being undertaken into new cultivable species of coffee. Kew's Royal Botanic Gardens outside London, which houses one of the world's largest and most precious seed banks, warned last week that around 60 per cent of wild coffee species are under threat from extinction. It says Madagascar has 43 species at risk, Tanzania 12 and Cameroon seven.
But perhaps thanks to Starbucks, which arrived in China in 1999 and today operates more than 5,000 stores across 200 cities, the foundations have at last been laid for China to become a producer and consumer of some significance in the global coffee market. Starbucks sources about 95 per cent of its local coffee beans from Yunnan.
China is now the world's ninth-largest producer of arabica beans and is slowly moving from bulk sales to building a quality reputation. There is potential to lift output to more than 10 million bags, which would put China in the world's top five producers.
But there is huge scope for domestic consumption in China to grow. If local coffee drinkers started having just 200 cups a year, they would boost domestic consumption 40-fold, leaving very few coffee beans available for export.
If these were producing "the syrup of soot", then that would be nothing to worry about. But if they were truly producing coffee that tasted of strawberry jam and watermelon bubblegum, then that would be a serious loss to coffee addicts across the world.
David Dodwell researches and writes about global, regional and Hong Kong challenges from a Hong Kong point of view