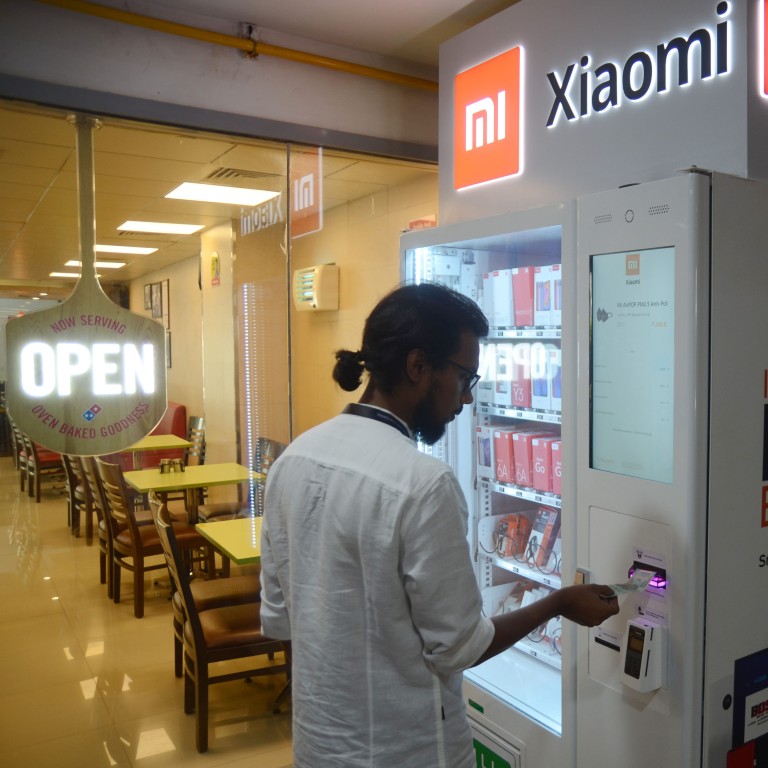 Opinion
Macroscope
by Kamala Thiagarajan
Macroscope
by Kamala Thiagarajan
Why blocking cheap Chinese phones would be the wrong call for India
Shutting Chinese phones out of the lower segment of the market, in an effort to protect the domestic industry, would hurt not only Chinese companies but also Indian consumers
And can a phone truly be called Indian if all its components are made in China and it is only assembled in India?
It's no secret that Chinese phones are thriving in India, and have been outcompeting local models for years. According to tech market tracker Counterpoint, smartphones under 12,000 rupees (US$150) contributed a third of India's sales volume for the second quarter of the year, with Chinese companies accounting for up to 80 per cent of those shipments.
Chinese vendor Xiaomi
retained its lead in the Indian smartphone market for the quarter, according to the research, while three of the top five phone models were by Chinese brand Realme.
The importance of the Indian market to China is undeniable, especially at a time when the Chinese are feeling the
economic impact
of their zero-Covid policy and crippling lockdowns.
However, the Indian government is reported to be planning to
shut Chinese phone manufacturers out
of the Indian entry-level market in an effort to protect the domestic industry. This move could have many implications for Chinese firms, many of which have already been subject to close scrutiny, amid allegations of customs duty evasion and
money laundering
.
Prime Minister Narendra Modi started out as a champion of free trade, but has become increasingly known for protectionism, adopting "self-reliant India" as a slogan and urging Indians to buy home-made goods to support the economy. His trade policy has been criticised for being in direct conflict with India's liberal trade policy of the 1990s.
That period saw the country abolish import licensing, reduce customs tariffs and cut the red tape that made doing business in India a nightmare. The Indian economy opened up extensively for the first time to foreign investment, trade and goods.
As more private players entered telecoms, air travel and other sectors, Indian consumers were offered more convenience and choice. These economic reforms have had far-reaching effects and are credited with pulling millions out of poverty. It was almost as if India grew into a land of opportunity overnight.
However, with more protectionism and government interference, many worry that India is now turning the clock back. In March last year, economist Aravind Panagariya – who was vice-chairman of NITI Aayog, the Indian government's public policy think tank – noted that India had begun to reverse the policy of economic liberalisation in recent years. The Economic Times quoted him as saying India should not promote industry on the "crutches of protection".
For both China and India, there would certainly be a lot to lose. India's smartphone market is the second largest in the world, after China's.
A protectionist turn is likely to affect India's low-income groups the most, robbing them of the choice and quality now available in the below-US$150 segment of the mobile market. Smartphone use, especially in the countryside, has risen sharply over the past few years. According to one recent survey, the penetration rate for rural India nearly doubled, from 36.5 per cent in 2018 to 67.6 per cent in 2021.
However, against this backdrop, Indian smartphone shipments declined year on year in the first half of 2022, according to the International Data Corporation. Although Xiaomi, one of China's biggest mobile manufacturers, continued to be the market leader, its shipments to India also fell by 28 per cent in the second quarter.
Xiaomi
launched its first phone in 2011. By 2014, it had became No 1 in the Chinese market. In India, its dominance was more easily – and almost instantaneously – established. It entered the Indian market in 2014, through an exclusive tie-up with Indian e-commerce portal Flipkart. Flipkart said it received 100,000 registrations in a matter of days, and sold out of handsets within 30 minutes of the launch.
In contrast, Indian phones under US$150 have not really caught the public's eye and the entry of Chinese brands has hurt Indian counterparts such as Micromax, Lava, Karbonn and Intex.
Reviews of Indian phones can be scathing: they lack screens that are ideal for gaming, heat up too quickly, have mediocre cameras and are just not competitive. Figures reflect this: the market share of Indian brands plunged from 68 per cent in 2015 to just 1 per cent in 2021, with Chinese brands' share growing from 32 per cent to 99 per cent in the same period.
There is another facet to the issue: can a phone truly be called Indian if all its components are made in China?
After
border skirmishes
between India and China dominated headlines in 2020, some Indians wanted to boycott Chinese phones. However, they had to be reminded that almost all components for Indian mobile phones are sourced from China, and the phones are only really assembled in India. This reliance on Chinese parts is often seen as a roadblock in Indian manufacturing.
As the world shrinks, enabling greater global travel, trade and commerce, there is no room for protectionist policies, which are redundant and deeply unfair, both to the consumer and seller.
Kamala Thiagarajan is a freelance journalist based in Madurai, southern India