Opinion
Macroscope
by David Brown
Macroscope
by David Brown
Energy crisis, Ukraine war could leave Germany and the rest of Europe facing a winter of recession
Germany's economy faces slowing growth, rising inflation and a looming recession, and a downturn there could see the rest of Europe follow, leaving policymakers in a bind about how to respond
There is a well-known market adage that, when the United States sneezes, the world catches a cold. The same could be said about the impact Germany has on its European partners. If the German economy is in trouble, Europe feels the fallout. The Ukraine war and the global
energy crisis
are stacking up a pile of problems for Germany, and Europe as a whole.
The economy is slowing, headline inflation is rising and the spectre of recession is looming large. With no prospect of Russia's invasion of Ukraine being sorted out soon, Europe could be heading into a winter of discontent, with
energy supply disruptions
and industrial shutdowns likely to take a toll on economic confidence and growth.
It leaves Europe's policymakers with a big dilemma, whether to stand firm against soaring inflation and run the risk of a deeper recession next year or relent and ease policy again. As Europe's problems deepen, the euro's outlook seems even bleaker.
Don't count on Europe being spared a recession this winter. Growth might appear stable at the moment, with gross domestic product in the euro zone rising by 3.9 per cent in the second quarter, compared with a year ago, but the longer-term outlook is fraught with problems.
German growth is already hitting the skids, with annual growth in the second quarter slowing to 1.7 per cent compared with 3.6 per cent in the first three months of the year. Germany is leading Europe into slower growth.
The prospects of a recession must be high, considering the marked downturn in
global economic conditions
. Even so, major forecasting bodies are still relatively hopeful that a deeper slump can be avoided.
The Organisation for Economic Co-operation and Development still expects Germany to hit 1.9 per cent GDP growth for 2022 and 1.7 per cent in 2023, while Europe is forecast to expand by 2.6 per cent this year and 1.6 per cent in 2023, despite the adverse conditions. Even the European Commission is putting a relatively brave face on the outlook, expecting European Union growth of 2.7 per cent this year and 1.5 per cent in 2023.
Yet many leading indicators for Germany suggest a recession could be on the cards as early as the fourth quarter of this year. Consumers are feeling the strain from sharp energy price rises, which have seen headline German inflation surge as high as 7.9 per cent in May, easing to 7.5 per cent in July.
Consumer confidence has been badly shaken by the cost-of-living crisis and
Germany's proximity
to the war in Ukraine. The GfK consumer climate indicator has collapsed to minus 36.5 heading into September. German retail sales growth fell 8.8 per cent in June from a year earlier, the biggest drop since records began in 1994 – an ominous sign for growth.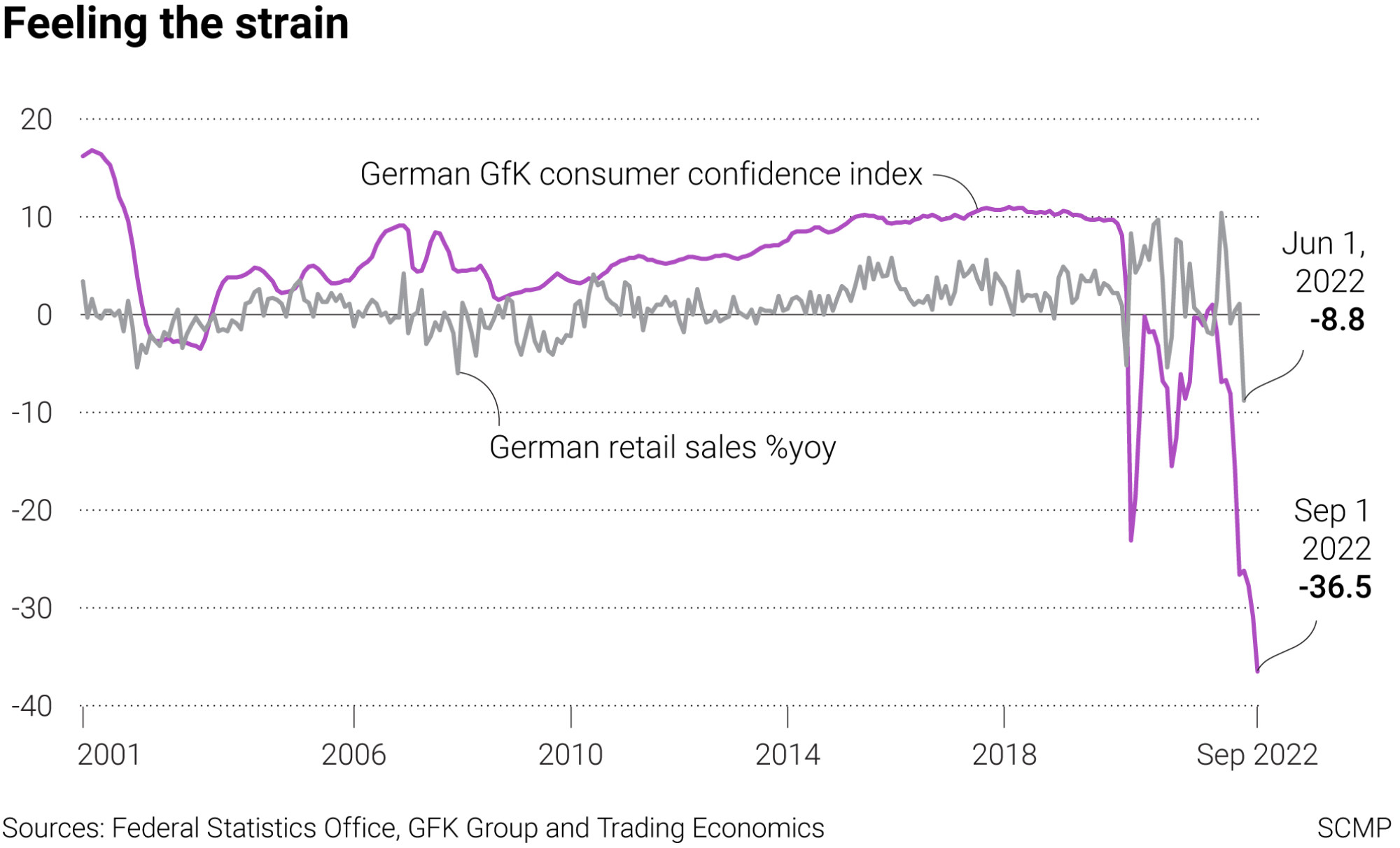 German industry has suffered badly, with business confidence down and industrial orders declining. Germany's traditional growth model – which relies heavily on cheap
energy imports
and high-value export growth – is facing serious strain.
Profit margins are being squeezed by rising energy costs, and foreign export orders are down despite the advantage of a
much weaker euro
. Falling demand for German goods from abroad is a telltale sign that global demand is in retreat.
If Germany goes into recession, the rest of Europe will be close behind, leaving policymakers in a bind about how to respond. The problem is that the European Central Bank is committed to battening down the hatches against higher inflation and European fiscal finances are already overstretched following the Covid-19 pandemic.
The ECB has embarked on a tougher monetary policy, with a rise of 50 basis points in July and the market is beginning to weigh up the possibility of a similarly large rate rise in September.
If the ECB backs off now, the euro will suffer, putting the currency back on course for a return to its historic low versus
the US dollar
. It seems European fiscal policy is needed to take the strain of a return to recession. After enjoying years of budget surpluses, Germany could be heading for a deeper budget deficit than 2021's shortfall of 3.7 per cent of GDP.
Germany and Europe as a whole will just have to weather the storm. It is likely to get worse as winter looms.
David Brown is the chief executive of New View Economics