Opinion
The View
by Kavitha Yarlagadda
The View
by Kavitha Yarlagadda
Why electric vehicles are set for accelerated growth this decade
Fears for the sector during the pandemic proved unfounded when global electric vehicle sales rose sharply last year, led by China
Public awareness of climate change, government carbon neutrality targets and lower costs are driving a boom that looks set to continue
Demand for electric vehicles is surging thanks to increased responsibility towards the environment,
ambitious climate goals
and the relative ease of maintaining the vehicles.
Expectations for global electric vehicle (EV) sales at the start of 2020 were uncertain due to the Covid-19 pandemic. But, as time passed, it became clear that it would be a surprisingly successful year, with worldwide sales increasing by 43 per cent from 2019. Last year broke many records, with some 6.75 million sold – that's more in a single week than in the whole of 2012.
EV sales virtually tripled from 1.2 million in 2020 to 3.4 million in China. Europe, the world's second-largest market for electric vehicles, saw 2.3 million new registrations, over half of which were plug-in hybrids, representing an increase of nearly 70 per cent. For the first time, sales in the United States crossed 500,000.
China, Europe and the US account for around 90 per cent of all electric car sales worldwide, which means e-mobility isn't developing at the same rate elsewhere even though the transport sector accounts for 17 per cent of global greenhouse gas emissions.
China is pioneering the switch to EVs. It is home to the world's biggest
electric car market
, with nearly 300 models available. Compared with other major markets, where the median price of EVs is often 45-50 per cent higher than that of conventional cars, it is only around 10 per cent higher in China.
The market is strongly supported by the government through subsidies and other incentives, with the goal of EVs making up 40 per cent of all car sales by 2030. Some US$14.8 billion in subsidies were provided to buyers between 2009 and mid-2021.
State subsidies were
supposed to end
in 2020, but the incentives were
extended to 2022
to help the industry during the pandemic, which could result in an estimated 3.82 million sales in 2022. The government is also
considering extending
the tax exemptions on the purchase of EVs.
These measures are part of a central government drive to improve the environment. In 2013, the year a University of Chicago study found that the Chinese population was being exposed to fine particulate matter that cut life expectancy by 4.6 years, Beijing implemented its first national air quality action plan, which included regulations to lower emissions from manufacturing and hasten the switch from coal-fired plants to renewable energy. In 2020, President Xi Jinping
pledged
that the country would be carbon neutral by 2060.
In 2021, China was the world's largest exporter of electric vehicles, accounting for 60 per cent of global output.
BYD
, the world's largest EV manufacturer by sales volume, intends to launch an electric SUV in India during the Diwali festive season.
China also dominates the production of electric car batteries, hosting four of the top 10 battery makers in the world by market share.
CATL
alone has cornered 30 per cent of the global market for these batteries.
The country's charging infrastructure will dramatically expand by 2025 to accommodate the needs of more than 20 million cars. And then there are innovations like carmaker Nio's "battery replacement" strategy, which allows drivers to change their car battery at a swapping station instead of queuing to charge it.
Meanwhile, in Europe, Germany, the continent's largest vehicle market, recorded over 650,000 sales of electric vehicles in 2021, a 72 per cent increase from 2020. With Tesla, Volkswagen and
CATL
either developing or running gigafactories there, the nation is home to some of the largest EV plants in Europe. While the US has doubled its car sales in 2021, Tesla still dominates the field there.
With a projected compound annual growth rate of 24.3 per cent from 2021 to 2028, the global market for electric vehicles is expected to increase from US$287.36 billion in 2021 to US$1.3 trillion in 2028.
Many Asia-Pacific countries are setting ambitious
climate change targets
, which will fuel the growth of the EV market. For example, last year, India saw a 168 per cent year-on-year increase in sales, when over 330,000 units were sold. One study suggests sales will top 9 million by 2027, supported by 100,000 charging stations.
The industry is attracting massive funding from venture capitalists and private equity firms. The government drew up a National Electric Mobility Mission Plan, under which it introduced policies such as the "faster adoption and manufacturing of electric vehicles" and performance-linked incentive schemes, which offer the sector subsidies and other incentives to encourage EV manufacturing and sales and meet the target of electric cars making up 30 per cent of private car sales by 2030.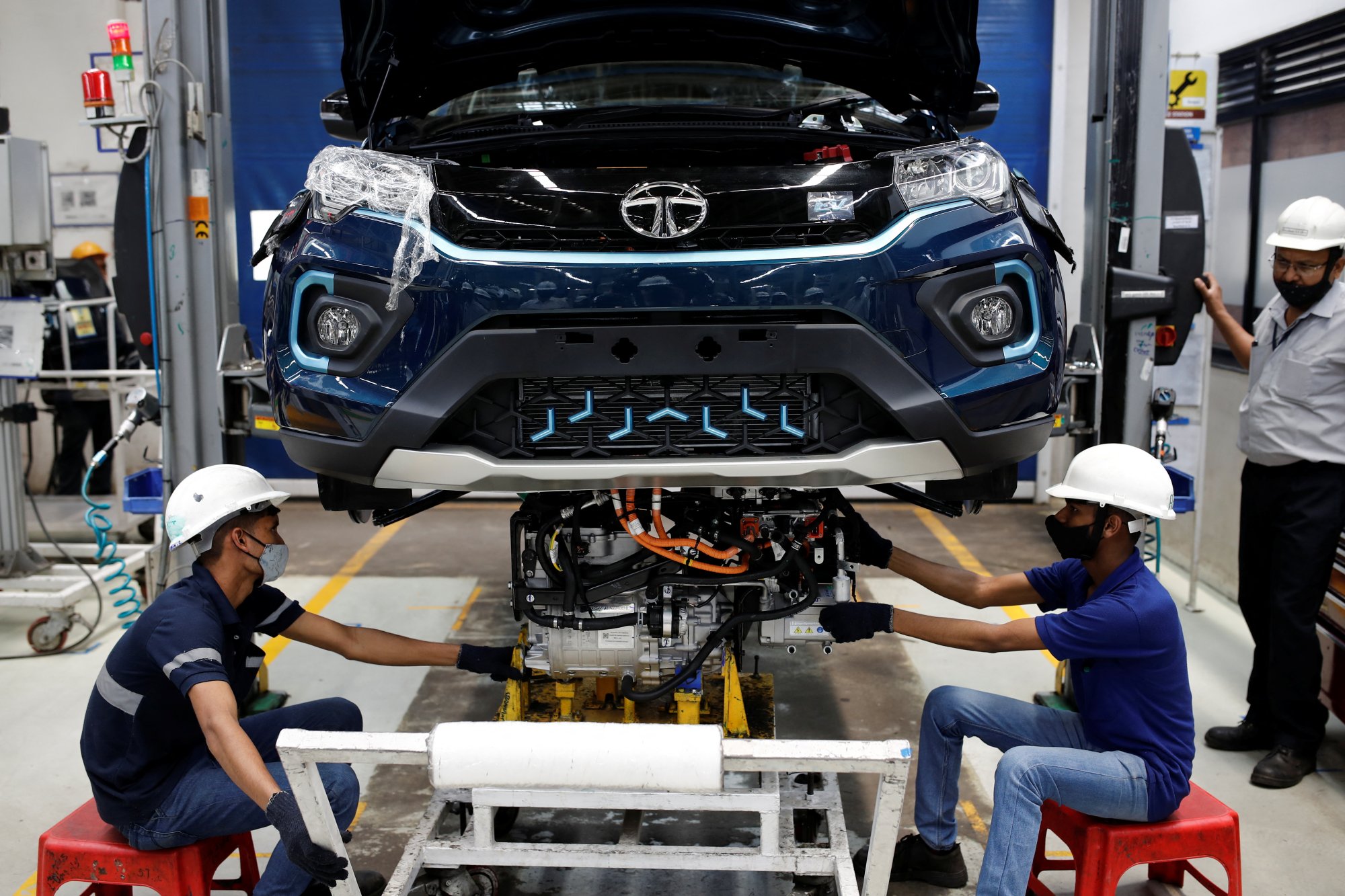 In addition to growing public concern about the environment and government incentives to achieve net-zero targets, the fall in the price of electric vehicle batteries is also driving the surge in sales.
Lithium-ion battery packs, which cost above US$1,100 per kilowatt hour in 2010, were priced at as low as US$120 per kWh in 2021, though prices did rise this year. If the cost of these batteries drops to around US$60 per kWh, as some analysts and producers anticipate, it would result in a huge decrease in the cost of electric vehicles, making them more affordable than traditional vehicles with an internal combustion engine.
Kavitha Yarlagadda is an independent writer based in Hyderabad, India