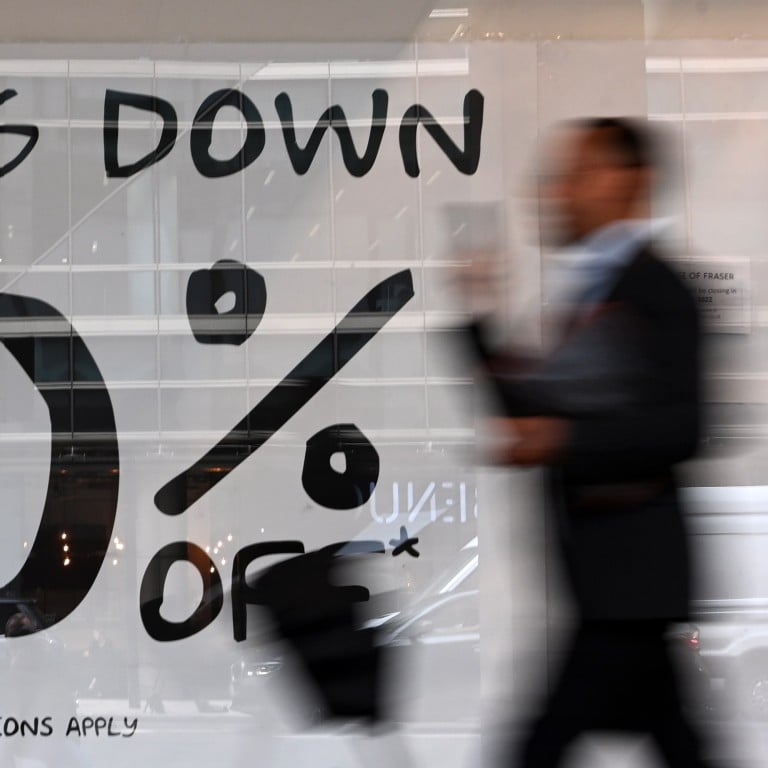 Opinion
Macroscope
by David Brown
Macroscope
by David Brown
Recession risk, inflation, energy crisis: Britain's economy going from bad to worse
Projections for the future of Britain's economy outstrip even the usual winter gloom with recession and a debt crisis on the horizon
If the government chooses to spend its way out of the current energy crisis, it could end up too much for the market to bear
Britain's economy is in a mess. Recession looms,
inflation is rife
and interest rates are
going up
. It's a situation that is quickly running out of control and UK policymakers seem at a loss over how to solve it.
Consumers are already struggling with surging energy prices, and that is even before winter has started. Industrial action is
on the rise
from workers struggling to keep pace with rampant cost-of-living rises, while
political uncertainty
surrounds the UK government lurching from one crisis to another.
Economic salvation is nowhere in sight, and the odds of a UK financial market meltdown are mounting. With deteriorating public finances and a worsening balance of payments, Britain could be heading into a major sovereign debt crisis not seen since the 1970s.
UK growth expectations are in retreat, and the odds are that the economy has already fallen into technical recession. Gross domestic product slipped by 0.1 per cent in the second quarter and the third quarter should have dipped even further into negative territory, judging by monthly GDP data showing a 0.6 per cent fall in June alone.
UK consumer confidence has suffered a catastrophic collapse. A debilitating surge in energy prices has caused headline inflation to jump to 10.1 per cent in July, its highest reading for more than 40 years. Rising prices are putting a major squeeze on UK living standards, with inflation-adjusted real wages falling at their fastest rate on record. Unfortunately, it looks like there is worse to come.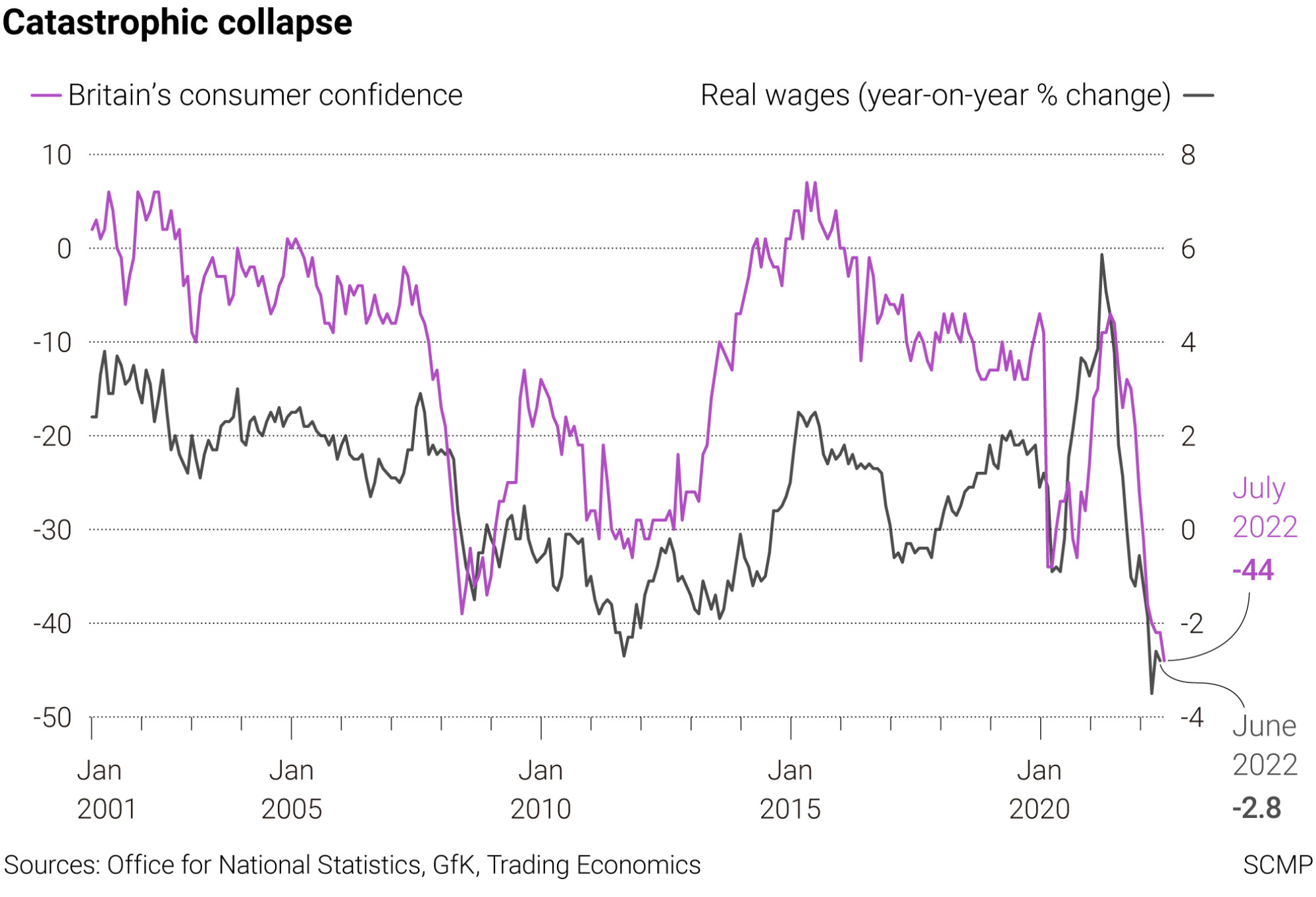 According to market forecasts, UK headline inflation could be heading as high as 18 to 22 per cent if a more serious global
energy supply shortage
emerges this winter. Wages would struggle to keep up, forcing households into major savings and cutbacks.
Retail sales growth is already feeling the pinch, with spending down 3.4 per cent in July from a year ago after a 6.1 per cent annual drop in sales in June. The mood in the UK retail sector is extremely gloomy, with rising costs and falling demand likely to lead to a new wave of
shop closures
, staff lay-offs and higher unemployment.
It is no surprise that UK business confidence is being badly affected with the threat of recession, profit margins squeezed by rising costs and the Bank of England threatening much tougher monetary tightening to contain inflation. The S&P Global/CIPS purchasing managers index for the UK manufacturing sector dropped to 47.3 in August, the first contraction in factory activity since May 2020 during the Covid-19 crisis.
The dip in confidence is bad news for investment intentions and new hiring, but there is more trouble to contend with as UK workers demand better pay conditions. Britain could be heading into a winter of discontent, with production disrupted by weaker demand, increased industrial action and the risk of factory shutdowns if energy rationing is required as the colder weather arrives.
Despite a
fall in the pound
in recent months, UK exporters are having a much tougher time. Global business conditions are slowing down and the impact of Brexit is making it harder for British firms to export into Europe.
Britain's balance of trade is heading deeper into the red. The UK's annual trade gap is potentially heading for a record deficit this year, according to a forecast from the Organisation of Economic Co-operation and Development. It is a trend which is running out of control and could quickly end up in a crisis of confidence for
the pound
.
UK policymaking seems to be in state of near-paralysis. The Bank of England remains committed to controlling inflation, but its hands will be tied if recession breaks out. The government's only alternative is to open up the fiscal floodgates,
cutting taxes
and going on a public spending spree to soften the blow.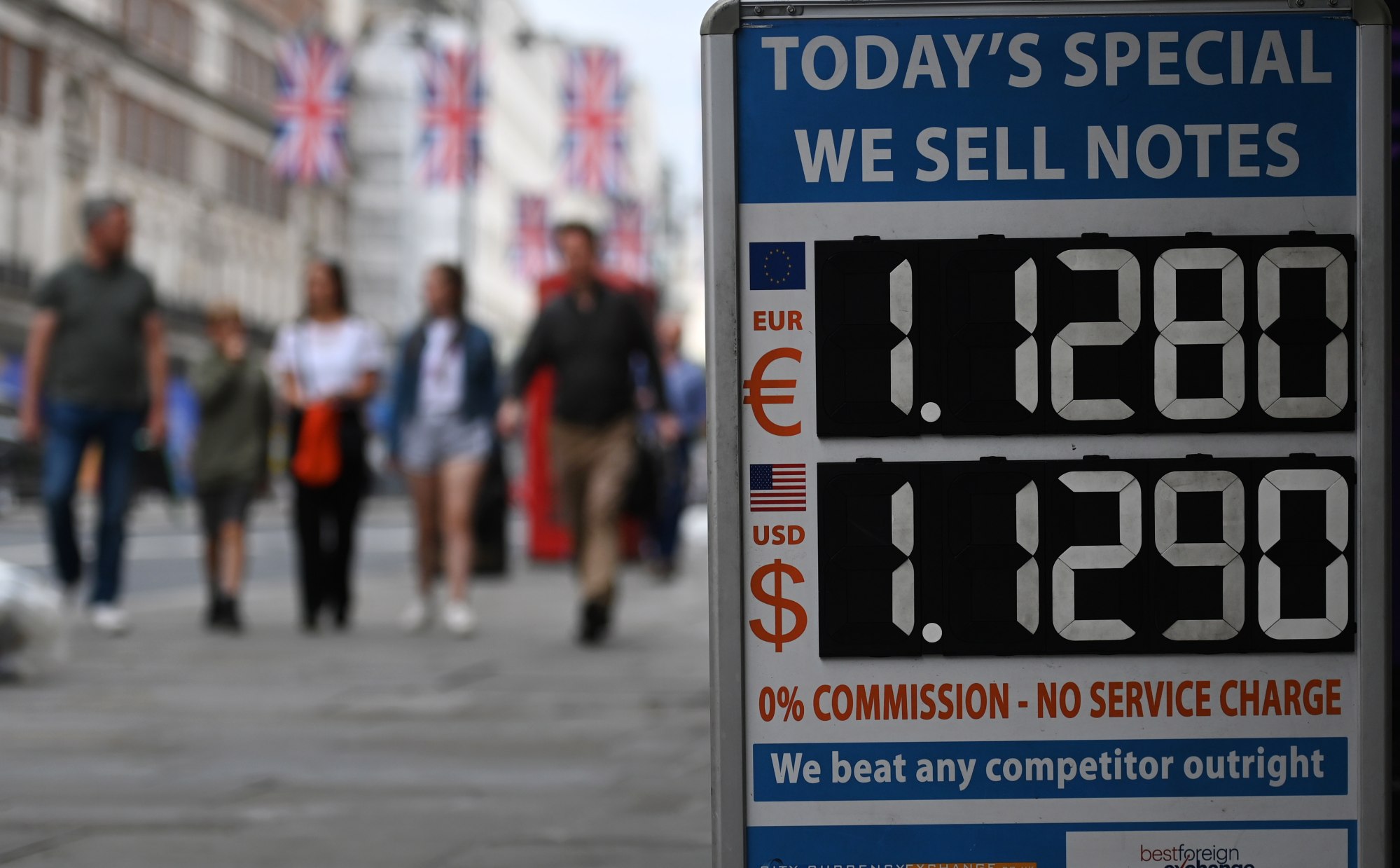 Special emergency measures pushed the government's fiscal deficit close to 13 per cent of GDP during the 2020 Covid-19 crisis. It could happen again if the government chooses to spend its way out of the current energy crisis, but it could end up too much for the market to bear.
History has a habit of repeating itself. In 1976, the UK was forced to go cap in hand to the International Monetary Fund to bail out its currency from a serious balance of payments crisis. Britain's economic outlook is going from bad to worse, with no hope of salvation in sight.
David Brown is the chief executive of New View Economics