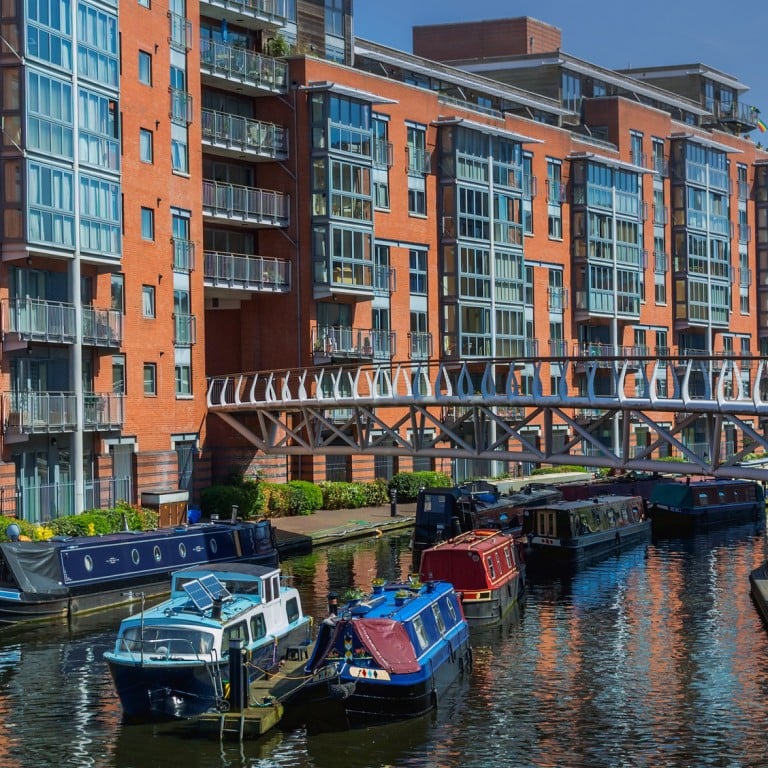 Opinion
Macroscope
by Neal Kimberley
Macroscope
by Neal Kimberley
US dollar strength lets Hong Kong investors go back to the future
When the US dollar surges on the foreign exchanges, as it is now, the Hong Kong dollar also gains in value against other major currencies
This strength spells opportunity for Hong Kong investors who want to diversify their portfolios abroad
The mooncakes have been eaten and the lanterns in Victoria Park admired. But even as Hongkongers have enjoyed the
Mid-Autumn Festival
, the currency markets have rolled on.
Right now, trends on the foreign exchanges offer great opportunities for cash-rich Hong Kong investors looking for international portfolio diversification, and it's all down to the
linked exchange rate system
.
When the US currency is surging on the foreign exchanges, as it is now, the Hong Kong dollar also gains in value against other major currencies. Its capacity to weaken against the rising US dollar is always limited by a system that obliges the Hong Kong Monetary Authority to ensure that Hong Kong's currency does not stray outside a range of HK$7.75 to HK$7.85 to the US dollar.
In these circumstances, any Hong Kong investors now looking to invest overseas should give a nod to
John Greenwood
, the chief architect of Hong Kong's linked exchange rate in 1983.
Back then, Greenwood's proposal was aimed at devising a scheme to avert Hong Kong dollar weakness, but his solution to that problem remains the basis of the linked exchange rate system to this day. In the current circumstances of broad US dollar strength, this is evidenced in accompanying Hong Kong dollar appreciation against many major currencies.
That Hong Kong dollar appreciation means that Hong Kong investors looking to invest overseas get a large amount of bang for their Hong Kong bucks. The British pound-Hong Kong dollar exchange rate is a case in point.
The British pound has slid against the US dollar to levels not seen
since 1985
, a year when cinema-goers flocked to see
Back to the Future
, and what is good for the US dollar is also good for the Hong Kong dollar.
Not since 1985 has the Hong Kong dollar been this strong against the British pound. That spells opportunity for Hong Kong investors who might be minded to embark on long-term international portfolio diversification and who might see Britain as an attractive
investment destination
.
In truth, the idea of Hong Kong investors moving to buy sterling-denominated assets is hardly a novel concept. Hongkongers have long been investing in British property and companies.
Hong Kong's
richest person
Li Ka-shing has made quite a number of investments in UK enterprises across various business segments. But even for him, not since 1985 has the exchange rate between the Hong Kong dollar and British pound been so strong.
Of course, the current outlook for the UK economy is
fairly challenging
, just as it is elsewhere. For investors looking at a longer investment horizon and who are anyway predisposed to diversify their portfolios, though, there could be no time like the present.
Some might take the view that the night is always darkest before the dawn, but there are not many things in 2022 that you can buy at 1985 prices. Yet, Hong Kong investors can now do just that when acquiring sterling.
But let's not get too focused on the British pound. A similar argument could be made in Europe about the euro-Hong Kong dollar exchange rate, but the fact of the matter is that when the US dollar is soaring, the linked exchange rate system is the gift that keeps on giving for Hongkongers looking to invest overseas. From an exchange rate perspective, its workings mean Hong Kong companies and residents who might be minded to diversify their investment portfolios internationally have plenty of options.
Given the US dollar's current broad strength, Hong Kong investors who might prefer to diversify into closer geographical markets could be inclined to look at Japan, the Philippines or South Korea.
The Japanese yen is at its weakest point against the US dollar in
24 years
, the Korean won has fallen to a level not seen since 2009 against the US currency and the Philippine peso has traded at a record low against the US dollar. This all translates, through the linked exchange rate system, into pronounced Hong Kong dollar strength against the yen, won and peso and could tempt some Hong Kong investors to consider raising their investment profiles in Japan, South Korea and the Philippines.
Cash-rich Hong Kong investors in 2022 are in the enviable position of being able to purchase international assets in many overseas markets at advantageous exchange rates that have not been seen for decades.
From a foreign exchange rate conversion standpoint, Hong Kong investors can currently go "back to the future". They have the linked exchange rate system to thank for that opportunity, not Marty McFly's
time-travelling DeLorean
sports car.
Neal Kimberley is a commentator on macroeconomics and financial markets