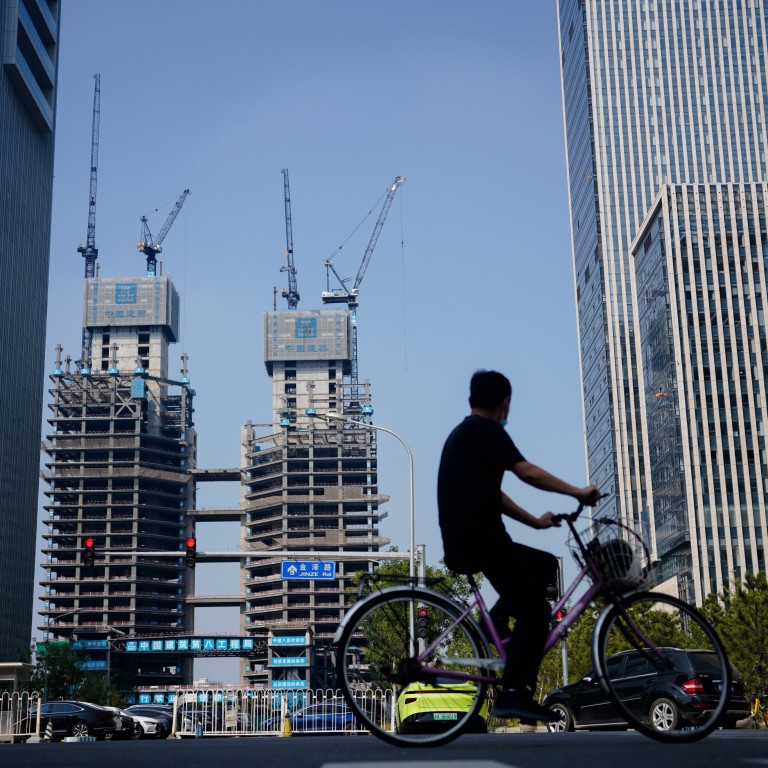 Opinion
The View
by Nicholas Spiro
The View
by Nicholas Spiro
Why China's commercial property sector is thriving despite the 'zero-Covid' policy
While Beijing's policy objectives have curbed debt and speculation in residential real estate, they provide underpinnings for growth in other sectors
These sectors that contribute to China's self-sufficiency drive are also the ones with the assets favoured by international investors
The growth rate many economists and investors believe is achievable in China this year has fallen sharply as 2022 has progressed. In January, respondents to a survey compiled by Bloomberg thought 5.2 per cent was possible. The findings of last month's poll showed this had dropped to 3.5 per cent.
Yet, an increasing number of investment banks are forecasting a rate of less than 3 per cent. The pessimism stems mainly from concerns that the economic disruption caused by Beijing's "
dynamic zero-Covid
" policy will last much longer than anticipated.
Earlier this month, Nomura stuck its neck out by predicting the policy would last "at least until March 2023" and would be followed by "a slower pace of easing" than previously envisaged.
Calling the end of China's zero-tolerance approach to Covid-19 is a mug's game. What is clear is that President Xi Jinping is in no rush to open up the economy. This is mainly because of low vaccination rates among
the elderly
and a poorly funded healthcare system ill-equipped to cope with a massive outbreak.
It also suits Beijing to keep China's borders closed. The pandemic has made it easier for the government to restrict
capital outflows
and pursue its economic agenda of becoming less dependent on the West, particularly its technology.
The prospect of further
citywide lockdowns
and a long delay in the removal of all restrictions augurs badly for a recovery in China's crisis-ridden housing market. The shutdowns have had a crippling effect on consumer confidence and undermined the effectiveness of measures to stem the fall in prices and sales.
Home values slid at a faster pace in August, marking the 12th consecutive month of declines. However, the implications of a prolonged zero-Covid policy for China's commercial property sector are much more nuanced.
To be sure, lockdowns – in particular the brutal
two-month shutdown
of Shanghai, China's largest city and the nation's financial hub – have disrupted leasing activity. In the second quarter, net take-up in the office sector in 18 major cities tracked by CBRE plunged 74 per cent quarter on quarter.
In the retail sector, Tier 1 cities that were severely affected by lockdowns all registered negative net absorption. Demand in Shanghai suffered the sharpest contraction, according to CBRE data.
Yet, many of the key drivers of demand in commercial property are thriving. While Beijing's policy objectives have curbed debt and speculation in residential real estate, they have provided a crucial underpinning for growth in sectors that are central to the government's prioritisation of
domestic innovation
, economic security and national defence.
China's
self-sufficiency drive
– which entails strong support for high-end manufacturing, strategic industries and core technologies – is a boon to industrial and logistics properties. These are the assets international investors favour the most and which have accounted for more than 20 per cent of global transaction volumes since the pandemic erupted.
"The performance of industrial real estate [in China] is highly correlated with investments in the new economy. The sector benefits from government support," said Bruce Pang, chief economist and head of research for Greater China at JLL.
Net absorption in the industrial and logistics sector in the second quarter rose 19 per cent quarter on quarter, with e-commerce, third-party logistics and manufacturing firms driving leasing activity, according to CBRE data. Even in the less-resilient office market, technology is vying with finance for the top spot in leasing volumes, boding well for future demand.
Beijing's efforts to turn China into a global centre of innovation are having a strong bearing on multinational companies' real estate strategies. A survey published by JLL in July found that the fallout from the pandemic had the least impact on firms in the
life sciences
sector, with nearly 80 per cent of companies saying their leasing plans were unaffected.
Henry Chin, head of research for Asia-Pacific at CBRE, said a "contrarian strategy" in global real estate investment right now was targeting opportunities in high-quality business parks in Beijing and Shanghai.
Life sciences companies, which require large research and development office space, account for 30 per cent of leasing demand among 51 business parks in Beijing tracked by CBRE. Not only is this the sharpest increase in leasing activity among the main occupiers since 2019, life sciences firms are the leading tenants in several major business parks in Beijing.
Still, the longer China maintains its disruptive zero-Covid policy, the bigger the threat to growth and the harder it becomes to stimulate the economy effectively. The severe problems facing other major economies are helping distract attention from China's woes. A more benign outlook for Western markets – possibly because of interest rate cuts – would put
China's slowdown
under more scrutiny.
However, the diverging fortunes of the residential and commercial property sectors during the pandemic show the importance of being aligned with Beijing's policy priorities. While the housing market is facing a severe crisis, key parts of China's commercial real estate sector remain a source of resilience.
Nicholas Spiro is a partner at Lauressa Advisory