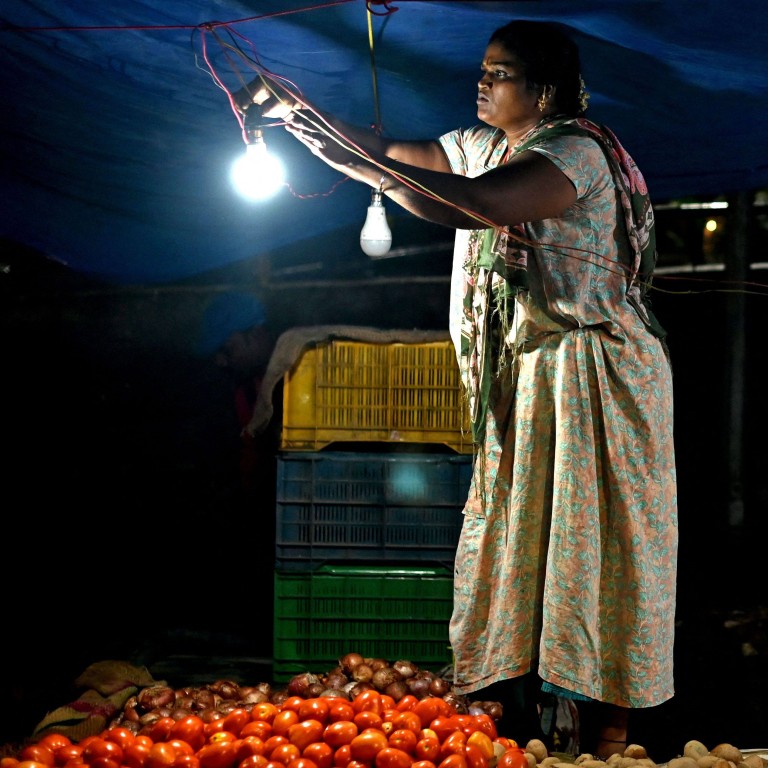 Opinion
Macroscope
by Nicholas Spiro
Macroscope
by Nicholas Spiro
Are the stars aligning for India's economy to shine brighter than China's?
At a time when much of the world is expected to fall into recession, domestic and external forces are helping to transform and lift India's economy
The big question, however, is whether India, long touted as the next China, is resilient and reform-minded enough to continue on its upward trajectory
Clouds of gloom have engulfed the global economy and markets. A toxic combination of persistently high inflation, dramatic rises in interest rates, geopolitical tensions, the lingering effects of the Covid-19 pandemic and mounting risks to financial stability have taken a heavy toll on business and consumer confidence.
In equity markets, the MSCI All-Country World Index suffered its third straight quarter of declines, the longest streak of losses since the 2008 financial crash.
Yet, amid the storm clouds, a ray of sunshine is visible.
India's economy
is forecast to grow by a brisk 6.8 per cent this year. This compares with an average rate of 3.7 per cent for emerging markets, whose slowdown is partly attributable to the sharp downturn in China, which is expected to grow just 3.2 per cent, data from the IMF shows.
From April to June, India's gross domestic product expanded 13.5 per cent year on year, powered by pent-up demand following the removal of pandemic-related restrictions. Investment and private consumption soared 20 per cent and 26 per cent respectively.
Although growth is slowing as the reopening effect wanes and borrowing costs rise, activity in India's vast services sector remained in expansion territory last month. Companies continued to take on more staff in response to robust demand, data from S&P Global shows.
Moreover, the MSCI India Index surged nearly 10 per cent last quarter, compared with a 23 per cent decline in the MSCI China gauge, marking the strongest outperformance by the Indian index since 2000, according to Bloomberg. India's weight in the benchmark emerging markets index has shot up to 15.3 per cent, the second-highest weighting after China.
Yet, what is most remarkable about India is the confluence of domestic and
external forces
helping to transform Asia's third-largest economy at a time of extreme global uncertainty.
First, the long-anticipated creation of a single national market that supplants inefficient regional markets is pushing a vast informal economy into the daylight, serving as the catalyst for the much-needed financialisation and digitisation of the economy.
Second, India is moving up the industrial value chain, helped by a combination of government support for the manufacturing sector and multinational companies' efforts to diversify away from China. Last month, Apple announced it would begin producing its latest iPhone 14 model in southern India.
Third, India's competitive edge, technology, has given rise to a vibrant start-up scene. Indian tech talent has attracted billions of dollars of funding from investors. This has fuelled demand for large share offerings and helped deepen India's capital markets at a time when China's tech sector has been at the sharp end of a regulatory crackdown.
The scope for further growth is enormous. In a report published on Tuesday, Bain & Company said the pandemic was "a crucible moment for online retail in India". The market is set to reach US$50 billion this year, with massive headroom in terms of smartphone penetration and affluence, coupled with low data prices, providing "the perfect ingredients for sustained growth".
The big question, however, is whether India, long touted as the next China, is resilient and reform-minded enough to continue to outperform other leading developing economies.
India is still vulnerable. The fierce rally in the US dollar has sent the rupee tumbling to a record low, fuelling inflation and forcing the central bank to raise rates by almost 2 percentage points this year. The share of foreign ownership of Indian government bonds – which has always been low – has fallen to 1.6 per cent, data from JPMorgan shows.
This makes it more difficult for India to finance its large fiscal and current account deficits. Moreover, the decision by JPMorgan this month to refrain from adding India to its flagship bond index, partly due to the government's wariness about opening up its debt market, underscores the political constraints on economic reform.
While Prime Minister Narendra Modi deserves credit for implementing policies that have helped modernise India's economy, the Hindu nationalist agenda of Modi's Bharatiya Janata Party (BJP) has led to an alarming erosion of civil and political liberties. Although India's divisive politics has endangered its democracy more than its economy, the BJP's aggressive nationalism bodes ill for meaningful economic and financial liberalisation.
Furthermore, India's outperformance is accentuated by China's underperformance. The sharp deterioration in investor sentiment towards Asia's largest economy has fed into a bullish narrative around India. However, it has also put China's main rival in the region under more scrutiny, particularly its ambivalent relationship with the West.
The bleak outlook for the global economy makes India's strong growth all the more impressive. How long it will continue to shine remains to be seen.
Nicholas Spiro is a partner at Lauressa Advisory