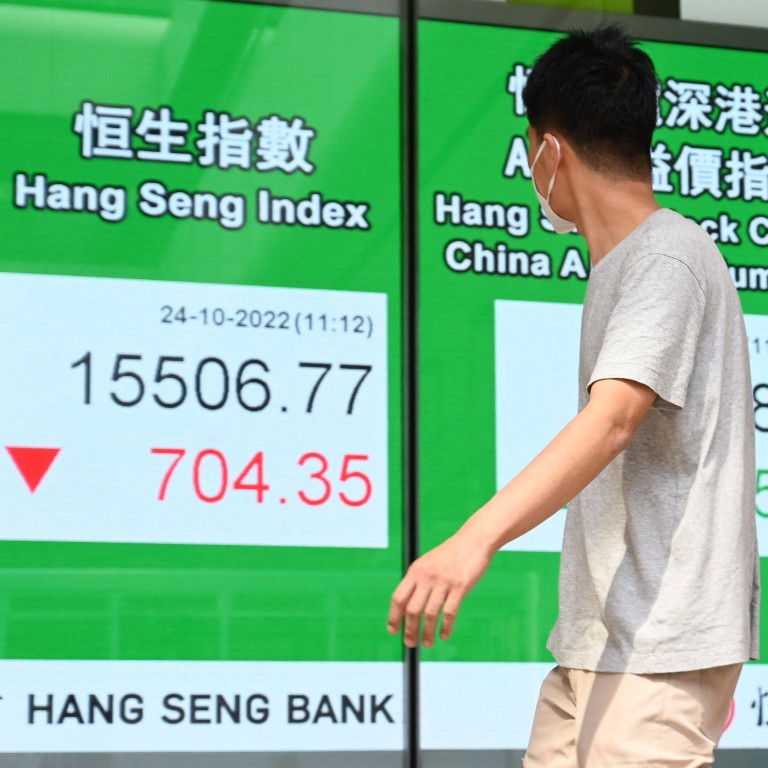 Opinion
Macroscope
by Nicholas Spiro
Macroscope
by Nicholas Spiro
Why investors should see silver lining in China's plunging markets and stick around
Investor sentiment towards China has taken a beating recently, with stocks plunging and little sign of an end to Beijing's 'zero-Covid' policy
China is not the top driver of global volatility, though, and investors' desire for clear policy signals suggests there is eagerness for positivity on China
Can investor sentiment towards China get any worse? Even before the
dramatic sell-off
in response to President Xi Jinping securing an
unprecedented third term
at the Communist Party's 20th national congress – where Xi packed China's top leadership with his
team of loyalists
and prioritised national security and politics over economic reforms – Chinese assets were under heavy selling pressure.
Yet, even the most bearish investors were taken aback by the scale of the price declines last week. On October 24, foreign investors sold
a record US$2.47 billion
of mainland stocks, causing an index of Chinese shares traded in Hong Kong to plunge 7.3 per cent. A gauge of Chinese shares listed in the US suffered even steeper falls and at one point was down a staggering 21 per cent.
While sentiment has not been this bleak in years and could deteriorate further, several factors are working in China's favour.
First, it is not just China that is unsettling markets, it is the entire global economy. The rally that was triggered by massive stimulus programmes the world over following the eruption of the Covid-19 pandemic has turned into an all-embracing sell-off, with very few asset classes spared.
Second, policy signals are more consequential in an opaque and difficult-to-read market like China. There is more scope for a meaningful and potentially durable rally because of Beijing's ability to move markets sharply if it believes it is in its interest to do so.
Hints of a more conciliatory policy stance towards the country's all-important technology sector would also help restore confidence, especially at a time when US tech stocks are under severe strain mainly because of sharp rises in borrowing costs.
To be sure, there is no reason to be outright bullish about China right now. But if Beijing sends the right signals, especially when it comes to managing the virus, investors could be handsomely rewarded even if the structural problems plaguing China's economy persist.
Nicholas Spiro is a partner at Lauressa Advisory