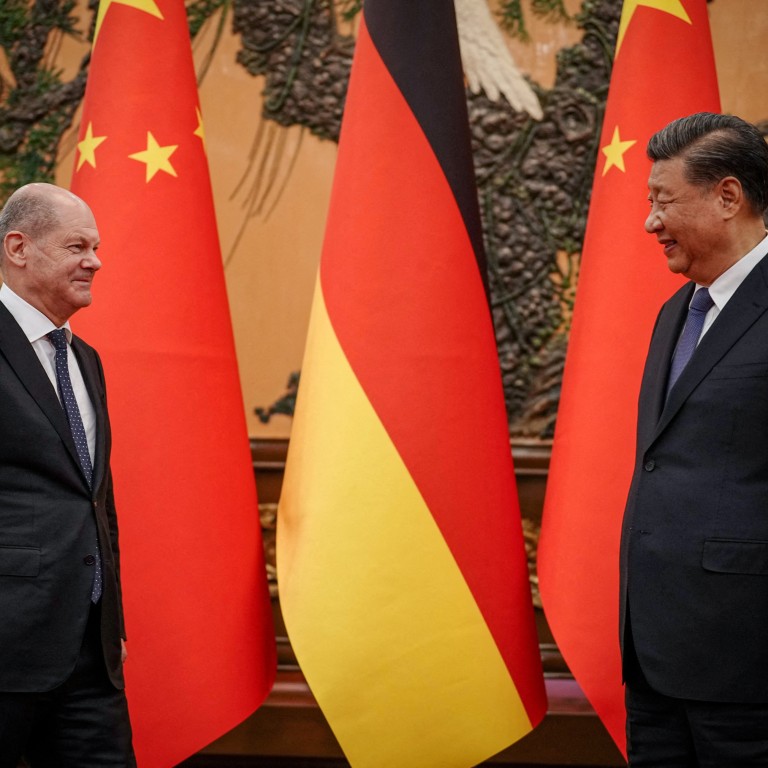 Scholz's Beijing visit brings hope for EU-China relations
The German chancellor's short visit with a business delegation has broken important ground when Germany, like the rest of Europe, faces the very real risk of recession
German firms' commitment to China suggests that, despite the talk of decoupling, the real momentum is towards more engagement with China
Contrary to the narrative of decoupling that is gaining traction in the West, Chancellor
Olaf Scholz's flying visit to Beijing
last week, with 12 CEOs in tow, is proof that Germany still puts business first when it comes to China.
Looking at the economic context, it isn't hard to see why. Germany derives half its gross domestic product from exports and China has been its
top trading partner for six years
on the trot. Commerce with China supports over a million German jobs directly, and millions more indirectly.
The depth of ties between the two economies is even more apparent when looking at the balance sheets of individual companies. China accounts for over 30 per cent of global sales of carmakers like
Volkswagen
, Daimler and BMW – and over a fifth for other DAX heavyweights such as Covestro and Adidas. Infineon, the German chip maker, derives a whopping 37.9 per cent of its sales from China.
These economic links are crucial when Germany, like the rest of Europe, faces a deepening
energy crisis
, high inflation and the very real risk of recession.
Berlin can hardly afford to aggravate its current economic predicament by supporting an economic decoupling of the European Union from China – a move that could cost Germany almost six times as much as Brexit, according to the Munich-based ifo Institute, or €48.4 billion (US$48.5 billion) in real income, according to the Kiel Institute for the World Economy.
Despite the current economic challenges, the war in Ukraine has led to more calls for Scholz to curtail commercial ties with China, including from within his own coalition.
The Green Party's Robert Habeck, an influential voice in the current crisis as head of a super ministry that oversees climate, energy and the economy, has warned German companies not to become too reliant on China and is reported to be working on measures to encourage them to diversify away from its huge market.
But whatever the rumblings from his junior coalition partners, the Greens and Free Democrats, Scholz is proving to be like his predecessor
Angela Merkel
; he has made clear that he intends to handle ties with China "with a sense of proportion and pragmatism" and is firmly opposed to decoupling.
Perhaps even more importantly, German industrial giants show no desire to withdraw. In fact, they are doubling down on their presence in China, with German investment in the country growing by 30 per cent in the first eight months of 2022.
Chemicals giant BASF, which last month shocked Berlin by announcing that it would scale down its operations in Europe, recently inaugurated the first plant in its planned US$10 billion megacomplex in Guangdong. Materials manufacturer Covestro recently broke ground on two new production facilities in Shanghai.
Last month, German daily Handelsblatt reported that technology giant Siemens is planning "massive investments" in China, particularly in industrial software and automation. In the auto sector, BMW opened a new US$2 billion plant in Shenyang in June and in October Volkswagen announced it would invest US$2.35 billion to co-develop assisted driving systems for electric vehicles with a start-up.
These investments reflect both the confidence of German companies in the Chinese market and the factors that have helped them succeed. German companies have strengths well aligned with long-term Chinese priorities such as sustainability, decarbonisation, industry upgrading and innovation.
They have capitalised on these advantages by pursuing an "in China, for China" strategy that involves long-term investment, localisation, setting up R&D centres in China, and forging partnerships with local entities to develop innovative solutions tailored for the Chinese market.
Germany's industrial giants carry much weight in the country's political economy and their long-term commitment to the Chinese market suggests that, if anything, the real momentum is towards more engagement with China, not less.
Other European companies will increasingly look to China as the economic winter bites elsewhere. Airbus won a multibillion-dollar string of deals with Chinese carriers recently and the European manufacturer is well placed to cement its lead in the world's second-biggest aviation market, even as safety concerns and political tensions hit the fortunes of its American rival Boeing.
Scholz's short visit has broken important ground; the current G7 chair is the first Western leader to visit China since the pandemic began. It is expected that French President Emmanuel Macron and other European leaders will also visit before long, bringing hope that shared economic interests and pragmatic cooperation can give fresh impetus to China-EU relations.
Wang Huiyao is the founder of the Centre for China and Globalisation, a Beijing-based non-governmental think tank