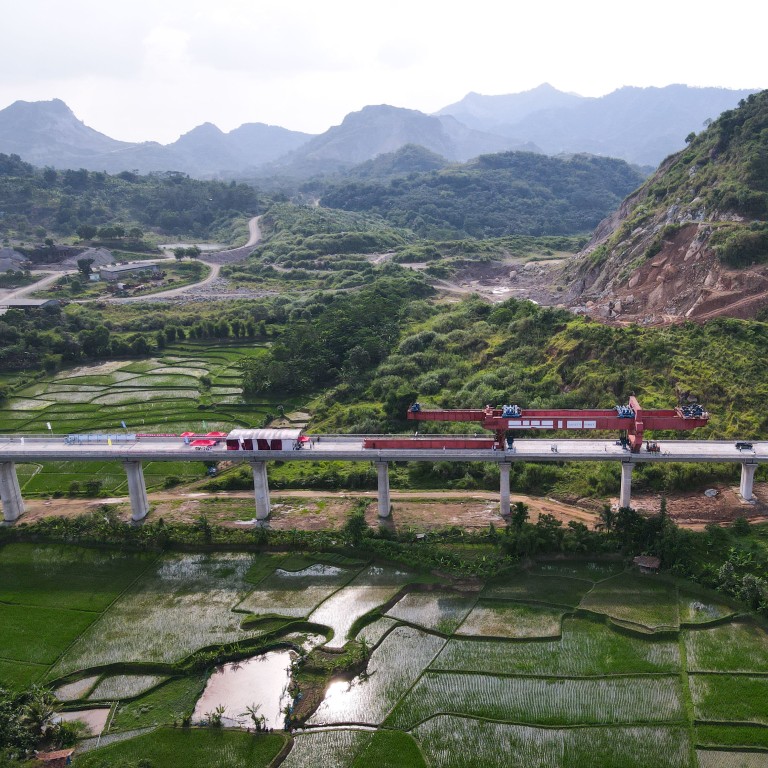 Opinion
Macroscope
by Anthony Rowley
Macroscope
by Anthony Rowley
Growing threat of global infrastructure wars as nations seek to compete with China
Competition, instead of cooperation, is not the way to go about building infrastructure and improving the global economy
As the US, EU and others try to outdo China's Belt and Road Initiative with a mishmash of rival plans, they simply risk wasting taxpayers' money
In the beginning was China's Belt and Road Initiative, launched in the autumn of 2013 by President Xi Jinping. Since then, copycat schemes have emerged involving the
United States, Europe
,
Australia, Japan
and India – underlining just how weak the spirit of international cooperation has become.
In theory, 2023 offers hope of some improvement on this egregious situation with two Asian giants, Japan and India, attempting to bind closer together the policy deliberations of the G7 and G20 (which are themselves competing entities).
As chair of the Group of 7 process for the coming year, Japan will host a summit of leaders from advanced economies in Hiroshima in May, while
India, as chair of the Group of 20 process
, will host a summit of leaders from the wider group of advanced and emerging economies in New Delhi towards the end of the year.
The fact that leaders from such economically and politically diverse economies as the US and Europe, on the one hand, and China and Russia, on the other, will meet on nominally neutral ground ought, in theory, to provide scope for finding common ground on issues such as infrastructure.
Perhaps more importantly, the top-down process of national leaders handing down their views (and sometimes political prejudices) like tablets from on high is being modified and democratised now by growing T7 and T20 networks, which are "official engagement groups" of the G7 and G20.
The "T" stands for "think", meaning scores of think tanks from the member countries whose combined wisdom and expertise is fed in a bottom-up process to national leaders to augment the work of summit "sherpas". Think tanks tend to be driven more by policy considerations than by politics.
If there is one area where this alliance of nations could make a meaningful contribution to a fractured global economy, it is infrastructure. Physical connectivity is a prerequisite for efficient production and distribution of goods and services, and thus better distribution of wealth.
The obvious problem, however, is that increasingly entrenched ideological differences, as embodied in the mantra of "democracy versus autocracy" (often a specious cover for economic nationalism), are pushing major powers toward increasing competition rather than cooperation on infrastructure.
Consider for a moment what has happened since China launched the Belt and Road Initiative (initially known as One Belt, One Road) nearly a decade ago with the aim of linking (by both land and sea) East Asia with Europe via Central Asia and by connecting spurs into the Middle East and Africa.
The belt and road scheme was seen in the US and Europe as part of China's plan to "take over the world" by economic stealth rather than open conquest. Competing infrastructure network structures began to appear in rapid succession until they came to look like a spaghetti junction.
What we have now is a situation where everyone wants a slice of the infrastructure action, which would be good if it meant that provision of transport, energy and communications (plus public health facilities) is finally getting the attention it deserves, especially in the US and Europe.
But when it means a patchwork quilt of rival and potentially overlapping infrastructure networks, with at least some employing different standards, the idea becomes wasteful, inefficient and probably unworkable. The situation cries out for cooperation and standardisation.
The G7 and G20 (egged on by their T7 and T20 thinkers) need to shout this loudly. They also need to point out that multilateral development banks, from the World Bank to China's Asian Infrastructure Investment Bank, are well placed to take on the job of coordination.
Otherwise, we are heading for "infrastructure wars" on a global scale, wasting potentially trillions of dollars of taxpayers' and investors' money. The irony is that public money is already being eaten up by a growing arms competition among key nations even as infrastructure battles commence.
Putting it perhaps rather simplistically, taxpayers and investors are being asked to back rival infrastructure initiatives even as the governments proposing these initiatives are expanding their stocks of weapons that could be used to bomb such infrastructure in the future.
Let us hope that, as the world moves from the Year of the Tiger in 2022 to the Year of the Rabbit in 2023, sanity will replace roaring aggression.
Anthony Rowley is a veteran journalist specialising in Asian economic and financial affairs