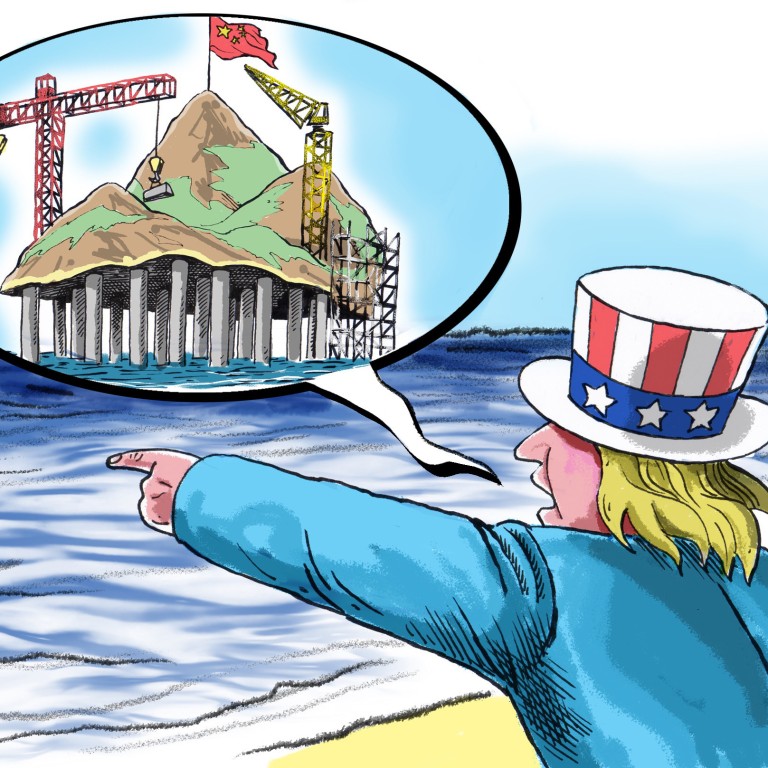 From 'thumping' to reclamation in the South China Sea, US accusations put China on the defensive. Is that the plan?
The US has sensationalised claims of China's island reclamation and exaggerated the danger of a Chinese pilot's interception of a US spy plane, in what may be a larger effort to put China on the diplomatic defensive
Presenting sensationalism as fact is a part of "yellow journalism" which, in its late 19th century heyday, helped push the United States into war with Spain over Cuba and the Philippines, leading to US colonial control over the latter. Sensationalism seems to be enjoying a revival regarding China and the South China Sea.
Two recent incidents bear this out.
On December 20, Bloomberg, citing unnamed Western officials, reported that China had
begun reclamation work
on some unoccupied reefs in the South China Sea including Eldad Reef, Lankiam Cay, Whitsun Reef and Sandy Cay. The officials said "some sandbars and other formations in the area expanded more than 10 times in recent years", and had been reinforced to "sit permanently above the high-tide line".
This caused the Philippines to be "seriously concerned", with the foreign ministry saying "such activities contravene the Declaration of Conduct on the South China Sea's undertaking on self-restraint and the
2016 arbitral award
".
The Philippines was especially alarmed because the first two reefs are under water at high tide and thus lie on the Philippine continental shelf and in its exclusive economic zone (EEZ). It did not want a second
Mischief Reef
, a submerged feature it claims but which China occupied in 1994 and built up into a military base. The Philippines said it would reinforce its military presence in the area.
A day before the Bloomberg report, the US State Department released a statement of support for the Philippines in response to the reported
"swarming" of Chinese vessels
around two other unoccupied shoals. The statement said the US "supports the Philippines' continued calls upon the People's Republic of China to respect the international law of the sea in the South China Sea".
China, which often cites the carefully negotiated 2002 Declaration on the Conduct of Parties, denies the reclamation accusation.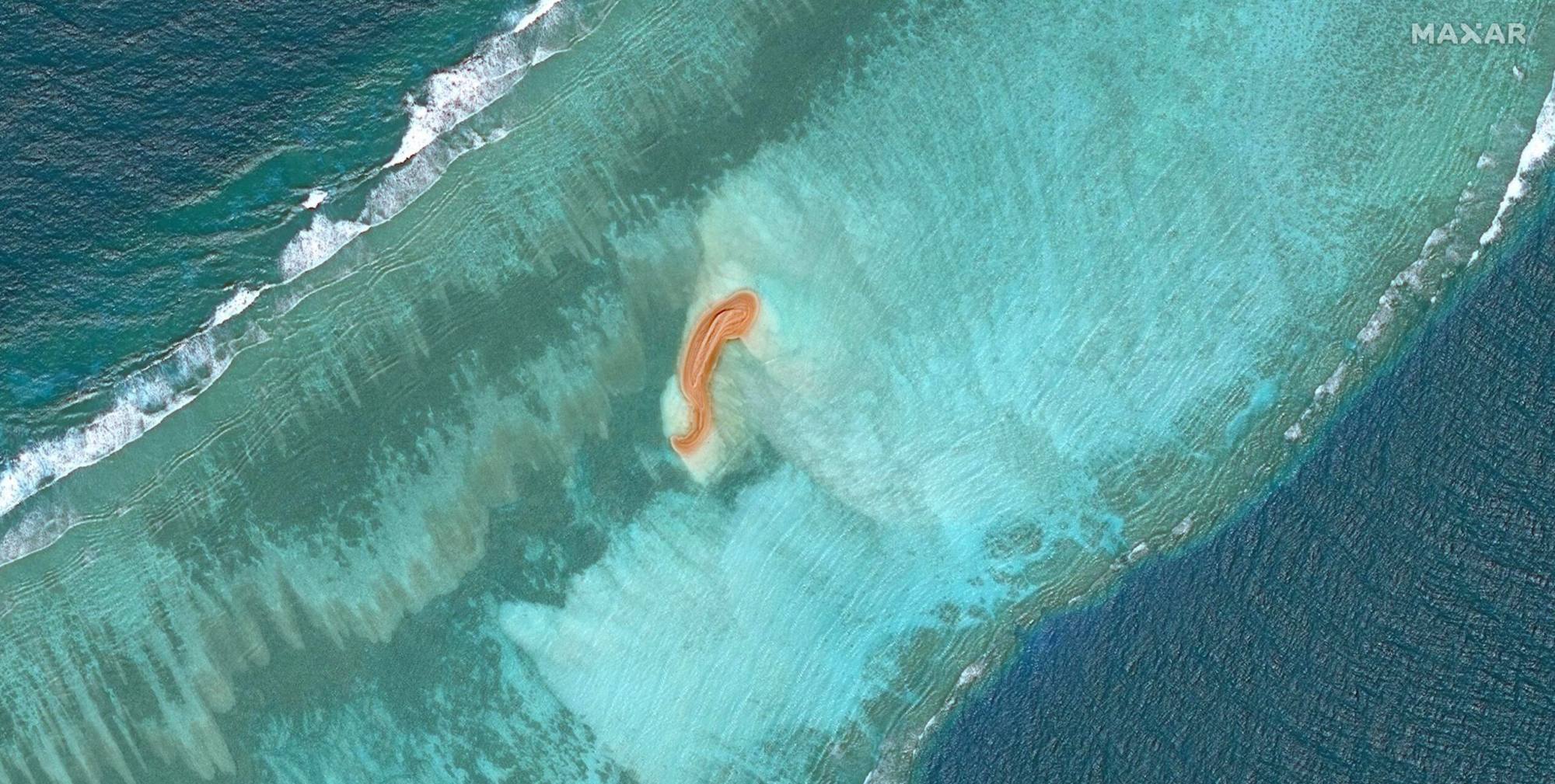 The Asia Maritime Transparency Initiative (AMTI) at the Washington-based Centre for Strategic and International Studies made its reputation by "revealing" China's South China Sea transgressions . But in this instance, its director Greg Poling said "commercial imaging cannot corroborate Bloomberg's claims".
China's answer to the AMTI, the South China Sea Strategic Situation Probing Initiative at Peking University, also said "there are no signs of land reclamation on Lankiam Cay, Eldad Reef and Whitsun Reef", though it said Vietnam was
conducting reclamation
on Sandy Cay. An anonymous Philippine military official said "we have not noticed" any Chinese reclamation work.
If there were any changes, other experts suggested, they were probably due to natural processes. The whole episode seems much ado about nothing. But the timing of the accusation, ahead of Philippine President Ferdinand Marcos Jnr's
first trip
to China, is suspicious.
On the heels of this, the US Indo-Pacific Command alleged that on December 21, a Chinese fighter jet flew
unsafely and unprofessionally
near a US reconnaissance RC-135 aircraft, forcing it to take evasive measures to avoid a collision. A US military statement said: "This latest incident reflects a concerning trend of unsafe and dangerous practices by the PLA that are of grave concern to the United States."
But this allegation appears to be part of a US diplomacy campaign to portray the Chinese military as dangerously aggressive and reckless.
As a Newsweek report put it: "As the US and China compete across multiple domains, control of the information space is becoming increasingly important." It added: "In 2022, the US and its allies began painting a picture of a Chinese military that was wildly audacious in asserting Beijing's territorial claims, to the point of risking accidents."
China's response was the US had "deliberately misled public opinion" on this. It blamed the US for "seriously violating the US-China Memorandum of Understanding (MOU) on the Rules of Behaviour for the Safety of Air and Maritime Encounters".
The US said its aircraft was on a routine mission in international airspace.
The key questions are: what exactly was the intelligence collection aircraft doing and where, and who flew unsafely? The US has not clarified what its plane was doing and where exactly in international airspace it was when the incident occurred.
Indeed, observers may speculate that the US plane was engaged in funny business. This could include using a false electronic flag, as it has been
accused of doing before
, abusing freedom of navigation rights, paying scant regard to China's EEZ rights, interfering with communications or conducting marine scientific research without permission.
It may have been approaching China's territorial airspace without identifying itself, an act that would attract a visual check from any country's military.
Fact is, incidents such as aircraft interception happen more frequently than commonly thought and are not really dangerous. This incident and others are being exaggerated to bash China.
US pilots who fly these missions expect to be intercepted and know how to avoid a collision. Indeed, "thumping" – manoeuvring an aircraft so another is affected by its turbulent wake – is not rare. As a former pilot said: "Crying wolf over non-events desensitises the world to potential real incidents."
The hullabaloo surrounding the two incidents seem unrelated. But they may be part of a larger effort to put China on the diplomatic defensive. As Ely Ratner, US assistant secretary of defence in Indo-Pacific security affairs, said, the US is entering "the most transformative year in US force posture in the region in a generation". Given this, the US view must be taken with a big pinch of salt.
Mark J. Valencia is a non-resident senior research fellow at the Huayang Institute for Maritime Cooperation and Ocean Governance