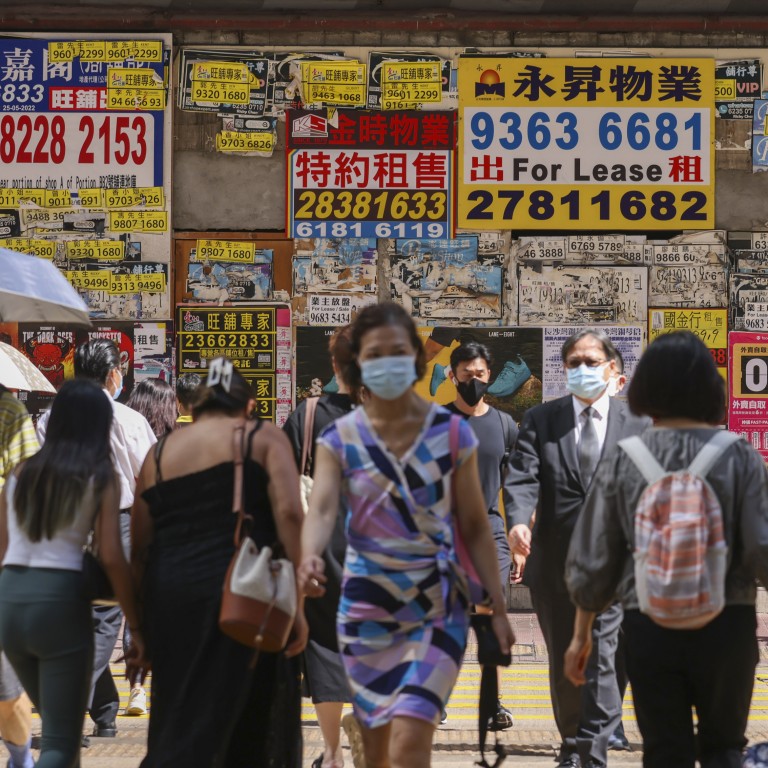 Opinion
Inside Out
by David Dodwell
Inside Out
by David Dodwell
Hong Kong's economic woes are almost entirely the result of three years of Covid-19 self-harm
Hong Kong must not look to blame a challenging external environment now when its severe zero-Covid regime has strangled its vital travel, tourism and services industries, leaving damage that may be permanent
With so many countries beleaguered by soaring inflation, crippling debt, unprecedented droughts and floods, food and energy shortages, and armed conflict, it seems curmudgeonly to wring hands over Hong Kong's seemingly modest travails.
After all, inflation is just 1.9 per cent, compared with 8.5 per cent in the US and
10.1 per cent in Britain
, where predictions are for an alarming 18 per cent next year. Neither energy nor food are discernibly in short supply, and the recent
typhoon Ma-on
caused minor inconvenience compared with the
droughts and floods
across China, the United States and Europe.
The Hong Kong government has downgraded
its forecast
for the economy this year to -0.5 per cent to 0.5 per cent, after gross domestic product contracted by 3.9 per cent in the first quarter, and 1.3 per cent in the second. Ditching the earlier forecast of 1-2 per cent growth, Financial Secretary Paul Chan Mo-po now says it is touch and go whether we see economic growth.
But his tone is less alarmist than that of US Federal Reserve chairman Jerome Powell or Bank of England head Andrew Bailey. At the Jackson Hole financial summit in Wyoming on Friday,
Powell's warning
that he "must keep at it until the job [of staunching inflation] is done" sent shivers across Western equity markets. US share prices fell 3.4 per cent on Friday, and 1.7 per cent in Europe.
In contrast, Chan is
upbeat about the stimulus
provided by the latest tranche of consumption vouchers, and sees the November
Hong Kong Sevens
rugby event and Global Financial Leaders' Investment Summit as major steps towards economic recovery.
My concern is that he seems to make light of the challenges, and has been obfuscating the severity of harm inflicted on our economy over the past three years, some of it perhaps permanent.
While macroeconomic numbers provide some comfort (unemployment, for example, has fallen to
4.3 per cent
from last year's peak of 7.2 per cent), the data still paints a grim picture of unrelenting hardship for many Hong Kong families.
Look at the travel and
tourism sector
. Only 545,000 travelled through the airport in the first five months of this year, compared to the 31.4 million passengers during the same period in 2019. Given that the airport used to employ around 73,000 people, how many still have those jobs today? And how many are on paid or unpaid leave or furlough?
Cathay Pacific Airways is a proxy for the same shocking collapse. In the first half of this year, it carried 335,000 passengers or about 1,800 a day. Yet it supports a fleet of 228 aircraft, including 69 parked in mothballs outside Hong Kong. In the first half of 2019, it carried 18 million passengers – around 100,000 a day. No wonder it reported first-half
losses of HK$4.99 billion
(US$636 million). No wonder it has cut its workforce to 20,800 from 32,800 in 2019.
The indirect cost of this tourism collapse is huge. At its worst in 2020, the hotel occupancy rate for the first five months of the year averaged 38 per cent. After several rounds of Tourism Board local promotions last year, the occupancy rate was still just 62 per cent for the first 11 months of 2021.
Then look at the
conference and exhibition industry
, which the Trade Development Council said attracted over 1.68 million visitors in 2019 attending more than 100 exhibitions, and generated the equivalent of 77,000 full-time jobs. A Legislative Council paper last September reported that 203 exhibitions had been postponed or cancelled between February 2020 and November 2021.
According to the Tourism Board, visitors to Hong Kong spent HK$5,820 per trip and stayed 3.3 nights on average in 2019, which generated HK$260 billion and employed 256,900 people. In the first half of this year, about 76,000 visited Hong Kong; if they each spent HK$5,820, our tourism earnings would amount to about HK$440 million – a drop compared to the 2019 six-month average of HK$130 billion.
That amounts to HK$129.56 billion lost to the economy – lost spending in shops, in restaurants, in bars, in taxis, on the MTR, and job cuts and lost earnings for everyone employed in them.
If that does not mean thousands of jobs lost, it certainly means significantly less wages for tens of thousands. The
latest consumption vouchers
, which Chan expects to inject HK$13 billion into the economy, may help but are meagre compensation for workers with families to feed.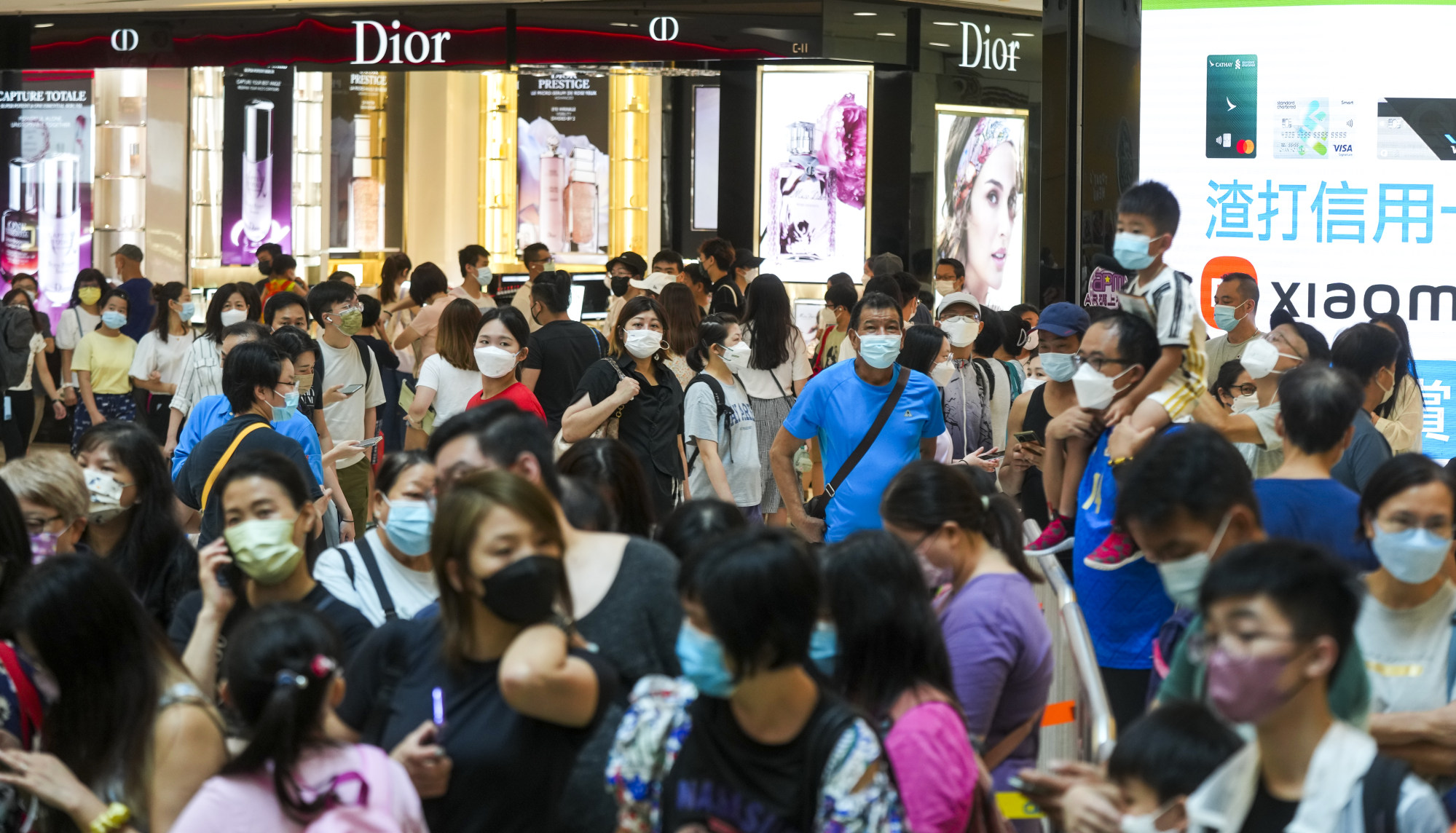 According to the Census and Statistics Bureau, employment in Hong Kong's import-export businesses has collapsed from 2016 by 150,000 jobs to about 315,000 today, with people employed in the retail sector down by 120,000 to 479,000.
Only financial services saw growth – up by 91,000 to 853,000, and one has to wonder how sustainable this may be with the stock market 39 per cent lower than its peak in February last year. Certainly the net wealth, and therefore spending power, of the thousands of Hong Kong's middle-class equity investors has taken a formidable hit.
In downgrading his economic forecast, Chan is no doubt taking account of some of these numbers. In his latest economic report, he warned that "the markedly deteriorating external environment will weigh heavily" on Hong Kong's economy.
But is it not disingenuous to place blame on the undeniably horrible external environment? Most of the harm I see is self-inflicted – by an unjustifiably severe zero-Covid regime and wilful strangulation of large parts of our economy. If and when we recover depends much more on policies within our domestic control than on a horrid external environment.
David Dodwell is CEO of the trade policy and international relations consultancy Strategic Access, focused on developments and challenges facing the Asia-Pacific over the past four decades