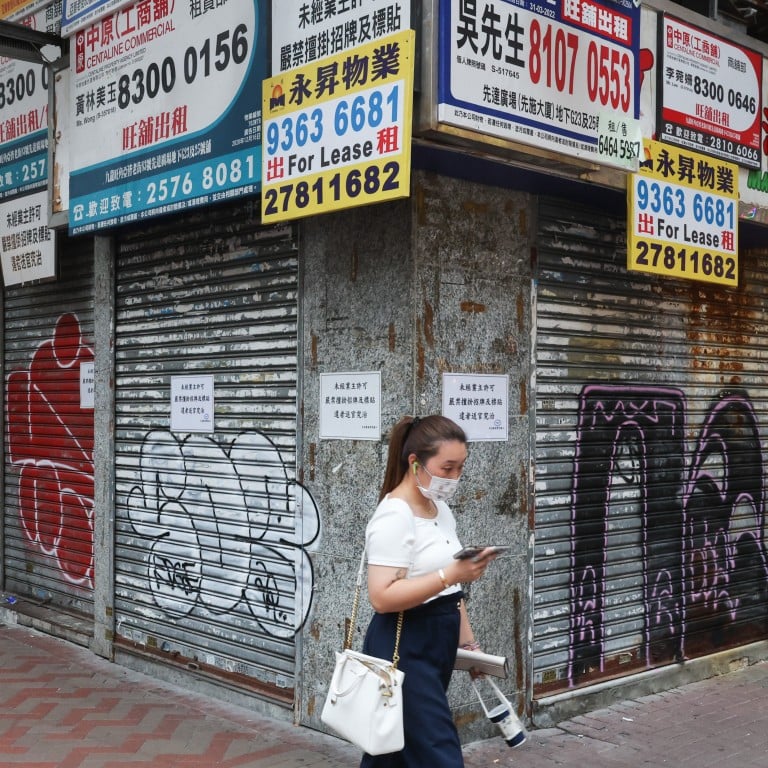 Opinion
Inside Out
by David Dodwell
Inside Out
by David Dodwell
Hong Kong is reconnecting with a world economy heading for a deep recession and stagflation
Experts are predicting the deepest global recession in 40 years, led by the US, Europe and China, amid record debt and rising costs – just as Hong Kong is looking for a boost following over 30 months of economic self-harm
As we in Hong Kong celebrate an end to almost 1,000 days of pandemic-induced isolation and prepare to reconnect with the world, it is timely to think about what kind of global economy we are re-engaging with.
The ugly reality is that we are emerging from over 30 months of acute and potentially permanent
economic self-harm
only to join a world economy poised to tumble into its deepest recession in four decades, with stagflation of maybe five years or more.
"The world may be edging towards a global recession in 2023 and a string of financial crises in emerging market and developing economies that would do them lasting harm," said the World Bank in a recent report.
It pointed to a
steep global slowdown
synchronised across the largest economies (the United States, China and the European Union), with economic growth down to 0.5 per cent, inflation above 5 per cent, and a sharp collapse in consumer confidence. The last deep recession in 1982 triggered more than 40 debt crises worldwide.
"Collectively, Europe, the US and China make up about half of world GDP," said Yale University's Stephen Roach in the report. "With no other economy able to fill the void [...] a global recession does indeed appear inevitable." Harvard University's Kenneth Rogoff agrees: "The odds of recession […] are significant and increasing, and a collapse in one region will raise the odds of collapse in the others."
Nouriel Roubini, nicknamed Doctor Doom for predicting the
2008 global financial crisis
, noted recently that "some of the worst elements of both the 1970s and the 2008 crash are now in play".
Many questions over the likelihood of a recession have been answered, he said. Inflation is not transitory as many central bankers argued until recently; inflation is due not to excessive demand but
stagflationary supply shocks
; a hard landing and long, severe recession seem increasingly likely; equity markets will be hit worse than in a typical recession, with falls of up to 50 per cent possible.
He argued that we are badly placed to manage the coming recession, mainly because
global debt
will be excruciatingly expensive to service. Public and private debt, which amounted to 200 per cent of the global economy in 1999, now hovers at 350 per cent. He predicted that the recession "will drive highly leveraged zombie households, companies, financial institutions and governments into bankruptcy and default".
Roubini's talk of "zombies" resonated strongly in Hong Kong, where the Post
reported
on the city's corporate "walking dead" – 462 of Hong Kong's 2,500 listed companies.
As panic spreads, so equity
markets have crashed
(Hong Kong is among the worst performers, with the Hang Seng Index down 23 per cent for the year to date), property markets have faltered, and currencies have collapsed in a global flight into the US dollar, which leapt to a 20-year high last week with the UK pound and
Japanese yen
down by more than 20 per cent over the past year.
Nowhere does panic seem more acute than in Britain, where the neo-liberal government under Prime Minister Liz Truss has administered an
emergency budget
amid soaring energy costs and inflationary forces not seen since the 1970s.
Taxes are being cut on income and house purchases to boost economic confidence while the government plans to spend £150 billion (US$167 billion) on subsidising electricity bills, all to be funded by new debt and the hope of future growth. The UK's Debt Management Office says this will lift government bond sales by more than £130 billion.
The Financial Times said this "will leave the country with debt on an unsustainable path", and amounts to "a hefty political and economic
gamble
". More bluntly, former US Treasury secretary Lawrence Summers said: "The UK is behaving a bit like an emerging market turning itself into a submerging market." Last Friday, the pound plunged to its lowest since 1985.
Sadly, this is the chaotic global economy that Hong Kong is re-entering.
After a year of gently disguising the appalling economic costs of Hong Kong's hair-shirt quarantine regime, Financial Secretary Paul Chan Mo-po last week provided some numbers – including a projection of the government's
second-largest deficit ever
, of over HK$100 billion (US$12.7 billion).
He reported in his weekly blog that merchandise exports, and stock and property markets are down, and that small and medium-sized enterprises face unprecedented difficulties. Falling company profits and lower salaries have also caused a sharp fall in tax revenues.
Stamp duty income on stock market activity alone is expected to drop by a third – the April-August daily stock market turnover fell 26 per cent – while also being hit by falling property volumes. Land premium income in the first five months slumped to HK$17 billion, from an expected HK$120 billion.
This collapse in government revenues has run alongside a sharp rise in spending – including
consumption vouchers
and other countercyclical measures amounting to about HK$170 billion, and a staggering HK$348.5 billion spent on "anti-epidemic" funding and relief. Chan warned that government reserves are likely to shrink to around HK$800 billion.
We could have wished for a kinder global economy to welcome the end of our solitary quarantine marathon. We could also have wished that mainland China were opening up, too. But perhaps we need to be grateful for what we have.
David Dodwell is CEO of the trade policy and international relations consultancy Strategic Access, focused on developments and challenges facing the Asia-Pacific over the past four decades