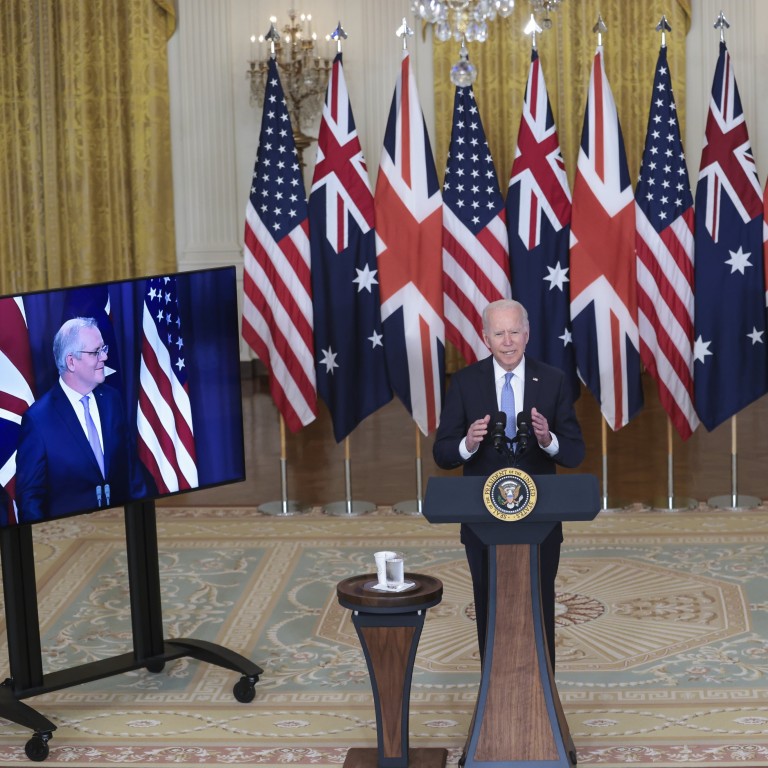 Opinion
Inside Out
by David Dodwell
Inside Out
by David Dodwell
First the Quad, now 'Aukus': why the US is talking up the China threat
The Biden administration needs the US public on its side with midterm elections looming and control of the Senate and Congress hanging by a thread. There is no electoral choice but to look tough
My plan had been to dedicate today's column to the
US-China trade war
, and China's progress (or lack of it) in boosting US imports by US$200 billion from 2017 levels by the end of this year.
But along came the "
Aukus
" bombshell, with the United States agreeing to build nuclear submarines in Australia, even as it prepares to host a
Quadrilateral Security Dialogue
summit on strengthening Asia-Pacific security arrangements, on September 24.
These US announcements are more significant for what they do not say. The US is not giving priority to trade – with China, the Asia-Pacific, or the World Trade Organization, which is preparing for its long-delayed 12th Ministerial Conference in November.
It is
not
giving priority to preparations for COP26, the UN
Climate Change
Conference. It is
not
giving priority to the
Armageddon legacy in Afghanistan
. It is
not
giving priority to bringing the global pandemic under control and rebuilding the foundations for restoring global economic growth.
One could argue that this is because the intelligence and security wonks at the heart of the US "military-industrial complex" have captured policy primacy in the White House.
Except I have the sense that foreign policy issues pale next to the huge domestic issues preoccupying President
Joe Biden
and the Democratic administration, concerned above all else about retaining control of the Senate and Congress through next year's midterm elections.
Odd as it may seem when
US-China relation
s have deteriorated to the most dangerous and fractious levels in four decades, I continue to believe the Biden administration is much less obsessed with the
China "threat"
than its predecessor. Yet it sees absolutely no political upside in being seen as "soft" on China.
With US public opinion stirred into such an anti-Chinese frenzy by the previous Trump administration, and Democratic control of the Senate and Congress hanging by a thread, there is no electoral choice but to look tough.
It is why US Trade Representative
Katherine Tai
is taking so long to respond to pressures from US business leaders to drop the draconian and counterproductive tariffs on China exports. These tariffs, lifted from 3.1 per cent on average to just over 19 per cent, affect over half of all US-China trade, said Moody's Investors Service.
The American Action Forum estimates that the tariffs affect around US$410 billion of imports and exports from China, and have increased US consumer costs by around US$51 billion annually. The US Congressional Budget office estimated that the tariffs cost the average US household nearly US$1,300 last year.
It is why so little is being said about the
phase-one trade deal
with China. Chad Bown at the Washington-based Peterson Institute for International Economics calculates that China was over 40 per cent short of the agreed target at the end of last year, and as of July, remained 30-35 per cent off-target.
You would have thought there would have been much noise about the shortfall, and what needs to be done to catch up. Instead, there is silence.
It is why Biden and President Xi Jinping are dancing so delicately around the need for the two leaders to meet. In their recent
phone call
, the White House said Biden emphasised America's "enduring interest in peace, stability and prosperity" and the need to "ensure competition doesn't veer into conflict".
According to a
Financial Times
report, Biden had proposed a summit between the two "in an effort to break an impasse in
US-China relation
s" but Xi "did not take him up on the offer and insisted instead that Washington adopt a less strident tone towards Beijing". Chinese reports complained that US policies and rhetoric had caused "serious difficulties".
These difficulties can only have worsened after news that the US was
considering
recognising the Taipei Economic and Cultural Representative Office in Washington as the "Taiwan Representative Office" and, of course, the Aukus deal enabling Australia to build nuclear submarines to help the US patrol the South China Sea.
When diplomatic talk is so distant from militaristic walk, the danger of competition veering into conflict must be all the greater.
The CPTPP, originally conceived as the
Trans-Pacific Partnership
, was driven by the US until petulantly abandoned by Donald Trump. It was created as a "gold standard" trade-liberalising agreement that included chapters on respect for intellectual property, promotion of e-commerce, and measures against state-owned enterprises and state subsidies that were clearly designed to keep China out.
That China has applied to join it (along with Britain, South Korea and the Philippines) comes as a surprise, even though Beijing has consistently advocated for multilateral trade bodies, including the
Regional Comprehensive Economic Partnership
.
Whether China has any chance of succeeding is open to question, even if it believes it has liberalised sufficiently. CPTPP members such as Canada, Mexico, Japan and Australia are strongly allied with the US and just as concerned about keeping China at arm's length.
Opportunities remain to reduce the rancour: the imperative to seal a climate deal in Glasgow in November, and to begin rebuilding the WTO at the ministerial conference are two areas of hope. But the past week's developments make one wonder. Maybe the Thucydides Trap is yawning open after all.
David Dodwell researches and writes about global, regional and Hong Kong challenges from a Hong Kong point of view