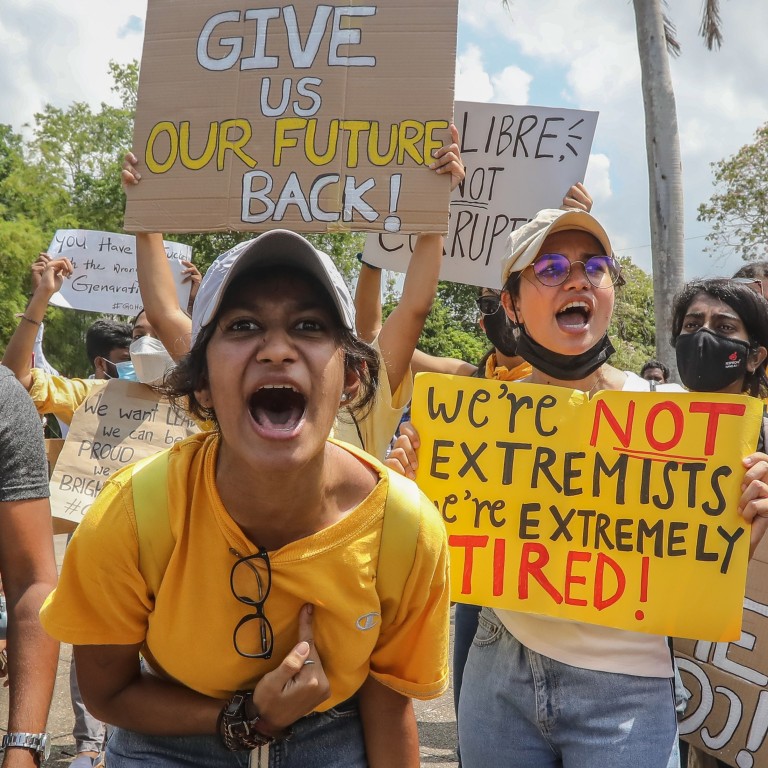 Opinion
Macroscope
by Anthony Rowley
Macroscope
by Anthony Rowley
The world is facing alarming security challenges – and they are all economic
Leaders are being distracted by 'national security' issues when the graver threat is a deep and protracted global recession as inflation, looming debt and financial system crises threaten starvation and unrest
It was ironic that at the Shangri-La Dialogue, resumed recently after a lengthy pandemic hiatus, the focus was on "national security" when the world has never been confronted with the kind of
economic insecurity
it faces now.
The litany of challenges facing the world economy is alarming and yet the dialogue, held in Singapore by the UK International Institute for Strategic Studies, was full of militant
talk about defence issues
and calls for stepped-up cooperation among strategic allies.
This is suggestive of a world that has lost its compass, where defence secretaries rather than finance or economy ministers decide policy, and where presidents and prime ministers allow the broader public interest to be subverted to the pursuit of supposed national security.
Where economic security was mentioned during the Singapore dialogue, it was in the context of things such as defence against cyberattacks by foreign powers or the need to prevent access to sensitive technologies. This was largely irrelevant to the multiple economic issues the world faces.
Consider the background against which the debate took place. We are teetering on the brink of a probably deep and protracted recession as broad-based price
inflation climbs
to levels not seen in four decades, and as business confidence and investment ebb while corporate distress increases.
This is just the start of the list of travails. Food shortages and
even starvation
threaten many countries as commodity costs rise savagely. Energy prices are climbing to where suffering and privation are a real risk, and social strains are mounting as a result.
Stocks and bonds have entered a
bear market
and other financial and real assets such as property are highly likely to follow suit, with
interest rates set to rise
and monetary largesse and financial liquidity set to shrink. These are likely to feed on each other in a sharp downward spiral.
A
global debt crisis
is entirely possible as indebtedness continues to rise, especially among increasingly desperate small businesses flirting with bankruptcy in advanced and developing economies alike. Inability to repay debt is rising in parallel with deteriorating business conditions.
These factors are often analysed individually, their collective interaction rarely examined. All eyes have long been on the Covid-19 pandemic and, more recently, the
Ukraine war
, so the risk of a global economic crisis has been underestimated.
This is creating a uniquely dangerous situation. The Ukraine war creates good headlines and is being given saturation coverage in the Western media. Meanwhile, critical economic and financial problems have to cede place to security issues which politicians and the public find easier to understand.
Only if and when the individual fires in the global economy fuse into a major conflagration will the world sit up and take notice. But, by then, it may be too late to avert a serious recession – or even depression – given the unique constellation of risks.
Stock and bond prices will continue their downward trajectory as central banks vie to get inflation down to the illusory "norm" of
around 2 per cent
. The selling has only just started because a generation which believes markets can only go up makes up much of the investor base.
As they realise their mistake, waves of selling will set in. But things will get really "interesting" as realisation takes hold that there is
no backstop
for the equity market. Central banks are not about to reverse their inflation battle by pumping money in, nor will they restore bond buying.
At this point, which could come sooner than many expect, the often unseen linkages between financial institutions that keep them afloat – a kind of market liquidity "train" – will create a crisis somewhere in the system, and central banks will be unwilling and unable to mount a 2008-style rescue.
Central banks and governments have used up their financial and fiscal fire power in averting recession after that global financial crisis. There isn't enough ammunition left for them to buy off the even greater recession that is looming.
Recessions breed hunger, discontent and often popular unrest. A diversion must be created and the temptation in Western capitals will be to blame it all on "
Putin's war
". As Beijing is perceived increasingly to be Moscow's friend, China is likely to be blamed along with Russia for the recession.
To speculate beyond this point is not a happy exercise but history is replete with examples of how major economic setbacks can spill over into conflict. That, in turn, gives rise to demands for stepped-up national security and rearmament, and we are already more than halfway there.
Maybe it is not too late to turn away from this MAD (mutually assured destruction) path but, if so, economic and finance ministers need to lobby their presidents or prime ministers furiously to give them a hearing and to stop indulging in fantasies of achieving security by force of arms.
Anthony Rowley is a veteran journalist specialising in Asian economic and financial affairs