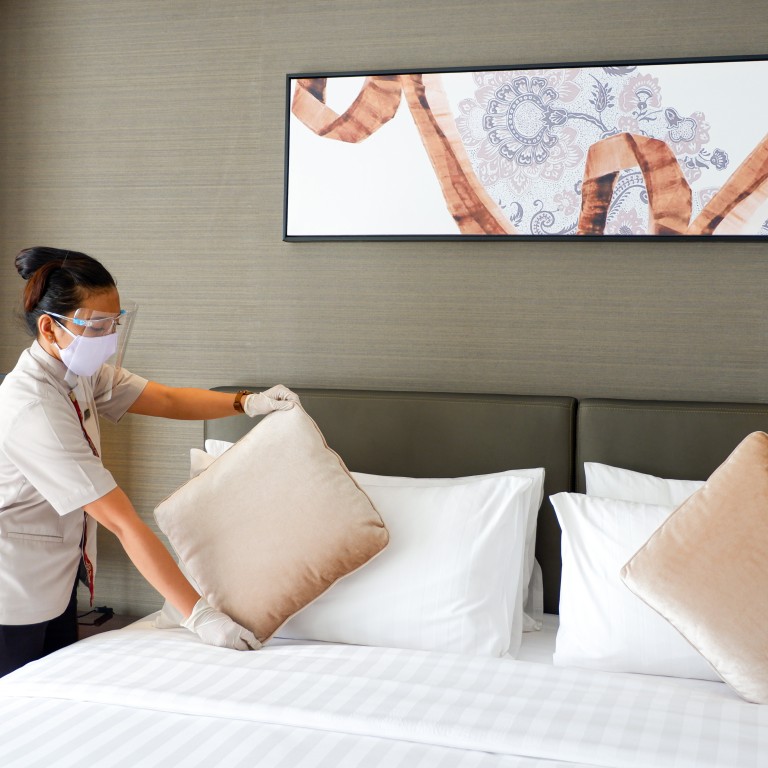 Singapore's hotels and serviced apartments enhance Covid-19 protocols to replace international tourists with local customers
Millennium Hotels and Resorts offered discounts to guests with vaccination records in celebration of Singapore's National Day at its hotels
Genting's Dream Cruises relaunched its "cruise to nowhere" package in November with enhanced hygiene protocols, social distancing and fresh air ventilation
Supported by:
Discovery Reports
There is no doubt that 2020 was a tough year for tourism all around the world, Singapore included. Visitor arrivals to the city fell to their lowest level in about four decades, to 2.7 million, with all those arrivals taking place during the first two months of the year.
According to the Singapore Tourism Board (STB), the overall annual arrival numbers were down 85.7 per cent from those over the whole of 2019.
As reported in The Straits Times, the STB said this was largely due to unprecedented global travel restrictions and border closures.
STB chief executive Keith Tan remains steadfast and optimistic, saying in a press release that, "STB remains confident in Singapore's position as one of the world's safest and most attractive leisure and business destinations, and the long-term prospects of Singapore's tourism sector."
With vaccination efforts well under way, and over 60 per cent of the population inoculated as of August, moves to encourage more people to get the Covid-19 vaccine have expanded into the retail, and food and beverage sectors, with a growing array of offers and discounts extended to those who get the potentially life-saving shots.
To ease concerns about Covid-19 side effects, insurer Great Eastern has implemented the Great Covid Care Plan, which extends a complimentary post-vaccination protection plan to all Singapore residents who have completed their first dose of a Covid-19 vaccine approved for use by the Health Sciences Authority or supplied under the Special Access Route.
The plan offers a cash payout of S$200 (HK$1,152) a day in the case of hospitalisation and up to a total of S$2,000, if the individual is hospitalised due to Covid-19 after vaccination. The policy provides worldwide coverage, so hospitalisation overseas is also included to facilitate travel as countries start to open borders.
Some groups such as Millennium Hotels and Resorts have offered guests with vaccination records discounts for Singapore's 56th National Day at any of the six hotels under its brand: Studio M Hotel, Orchard Hotel, Grand Copthorne Waterfront Hotel, M Social, M Hotel and Copthorne King's Hotel.
Other hotels such as the Grand Mercure Singapore Roxy in East Coast Road have introduced a 10 per cent discount for its Afternoon Tea Room Package that includes an afternoon tea set for two, free kids' meals for up to two children below the age of six and 30 per cent off at the hotel's Jia Wei and Feast Roxy restaurants.
Undoubtedly the industry has had to pivot its business model to cater to domestic consumption. According to property agents EdgeProp, co-living player Dash Living has partnered with 20 hotels in Singapore and Hong Kong, with a portion of the hotels' inventory being set aside for Dash Living's long-stay customers.
Allotted hotel rooms will be available for booking through Dash Living's website. The hotels include KeSa House and Wanderlust, both from The Unlimited Collection by Oakwood in Singapore.
"Long-stay customers could become a crucial part of the hotel customer mix and Dash certainly gives us the confidence that they can generate the demand for us. There is no better time than now for hotels to explore new avenues like this as a solid solution to a healthy revenue stream into the post-pandemic scene," said Michael Tsang, director of Tuve Hotel in Hong Kong.
However, not all attempts to cater to the domestic market have been successful, with a Genting Cruise Lines cruise forced to return to Singapore in July after a passenger tested positive for Covid-19.
Genting's Dream Cruises relaunched its "cruise to nowhere" package in November under strict virus protocols, which include enhanced hygiene practices for guest cabins and crew quarters, public areas and recreational facilities, as well as social distancing in dining, entertainment and public areas, safe food and beverage handling procedures and 100 per cent fresh air ventilation in staterooms and public areas.
In a report by The Straits Times, a 40-year-old passenger was identified as a close contact of a confirmed case in mid-July and was isolated in the medical centre as the ship made its way back to port. The passenger later tested positive for Covid-19.
It has become apparent that the only way to cater for tourism is by implementing stringent antivirus protocols and taking further social distancing measures. In June 2020, serviced apartment brand Oakwood took the initiative to launch Oakwood Clean360, in all Oakwood properties around the world.
Protocols were designed to enhance rigorous cleaning measures, counter virus spread and ensure the safety of guests. In October 2020, the group partnered with health and security services company International SOS to achieve accreditation of Oakwood Clean360. As part of this partnership, International SOS' global medical consultancy assisted Oakwood in ongoing risk analysis, reviewed and enhanced its hygiene standards framework, and developed auditing tools to monitor compliance and implementation across more than 80 brand properties.
The premium serviced apartments corporation is also currently in talks with global partner Lixil, a pioneer in water and housing products, to design an environment where contact points and hence virus hotbeds can be best avoided.
With vaccination efforts around the globe still a work in progress, the world of carefree travel and open borders is only a glimmer on the horizon. The near future for tourism and the hospitality industry lies in catering to local demand, with extra precautions taken to ensure the safety of guests and the broader public.