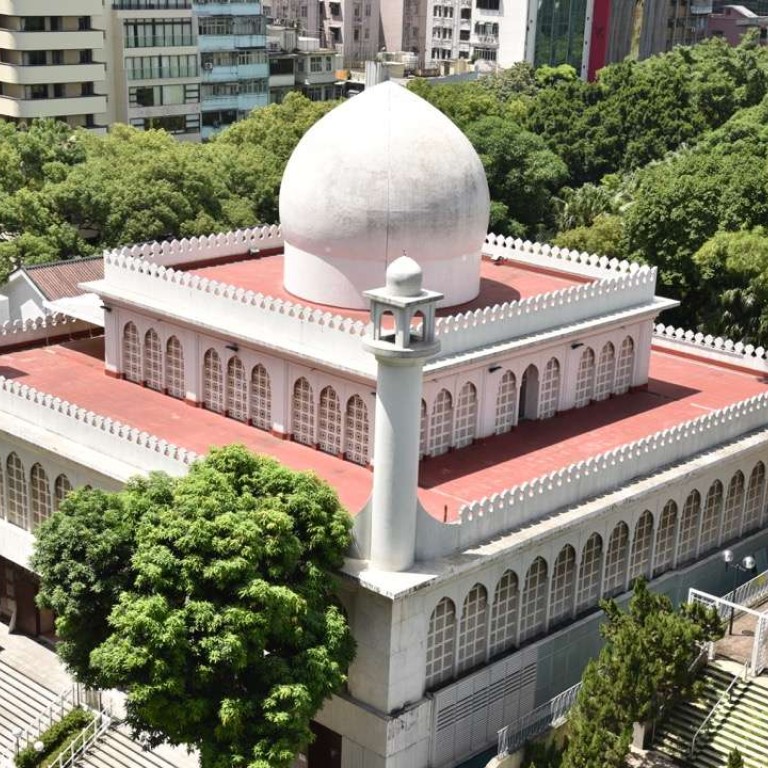 Why many Hong Kong Muslims have to worship in makeshift mosques
Stopgap places of worship have sprouted across Hong Kong to cater to a growing Islamic population whose needs are being all but ignored by officialdom
It's lunchtime on a Friday and dozens of Muslim men are kneeling in prayer inside an austere unit on the ground floor of the dilapidated Kai Tak Mansion in Kowloon Bay. Next door to shuttered shops in the back alley, what was once a car repair workshop is now a makeshift mosque for more than 70 Muslim households living in the building, which will be torn down in November.
Yiu Kam-wing, the building's manager, says residents of South Asian descent started moving into the 60-year-old building two decades ago.
"As the building will soon be demolished, all the leases are short term. So a 500 sq ft flat costs just HK$4,000 a month. Muslim worshippers have been using the former garage as a mosque for many years," he says.
The prayer room in Kai Tak Mansion is one of many stopgap religious facilities that have sprouted across Hong Kong to cater to a growing Muslim population faced with apparent official apathy to the community's needs.
According to government statistics, there were 100,000 Muslim residents in 2006, a number which has risen to 300,000 today. Half of these are Indonesians, who account for much of the growth in the Muslim population; more domestic helpers from the country have come to the city in the past decade. Ethnic Chinese Muslims account for 40,000 and there are 20,000 Pakistanis. The remainder are smaller populations from various other countries.
Although there is estimated to be one church for every 700 Christians in Hong Kong, the Muslim community must make do with just six official mosques – four on Hong Kong Island and two in Kowloon.
Qamar Z. Minhas, chairman of the Incorporated Trustees of the Islamic Community Fund of Hong Kong, which oversees the six mosques, says only three are widely used and get very crowded. These are in Tsim Sha Tsui, Wan Chai and Central.
"The one in Chai Wan is too far away," he says. Devotees are required to attend noon prayers, and Chai Wan is too distant for many working Muslims. "And the Stanley one is in a restricted area." The mosque at Stanley Prison was built for Muslim prison guards in British colonial times. "The sixth is a temporary structure [built in 2013] in Yau Ma Tei," which can accommodate only about 300 worshippers.
Kowloon Mosque in Tsim Sha Tsui, built on a site where there has been a Muslim place of worship since 1896, can accommodate 3,500 people, and is the city's largest. "But up to 5,000 people go there on Fridays," Minhas says, referring to the most sacred weekly congregational prayers that take place at noon. "During the annual festival of Eid [marking the end of Ramadan], we need to divide people into sessions because it's difficult to accommodate everyone at one time."
The dearth of mosques has left the city's devout Muslims with no choice but to turn apartments into places of worship.
One is the San Po Kong Islamic Centre, in an old tenement building in East Kowloon. The roughly 400 sq ft flat packs in as many as 140 devotees for Friday prayers.
"Space is so tight that we have to hold two sessions of Friday noon prayers," says Imam Tanveer Hussain Shah. "In summer, the weather is hot and space is tight, so hosting so many people at one time can be inconvenient."
Madrassas – centres where youngsters learn the Koran and how to be a pious Muslim – also double as places of worship. Young Muslims attend outside regular school hours. Hong Kong has 29 madrassas, according to the Incorporated Trustees of the Islamic Community Fund.
"We have about 70 students [in San Po Kong] and they need to come at different times because it can be hard to accommodate all of them at once," Imam Tanveer says. "With more space, we could also accommodate women worshippers, and separate children into single-sex teaching rooms to make it more convenient."
For the purpose of worship for adults, the San Po Kong centre hosts only men, for whom congregational prayers are mandatory, especially at noon on Fridays. Men and women are not allowed to pray in the same room.
Despite religious requirements, calls by members of Hong Kong's Muslim community for more mosques have fallen largely on deaf ears. Imam Tanveer says they have repeatedly asked district councillors for help but have been referred to various government departments. Their inquiries have gone nowhere.
The Home Affairs Department said in an email that bona fide religious bodies operating as charitable organisations may be granted land for development of religious facilities at concessionary land premium, but did not explain how the government was handling the issue of the shortage of mosques.
If the government appears hesitant to assign land for the construction of mosques, Muslim leaders insist it is unrelated to suspicion of Muslims since the September 11, 2001 attack on New York and subsequent events.
"I don't feel that the government made it more difficult for us to get mosques after 9/11," says Yusuf Yu Chi-wan, council member of the United Muslim Association.
"Hong Kong people don't pay attention to Islam ... They might have negative perceptions of us after news coverage about the attacks, but I don't feel it strongly. After 9/11, we've seen more locals sign up for Islamic general knowledge courses offered in our mosques, which are open to the public, because they are more curious about us."
In the New Territories, where the Muslim population has been growing, there isn't a single official mosque. In 2006, the United Muslim Association of Hong Kong bought a plot of land in Sheung Shui from the government for HK$9.8 million on which to build one. A condition of the lease was the provision of a social service, so an adjacent home for the elderly with 200 beds was planned.
With limited funds at their disposal, the community reached out to Saudi Arabia, which agreed in 2009 to meet all construction costs. In 2015, the Buildings Department approved a draft architectural blueprint for the mosque, but the plans came to nothing after the Saudis pulled out, reputedly for economic reasons after the fall in global oil prices.
The land lease stipulated that the mosque should be built by 2011. Due to delays, however, punitive charges were levied.
"We have paid more than HK$2 million so far for extensions. But we still have to pay HK$8 million more, and we are having difficulty paying," says Minhas, adding that they are negotiating with the government to lower the punitive charges and change the terms of the lease.
One public space used for worship in the New Territories is a ground-floor atrium at Oi Yee House on the Yau Oi Estate in Tuen Mun. The public housing estate is also the site of the only home for the elderly run by Muslims in Hong Kong – the 20-year-old United Muslim Association of Hong Kong Haji Omar Ramju Sadick Care and Attention Home. The centre caters to 39 elderly people – local Chinese Muslims and one Pakistani.
One Friday last month, dozens of men knelt in prayer on rattan mats on the concrete floor next to a foul-smelling refuse collection point.
Ahmed Raheel, chairman of the old people's centre, who lives with his family in Oi Yee House, says they have prayed in that space for years.
"At the beginning, there were only two or three worshipers. Now, there are more than 100," Raheel says. "There are thousands of Muslim families in Tuen Mun and Yuen Long. There are makeshift mosques on construction sites in Yuen Long. Others rent the ground floor of village houses for praying. Many of us are on public financial assistance, so whenever the rents go up, we have to move to another place to pray. We hope we can have a mosque in the New Territories."