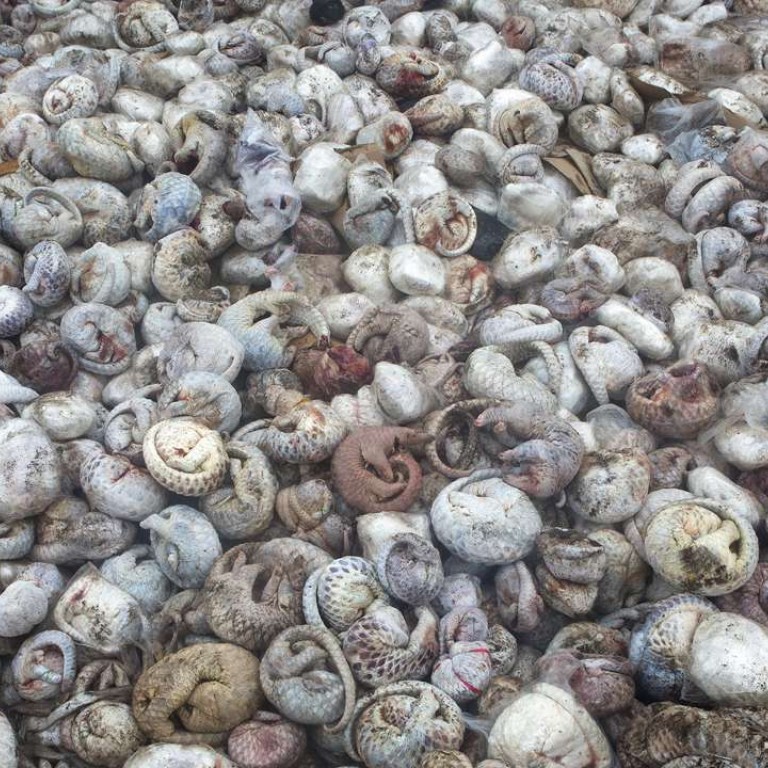 Hong Kong journalist among top prize winners in global wildlife photo contest
Image of 4,000 frozen pangolin carcasses thawing after being seized in Indonesia earns Hong Kong-based Paul Hilton first prize in Wildlife Photographer of the Year's photojournalism category
A Hong Kong-based photojournalist who focuses on environmental issues is among the winners of a global wildlife photography competition.
Paul Hilton won the 2016 Wildlife Photographer of the Year's photojournalism category for his image "The Pangolin Pit". The competition, run by the Natural History Museum London, received a record 50,000 entries from 95 countries.
The photo, taken in Indonesia, shows about 4,000 defrosting pangolins, weighing a total of five tonnes, from one of the largest ever seizures of pangolin carcasses. The animals were found hidden in a shipping container behind a façade of frozen fish, ready for export from the port of Belawan in Sumatra.
"Wildlife crime is big business. It will stop only when the demand stops," says Hilton, who has contributed to The South China Morning Post.
He says the scaly anteaters in the image were destined for China and Vietnam for the exotic meat trade or for traditional medicine (their scales are thought, wrongly, to cure a variety of ailments). Pangolins have become the world's most trafficked animals, with all eight species targeted. The animals are protected in Hong Kong. In July this year Hong Kong customs made its largest seizure of pangolin scales in five years, valued at HK$14 million.
The competition's main category was won by US wildlife photojournalist Tim Laman.
Laman's entry, "Entwined Lives", depicts a critically endangered Bornean orang utan above the Indonesian rainforest.
Hilton has also turned his lens on the orang utan, documenting deforestation, land clearing and the wildlife trade in Sumatra, Indonesia.
He has also followed the manta ray trade across the world and set up the Manta Ray of Hope project, setting out to document the plight of the great rays and investigating and the use of gill rakers in traditional Chinese medicine in Hong Kong. The shark fin trade has also been on his radar.
Britain's Gideon Knight won the Young Wildlife Photographer of the Year title for his image "The moon and the crow".