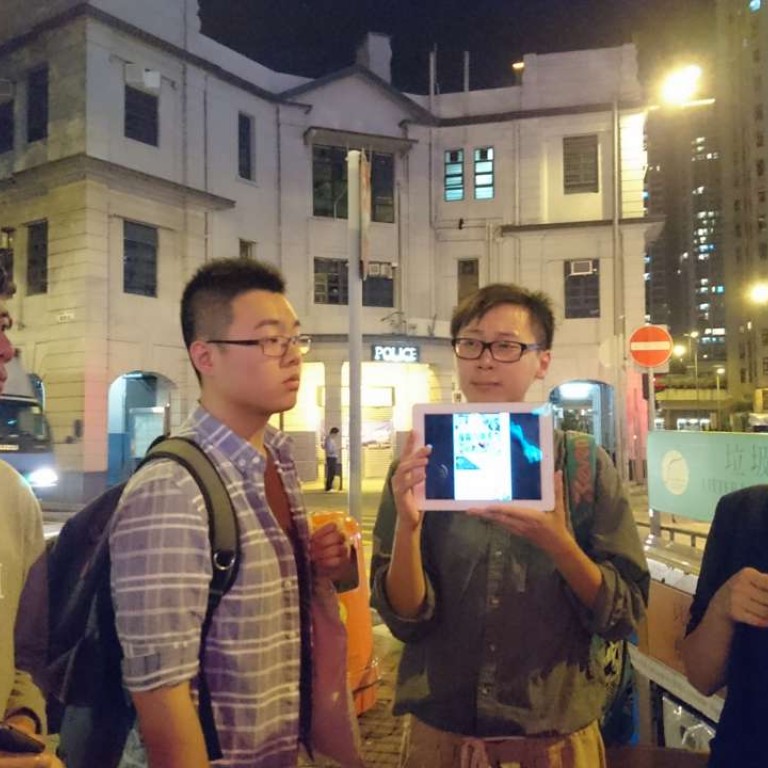 Tours to take you on the Hong Kong ways of death this Halloween
Cities have histories full of violence and horror, and two tours, in Yau Ma Tei and Wan Chai, offer a chance to see where some of the city's most gruesome events took place
Cities are full of darkness, violence, loneliness and death. So says the Facebook page of
20,000 Ways to Die in Yau Ma Tei
, a nighttime city tour launched recently by the Student Christian Movement of Hong Kong that offers an alternative to those pretend-scary Halloween parties.
The 1.5km tour covers about 10 sites where murders, fatal traffic accidents and suicides have taken place in the past few years alone.
As the tour's name suggests, the Kowloon neighbourhood of Yau Ma Tei has seen all manner of unfortunate endings: a rebellious teenage girl who offered to pose in sexy clothes for a photographer, to make extra money, was raped and strangled by the man. Her corpse was dumped in the rubbish collection depot in Portland Street.
Another woman lost consciousness during a fight with her boyfriend after drinking on the waterfront. Thinking she was dead, the man threw her into the sea. Later, her mutilated body was found entangled in a catamaran propeller, with the cause of death found to be drowning.
Yau Ma Tei is an old, dilapidated area with a large concentration of poor elderly residents, ethnic minorities, drug addicts and prostitutes. It is a byword for urban decay in Hong Kong, and the grave for many living on the fringes of society.
Lawyer Melody Chan, the tour's guide and researcher, says there are so many reports of unfortunate deaths in Yau Ma Tei that she could only include deaths that have taken place over the past few years.
"Beyond experiencing the gruesome and macabre, we hope tour participants can think about the role poverty plays in these deaths and understand more about this district," she says.
The first stop on the tour is the Yau Ma Tei Car Park Building on Shanghai Street, amid palm readers' stalls and alfresco karaoke singers.
Chan reels off examples of the many deaths that have taken place at the site, in a deadpan tone. "Apart from Kwong Wah Hospital, this is the place in Yau Ma Tei where most deaths happen. Every stall in the male toilet [below the building] has had a death, most of them drug addicts. The Car Park Building has seven stories. From every storey and from every direction on each storey, people have jumped to their deaths. Recently, a man jumped and landed on a female security guard, paralysing her." The singers just keep belting out songs oblivious to the human drama, as if nothing has happened.
Another stop on the tour is Wah Tak Building on Waterloo Road, opposite the Yau Ma Tei fruit market. It's the site of a particularly gruesome case. In 1999, a cleaning lady found a headless and dismembered skeleton inside a flat in the building.
The woman was identified as model Annie Pang Chor-ying, who forensics experts said had been dead for four years. The flat was owned by John Fang Meng-sang, the brother of former chief secretary Anson Chan Fang On-sang. Pang's skull was found in a rubbish bin inside the flat, while drug-taking paraphernalia was found in the bathroom.
Following an inquiry, the coroner instructed the jury there was insufficient evidence to support a verdict of murder and it was ruled a death by accident or misadventure.
Another spooky tour – which has been running for eight years – is organised by Hong Kong House of Stories in Wan Chai.
Places visited on the
Wanchai Haunted Tour
include old Wan Chai Market, on the junction of Queen's Road East and Wan Chai Road. Now gentrified, with cafes and furniture shops, the old heritage building was used as a morgue during the Japanese occupation in the second world war.
On Star Street there was an air raid shelter where many civilians died after a bomb fell into it and detonated during the Battle of Hong Kong.
Another location on the tour is the Environmental Resource Centre on Queen's Road East, which occupies the former site of the Wan Chai post office. The post office was haunted by a ghostly employee, who would post out sheets of cursed white paper; the recipients were said to drop dead.
Southorn Playground, now a lively open space popular with football and basketball players, was used as an execution ground during the Japanese occupation.
Located on Ship Street, the deserted red-brick mansion called Nam Koo Terrace is rumoured to have been used to house comfort women during the war, with ghost sightings reported often and chilling wails heard emanating from the building.
Suki Chau Hei-suen, a team leader of heritage and preservation with Hong Kong House of Stories, says Wan Chai is rich in history related to the Japanese occupation, making it an ideal place for a haunted tour.
"Many famous ghost stories originate here. Around 2003, a group of secondary students broke into Nam Koo Terrace. The girls later went berserk, running wild on the street. Police came and it took a lot of effort to calm them down. They were later sent to hospital and doctors found they were not under the influence of drugs or alcohol. This incident is famous and was reported in the news."