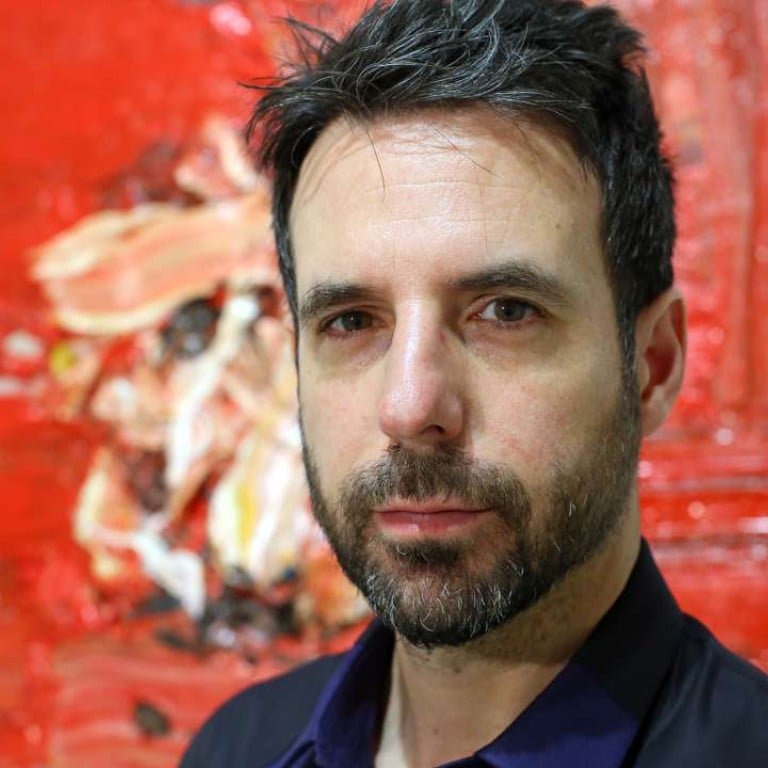 Solo Hong Kong exhibition for British paint-throwing artist
Antony Micallef, winner of second place at the prestigious BP Portrait Award in 2000, likens his practice to trying to control a huge wave of water, with results that are far from predictable
British artist Antony Micallef likes mess. That's his style. He hurls paint at a canvas then manipulates and folds it, allowing it to create its own emotion and expression.
The results are impressive and Hong Kong art lovers can see it up close at "Raw Intent", a new series of paintings on show at Central's Pearl Lam Galleries until the end of June.
"I'd call myself a modern expressionist, and the current work is a series of paintings where I'm trying to convey some kind of emotion and some kind of energy based on the human figure," says Micallef.
"I don't think I am trying to change the way people see portraiture, and I don't think my intent is any different from what's gone before me. I'm just trying to express something differently."
He explains the way he paints is very traditional – as is the intent behind his practice – but this time, he says, "I'm using much thicker paint. I like the way they're so sculptural. It's more than a painting, it's like there's someone in the room with you."
The artist placed second in the BP Portrait Award competition in 2000 and has since become a successful and internationally recognised portrait artist. He counts Hollywood power couple Brad Pitt and Angelina Jolie among his collectors.
And while throwing paint on a canvas might seem therapeutic, Micallef disagrees.
"I love my job, but sometimes it's the complete opposite of therapeutic. There's natural pressure because you want to achieve, and painting in this manner is like trying to control a huge wave of water and make it go in the right direction. When it works, it's a real buzz, and when it doesn't you feel really terrible!"
"Raw Intent" is Micallef's first solo exhibition in Asia.
"I came to Hong Kong 16 years ago armed with a camera and sketch pad. I was drawing cityscapes at the time and travelling around Asia," he recalls. "It's changed, but my impression is still pretty similar. It's an intense hub of a city and it's hugely dynamic. It feels fantastic to be back here doing a solo show; an amazing feeling."
Raw Intent: Antony Micallef Solo Exhibition, Pearl Lam Galleries Hong Kong, Pedder Building, 6/F, 12 Pedder Street, Central, tel 2522 1428. Until June 30.