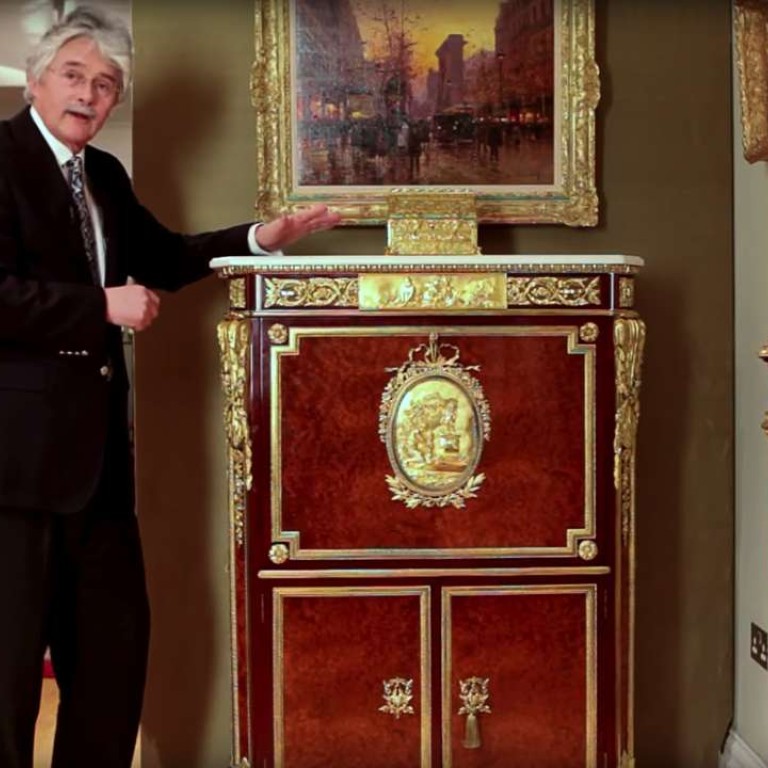 Advice for Chinese antique buyers from man who wrote 'the bible' on European furniture
It's a great time to buy 19th century pieces, but do your homework and don't overpay or bargain too hard, says Christopher Payne, formerly of Sotheby's, whose own passion for Chinese furniture often brings him to China
Chinese antiques collectors have made a wise choice in buying furniture by 19th century Parisian maker Francois Linke in recent years, says British expert Christopher Payne. He should know – he's one of the world's leading authorities on the subject.
"Many middle-class Chinese will buy 19th century French furniture. It's very good quality and a fantastic investment," Payne says of the highly decorative pieces.
Best known as one of the experts on BBC TV's popular Antiques Roadshow, on which he has appeared for 31 years, Payne also knows a thing or two about China.
He travels to the country three or four times a year, deepening his knowledge of the market, and because Chinese furniture is his "private passion".
In 2013, he held a joint exhibition with Chinese fashion designer Guo Pei, curating an assortment of furniture around which she drew inspiration for a clothing collection. After their collaboration, Guo's husband arranged a private tour of Beijing's Summer Palace, where Payne viewed rooms generally not open to the public. He was impressed by some of the details, such as a 17th century table that had been veneered. "This never happened in China," he says of the unusual object.
Payne has also lectured at Fudan University in Shanghai, and two years ago spent 10 days in Guangzhou giving a series of lectures on antiques and taking potential clients around an exhibition of furniture supplied by a dealer in Shanghai. "They were astonished at how complex the Paris furniture is," he says.
Linke's furniture, described by Payne as "very ornate 19th century bling", was inspired by 18th century pieces crafted for the French aristocracy, but they are not direct reproductions. Each individually signed, they are certainly not fakes. Linke pieces are, in fact, sometimes worth more than the originals on which they're based, because of their superior craftsmanship.
Payne says that despite the buying spree by Chinese collectors having dried up somewhat, and erratic prices at auctions, collectors looking for a bargain should certainly consider antique European furniture.
"Now is absolutely a great time to buy," he says, adding that it's an even better buyer's market than the mid-1990s, when he put together a collection for a secretive British billionaire. It's the first time in about 40 years that furniture prices have bucked an upward trajectory, he adds.
Christopher Payne talks antiques: the Nizam of Hyderbad's dressing table
The soft prices are a very recent development and apply only to French furniture. Just last October, a collection of 38 lots of Ming furniture from China collected by Hong Kong doctor Yip Shing-yiu sold out at an auction in the Hong Kong Convention and Exhibition Centre.
Payne is known to connoisseurs through his books and the research he conducted over a 25-year career at auction house Sotheby's. More widely, he is known for his role on Antiques Roadshow, where members of the British public bring him family heirlooms, hoping that he will find a rarity among the many objects they find left behind by their parents and grandparents, maybe hidden in the attic. He is usually able to quickly examine an object and discern its maker, condition and, probably of greatest interest to most, approximately how much the item is worth.
On one of his trips to China, he watched a local version of the show being recorded and was astonished to find that the experts were given the objects two days before recording, giving them plenty of time for research.
Payne taught himself about antiques by handling them. His father was a second generation antiques dealer, and as soon as Payne turned 17 he got his driving licence and chauffeured his father around Britain buying antiques.
After reading for a law degree – he jokingly says he only liked Roman law, confirming his love of old things – he took a job as a porter at Sotheby's.
"I was literally carrying stuff up and down stairs," Payne says. He stayed in the office after work, in his own time, to learn what he could about the objects he was working with. That research proved invaluable when he became an auctioneer's clerk and fielded questions from potential buyers.
"In the 1970s, when there was no internet and only about eight photos in every catalogue, the collectors taught me what to look for," says Payne, explaining that they would phone him up and ask him questions about the objects in front of him.
In 1976, he rose to be head of the auction house's 19th century furniture department, dealing with carpets, furniture, ceramics and sculpture, clocks and textiles including Chinese materials.
"It was a huge learning curve. There were no books written on the subject. I learned by looking and picking objects up," Payne says. That experience led to the first of his books, one of which has become known as "the bible" in the antiques trade, called 19th Century European Furniture. That book was translated into Chinese in 2013.
From 1995 onwards, Payne worked for a billionaire collector to amass 1,000 pieces. That collection was sold over two auctions in New York in 2006 and 2007, and the sale catalogue was so well researched that it became a collector's item in its own right, and planted the seed for a new book, Paris Furniture: The Luxury Market of the 19th Century, which is scheduled to be published in English and French by the end of this year.
The bulk of the furniture Payne had been collecting for his billionaire ex-boss, and which he now says is a bargain for collectors, comes from Linke's workshop. "The idea of copies is frightening [in China], but this is luxury furniture from the 19th century that is better quality than the 18th century originals," he says. "They weren't trying to fake it; it's signed with the names of the 19th century people who made it."
The originals, owned by French aristocrats, were taken and dispersed during the revolution of 1789, when many owners were either executed or exiled.
Linke's work was "absolutely impressive", Payne says. "In terms of craftsmanship, quality and time, it would not be cost-effective to fake them."
Oddly enough, there are fake Linke pieces on the market, and dishonest dealers, Payne says, but they are very easy for experts to spot.
"Obviously one sees them and they could be convincing if one had no formal experience in antiques – but probably because they are so bad they are not difficult to spot."
He has further advice for buyers. Surprisingly for a former auctioneer, he advises caution at auctions, saying it is easy to get carried away and pay too much. On the other hand, it is easy to miss opportunities by trying to bargain too hard and pay too little to a dealer. What you are paying a dealer is not only for the piece but for their knowledge and expertise.
Payne also advocates gaining a little expertise before buying. "You need to know what you are looking for and get good advice."
Knowing what you are buying is crucial, Payne cautions: "In recent years, [Chinese] buyers have purchased an enormous amount of French and Flemish carved Gothic-style furniture that nobody in the West wants. This can be seen in antique shops [in China] at outrageous prices and, in my opinion, will never recover its value enough to be resold on the international market."
This article appeared in the South China Morning Post print edition as: in with the old