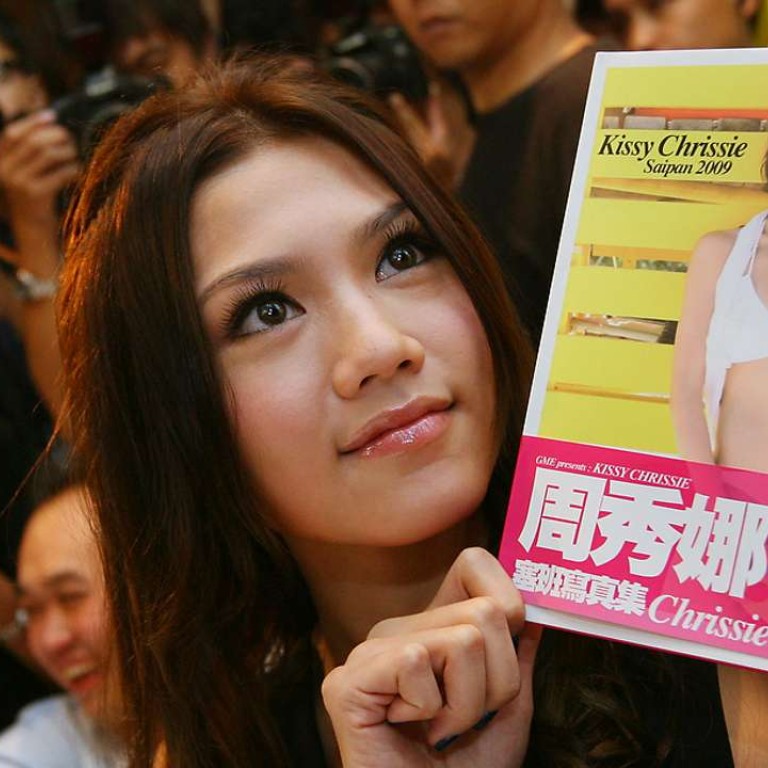 Where are they now? The Hong Kong Book Fair 'pseudo models' 10 years on
Scantily clad young women promoting their photo albums were once a fixture at the Hong Kong Book Fair. Deemed untouchable by big brands then, some have gone on to bigger and better things
Pretty young women flaunting their flesh in skimpy outfits were once a fixture of the annual Hong Kong Book Fair, which opens today, promoting glossy photo books of themselves posing semi-naked.
They first surfaced 10 years ago, and the annual phenomenon lasted until the Book Fair's organiser, the Trade Development Council (TDC), banned sales of such books in 2010 (although promotion of them continued for a couple more years at the book fair, albeit less conspicuously). While many young men slobbered over them, serious bibliophiles found the presence of the models and their books at the fair distasteful. They were branded "pseudo models" for their indecorous style, and became untouchable in the eyes of upmarket brands.
A lucky few, such as Chrissie Chau Sau-na and Angela Yeung Wing (better known as Angelababy), who became actresses, managed to move on to better things. Many others enjoyed only fleeting media attention before fading into oblivion, and have found it difficult to shake off the curse of the pseudo-model tag.
Colour Keung Tsz-lam, 32, discovered how damaging the pseudo-model tag can be. Before she produced her 2008 book of flirtatious photos taken in Taiwan, she had promoted video games and hosted entertainment shows, since being signed up by a modelling agency at age 16. Four years ago, the vocational school design graduate decided to enrol in a Chinese writing course at Chinese University.
Chrissie Chau in 2016 film i-Girl
"I've always liked writing. I've been writing columns in computer magazines since 2008," Keung says.
"Later I wrote romance columns for newspapers. I'm a Christian and I have a column in a Christian magazine. I interview big shots from different industries like business and media. I have to do research and I studied interviewing skills."
But publicity surrounding her photo book caused some prospective interviewees to doubt her ability, she says. Some were rude to her, even though she wore formal dress and light make-up.
In 2014, Popular Bookstore published a book of her musings on life; she had battled leukaemia as a youngster, lost her hair and spent six months in a hospital isolation ward. Popular applied to the TDC for a book signing at the Book Fair, but was rejected.
"The reason they gave was that I used to be described as a pseudo model," Keung says. "The book contains no photos of me, only words and drawings. No matter how good your Chinese writing skills are, it's useless if you have been tainted with the pseudo-model tag."
Even prospective boyfriends steer clear, she says. "I am single now and have been most of my adult life. Some rich guys have tried to court me, and told me they don't mind about my past, but I don't want such guys because I still think they disrespect me."
Keung arrived on the Book Fair scene the same year as Angelababy, when the term pseudo model was first used to describe the young models – lang mo in Cantonese – who had no formal training. Keung says the industry was more innocent when she started out, but standards have slipped. She can understand why pseudo models today are associated with prostitution.
"Nowadays it's about lecherous men paying a girl money to take her into a private room to snap photos of her." She used to get calls from strange men offering money for sex, she says, and many so-called casting calls for products such as shampoo are really just invitations to accompany bosses – jobs she firmly refuses.
Looking back, Keung says she has no regrets about her pseudo-model past, and she has a new book out, being released at this year's Book Fair.
"I don't want to do any more on-camera work. My latest book is about sexuality. I am glad that I've built up a female fan base for my books, not like before when only men liked me for my looks," she says.
Another former pseudo model who has reinvented herself is Kit Li Kit-ying, 32. The Baptist University journalism graduate used to be a part-time model, promoting online games and doing fashion shoots. Her four-year modelling career helped her build contacts in the entertainment industry, including a producer for ATV's horse racing programme, which she was familiar with.
"When I was a small girl, my dad worked [in China] and I had to keep tabs on the horse racing results for him because there was no internet. He had to wait until he got home to check them," she says.
The producer persuaded Li to enter a competition for the best novice horse racing commentator. She claimed third place and was hired by the Jockey Club as a part-time commentator.
"Working for the Jockey Club, I developed a big interest in analysing racing tips and results. I played reruns of races to figure out why horses won or lost. I placed bets on horses I predicted would win, too."
Now one of the six full-time women horse racing commentators in Hong Kong, she looks happily back on her former modelling days. "It helped put me on another career path. My fiancé is a jockey and we will get married in July," Li says.
Creamy Yuen Hoi-yan, 38, got off to a rocky start. She ran away from home at 14 to escape a strict mother, and ended up in jail at age 16 after being caught drug trafficking for her boyfriend. After spending seven years in jail, she worked as a beer promotion girl until she took up modelling at the age of 28.
"I was a rebellious girl, going to discos and bars every night. I posted my photos on Facebook and got invited to be a model. I did product promotions for magazines, cars, wines and computer festivals. I also worked as a bit player in movies and TV dramas."
In 2013, Yuen met another pseudo model, Kavi Yau, on a radio dating show. The pair decided to set up a girl band and enlisted two more to form the B.Gs.
"We learned to dance and performed in local discos and bars. Later, a mainland [Chinese] modelling agency signed us up. In one year, we performed 120 shows in [mainland China], from Shenzhen all the way to Mongolia. We visited nearly every city [in China], dancing and singing our four cover songs, including Gangnam Style, in shopping malls, sports stadiums and bars."
Yuen saved HK$1 million, which she used to set up the KISS K.C.V Entertainment Company last year.
"I found a replacement for me in the band and now I work as an artists' manager. Besides the B.Gs, we have signed up a songwriter and a young male artist. We also have freelance artists and models who we recommend to advertising and film companies."
Yuen helped vault the all-girl band to stardom using her industry contacts and acumen gleaned from her modelling experience. The B.Gs won the best new band prize last year in an awards show organised by Hong Kong's Metro Broadcast.
Yuen says she understands that a sex-obsessed media is both a curse and a blessing. "We are a small company with a small promotions budget. I don't want my girls to strike sexy poses in scanty outfits, but that's the only way to attract media attention," she says. "So at the 2015 Book Fair, we released a photo book of the girls striking suggestive poses in slinky clothes. Many media, including TVB and Apple Daily, reported on the book and the band. Afterwards, the B.Gs released their first album with four songs, and won the best new band award."
Magazines requested interviews with the band on the condition that the girls wear bikinis, she says, but such exposure comes at a cost. Fashion brand Diesel approached the B.Gs about a sponsorship deal, but backed out after belatedly discovering the girls' career histories, she says.
In February, Yuen was targeted by the tabloid press after red paint was spattered outside her home in Yau Ma Tei. The media reported the incident stemmed from romantic rivalry. Yuen says the perpetrator was a wayward former B.Gs band member.
"The girl sent racy pictures of herself to a man, who paid for her sexual services. The man later sent the pictures to me. He told me one of his friends also wanted to hire her for a night and asked me, as her manager, whether I could give him a discount," she says.
"He also sent me a screen shot of his instant messaging conversation with the girl. I confronted her but she denied everything. I stopped giving her jobs, and then the incident with the red paint happened. I always remind my girls to beware of temptation. Once something like that happens, their career is doomed."
Yuen has big plans for her girls, and she just secured a top-billing role in a Chinese online drama series for one of them.
"Helped by sponsorship, my company has already invested HK$2 million on the girls. We have yet to break even, but I get great satisfaction from my work now. Given my limited education, I think I have already achieved quite a lot," the former pseudo model says.
This article appeared in the South China Morning Post print edition as: breaking good