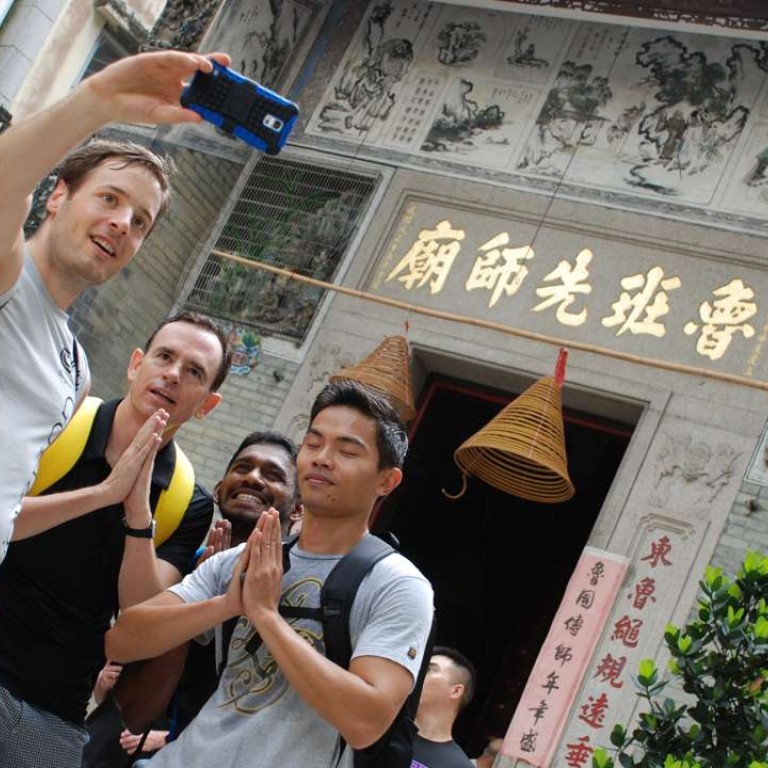 The five best events at this year's Pink Season Hong Kong
Seminars, boat trips, drag shows, club nights, sporting events and, of course, the traditional beach party make up this year's LGBTI festival, open as always to gay and straight, young and old
Hong Kong's annual LGBTI festival, Pink Season, launches at the end of this monthwith five weeks of activities aimed at promoting acceptance, inclusion and awareness. The nearly 25 events are as diverse as the crowd Pink Season hopes to attract, with everything from late-night parties to family picnics planned.
"We've made quite a few changes trying to build on the festival. This year there's a real focus on making it more family friendly and there are more educational events, seminars," says Pink Season director Phil Howell-Williams.
Take, for example, the "How to Start a Rainbow Family" seminar (October 5), which will see a panel of experts from Hong Kong and overseas discuss how to best negotiate the often tricky business of adoption for gay couples or how to approach surrogacy, and the laws and policies around it. There's also an event organised by The Economist magazine, "Gallery of Numbers" (October 13), which will look into the economics of diversity and inclusion in company policies.
But it's not all highbrow and lessons to be learned. This is party season for the pink brigade and their straight friends. The popular events that have come to define the festival – such as the beach party Floatilla – are back, rubbing shoulders with plenty of new activities.
New this year is a Sunday brunch (Oct 2) with a four-course menu and free-flow champagne at French restaurant Bibo. There's a trivia night planned at Tivo on Wyndham Street on October 19 and for something less cerebral, a beer pong tournament on October 26. And on October 29, a Halloween party at FLM (formerly Volume Beat) will feature live entertainment and prizes for the best dressed.
"We want to make this as inclusive as possible and have as much variety as possible with sport, entertainment, arts, theatre and stuff for the kids – we want to try and have something for everyone," says Howell-Williams.
The festival kicks off on September 30 with a launch party at Circo with live music, DJs and a cocktail designed especially for the season (yes, it's pink and there's vodka involved). You can find the full rundown of events at
pinkseason.hk
, but here are five events that come highly recommended.
Urban Race
Guaranteed to challenge you physically, mentally and socially, the Urban Race is all about thinking outside the box. Teams of five come together to solve a series of problems and race to the finish line. It's not just about speed – you've got to use your grey matter, too. Now in its third edition, the race is the brainchild of Reggie Ho, who painstakingly crafts the clues each year. This year the action will unfold in Sha Tin and Ma On Shan. It's billed as a game in which diversity makes for a stronger team, so pick your team smartly. And even though it's not all about winning, there is a fabulous grand prize up for grabs.
Oct 8, 10.30am-6pm, Sha Tin, HK$200 (reservations close on Oct 1)
Variety Show
New this year is a show that aims to provide a night of fabulous entertainment. We took a sneak peek at the line-up and with no fewer than four drag queens, it's certain to be a flamboyant night. The first drag queen on stage will be Coco Pop, who will be the MC for the night, followed by Hei Hei – former Mr Gay 2010 – with a dance routine and more dance from Matthew Corbin. There's plenty of song with opera singer Wayne Yeh, Wesley Ryan, LGBT choir The Harmonics and the other drag queens, Sheila Dubaii, Cleo Moans and the divine La Chiquitta. The entry ticket includes two standard drinks.
Oct 12, 8pm-11pm, Boo Bar, 225 Nathan Rd, Tsim Sha Tsui, HK$150
Floatilla
The weekend junk party has been a key Pink Season fixture since the start and now gets international attention and draws revellers from across Asia. Usually groups such as Out in HK organise junks and to make it even easier for everyone who wants to join the fun to get on a boat this year, Plug magazine is organising two luxury boats, with spacious upper decks and plenty of cushions for sunbathing. The $700 ticket ($650 for early birds) covers all your food (healthy salads and sandwiches) and drink (Absolut Vodka is the sponsor, so expect plenty of cocktails). Giant inflatable unicorns will be on hand for frolicking in the sea and there are prizes for those brave enough to walk the plank. There will also be air-conditioned chill-out spaces if it all gets too steamy.
Oct 16, 9.45am-6pm, pick-up and drop-off at Central Pier 9, HK$650-HK$700
Camping Weekend
This is another popular mainstay of the festival and draw families, couples and friends. Everyone meets in Sai Kung and heads out to Tai Long Wan to camp on the beach. You can rent everything you need to camp out there (a two-person tent is HK$150, sleeping bags HK$30). Register ahead if you want to join the BBQ for HK$250 per head. Or else you can buy cha chaan teng-style dishes and sandwiches at the beach café. The café also rents out surfboards and there will be beach games organised. Or you can simply lie on the beach and try and spot the stars. After the BBQ, expect a sing-song session around a big campfire. And if you don't want to leave your pooch at home, bring him along – dogs are welcome.
Oct 22 10.30am, until Oct 23, 3pm, meet at Starbucks Sai Kung, free (just pay for camping equipment rental and your food)
Out in the Open Beach Party
The closing party for Pink Season, this is an all-day affair. In keeping with the spirit of the festival it aims to bring folks from all walks together – gay and straight, old and young. It begins in the afternoon with sandcastle building and hula hoop competitions with prizes. As it moves towards dusk there will be beach volleyball and beach yoga sessions. And then when the sun has set, there will be live music, DJs and free drinks, games and competitions.
Nov 5, Bistro One, 16 Repulse Bay Rd, free