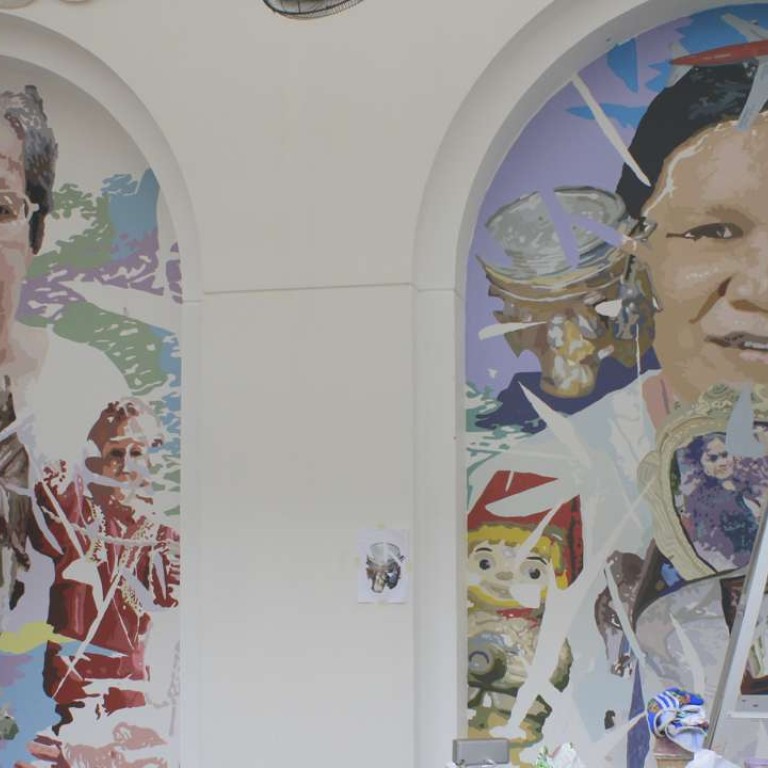 Singapore Biennale has come a long way by staying close to home
As art biennales go, Singapore was a latecomer. While large-scale international contemporary art exhibitions started popping up throughout Asia in the 1990s – Taipei (1992), Gwangju (1995), Shanghai (1996) and Busan (1998) – the Lion City didn't have its version until 2006, the year it hosted the International Monetary Fund-World Bank Group annual meetings.
A decade on, the Singapore Biennale – its fifth edition opens on October 27 and will run until February 26, 2017 – has done much to catch up. Hong Kong may play host to international art galleries, fairs and auctions, but Singapore is streets ahead when it comes to staging big, non-commercial contemporary visual arts events that have a strong regional focus.
The Singapore Biennale is now a fixture on the Asian contemporary arts calendar, alongside the older biennial exhibitions and the Yokohama Triennale and Asia Pacific Triennial (Queensland, Australia).
This year, Filipinos Ryan Villamael and Dex Fernandez, China's Qiu Zhijie and Pala Pothupitiya from Sri Lanka are among the 60 artists from 19 countries and territories taking part in the four-month-long exhibition, titled "An Atlas of Mirrors". It is curated by Dr Susie Lingham who, until earlier this year, was director of the Singapore Art Museum.
Over the past decade the biennale has undergone a gradual shift in focus towards the Southeast Asian region, which makes sense given Singapore's cultural and geographical positioning.
"We nestled it between East Asia and South Asia," says Lingham, creative director of this year's exhibition. "I'm trying to emphasise the kind of complexities of the world we live in now."
When she was with the Singapore Art Museum, one of her aims was to make Southeast Asian artists household names. "You need to be concerted about that. You need to give the artist your support. Coming from this part of the world, we don't have a lot of artists who believe in their own worth. But it's a long haul," she says.
Joyce Toh, curatorial co-head at the museum, which organises the biennale under the commission of the National Arts Council, says the Singapore Biennale offers a platform for artists from around this region to voice their thoughts and opinions.
Villamael's Locus Amoenus, Latin for "pleasant place", is an installation that probes the Philippines' fraught history as the Southeast Asian country that endured Western colonial rule the longest. Pothupitiya's stunning Other Map Series comprises alternative maps of contested areas, and bursts with beauty and detail.
"You fall prey to something like cultural imperialism if you want to impose your own views on others," Toh says. "We're trying to open this space where artists have a space to speak; to have more diversity of voices, rather than let one override another. Of course, it's tricky, but we try."
Led by Lingham, the nine curators – five from the museum, and four associate curators – have the delicate task of navigating a minefield of censorship and cultural sensitivities.
"We are responsible to artists, and we are also responsible to our stakeholders, Toh explains. "There are artworks that are not suitable. So we put out advisories, so a five-year-old child might not accidentally encounter it.
"We are aware that we are responsible for many different parties. Artists sometimes have their artistic concepts, but the reaction to these concepts might be different. People might not read a work as it was intended."
For example, Singaporean artist Fyerool Darma had initially wanted, for his work The Most Mild-Mannered Men, to juxtapose a statue of Sir Stamford Raffles, credited as the founder of modern Singapore, with a faceless statue of Sultan Hussein Shah of Johor, who had signed the 1819 Singapore Treaty with Raffles. The treaty gave the British East India Company the right to set up a trading post in Singapore. Although Raffles' likeness is widely familiar, there is no known record today of what the sultan looked like.
"The artist was going to show a blank, ovoid face," says Toh. "But people could read it as defacement, cutting off the face." After the curators brought up this point, the artist went to speak to the late sultan's descendants, sounding them out on his project. In the end, after consulting the family, he decided on a different approach: showing an empty pedestal bearing the sultan's name, instead.
"He was generally quite happy and satisfied with the outcome," says Toh.
Over the past decade, the Singapore Biennale has become not only a space for cultural and artistic exchanges and discourse, but also a well-regarded launch pad for local and regional artists.
Since their participation in the biennale, Singaporean artists such as Charles Lim and Robert Zhao have gone on to participate at the Venice Biennale in 2015 and the Sydney Biennale earlier this year, respectively.
"Ultimately, whether an artist 'grows' beyond the Singapore Biennale is a combination of tenacity and luck," says Michael Lee, one of the associate curators of this year's edition. "What the Singapore Biennale offers is space for the display of artworks and spaces for dialogue."
Artist Milenko Prvacki, who won Singapore's highest cultural accolade, the Cultural Medallion, in 2012, says that the biennale has undeniably had an impact on the visual arts scene and the development of young artists in the country.
"Every good show helps, especially in Singapore," says Prvacki, who is a senior academic at Lasalle College of the Arts in the city. "I'm sure that my students enjoy the opportunity to see something they can't see every day. It's fantastic for them – the information and the references. We organise visits and talk about it on the spot, or discuss in the classroom. We criticise and analyse."
As in recent editions, the whole visual extravaganza has been spread over eight venues, mostly museums, such as the Singapore Art Museum, the National Museum of Singapore and the Asian Civilisations Museum, as well as Stamford Green.
But Singapore-born, London-based artist Erika Tan is hoping for a return to the non-traditional venues that marked the first two biennales, which made use of spaces such as disused army barracks and an old airport.
Tan, a fine-art lecturer at Central Saint Martins in London, says: "I actually really enjoyed the use of non-art spaces in the first two [events]. It made the engagement with the work and the experience of the biennale that much more memorable.When it becomes more museum- or gallery-orientated, it could just as easily be anywhere else in the world."
Asked how the biennale will remain relevant in the years ahead, Toh counters that contemporary art always engages with modern-day issues.
"I don't think we have to change for change's sake; that can become contrived. But things will evolve. You don't want to stay so rigid and static."
Not everyone agrees the Singapore Biennale should maintain a focus on regional art. Some arts industry observers, such as Prvacki, are hoping that it will some day revert to its initial model of bringing together artists and curators from all over the world.
Professor Ute Meta Bauer, founding director of the Nanyang Technological University Centre for Contemporary Art in the city state, says Singapore's arts ecologyis a lot more robust compared with 10 years ago, with relatively new institutions such as the ArtScience Museum and the National Gallery, as well as the centre itself, which will hold an architecture-related symposium around the same time as the biennale opens for private viewing.
"It should free the biennale to be more experimental," she says, of this explosion in arts venues. "We will see what dynamic unfolds."
"There are artists beyond the region, so we will see how that will play out. But definitely it should go beyond the local in order to attract a critical review from the system – artists and critics," Bauer says.
Similarly, Russell Storer, who co-curated the third Singapore Biennale in 2011, says: "One thing I really appreciated about the early biennales was how they put Southeast Asian artists in dialogue with artists from around the world, which rarely happens otherwise.
"The move to being a regional exhibition meant that these opportunities were lost, and the conversation becomes more limited. It's heartening to see that the next biennale is opening up to other parts of Asia, so I hope this direction continues."
Others have also brought up the question of whether the biennale should go back to having an independent curatorial team, like it did in 2006 and 2008, as opposed to being under the umbrella of an institution such as the Singapore Art Museum.
In response, the National Arts Council says it is open to exploring different operating models as it reviews how the biennale can move forward.
"The curatorial focus is largely determined by the artistic director of the biennale," says Kathy Lai, chief executive of the council. "The emphasis on the region is aligned to our longer-term aim of being the arts hub of the region."
This article appeared in the South China Morning Post print edition as: busting out all over