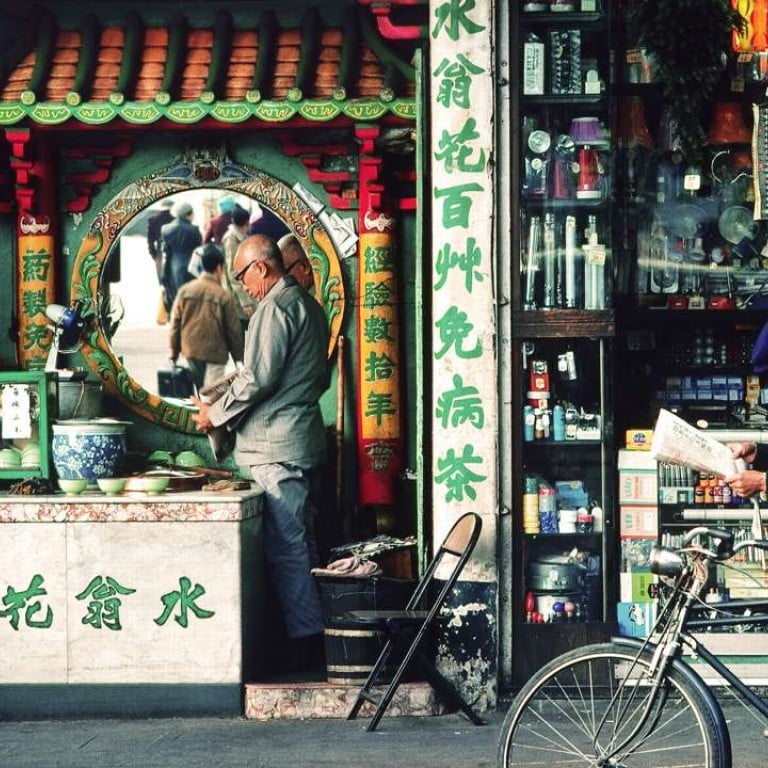 47 years of Hong Kong's changing places and faces – through lens of photographer Keith Macgregor
Since he first took pictures of the city in 1969 his work has been seen in thousands of prints, calendars, books – and many millions of postcards – around the world
Photographer Keith Macgregor has been focusing his camera on Hong Kong's rapidly changing places and faces for the past 47 years – and shows no sign of slowing down.
Over the years his popular Cameraman calendars, showing stunning views of Hong Kong, have been displayed on countless homes and offices around the world, while hundreds of thousands of his postcards have been posted abroad.
Hong Kong bookshops have also stocked his coffee-table photo books, including his best-selling
An Eye on Hong Kong,
which he is considering publishing in its seventh edition.
Macgregor, 70, was back "home" in the city last month to sell limited-edition prints of some of his best photographs at two exhibitions – the first at Central's Kee Cluband the second at the Conrad Fair, at the Conrad Hong Kong hotel in Admiralty – and also, if he had time, take plenty of photographs.
Sales of his prints are big business these days – in contrast with the global demand for postcards, which has faded markedly since the boom years of the 1990s.
"At its peak we were selling two million postcards a year – amazing – but now it's down to only about 25,000 a month," Macgregor, who was born in 1946 in India, said as he paused to pick up his mobile phone.
"And its these little things that have killed off postcards. Everybody now wants to take their own selfie photos as a memory – even if it is out of focus on a cloudy smoggy day – rather than buy a glossy postcard showing Hong Kong on a rare clear day," he added with a shrug.
Every visit he makes to the city really is a real return home.
His forefathers, who ran the Caldbeck Macgregor wine and spirits trading company, settled in Shanghai in 1859 and then Hong Kong in the 1880s.
He and his wife, Lindsay, left Hong Kong in 1992 after they sold their successful Hong Kong furniture, artefacts and handicrafts business, Banyan Tree Limited.
He had begun the company as Nic Nac, operating out of his Conduit Road flat, but it later grew to three shops in Hong Kong and one in London along with a successful Hong Kong export business.
"Those were hectic days, long hours every day," he said. "I'd be up at 6am to take pictures for an hour or so then come back home ready to start the day's work."
Macgregor became a professional photographer almost by accident.
He read history at Oxford University and then business administration in New York before returning to the territory aged 23 to support his mother after the sudden death of his father.
"I'd been interested in taking photographs ever since I was a teenager," he said.
"In 1967 I left from Battersea Power station in London in a bus for India and Nepal and took my little Pentax and a very limited amount of film … one-picture-per-city-type-stuff, and I suppose I caught the photography bug there."
At the time he had no idea photography would become his career, but he quickly saw the advantages. "The thought of working for other people was ghastly," he said.
"I'd enjoyed dabbling in photography for fun and noticed there didn't seem to be too many photographers around in those days, 1969. Photographers were also paid a pittance.
"I thought the best way to learn and make a bit of money without making an absolute fool of yourself was to do portraits of children. I started putting adverts in the paper and charged HK$200 a time, doing mostly expat children and then went on to photograph children from rich Chinese families."
The result was not only successful, but also profitable. He made about HK$100,000 in his first year.
It was then that Macgregor's friends suggested he start doing postcards – something he had never considered.
"The postcards on sale at the time cost 30 cents, but were awful – badly printed and about 10 years out of date," he said.
"I went for a bigger size. I thought we should look different from everybody else and chose a black border because I frame a lot of my pictures in black and grey.
"The first year was a bit of an uphill struggle. Nobody in Hong Kong thought you could sell a postcard for HK$1.50 because it was so expensive. But within three to four years we were selling 200,000 a month.
"It was an amazing business and we had the market almost to ourselves."
Yet within five years his competitors had begun to copy his postcards, using the same views and card designs, yet selling at much lower prices. "They say imitation is supposed to be the best form of flattery, but it doesn't help much when it was only price that mattered," he said.
For the next 10 years, during which he and his wife had three children, his life was frantic – 12-hour days, seven days a week as he travelled throughout Asia taking photographs while buying and selling artefacts for Banyan Tree.
His best-selling postcard over the years – now out of stock – is a stunning image of the Aqua Luna junk in Hong Kong Harbour at night. He will probably not reprint because the postcard business is no longer profitable.
With demand for postcards and calendars on the wane these days and even coffee-table books not as easy to sell, Macgregor is focusing on the sales of the large-scale prints of his photographs with the help of Daniela Flower, his representative in Hong Kong, now that the Picture This Gallery, which represented his work successfully for eight years, has closed down.
Despite the reduced demand for books he is also about to start work on his latest volume, a collection of modern-day panoramas of Hong Kong.
Every year since he moved to England he has always returned – often for three weeks at a time – to take photographs of the ever changing city.
He normally visits Hong Kong to take his pictures in June and July, even though the changeable weather can cause problems.
It is the beautiful cloud formations and blue skies that determine his choice.
"You get the most wonderful skies at that time of year," he said.
"I particularly love night photography. It is very difficult and sometimes you have only 15 minutes to get a good picture."
These days he uses Nikon D800 and D810 digital cameras, but in the past he always favoured using Hasselblads, which used film and the images were in a square format.
"I love square-framed pictures – probably because I'm a bit of a square, too," Macgregor said.
"From a commerical point of view it will mean getting paid to photograph it all over again, but as a lover of Hong Kong it's terrible.
"Soon there will be no harbour left. What used to be beautiful is covered in rubbish and sand and hundreds of new, often ugly buildings. It is a tragedy."