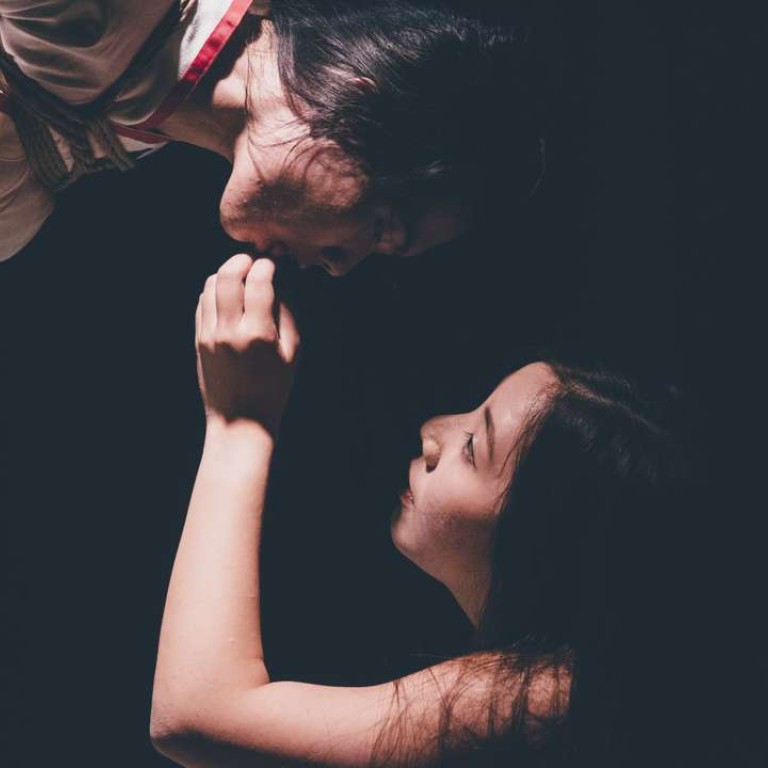 In pictures: the Japanese art of rope bondage, as practised in Hong Kong
Subay, a 20-something Hongkonger, has been visiting Japan for several years to learn shibari – the art of using ropes to restrain and bind – from masters of the craft. She says the practice isn't necessarily about sex, but about trust, humility – and shame
Subay is part of a small underground group in Hong Kong practising shibari, the Japanese art of rope bondage. It may sound saucy and there's certainly a kinky element to it, but there's more to shibari than the more commercialised expressions that have gained attention recently.
Subay – a Hongkonger who prefers to go by just one name and is in her mid-20s – has been going to Japan several times a year for the past three years to take private lessons with rope masters, or nawashi, in Tokyo. Her first time came during a vacation with her family – she slipped off for a three-hour private class. Her family is still in the dark about her hobby, just as they didn't have a clue when she got involved with the local BDSM community when she was 18.
"In the BDSM community I just knew about very Western bondage – metal cuffs and restraints. I was involved with a couple who were into shibari and when I started out I was a rope model. I wasn't thinking of learning this," she says.
That all changed when an American rope master visited Hong Kong to teach a workshop. But before we get into that, it's worth putting shibari into its historical and cultural context.
The Japanese have a strong "wrapping culture" – just think of the way they wrap gifts exquisitely, or of the ancient tradition of wrapping trees in winter to protect them from the cold.
Shibari can be traced back to hojojutsu, a method of restraining captives and a form of torture. That form of tying, carried out by samurai hundreds of years ago, involved tying the neck and other areas to restrict prisoners. Another form of punishment involved tying up a prisoner "like a shrimp to restrict the diaphragm so he couldn't breathe" and putting him on parade.
"Japan has this fascination with tying. Even hojojutsu is not only about punishment and restriction – when they tie criminals there is a certain aesthetic, artistic form to it. If you look at some pictures you will see hojojutsu always involves some kind of diamond shape," says Subay.
Hojojutsu then morphed into the erotic bondage form called kinbaku – which literally translates as "the beauty of tight binding" -–in the late 19th and early 20th centuries. From there it became increasingly popular and made its way into Japanese manga and S&M magazines.
"In the 1920s, more photographers started to do erotic photo shoots that involved bondage. Slowly they were doing it and re-engineering the hojojutsu form into more of an erotic form of tying the women," says Subay.
The word shibari came into common use in the West at some point in the 1990s to describe kinbaku. Shibari was once strictly an intimate, private activity, but that has changed over the past 20 to 30 years as Japanese culture has made its way West. And along the way the rope-tying art has morphed again, moving away from its private roots to become more of a performance art, although Subay says it is sometimes more akin to a circus show.
To understand shibari as it is practised in Japan, you need to understand something of Japanese psychology. Western society and psychology is very much based around guilt, your personal, emotional guilt, says Subay. But for the Japanese, who have a greater sense of belonging to a group, the keyword is not guilt but shame.
"So when a woman is tied she feels that kind of feeling of shame – psychologically this is very important. The Japanese is very much about shame and exposure and also about embarrassment and humiliation. For some people, torture is the kind of punishment they find beautiful because it is like suffering for the sake of suffering for your partner. It's the connection, the intimacy, the bond with your partner," she says.
Back to the American rope master who visited Hong Kong to give a workshop – Subay was keen to attend and hoped that he would use her as a model and suspend her as she'd never tried suspension.
"He said, 'Oh you are not pretty, you are so heavy, why should I tie you?' I was so upset," recalls Subay.
So she took matters into her own hands and learned how to tie herself up, and also how to do a self-suspension. This involved tying herself on the floor and then hoisting herself up by a rope attached to a ceiling hook, which took a lot of core strength.
She began hosting shibari events, but finding a suitable venue was a challenge. Although aerial yoga studios are well equipped for shibari – the ceiling hooks are well suited for suspensions – the issue was with the surveillance cameras in the studio, as most participants were keen for privacy. For this reason she rented her own private studio for a couple of years, but has had to close it recently because of the high rent.
In January last year she hosted Hong Kong's first shibari festival and invited rope masters from Japan and Taiwan to give workshops. There was a screening of the shibari documentary Jyowa, private tuition and jute rope on sale.
"It was a turning point for shibari in Hong Kong. I think the reason it was so popular was because I posted it on Facebook and the poster got a lot of attention on social media," she says.
Subay's rope bondage performances can next be experienced at the Idolize Strange event being held at XXX Gallery in Tai Kok Tsui on February 17. At this event, which will combine shibari performances with electronic music and an exhibition/sale of works by cult Osaka artist Shigetomo Yamamoto, audience members can sign up to get tied or suspended free of charge by Subay.
Let's be clear – shibari is not about sex, as in intercourse. It is an erotic art, but doesn't necessarily culminate in the sex act. Subay says she has a "vanilla boyfriend" who isn't into the scene, but supports her doing it.
"In shibari, it's more about the fantasy and imagination that you give to the girl. When a girl is completely naked, the bubble has burst. But if you keep teasing her, giving her hints, then it's going to be more erotic and arousing for the girl," says Subay.
It's this element, like an extended foreplay, that Subay most enjoys about being tied up, although these days she is more likely to be the one tying someone up than being bound herself.
"It's like freeing yourself through restraint. You need to give a lot of trust and confidence to your partner and when you surrender your trust and body to someone it's a very strong emotion," she says.
Subay says the shibari scene is changing so fast she doesn't know what it will be like seven or eight years from now, but she hopes to help break stereotypes about body image.
"A lot of people seem to think that if you are not the fittest model then you cannot be tied. This kind of thinking still exists in Hong Kong – that if you are very strong then you can be suspended for an hour and you are a good model. That's stupid," she says.
And the most important lesson she has learned from her shibari experiences? Humility, something she says she learned in Japan.
"A lot of people in the shibari community seem obsessed with power and leadership. They want to be recognised, but that's not what shibari is about. I don't aim to be anybody. If I can help people then that is great, but I don't need people to call me a rope master," she says.