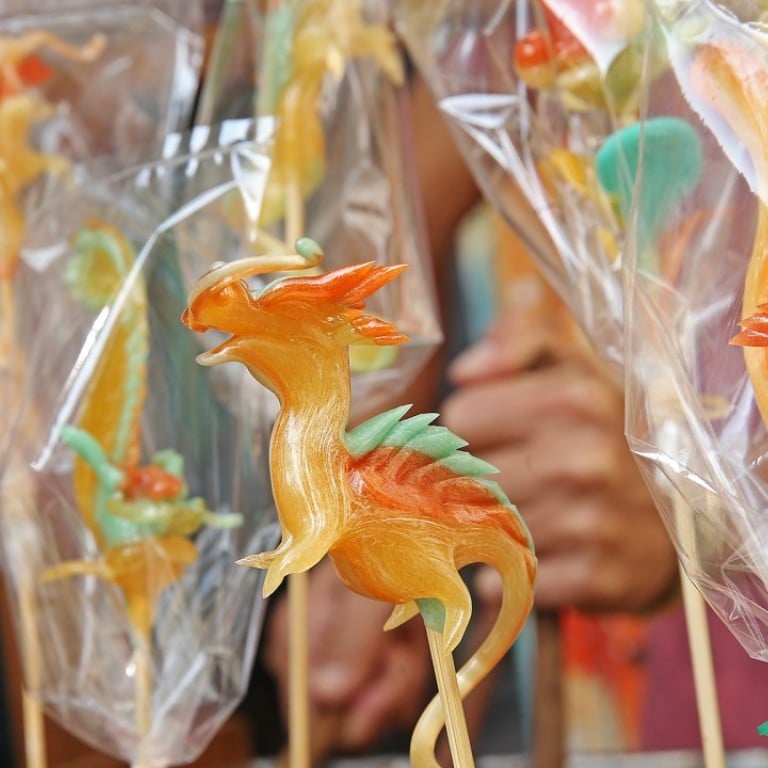 Hong Kong mini arts hub Cheung Chau is an island abuzz with creativity
Community of artists working in a variety of mediums a mix of islanders and incomers. They came together for a recent three-day festival
Cheung Chau, an island that's home to more than 23,000 people, is a colourful part of Hong Kong. Once a thriving fishing community, it has had its brushes with smuggling and piracy. It is famous for its annual four-day bun festival, held in honour of Pak Tai, a Taoist deity who, it is believed, helped rid the island of pirates in the 18th century.
Today it attracts foreign tourists and weekenders alike looking for a city escape, whether to be at one with nature on a hike or to enjoy fishballs and a mango mochi.
The island is also home to a growing band of artists, including poets, musicians and writers. During this month's three-day Cheung Chau Wave festival, they were out in force, joining artists from elsewhere in Hong Kong and from overseas to exhibit art all over the island.
On the festival's final day, event co-organisers Christina Jensen, a resident of six years, and Rika Kojima wander through the bustling narrow streets, the crowds dispersing only to make way for the "village vehicles" – an affectionate name for the miniature fire truck, police car and ambulance that would look more at home at a toytown amusement park.
Jensen, who works at the Blue Lotus Gallery in Chai Wan, at the eastern end of Hong Kong Island, and Kojima are staging a meet-and-greet with members of the island's creative community, and it soon becomes obvious that there is more to the art of Cheung Chau than meets the eye.
Yeung Cheung-ming is the perfect example.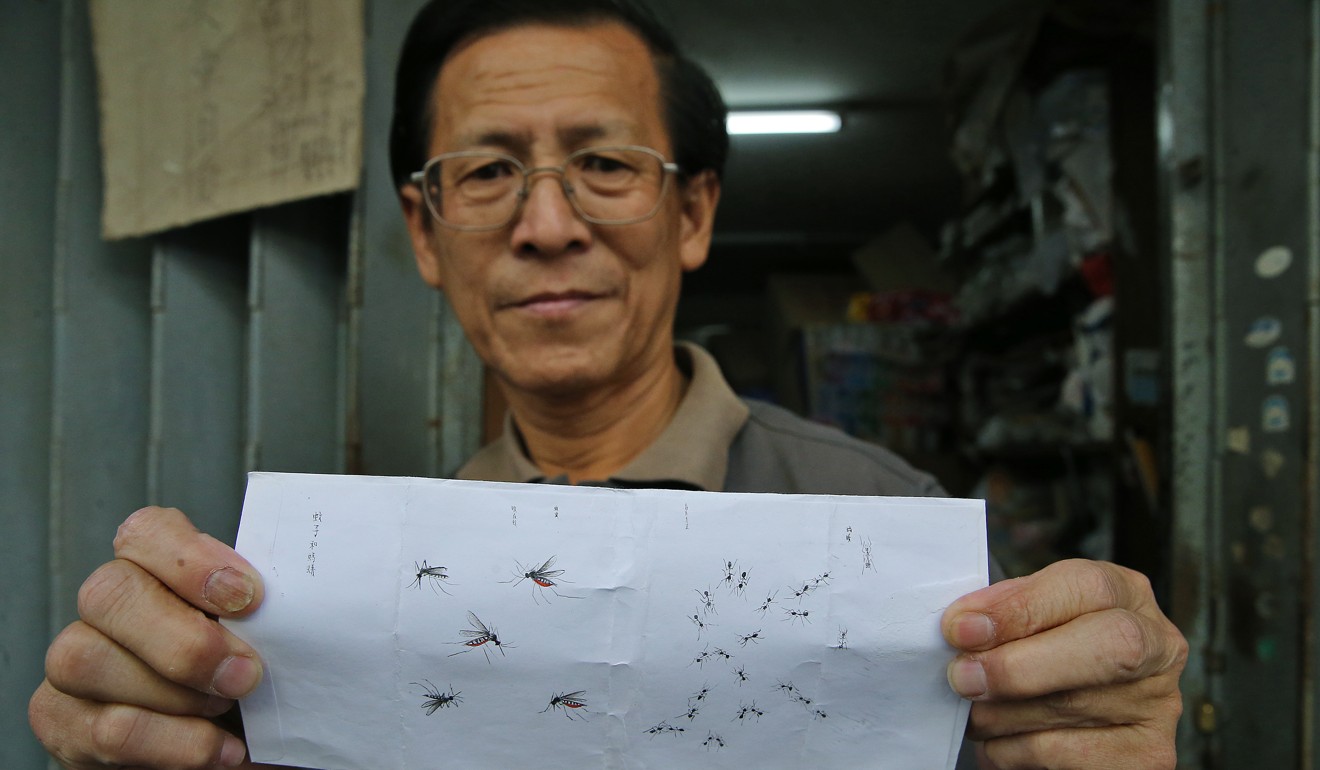 Yeung Cheung-ming
Islanders refer to Yeung as "the Ant Man" for his passion for drawing insects (ants, mosquitoes, flies) with a single-hair brush. During the day, Yeung, 75, sells household goods from a cramped, messy shop. Born on Cheung Chau, he inherited his creative streak from his father, a potter who focused on the Gongbi style of Chinese painting, a technique that involves meticulous brush strokes.
"Tissue paper is fragile, and easily tears, so I use it as a canvas to practise on," he says. He has turned down numerous invitations by galleries to show his work.
Yeung has also created larger works. Pulling a scroll from a pile of papers, he explains that it took three months to complete. The scene is reminiscent of Guilin, the southern Chinese city known for its dramatic landscape of limestone karst hills. "It's not Guilin," he says. "This is from my imagination."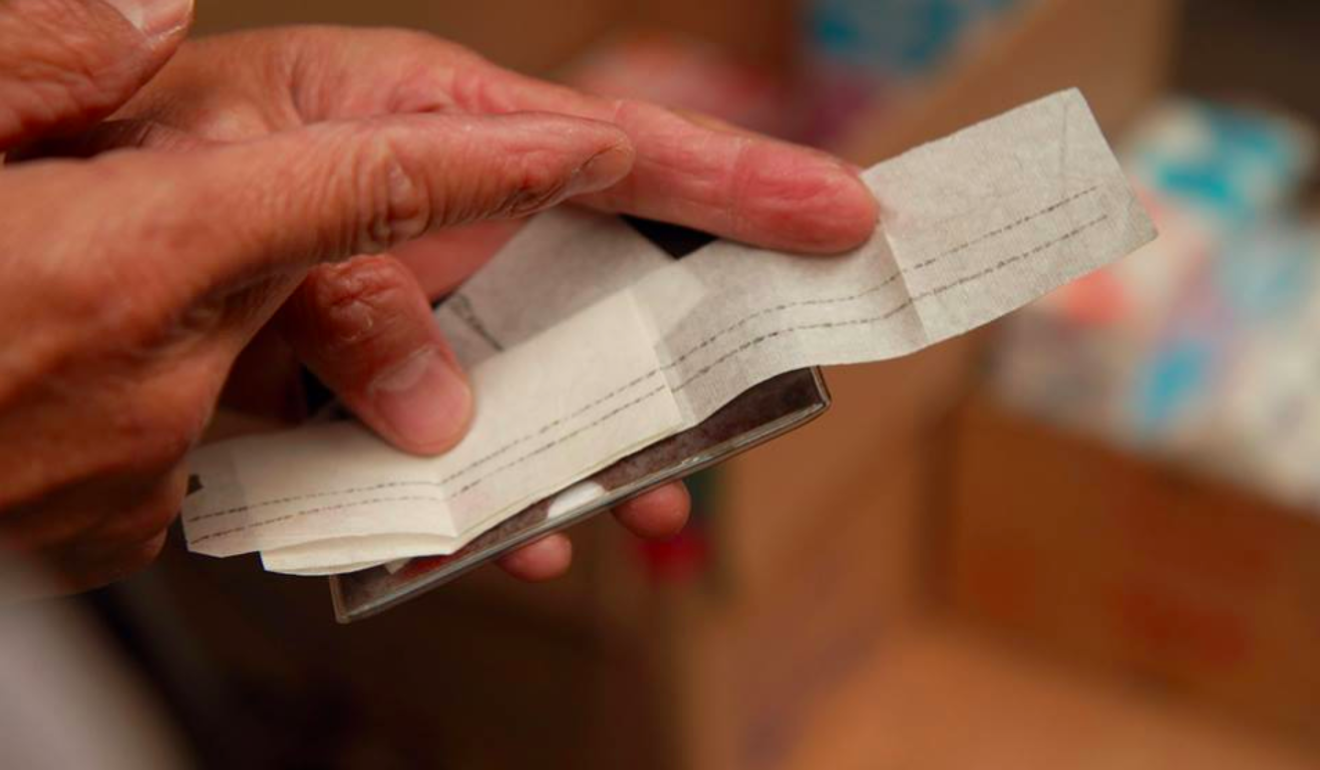 We are about to leave when Yeung tells us to wait, then takes a piece of paper from his shirt pocket. On it is written a verse by the Chinese poet Tao Yuanming (365-427AD), who lived during the Eastern Jin and Liu Song dynasties. Called Gui Qu Lai Xi, the 300 characters are written in what is called micro calligraphy. It's hard to focus on them even when viewed up close. "This took just 1½ hours," he says proudly.
Robert O'Brien
A Briton, O'Brien is one of the island's most eccentric residents. He spent his childhood in places including the Congo and Egypt, and studied theatre design at London's Central School of Art and Design. A phone call to a German friend living in Hong Kong led him to Cheung Chau. He visited in 1976 and never left.
"Forty years ago, it was a time when the distinction between the town and country was great. In the countryside of Cheung Chau cows and shepherds were common, as well as pig farms and runaround chickens."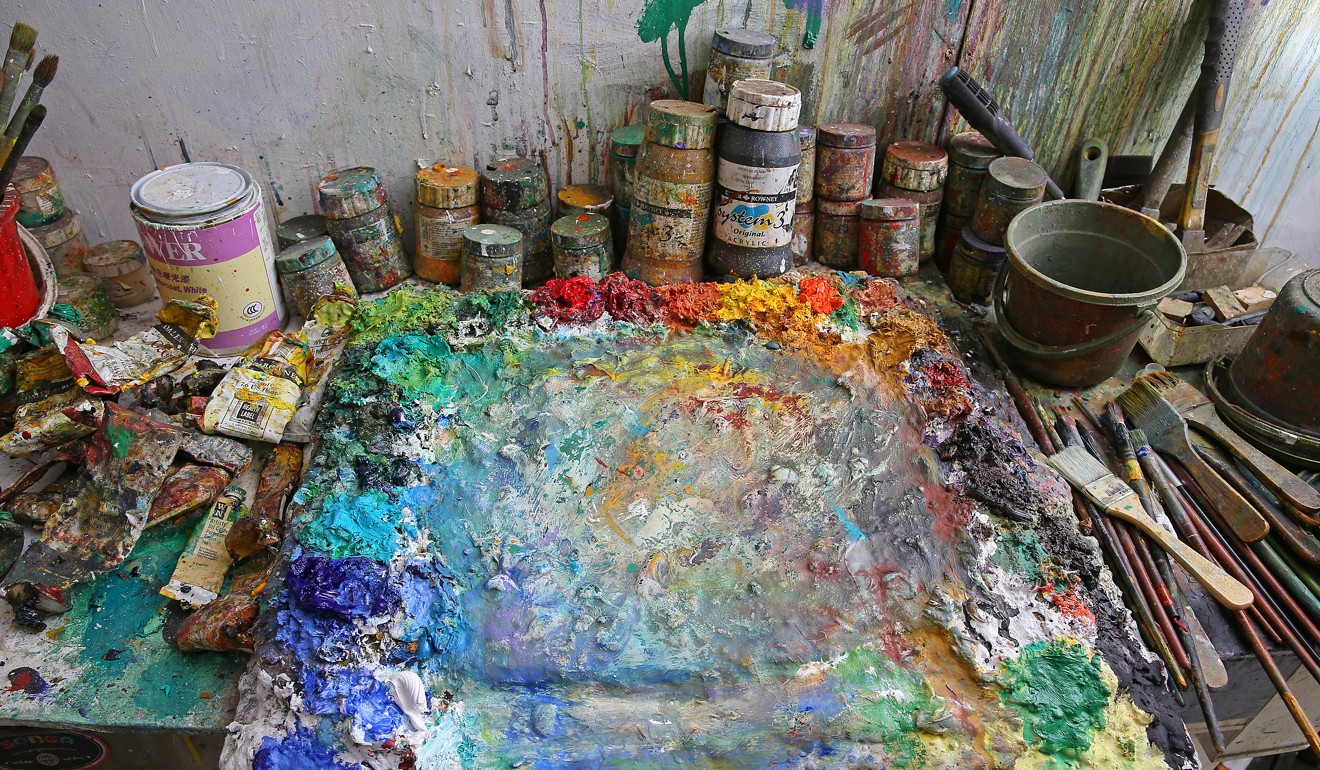 In his nondescript studio, sandwiched between a bakery and grocery store, O'Brien's colourful works jump from the walls. Sitting on a chair, his thick, black-framed glasses going up and down as he talks, O'Brien, 79, points out his well-worn mixing palette, its layers of colour built up over 40 years of painting, some blobs still fresh. It's an art piece in itself.
"Cheung Chau is like no other place … you wave to people on the ferry. I like that," he says.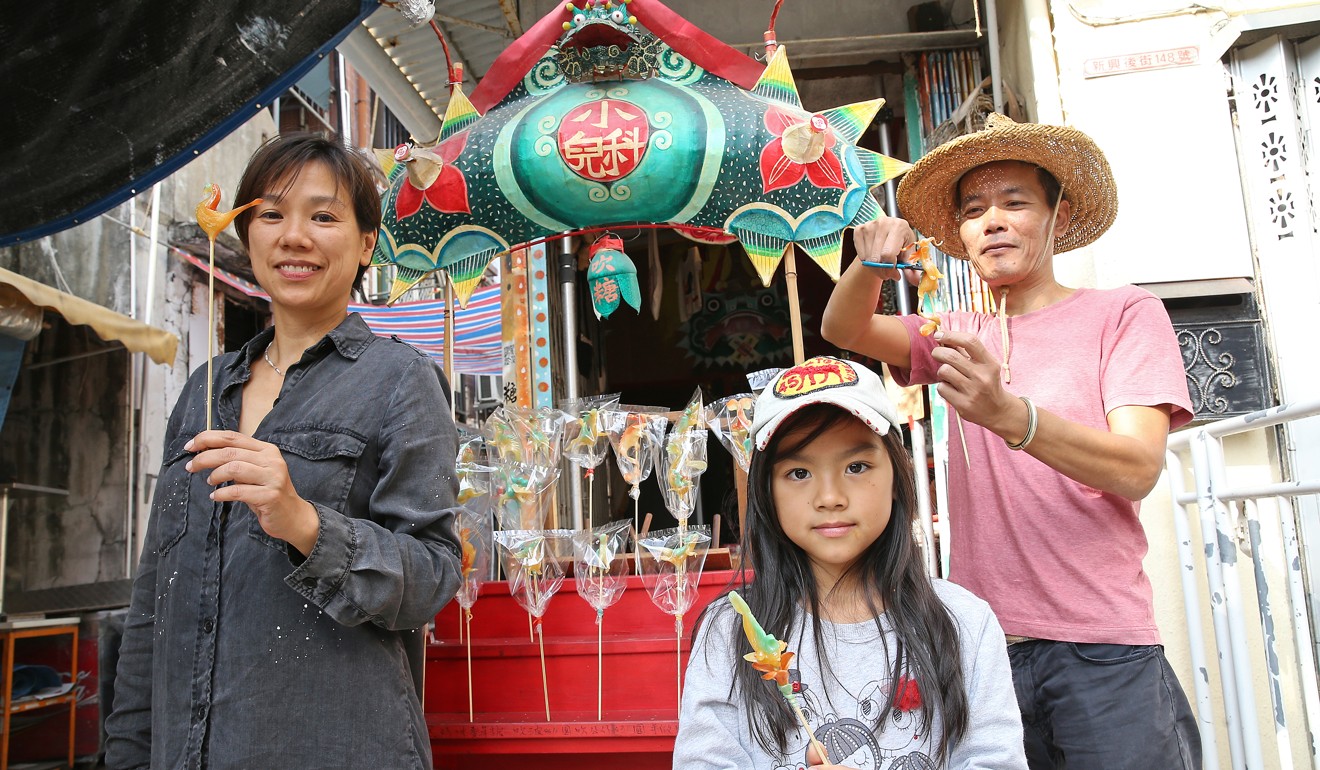 To Wun and Gill Wong
To is known as the "Sugar Man" – and for good reason. Standing in front of his colourful cart that hold trays filled with sugar in the colours of traffic lights, self-taught To spins amazing sugar animals in a revival of the lost art of maltose candy sculpture, a skill that dates back 600 years.
Next to him is his wife and fellow artist, Gill Wong. Both are environmentalists and at the festival To showed his installation, Christmas present, made from a discarded fishing net and five bags of rubbish collected by local kids. Wong showed her short film Plastic Children.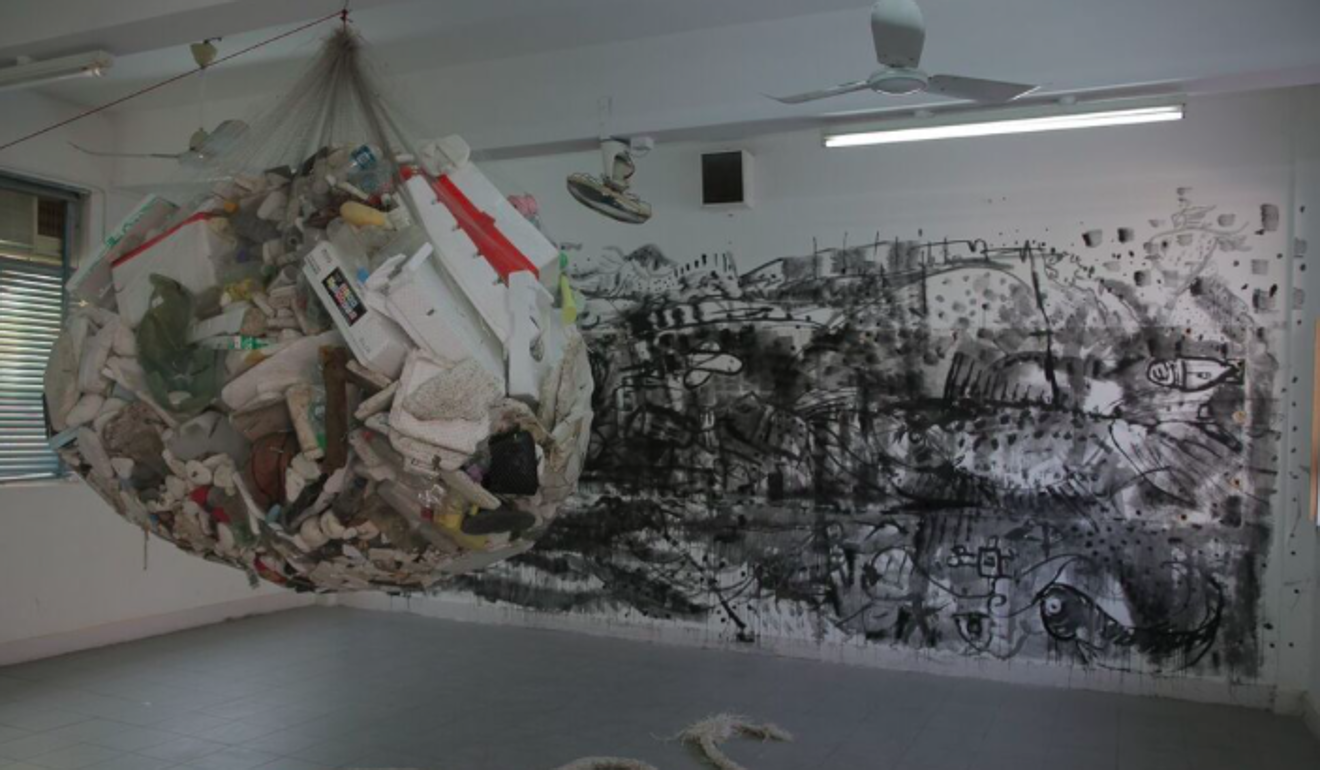 "My children are aged just seven and three, and they are very aware and concerned about the plastic problem. … We are eating garbage when we eat our rubbish-filled fish. Something must change," says Wong. She and her husband moved to the island 15 years ago. "The old culture of Hong Kong that has been lost in the city can still be found on Cheung Chau. There are also many great masters who live here," she says.
James Wolfe
During the Cheung Chau Wave festival, Wolfe's installation, archipelago, was spread across the first-floor rooftop of an abandoned school. The work comprised random pieces of furniture – a chair, a couch, basket and suitcase – all sourced from the school, and cut to look as if they are sinking into the cement surface. The British artist says his sense-distorting installation is a metaphor for our oceans' ecological problems.
Working mainly in the media of sculpture and site-specific installations, Wolfe says there is a charm about Cheung Chau that can't be found anywhere else in Hong Kong. "Of course, the quiet life away from the cars is also attractive," he says.
Wolfe has a message for the Hong Kong government. "It should make better use of the many empty buildings, allow artists to use them as studios, to grow outside the crippling rental market. Hong Kong is hugely creative, almost without knowing it, and the government should nurture this."
And there's more ….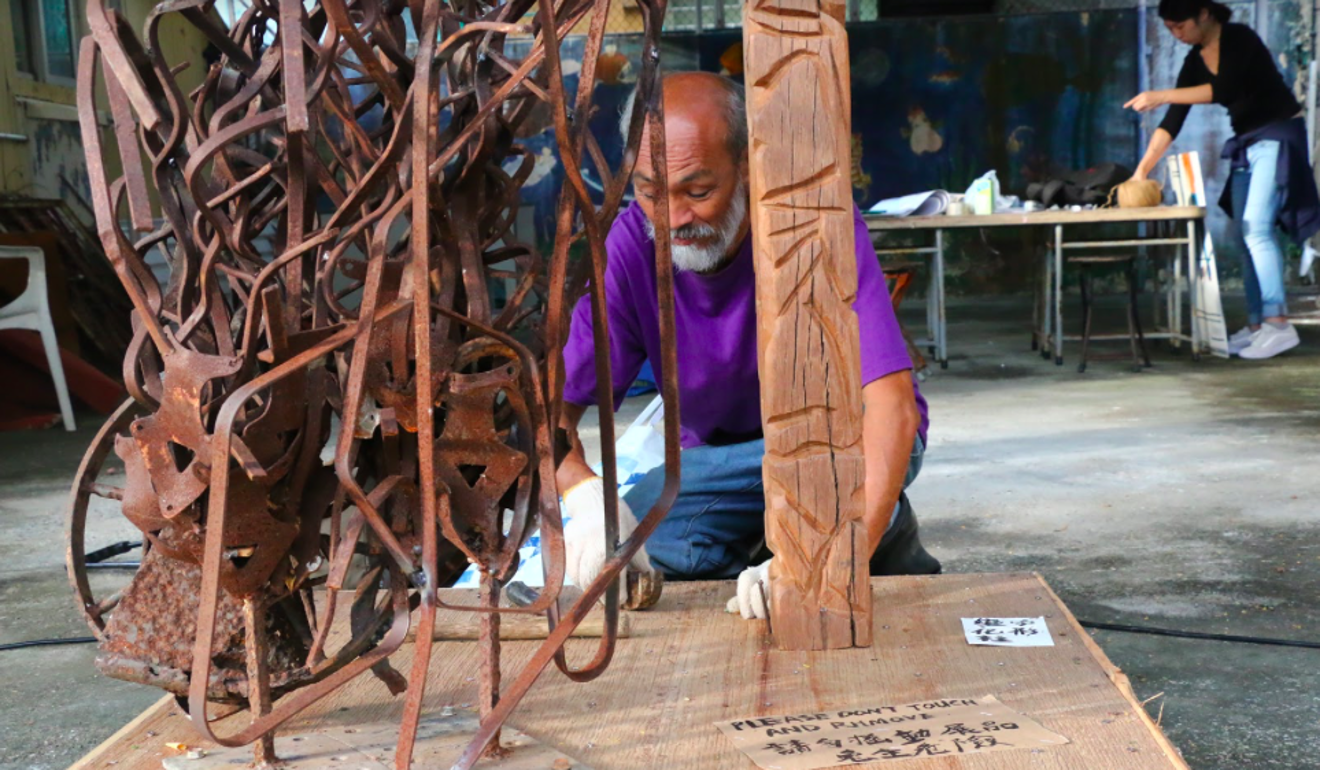 Cheng Shing
One on the island's most well-known artists, and also one of its most reclusive, Cheng grew up on Cheung Chau and has held various jobs, from fisherman to builder and woodwork apprentice. The artist's work is a true example of recycling, incorporating scrap materials collected from the streets and the woods.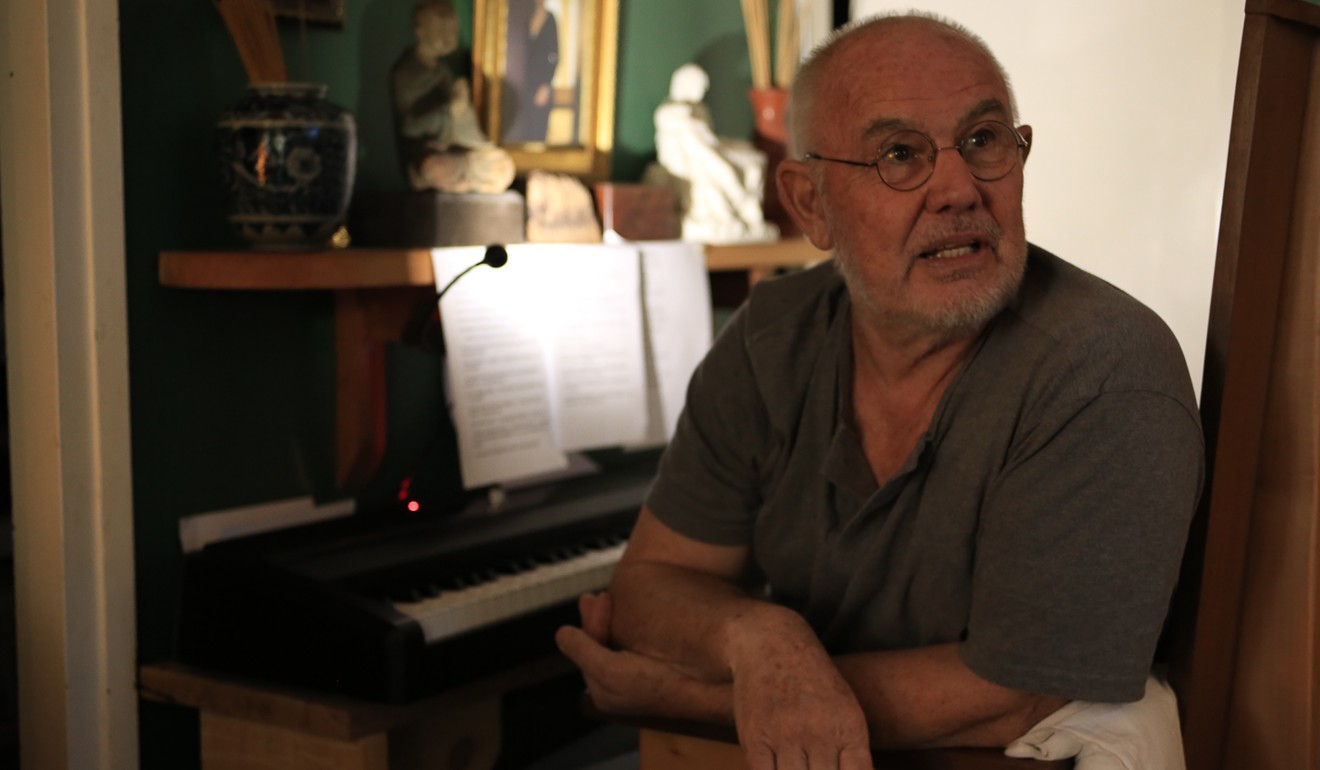 John Poole
Poole spent his youth in Brixton, a south London district, but the 75-year-old now calls Cheung Chau home. His talents are many: singing, painting, piano and woodcraft.
Gary Ng
When photographer Ng's son was born this year it brought back memories of his own childhood growing up on Cheung Chau. "I documented the time, the memories, the strangeness and also feelings by revisiting the place that I've known."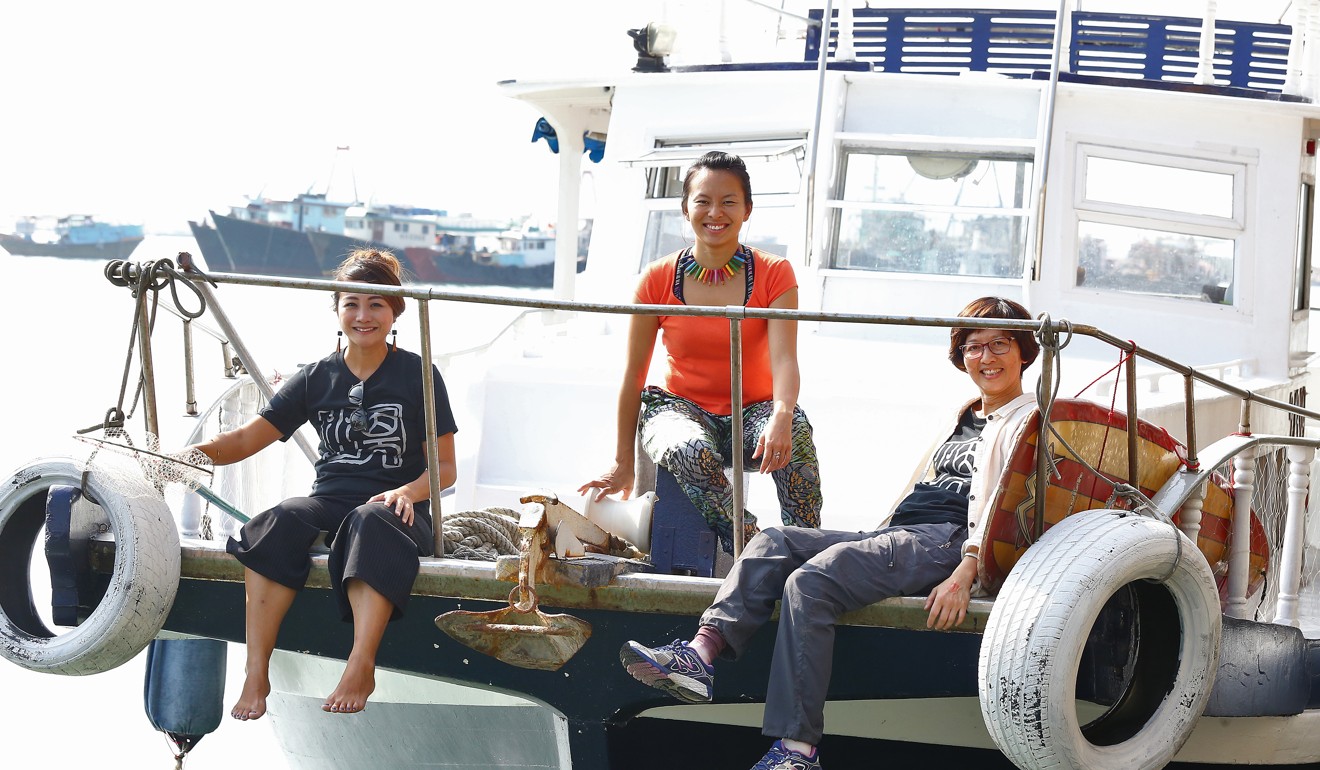 Chantoneasy, The Floatudio & Lisa Cheng
In 2015, Sarah Yip and her boyfriend, Rex Law, quit their stable jobs to travel the wold for a year. When they returned to Hong Kong they moved to Cheung Chau to run a 15-metre yacht for trips (they also live on it). On a recent trip they were joined by language teacher Tiff Chan, who talked about the disappearing language of sui seung yan, "people of the water". Along with Lisa Cheng, the women spread the word about the island's lost language and its boat culture.
Graeme Morris & Mary Jane Alejo
Known as OYA!, this duo perform original songs and covers from a variety of musical genres – folk, blues, jazz and rock, reggae, punk and pop.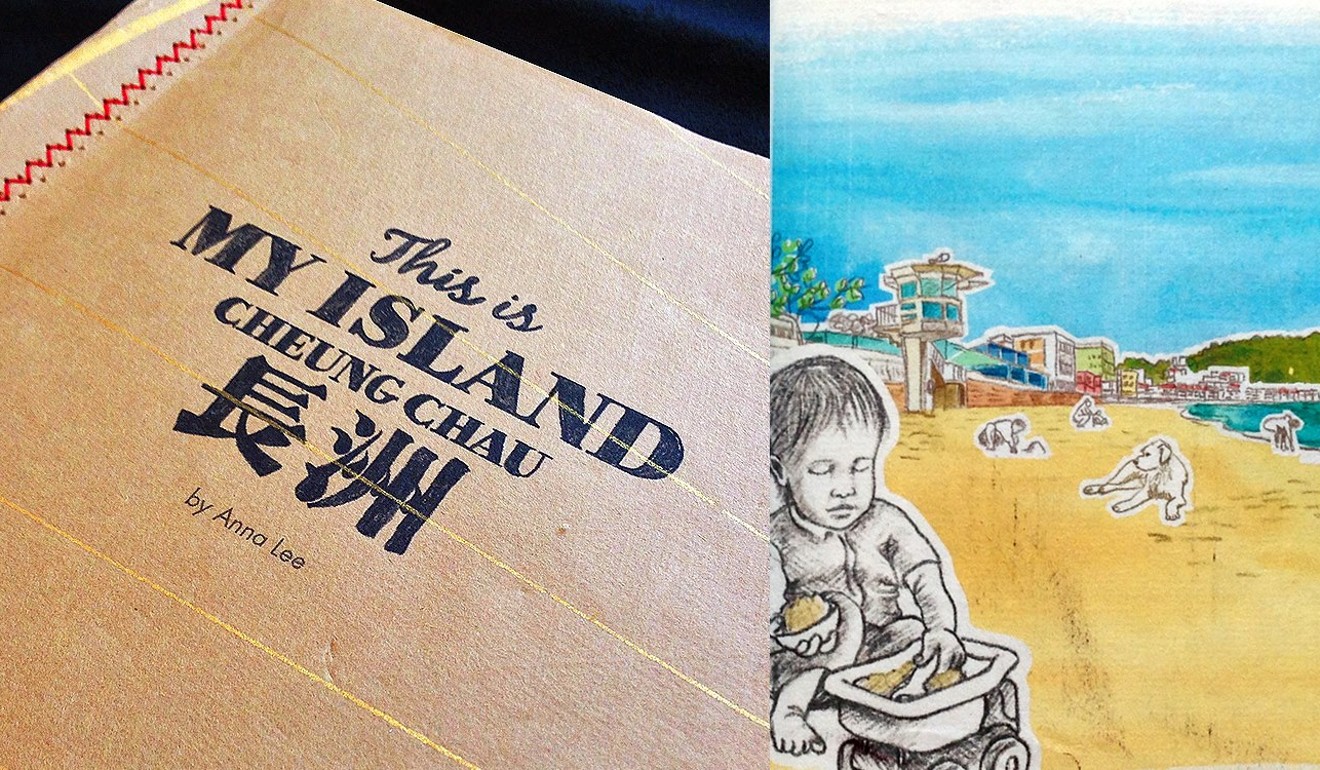 Anna Lee
A blissful combination of beach and village life lured New York illustrator Anna Lee to Cheung Chau, where she had her son. As an homage to the island, she released a beautiful sketchbook, This is my Island.
"Three years ago, I started to work on a picture book to try to capture what Cheung Chau may have seemed like from my baby son's point of view. Although we have moved away, we keep coming back to Cheung Chau to sit by the ocean, draw in the sand, and dream."
Nikolight
It's no surprise that this French designer dabbles in light – he's been fascinated with it from a young age. Now he gets to explore the medium through his work with events such as concerts, theatre and dance.
Michael Wolf
German-born Wolf is well known in the Hong Kong arts scene. His photos have featured in more than 30 books, including the series Architecture of Density. He loves to explore the city's identity, and at the recent festival Wolf unveiled his latest series, called "Hong Kong Dried Fish", a homage to Hong Kong's dried-fish food culture, with each specimen impressively displayed in oversized prints floating in mid-air.
Evan Binkley
British schoolteacher Binkley combined his passion for music and the ocean to set up Fish Ukulele, selling amazing hand-crafted instruments in crazy shapes and sizes.
For the recent festival he carved a huge, harp-like instrument and rolled it through the village while being followed by kids, like a modern day Pied Piper. Watch him play one his creations carved from solid bamboo.
Tree-Angles
French couple Sev and Alex have their fingers in many creative pies, their collages and video montages exploring nature's geometries. At the recent festival their water-themed installation – a collaboration with fellow local artist Preston Hartwick – was a delight for the senses.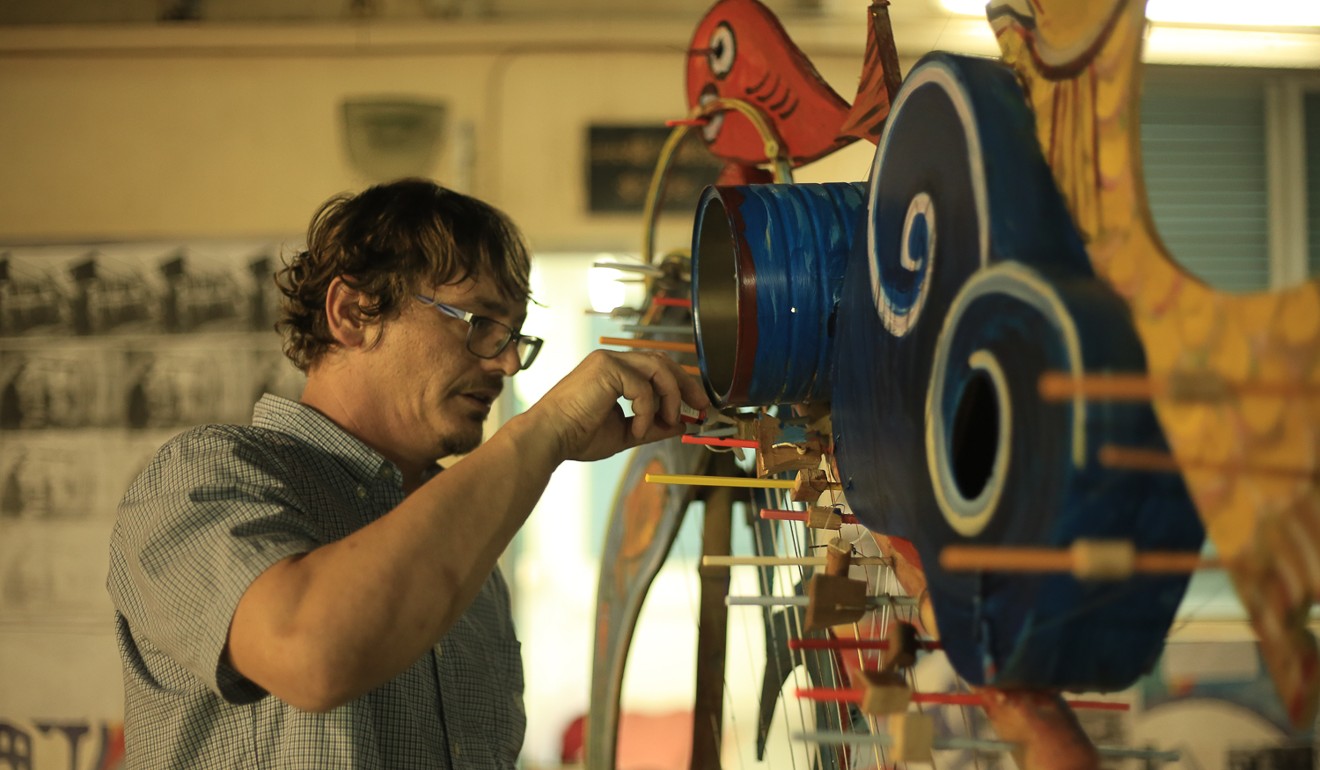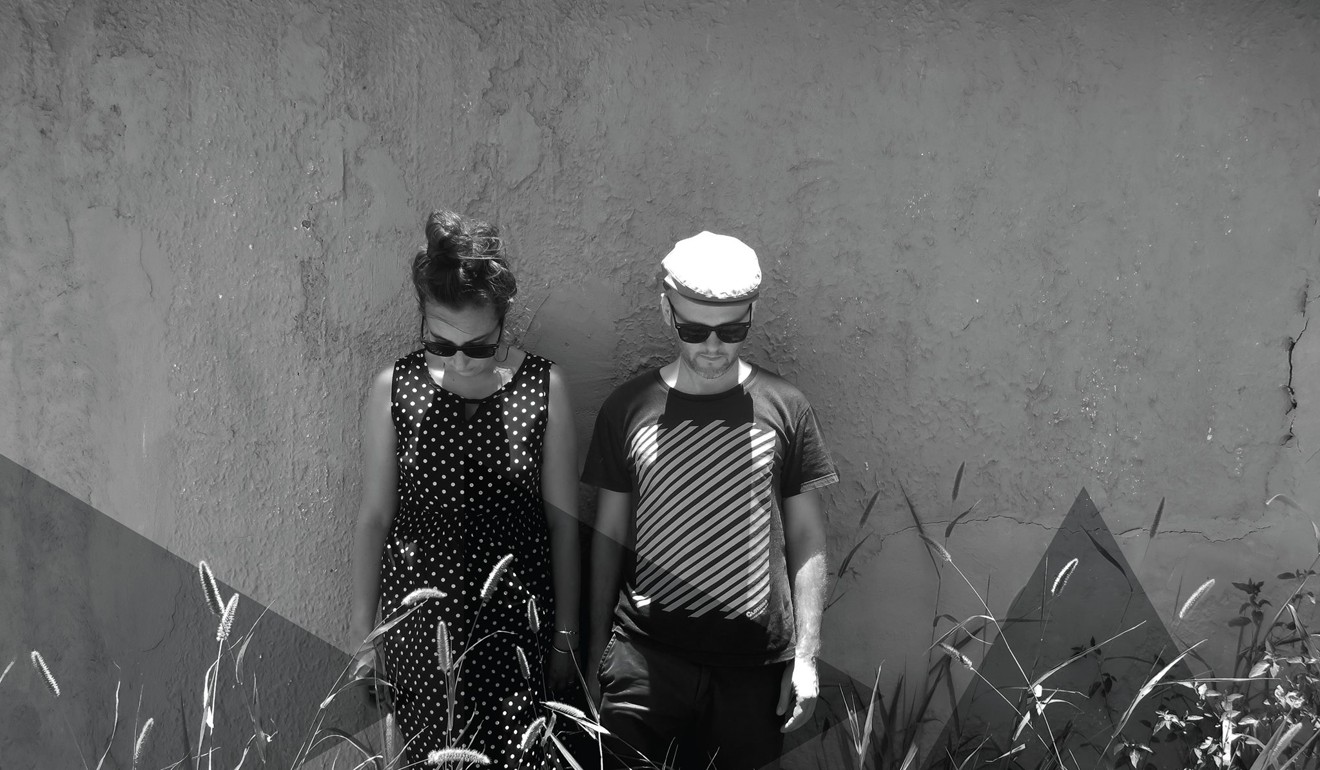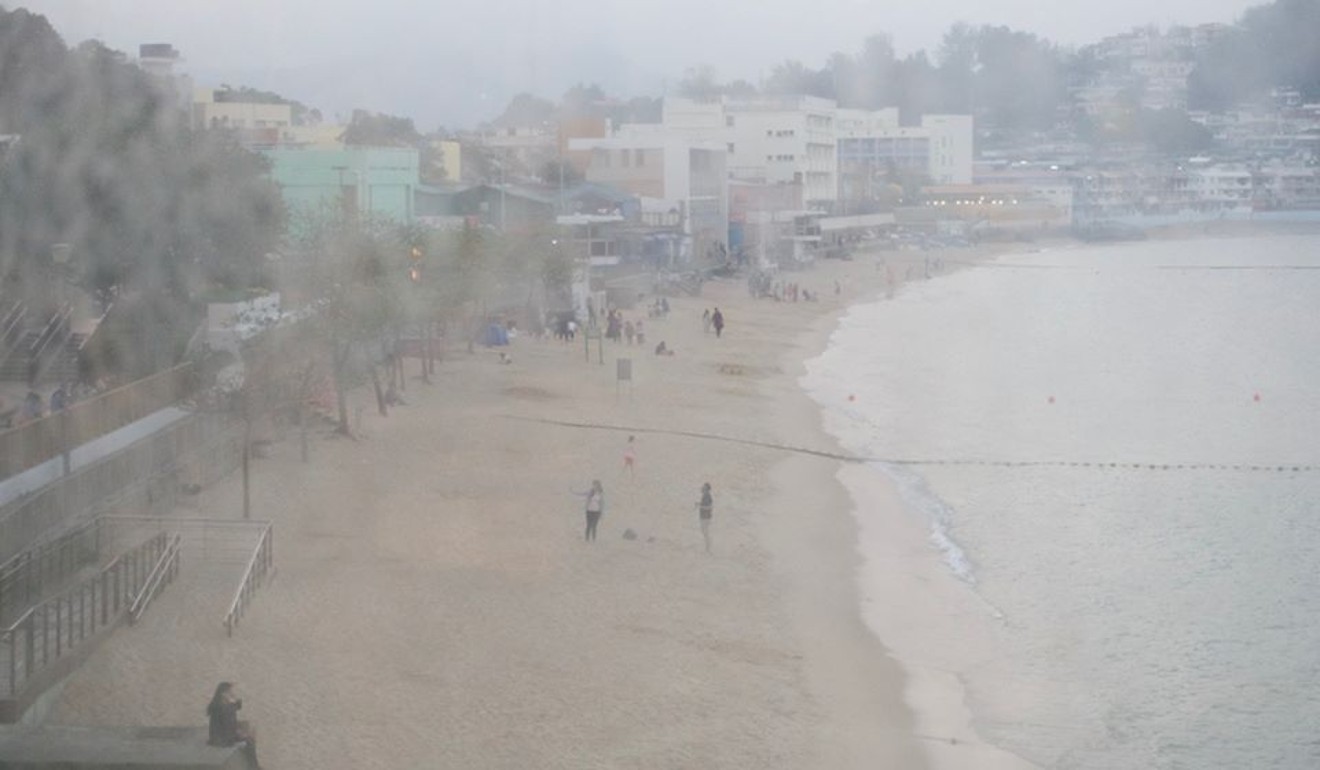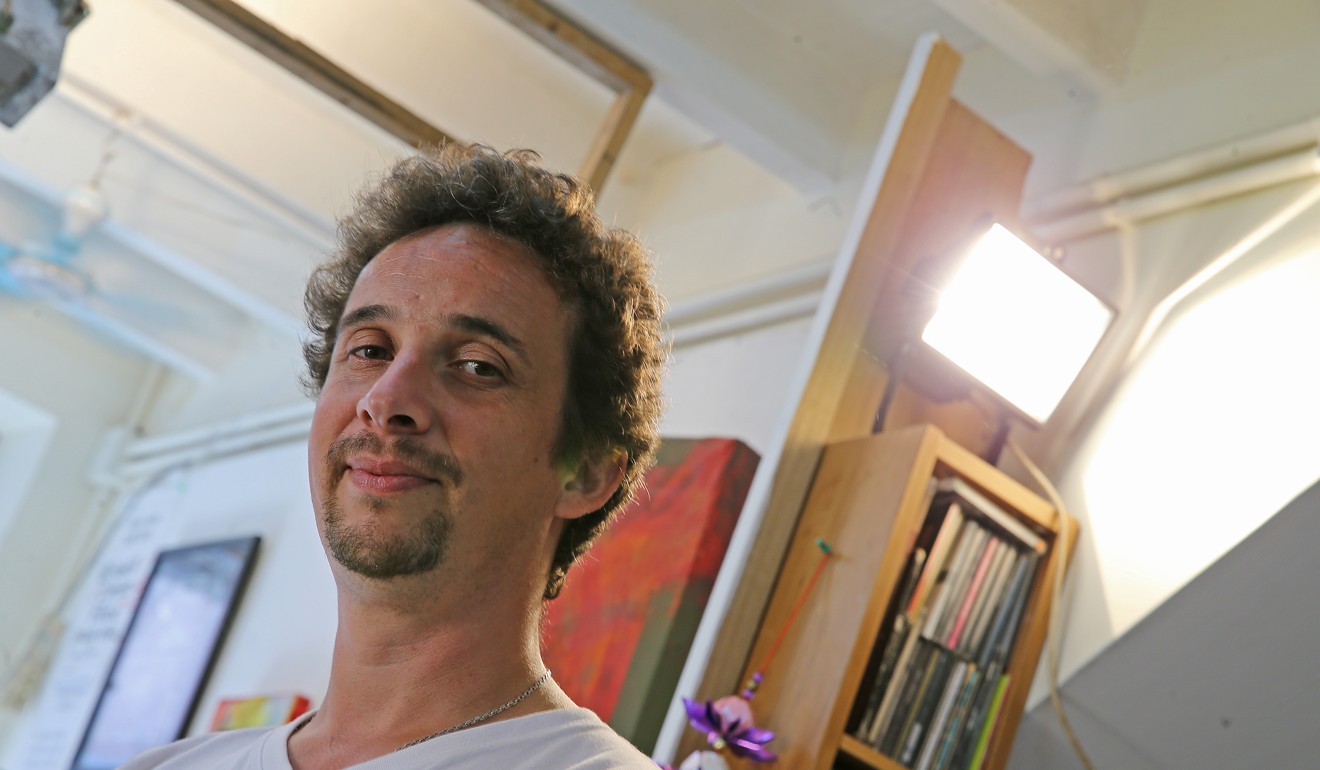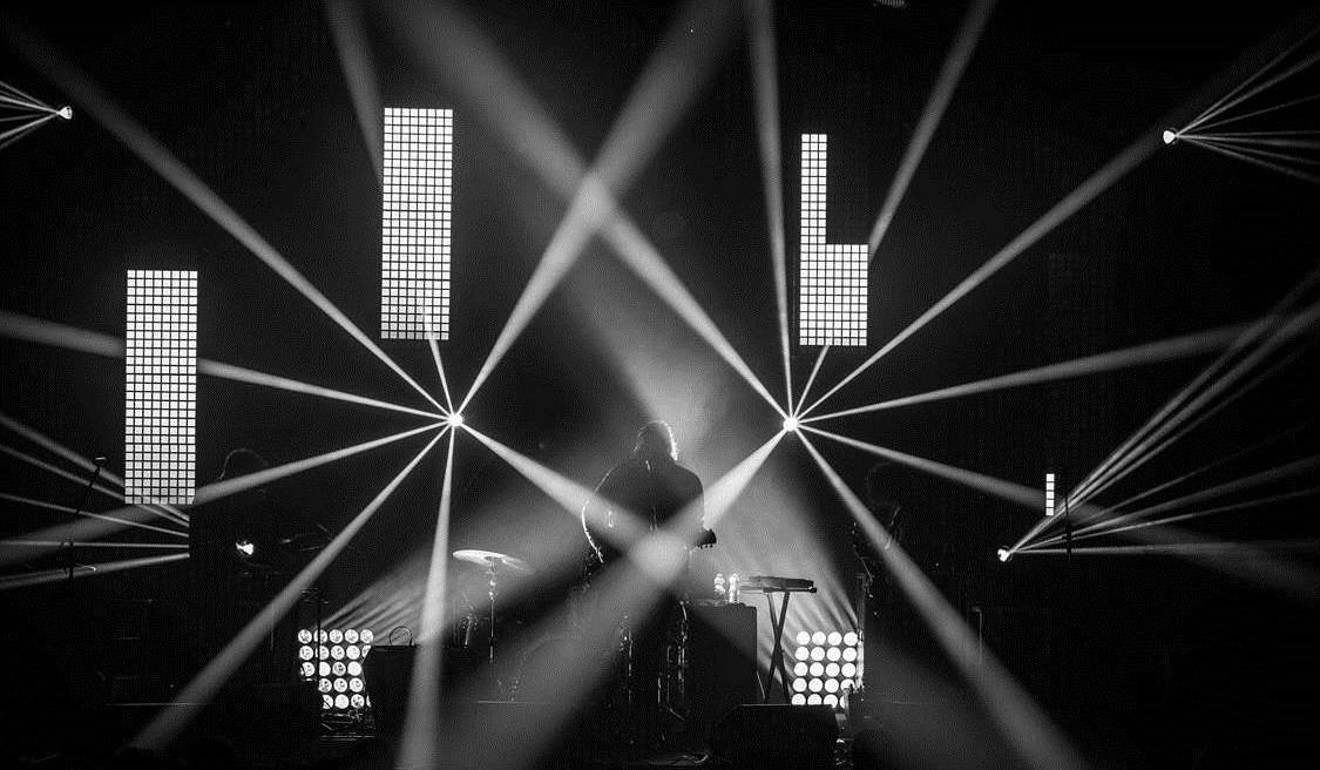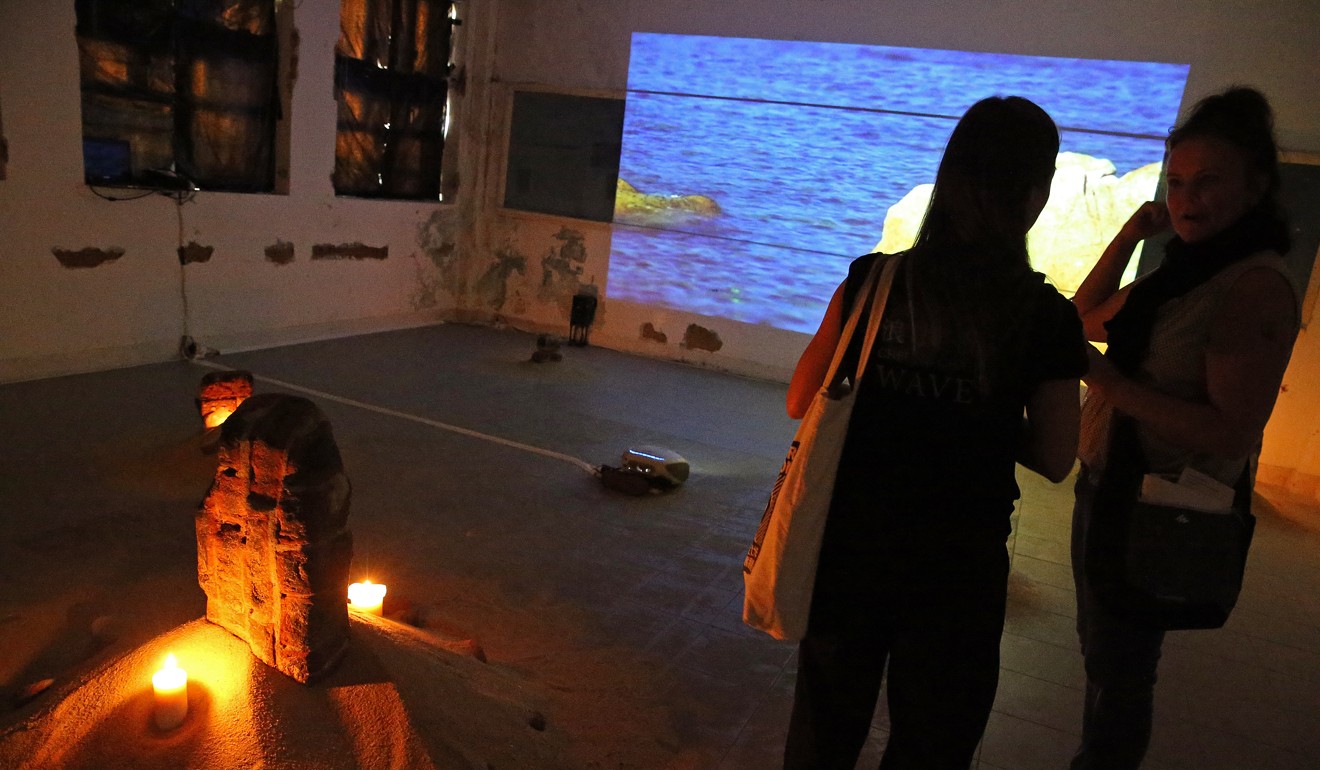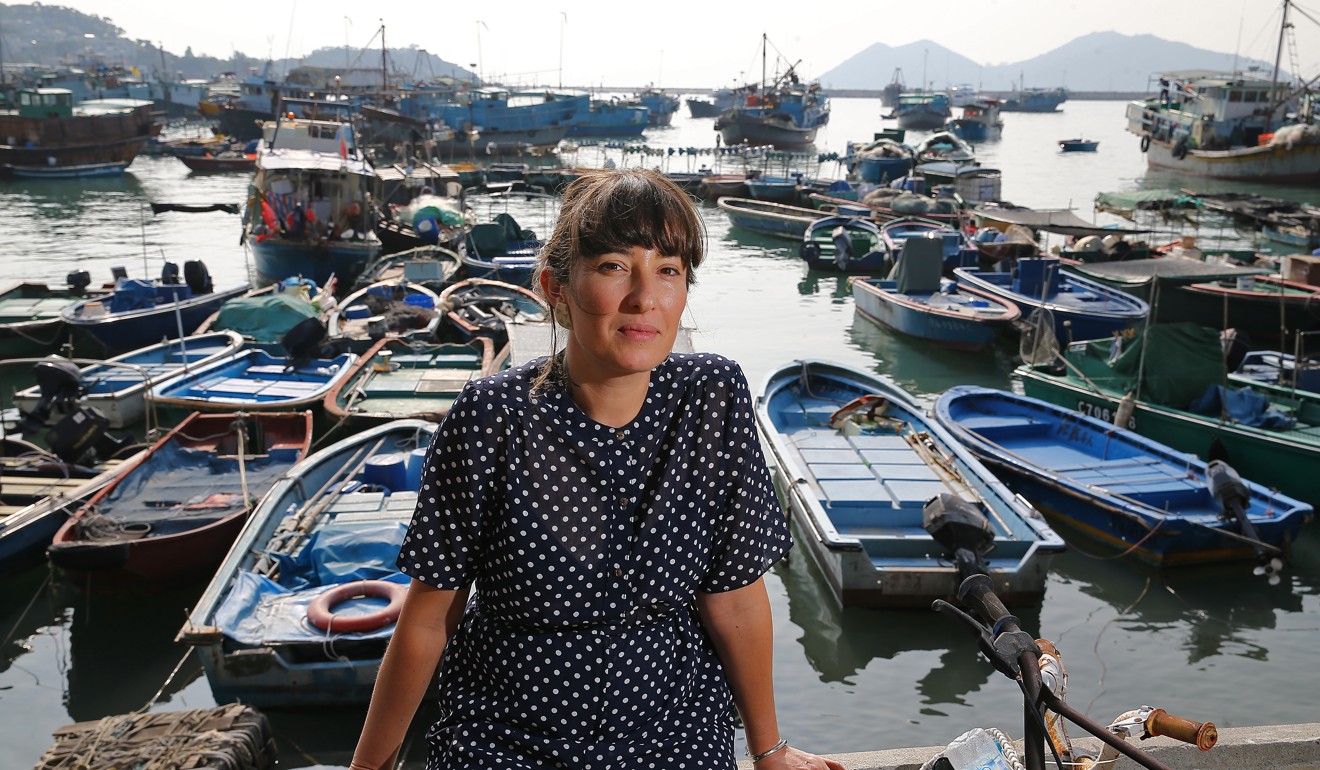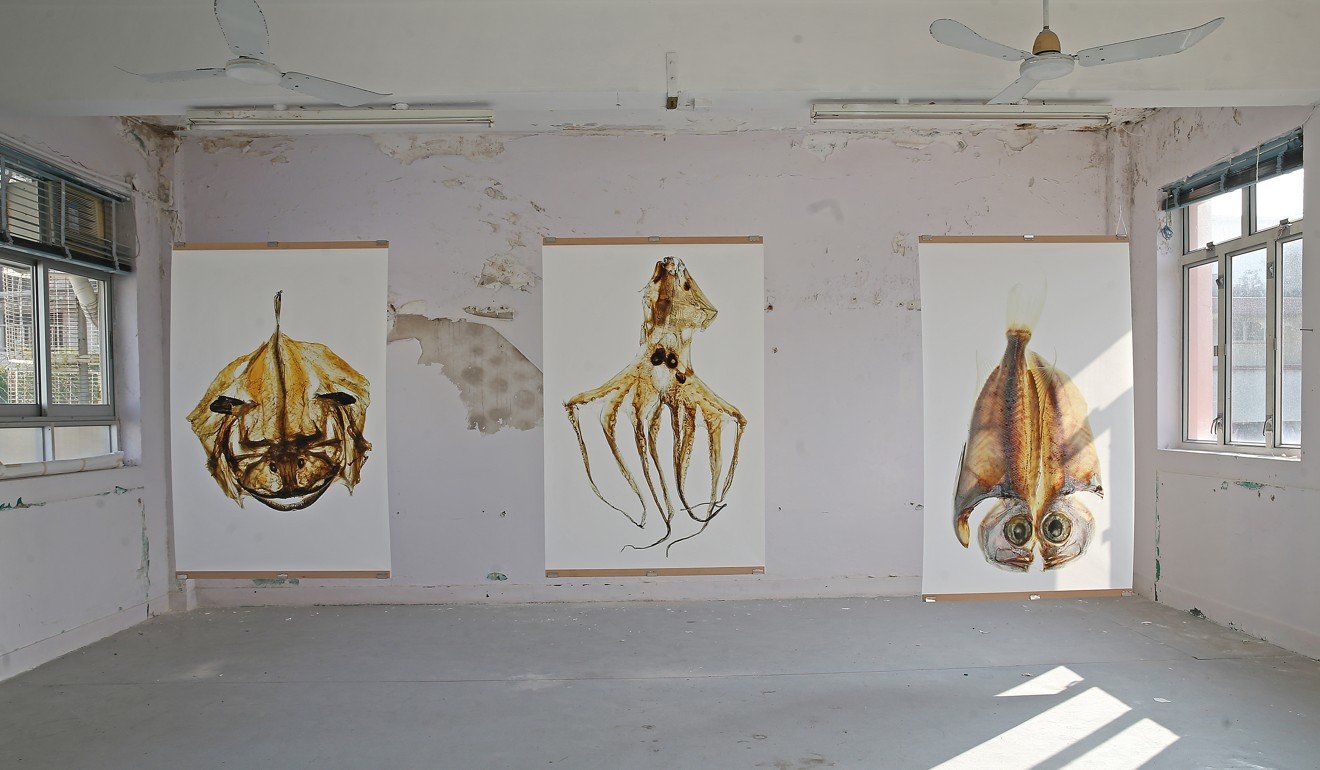 This article appeared in the South China Morning Post print edition as: OUT L YING ARTISTS